Trying to organise a group holiday can be a mission at best, a calamity at worst. Every group's self-appointed captain of organised fun seems to create anything but, and the mismatch of everybody's preferences tends to suck the spontaneity out of the adventure. And then you want to take a big group of mates skiing? Bloody good luck to you, sir.
But all is not lost, which we were quickly reminded of when visiting Club Med's Valmorel resort back in March. Club Med is well established as the heavyweights of all-inclusive luxury – a formula they've been perfecting worldwide for over 70 years – and while their food and beverage reputation proceeds them, that's not actually why we're here.
Music to the ears of big groups, families, and even couples alike, Club Med have made it their mission to cover off all the usual pain points of a ski holiday that you've yet to think about, often before you've even arrived at the resort. If there's one ski trip hack that'll have you never looking back, it's a week at Club Med. Allow me to elaborate.
---
---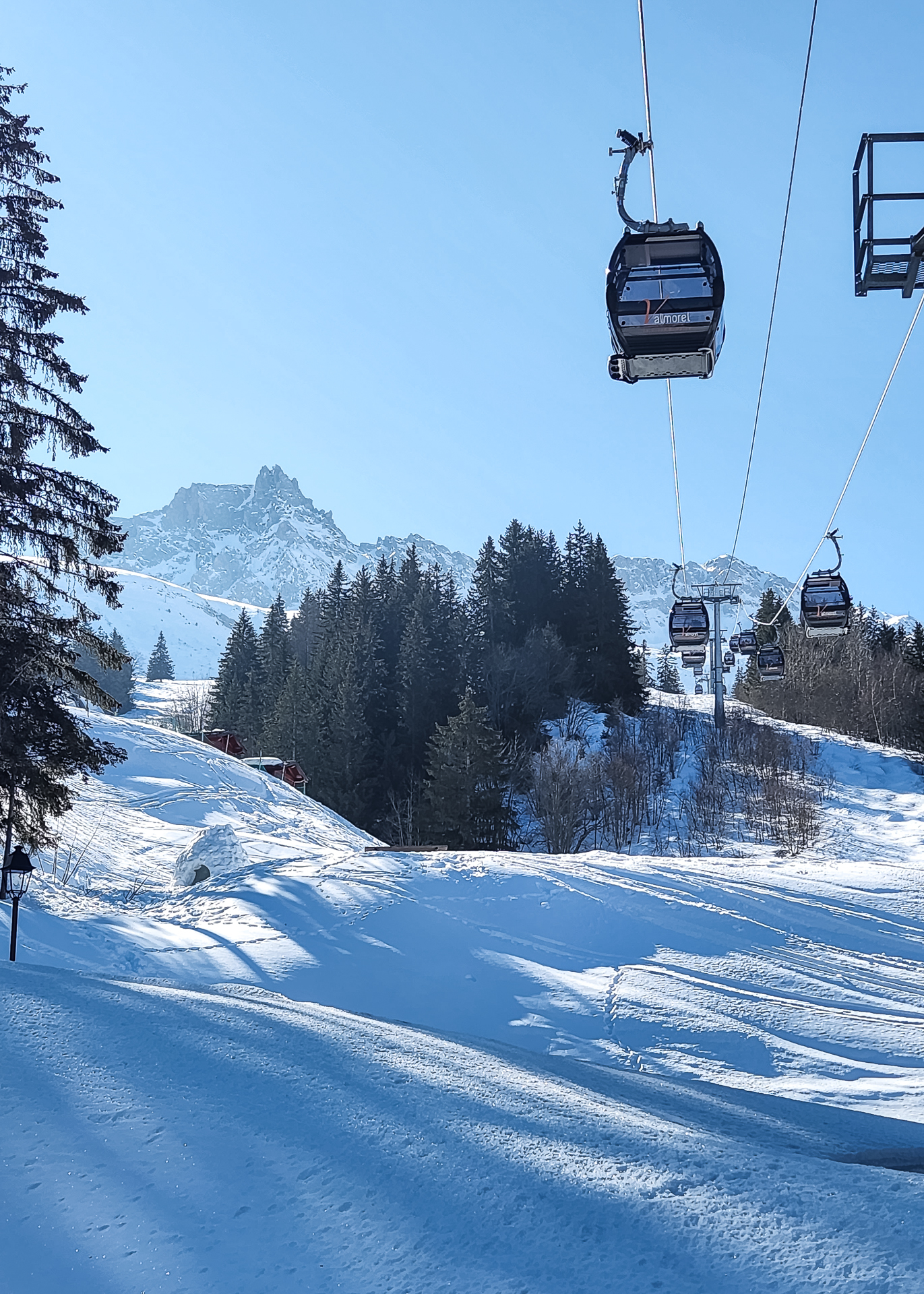 There's not a single split bill
Really, the words all-inclusive should be enough for you to swap this article for Club Med's resort catalogue right now. And while this unique offering goes far beyond food and booze, it's a great place to start nonetheless. Essentially, you pay a single fee and then you never have to open your wallet again (granted, we were guests of Club Med, so in the interest of transparency, we never opened our wallets at all – but I digress).
All food and drink – even alcohol – is inclusive in the per person rate, meaning the iPhone calculators can be put away when the waiter brings the bill over at the end of your meal; because there simply isn't one to worry about. All bars, a la carte restaurants, and help-yourself buffets are covered. If you want to splurge on a boujee bottle of champagne or embark on an extra-curricular adventure, you can just tap your RFID wrist band and worry about it personally when you check out. You won't even have to call Splitwise to the rescue. It's all taken care of. Relax.
Key pre-trip logistics are sorted
Now this is a big one for ski trips, as anyone who's been on one before knows full well the logistical nightmares that can hover around large groups. The main hurdles to getting on the mountain as quickly as possible are resort transfers, ski passes, and of course, ski gear. As we discovered in Valmorel back in March, you can go straight from the tarmac to the slopes in one fell swoop – because not only is your lift pass and ski hire included, but they're both waiting for you in a personal ski locker so not a single minute of your mountain time is wasted.
Stay & play together in multi-room digs
We enjoyed a two-bedroom Exclusive Collection chalet in the Alps at Valmorel, but it's worth noting you can also find palatial villas and beachside abodes in dreamy Club Med locales like Mauritius and the Dominican Republic. But for a ski trip to the Alps, you can squeeze your entire party into one mega pad, split up across a few smaller suites, or simply request interconnecting rooms. You can be as near or as far away from the rest of your travelling circus as you like.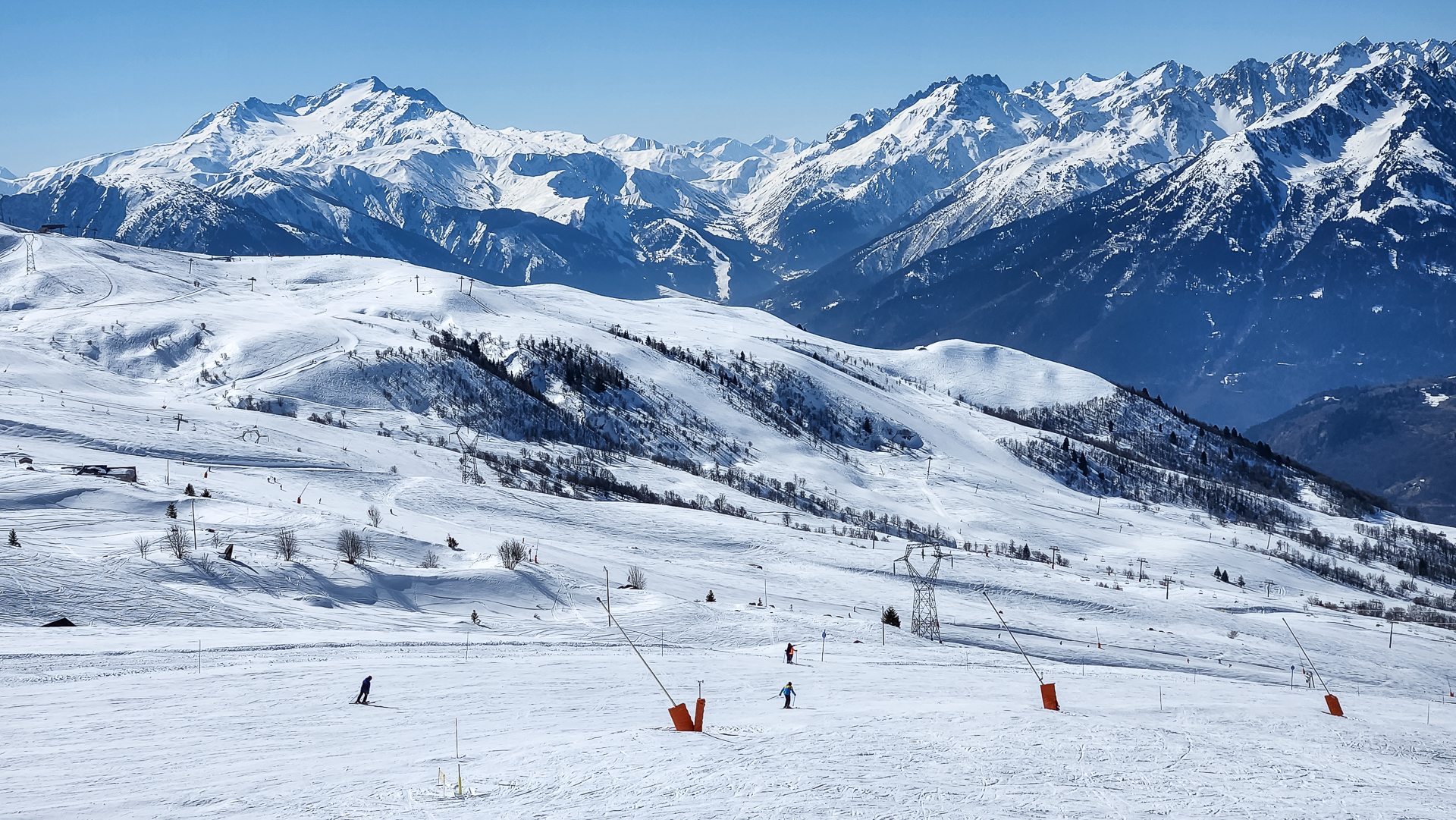 Beginners won't hold anyone back
There's nothing worse as an advanced skier or snowboarder than being held back by your flailing mates who haven't seen snow in a decade. Conversely, novice riders also shouldn't have to feel the pressure of holding up their more experienced compatriots. I'm sure we've all seen emotions run high – particularly between couples – when a day on the mountain ends in a pile of skis, a few tears, and an early departure to après-ski.
Making sure everyone's abilities match up as closely as possible is essential to surviving a good ski trip. Seasoned riders can use the first morning of complimentary ski lessons to brush off the cobwebs, and those starting from scratch can continue to lean on the expertise of the ski instructors throughout their entire stay.
Powder hounds who are hungry for a little more action can take it one step further and collaborate with a team of legendary mountain guides to organise off-piste expeditions that'll really maximise the glorious terrain of the Alps.
---
---
You won't be short on variety
Most trips to the snow usually go something like this – maximum excitement, bell-to-bell action for the first two days, a few big nights on the schnapps in between, and then the slow onset of exhaustion and muscle fatigue around days three and four. Luckily, there are so many off-piste activities to get around that even if your body can't hack a week on the slopes, you can easily mix it up with all of the other highlights of a quintessential snow holiday.
Across a fantastic seven days of alpine delights, we switched up the skiing for afternoons in the jacuzzi, long lunches on the terrace, strolls through the town, pilates classes at the in-resort gym, paragliding above the peaks of Valmorel, and even Europe's highest zip-line. The latter duo are a great way to get down the mountain quickly when the mulled wine is calling.
No one has to cook or clean
There's a reason we've left this one till last, and that's because it's the absolute last thing anyone feels like doing on holiday. There is no reason you need to be slaving away in the kitchen to rustle up a big group feed after a long day on the hill. In the Valmorel Chalets, for example, you've got a dedicated butler service that does that all for you. In the main resort – which is true for all resorts around the world, Exclusive Collection or not – you'll have such a wide variety of all-inclusive eateries and dining options that you'll never know where to start.
Read more about out why Valmorel's Exclusive Collection chalet experience is the only way to do a ski trip over at this article, and see where your next ski holiday could take you at Club Med's website below.