Just a stone's throw off mainland Australia on the World Heritage-listed Great Barrier Reef lies a dormant relic of the country's tropical tourism heyday. Dunk Island, 147 hectares of dramatic tropical rainforest rising out of the surrounding turquoise-blue waters, has enjoyed a colourful but turbulent past.
After serving its purpose for the Royal Australian Air Force in World War II, Dunk Island quickly became a tropical escape for rich and famous characters such as Sean Connery and Harold Holt.
Following the golden era of the 1960's, Dunk Island was passed from owner to owner, including both Qantas Airways and P&O Resorts, before landing squarely in the lap of Peter Bond, who snapped up the island for a steal in 2011 at a price of $7.5 million. Haunted by cyclones Larry and Yasi in 2006 and 2011, respectively, Dunk Island's problems went from bad to worse after Bond's company, Linc Energy, was placed into liquidation in 2016, forcing its sale and leaving the place in tatters.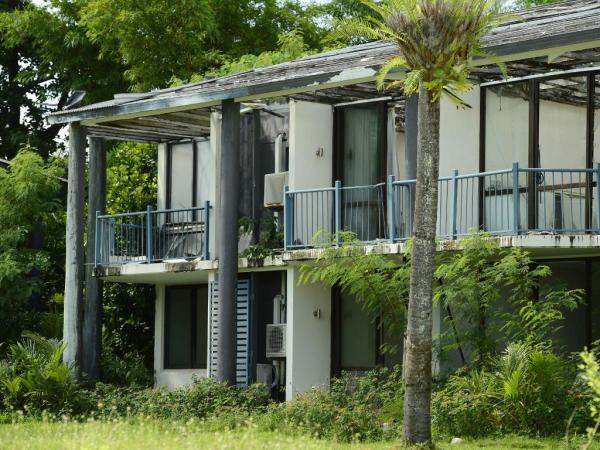 Fast forward to 2019 and the question still remained. How do you solve a problem like Dunk Island?
Enter Mayfair 101, an Australian investment firm that has a big (and we mean massive) plan for Dunk Island. Snapping it up for a touch under $32 million last month, the property arm of the global private investment consortium bought Dunk Island with the vision of making it the tourism capital of Australia.
Mayfair wants Dunk Island open for business to the entire world. The yachting mecca of the Pacific. The ultimate goal is to make it the most sought-after island destination in this corner of the globe. Think five, six and seven-star luxury resorts.
The key to making this next chapter of Dunk Island a success story and not another strike on the board is money; and we're not talking about figures in the range of Daydream Island's $100 million makeover or Hayman Island's $120 million upgrade by Intercontinental. We're talking billions – $1.6 billion, to be exact, invested into the entire project over the next 15 years. All sound a bit ambitious?
Fair enough, but wait until you hear what they've already done to show the sceptics (ourselves included) they were serious in the form of two major moves.
First, Mayfair immediately purchased 200 properties in Mission Beach – about 20 minutes by boat from Dunk Island – for around $150 million to kick start the region and act as an operational hub for the development soon to unfold.
Secondly, they threw a massive kick-off party for 200 people with 10 days notice on an island that mirrored what only could be described as Jurassic Park or the evil headquarters for that bad guy in The Incredibles. We were amongst those 200, flown into Cairns under darkness with little-to-no knowledge of what we were in store for the next day.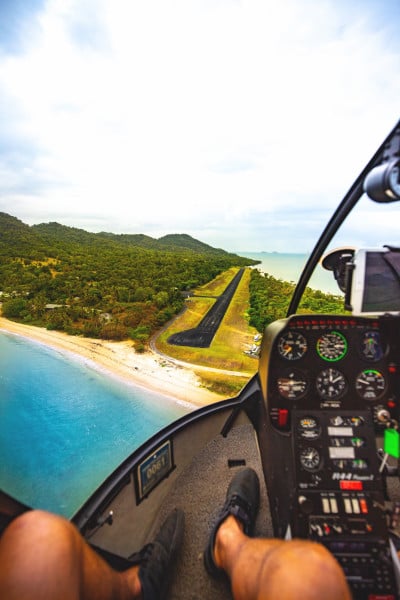 Waking up to the thump-thump of a helicopter's rotors is still about as Hollywood as it gets, and despite the amount of time we spend in choppers collectively amongst the Boss Hunting team, the rush never gets old.
After just 72 hours on the ground to get Dunk Island in a respectable state, Flare Creative, the events agency employed by Mayfair to make the impossible happen, had us prepped and ready to come in hot to Dunk Island.
Soaring across the reef and landing on the Qantas-built airstrip, we were whisked away on golf buggies (which themselves had to be helicoptered in the day before), to the hub of all the action. A giant open-air entertaining area overlooked the pool from the previous resort, with abandoned holiday villas barely able to keep themselves upright either side.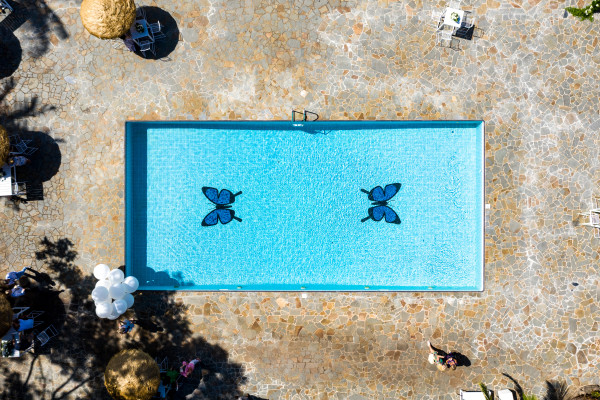 While Mayfair had done its best to paint a pretty picture at the heart of the peaceful crescent moon-shaped bay, the island's haunted past was still blatantly clear. Roofs were falling down, tree roots upended the island's road network, and wild vegetation had rightfully reclaimed what it once owned.
A poignant reminder to all in attendance that day of what could happen if their dream didn't become a reality.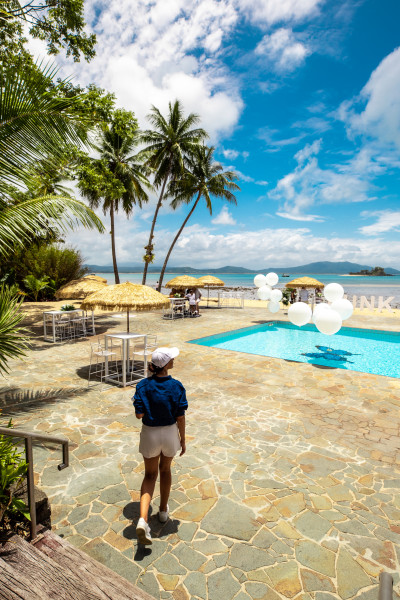 But a dilapidated canvas didn't deter either Mayfair nor Flare, who, with the help of the local council and businesses as well as eleventh-hour sponsors Nautica and Moët & Chandon, set the scene for a grand rebirth of Dunk Island.
Under the swaying palm trees and the Queensland sun, revellers unloaded in hoards from the mainland and were greeted by a barefoot saxophonist and scrumptious canapés, followed quickly by glasses of Moët Ice Imperial in indulgent quantities.
The 200 guests were joined by Mayfair execs, local dignitaries and Aussie singer Ricki-Lee (she's still got it, by the way) who absolutely crushed a few tunes on stage for one hell of a Friday afternoon party.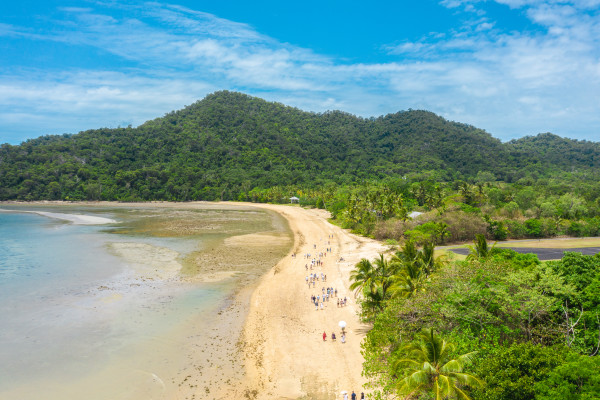 Promises were made to not just Dunk Island, but the people of Mission Beach, that this time 'would be different.'
Hallowed words that have no doubt been said and embraced before.
One can't help but let their mind wander towards the potential of such an idyllic part of the world that holds a special place in the hearts of many. To make these fairytales a reality, Mayfair 101 will have to dig deep, both physically and financially, should they expect to turn this place into a jewel in the crown of Australia's tourism industry within a decade.
Can they pull it off? We'll check back with you in 15 years time.
UPDATE: Don't worry about 15 years time…it took just over a year for Dunk Island to be repossessed and Mayfair 101 to be liquidated. As the saying goes, if it's too good to be true…it probably is.