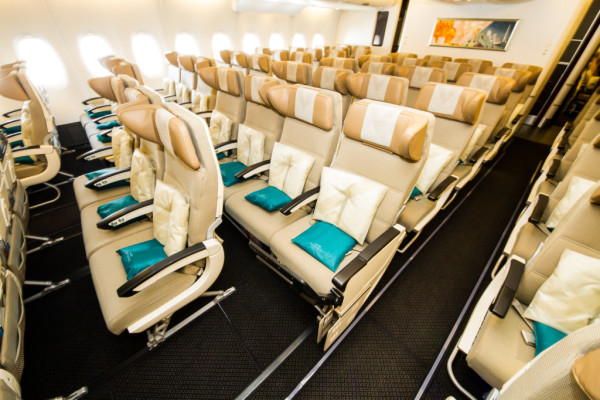 Solo flying can be make or break if you draw the short straw and get an annoying neighbour. There's nothing worse than finally getting to sleep, only to have a stranger in the window seat attempt that awkward straddle across you – trying to act like they weren't meaning to wake you up on their way to the toilet.
While most airlines are doing everything they can to cut costs and restrict space in their economy classes, Etihad Airways are now giving customers the chance to control their own fate when digging in for long-haul 14 hour flights. No longer will you have to hold your breath until the last cabin door is closed to find out if someone is claiming that spare seat beside you.
Passengers can bid for up to three empty seats in their vicinity, with the airline setting a minimum and maximum bid for each seat. Etihad frequent flyers will have priority, and those unsuccessful will receive an email within 36 hours of their departure.
Eligibility for these seats is restricted to full paying customers (i.e those with confirmed fares) who's tickets start with the numbers 607. Group bookings, those who have already upgraded using miles and 'deal' fares are among those that do not qualify for the Neighbour-Free seat bidding option.
Prices are not specified, as we assume they'll change to accommodate each flight's variables, including loading, popularity, as well as a host of other factors. You won't know if you're better off just paying for an upgrade to Premium, or by bidding on these empty seats.
We'll be observing closely to see how practical this Neighbour-Free seat upgrade will actually be in the coming months. Watch this space.