Sliding Doors is no longer just the name of a really bad Gwenyth Paltrow movie, it's now one of the bigger trends amongst modern airlines looking to spruce up their business class offering. For the past few years, the idea of having a sliding door for each seat has been uprooted from exclusively First Class suites and made its way down the aisle towards the business side of things.
Delta Airlines made the business class door trend popular with its Delta One suites in 2016, then Qatar Airways followed with the Qsuite in 2017, while Etihad and British Airways are some of the more recent airlines to get involved.
Now it seems Air France has cottoned onto the growing – and increasingly divisive – trend with the reveal that the airline's new business class product will come with the "three Fs – Full Access, Full Flat, and Full Privacy." The latter, of course, is made possible because each of the 48 business class suites will come with its own sliding door.
---
---
Due to roll out onboard the carrier's long-range B777-300 aircraft later from September of this year, the new Air France business class will represent a substantial step up from the airline's current business cabins with fully-flat seats that transform into a bed measuring almost 1.98 metres long.
Patterned in a 1-2-1 configuration, all business class seats are to have direct aisle access and those aforementioned sliding doors which should add more than just a touch of privacy for anyone who wants to block out any aisle activity or properly signal that they are closed for business (or sleep).
Each of the business class seats comes with soft padding blended from wool, brushed aluminium and full-grain French leather for an incredibly luxurious feel. In-flight entertainment will also see a bump-up with the new 17.3-inch 4K HD panels and slick noise-cancelling headsets that stow away neatly in their own cabinet. All screens will also be getting Bluetooth so passengers can use a wireless connection with their own earbuds and headphones should they wish to do so.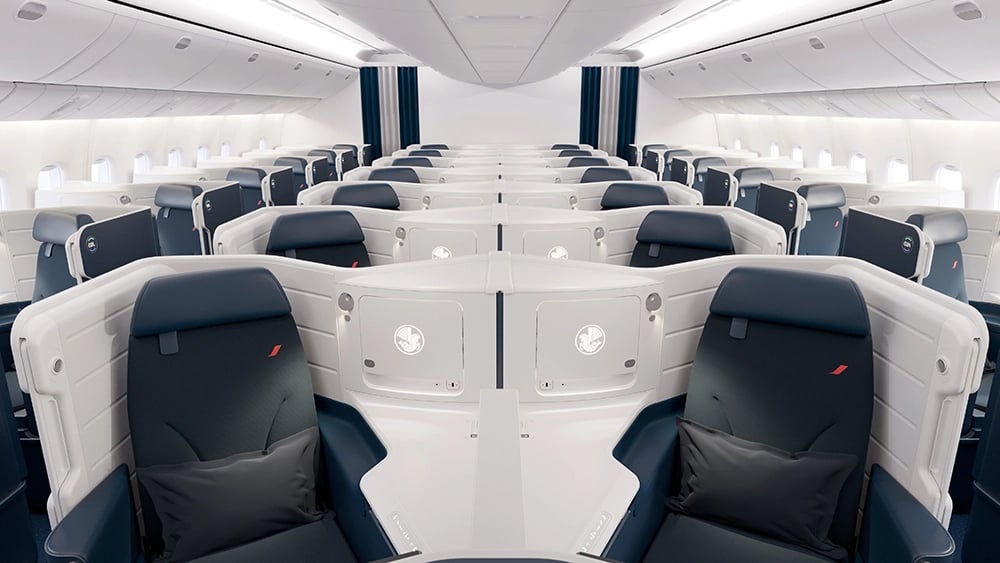 RELATED: Here's What To Expect From The Slick New Qantas A380 Business Class Experience
Much like other modern business class suites, passengers travelling in the centre rows of the cabin can lower a divider between the two seats should they want to create a larger cacoon for two. Consider this with both doors closed and it's no wonder why more people are opting to fly business instead of scraping together enough cash (or saving enough points) for a first class suite.
A total of 13 Boeing 777-300s will be fitted out with the new Air France business class, the first of which is set to fly from France to JFK in New York. After that jet nicknamed "Fontainebleau" makes its trip, the Air France business class seats will begin to roll out to the rest of the fleet.
Each aircraft that gets the new Air France business class will also see a few changes in the other cabins as well. 273 economy seats and 48 premium economy seats will round out the updated planes, and passengers opting for the latter can expect the same recliner-style seat model, with a recline of 124-degrees, that is currently in use on board Air France's Airbus A350 fleet.
---
---
Anyone in premium economy will also get those more premium-looking noise-cancelling headphones, upping the value and privacy when compared with regular old economy.
Clearly, those sliding doors are the headline feature for the new Air France business class, which makes perfect sense. It's still a bit of a novelty for anyone who isn't normally found jumping around the world in those ultra-private First Class suites. As mentioned above, the feature has been steadily rolling out for some carriers over the past few years and while some passengers welcome to an added layer of privacy, it seems most get bored of the novelty factor and end up leaving them open anyway.
Still, it's nice to have options, even if seats with doors would be of more use in economy class, where the aisle action is relentless.