Air New Zealand's incoming fleet of eight Boeing 787-9 Dreamliners, arriving in 2024, will look vastly different to anything the airline – or any airline, for that matter – has done before. We've seen concepts like this floating around for the past few years for sure, and some would consider this the aviation industry's worst kept secret, but only today has Air NZ confirmed that it will be the world's first airline to introduce the Skynest for economy passengers. Essentially, this means sleep pods in the sky – ones that wouldn't look out of place in a typical Japanese pod hotel. The Air New Zealand Skynest, in addition to a brand new Business Premier Luxe product, represents the most substantial cabin overhaul in 20 years – dubbed the "Cabin of Possibility."
As per an announcement made by Air New Zealand this morning, the airline spent 170,000 hours of hard R&D to arrive at this point, geared towards providing "the best sleep in the sky" with a boost in both privacy and space. Responding to customer feedback on the obvious importance of sleep and comfort, the carrier decided to pull the trigger on the luxe bunk bed concept, which looks to be included in economy class alongside Economy Skycouch, Economy Stretch and regular Economy seats.
Economy Skynest will comprise just six sleep pods for passengers who will most likely be paying a premium for the opportunity to catch some lie-flat shut-eye during a flight on an Air NZ Dreamliner on a service such as the upcoming non-stop Auckland-New York route.
---
---
The length is the Economy Skynest pods is reportedly in excess of 200 cm while the length is around 58 cm. Each pod will come with a full-size pillow, sheets, blanket and some ear plugs as well as privacy curtains. Much like capsule hotels, they will also have their own reading light, USB outlet and of course a ventilation outlet.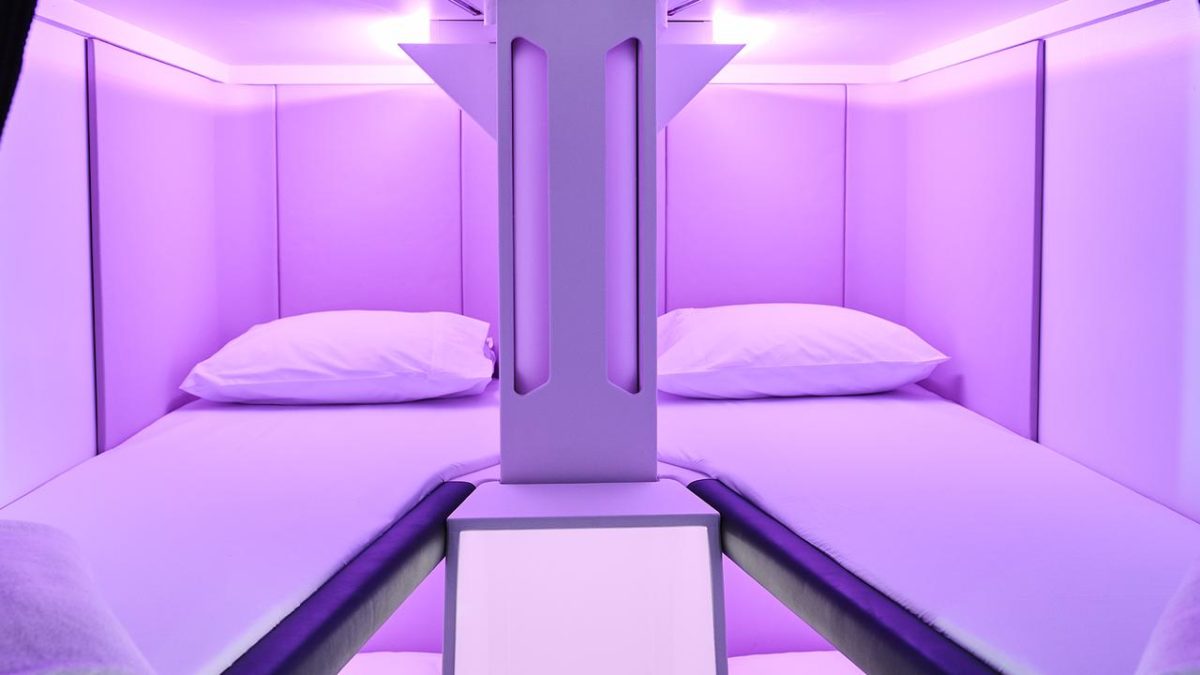 The inclusion has been known in the industry for quite some time, but it was only made official this morning as Air New Zealand detailed exactly what's in store for the new fleet of Dreamliners. This includes an updated interior design inspired by the "uniqueness of Aotearoa" and a desire to make sleep a bit more accessible for those who don't have the privilege of flying in the pointy end of the plane.
"New Zealand's location puts us in a unique position to lead on the ultra-long-haul travel experience," said Air NZ CEO Greg Foran.
"We have zeroed in on sleep, comfort and wellness because we know how important it is for our customers to arrive well-rested. Whether they are heading straight into a meeting or to their first-holiday hotspot – they want to hit the ground running."
Air New Zealand's new cabins will double down on the whole "calm" design many airlines attempt to include in redesigns like this. A sense of softness will reportedly permeate the entire onboard experience, from soft lighting and sustainable breathable fabrics to a service that provides "sleepy teas and balms" as well as healthier food choices.
Business Premier Luxe will refine the Business Premier seat to provide more space and comfort for passengers looking to one-up the typical business class experience. This seems to mostly extend to additional features such as a fully closing door, similar to the new Air France business class, and space for two to dine together if they wish.
In addition to the new 787-9 Dreamliners arriving in this ultra-long-range format, Air New Zealand will also roll out a retrofit for the current 787-9 fleet, which includes the aircraft planned for the aforementioned New York route.
---
---
Air New Zealand Skynest Sleep Pods – Frequently Asked Questions
How many beds will the Air New Zealand Skynest have?
The Air New Zealand Skynest will only have enough beds for six individual Economy passengers.
Where will the Air New Zealand Skynest Be Located?
The Air New Zealand Skynest will be located in the economy cabin, and while the exact positioning is yet to be confirmed, renders released a few years ago indicate that the Skynest will be located at the back of the cabin behind the other seats.
When is Air New Zealand Skynest coming?
The Air New Zealand Skynest will first be revealed with the new fleet of 787-9 Dreamliners, which arrive in 2024. They will then roll out to the current fleet of Dreamliners.