Each year some of the world's top designers and engineers are highlighted by the Crystal Cabin Awards, geared towards solving some of the aviation industry's biggest issues centred around an annual theme. For 2022, that theme is flexibility, digitalisation and of course sustainability, primarily concerned with the urgent need to lower the aviation industry's environmental footprint and maximising space without compromising on comfort and profit. As such, looking through the Crystal Cabin Award finalists shortlist is always a fascinating few minutes, highlighting what very well could be the future of air travel and what it will look like in the decades coming as the industry scrambles to evolve.
Personal snack fridges and double-decker seats are just some of the interior cabin concepts that have been shortlisted for awards by a panel of experts who will reveal their top choices on 14th June at the Aircraft Interiors Expo show in Hamburg, Germany.
While some of the world's best airlines recently revealed meaningful changes to their respective First Class and Business class offerings for the coming years, the Crystal Cabin Awards finalists highlight much broader, sweeping changes that could easily become the next big trends in air travel. But of course, these are all concepts so far, and while the large majority would be fun and forward-thinking transformations, they are unlikely to ever see the light of day.
---
---
However, some of these concepts always manage to really connect with some of the world's top airlines and end up influencing changes in some way, shape or form. Several of the shortlisted concepts are already being discussed heavily in the industry, including Teague's Elevate concept for premium seating on narrowbody aircraft.
RELATED: Cathay Pacific Reveals New First Class Concepts
As pictured below, the Elevate concept features "floating" furniture made possible by a special cabin wall brace, creating a more organic-looking homestyle space and both uses limited cabin real estate efficiently while still allowing for the same seat count as more traditional seat designs.
Elevate, which made headlines earlier this year, is one of the more out-there aviation concepts found on the shortlist but it's one that's perhaps one of the more practical. Considering single-aisle aircraft are more recently coming into favour for long-haul flights, creativity is needed to make premium seating onboard these flights meet the standards of a more typical twin-aisle widebody aircraft. If implemented, Elevate will be the first cabin design in aviation history to implement sidewall attachment points to create more space around the monitor, side furniture and ottoman.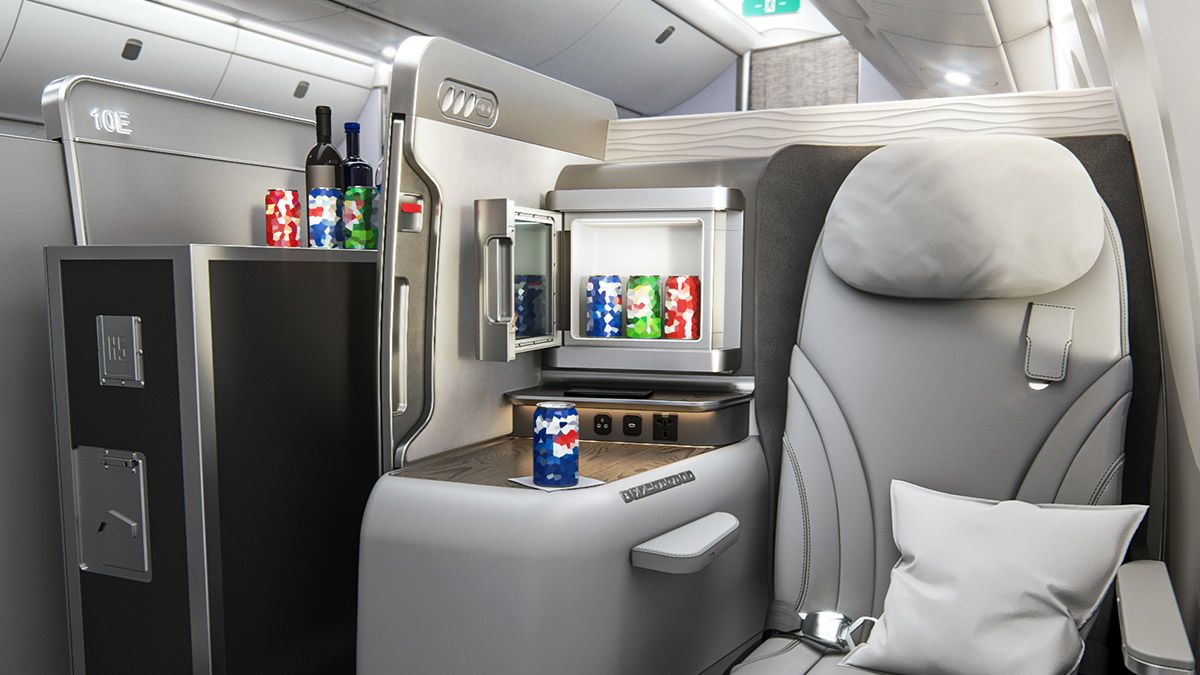 Collins Aerospace, which has been shortlisted for four different concepts, has a fascinating pitch for a "SpaceChiller." It's a modular cooling system, again designed for premium cabins, which is basically a mini bar fridge for each seat made to keep drinks and snacks at optimal serving temperatures and within arm's reach. This could possibly do away with the need for as much in-flight service as possible and substantially up the privacy in each of these cabins.
Jamco Corporation receives a nice little nod for an innovative inflight entertainment solution for long-haul flights, designed to do away with the need for any headphones whatsoever. The issue this concept seems to be trying to solve is that headphones are just too uncomfortable to wear when lying down, so the Jamco Corporation and NTT sonority have pitched the Personalized Sound Zone. Essentially it integrates loudspeakers into the headrest and uses wave cancellation to create a sphere of audio around the passenger's head which is inaudible to others in the cabin.
It's one of the more imaginative solutions, but we highly doubt the Personalized Air Zone concept will see the light of day.
---
---
Some other concepts tackle Economy class. Lift's PARADYM, for example, pitches an extra two inches of width of Economy seats in single-aisle aircraft and, more interestingly, includes two armrests between seats instead of the standard one.
The Crystal Cabin Awards are split into the following categories, with each highlighting what the future of flying could look like beyond 2022. If you're interested in browsing the mix of ambitious concepts that have no chance to becoming a reality, and practical ones that just may come to fruition one day, head to the official Crystal Cabin Awards website.
The Crystal Cabin Awards categories are
Cabin Concepts
Cabin Systems
Health & Safety
Passenger Comfort
IFEC & Digital Services
Material & Components
Sustainable Cabin
University