There's no denying that everything tastes better with a view, but how much better does a meal taste thousands of feet above one of the world's most iconic cities? Lucky for you, Deliveroo are here to answer that age-old question with a Deliveroo helicopter charter over London.
Deliveroo, in partnership with Charter-A, has announced the arrival of 'Roocopter One' in London, the world's first helicopter restaurant.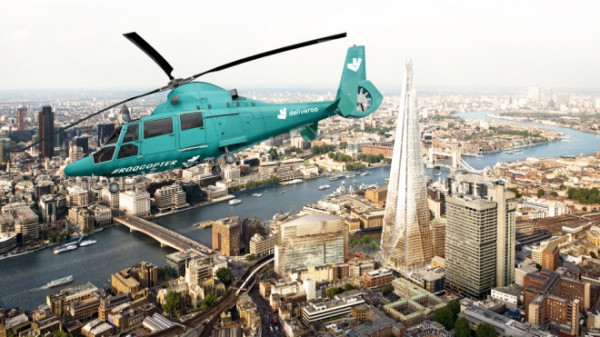 On August 9, the online food delivery service will trial a helicopter dining experience over the British capital to see how interested customers are in the idea of enjoying a meal in the sky with their friends.
---
---
Users lucky enough to book a table on Roocopter One will be able to bring along up to five guests, with dishes sourced from restaurants local to the Battersea helipad, where you'll order your meal before sitting through a quick safety demonstration.
When the heli takes flight over some of London's most iconic landmarks, guests will have 20 minutes to scoff down their food (or at least just the entré) while they float by notable buildings such as the O2 Arena and the Shard.
It's not clear whether fine-dining options will be included in the program, but you can probably bet that customers taking up this high-flying option won't be paying the privilege to chomp down on a cheeky Nandos.
Registrations have already closed for this particular event, but watch carefully in case spots pop up due to cancellations. If it's a success, you could assume that Roocopter One will return, and if you're really lucky, might even start a world tour.
RELATED: Deliveroo Launches Unlimited Delivery Subscription Service