Travellers have been given the first look at the Singapore Airline Boeing 737 MAX business class product, newly introduced to enhance the short-haul experience for passengers using the Lion City as a gateway to other Asian countries. With eight more 737-8 MAX jets being delivered to the carrier between now and March 31, 2022, in addition to the six currently in the fleet, it's looking like business travellers travelling from Singapore to countries like Thailand, Nepal, Maldives, Malaysia, and Indonesia will be frequenting the lavish 10-seat business class cabin and getting used to the vindicated model following a number of design and safety improvements.
The new Singapore Airlines business class was designed by Factorydesign and produced by Thompson Aero Seating, introducing lie-flat comfort to the model to better align the carrier's narrowbody offering with their reliable widebody products. With the 737-8 cabin redesign putting a larger emphasis on personal space and privacy, numerous modern comforts have been introduced to make the lie-flat business class more attractive for passengers hopping around Asia in short bursts.
The new business class product is expected to roll out across the current fleet of 737-8 jets in the coming weeks, and uniform across the other deliveries once they are welcomed by Singapore Airlines. In total, Singapore's flagship carrier will have 37 of these 737-8 jets with 31 more on the way.
---
---
RELATED: The World's Best Airlines For 2021 Have Been Announced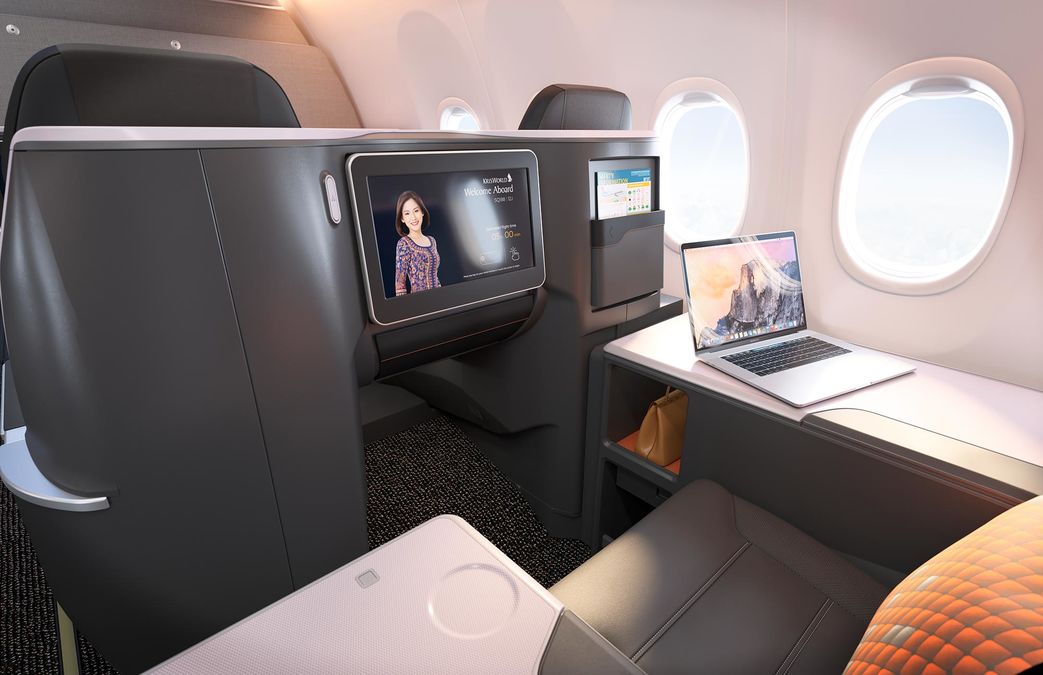 All of Singapore Airlines' 737-8 aircraft will have 154 seats spread across two classes. That's 10 in Business and 144 in Economy Class, which has also been slightly redesigned with five inches of recline for each of the 18-inch wide seats, and an average 30-inch seat pitch. Each economy passenger will also have a new 10-inch IFE screen and a single USB charging port.
Although it's the Singapore Airlines 737 MAX Business Class product that's of most interest here. The first and third rows of the 10-seat cabin have a 2-2 configuration in a staggered layout. This gives the second row enough space for one throne-style seat on each side of the aisle for passengers who want greater privacy and seamless storage options. Each of these seats will have a 16-inch HD screen and both AC and USB ports.
RELATED: Your 24-Hour American Express Platinum Guide To Singapore
Each business class seat is between 19-inches and 22-inches and reclines all the way back to transform into fully-flat beds measuring 1.93 metres. They all have ergonomic features like a wide folding tray table, a reading light with adjustable brightness, a small nook under the monitor for stowage, and access to in-flight WiFi with the first 100MB free for business class passengers.
Those throne-style seats should be the main talking points here. The unique staggered layout of the cabin means these super private seats will be highly sought by solo travellers, offering the wider 22-inch design and direct aisle access. This is compared to the paired seats in rows 11 and 14, which are slightly smaller in width. When seated upright, the 22-inch seats offer passengers a nice and leisurely 44-inch pitch.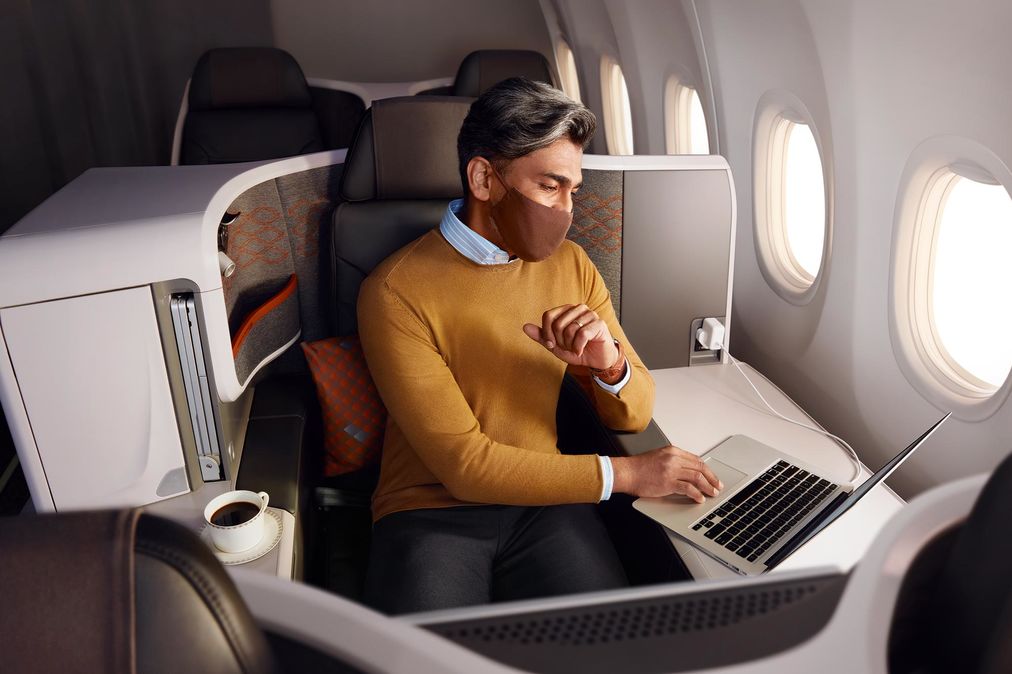 The two throne-style seats are clearly the top picks, but Singapore Airlines says it will not be charging extra for the privilege, nor will the carrier reserve them for elite PPS Club members. Although this may change, it is the aviation industry after all.
---
---
Singapore Airlines inherited their current collection of 737-8 MAX jets after the end of regional sibling SilkAir. All jets have been upgraded, and the models arriving will sport the same redesign so Singapore Airlines is able to passengers a premium travel experience across its entire full-service network. The redevelopment is part of an SGD$230 million (AU$232.2 million) investment in cabin products to better prepare Singapore Airlines for the swift return of travel post-pandemic.
The currently-owned jets are scheduled to take wing in the coming weeks to a handful of destinations, including Cambodia, Brunei, Indonesia, Malaysia, Nepal, Thailand, and the Maldives. Passengers flying these services will be the first to experience the Singapore Airlines 737 MAX business class product.