Historic Freshwater venue Harbord Beach Hotel – a Northern Beaches institution and one of Sydney's most beloved pubs – has officially been reborn as the Harbord Hotel. With doors now open, new owners Glenn Piper and Lachlan Cottee have overseen a redesign that pays homage to the local surf culture, echoed throughout an expansive main bar, a seafood-leaning restaurant named Balsa, and a sun-worshipping courtyard.
What's It Look Like Now?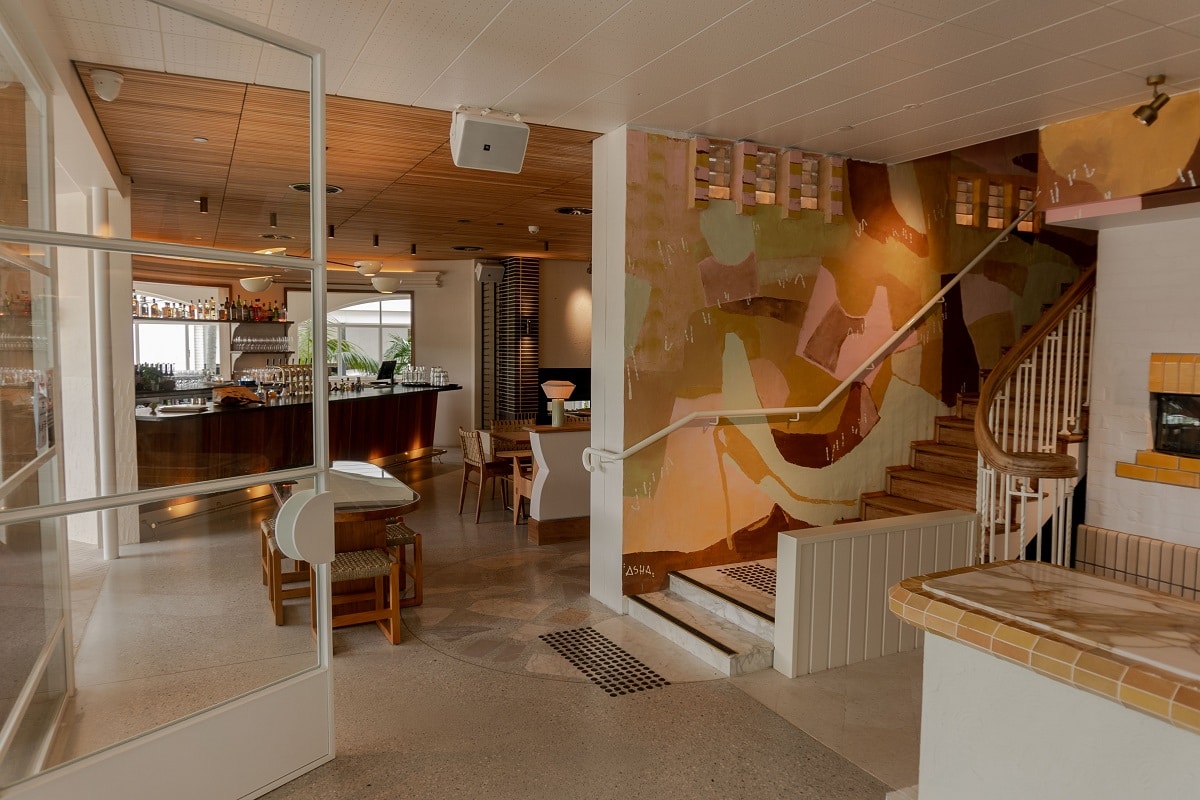 Positioned just a short stroll from the shoreline, the Harbord Hotel has doubled down on its status as a key communal hub for Freshwater locals, aiming to be an "extension of the area" and a "true beachside haven". That looks to be the brief that design studio Alexander & Co. was given, seeing as they've clearly been inspired by Freshwater's unique claim as the birthplace of surfboard riding in Australia. Their touches include a mural by Northern Beaches local Ash Holmes, greeting guests on entry.
A surfboard rack will be perched out front of the venue so boards can be hooked up as guests roll up straight from the sands. And, in an ode to renewal, parts of the pub that have been covered up for decades have finally been exposed, revealing a heritage staircase, arches, and other artefacts of the coastal icon's long history.
---
---
No doubt the most popular part of the new Harbord Hotel will be the massive outdoor terrace, which features its own bar alongside bright terrazzo tabletops positioned precisely for the nor'easterly breeze. Inside, the bar will feature live sports games alongside walls adorned with surfing nostalgia and vintage images.
What's The Food & Drink Like?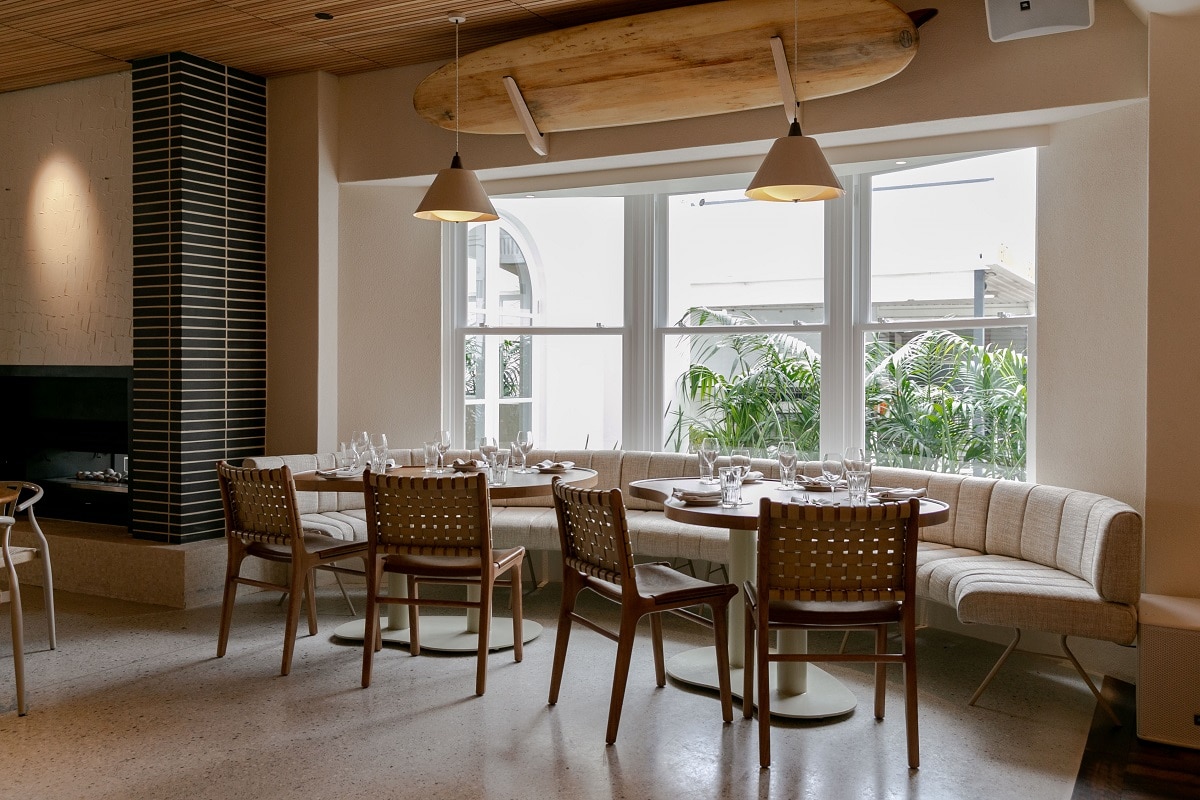 Ex-12 Micron chef Adam Rust will lead the pub's kitchen, pulling from the glistening surf cultures of both Australia and America for a menu that's a bit more breezy than your usual farm-focused pub menu. This one's going straight to the sea and bringing back the likes of raw tuna tostadas, and North Queensland tiger prawn cocktails with Marie Rose sauce, cos and lemon, as well as favouring fresh with green bowls for lunch, chia bowls for breakfast, and wood-fired flatbreads with toppings like heirloom tomatoes, zucchini flowers, ricotta, spiced prawn and prosciutto.
Rust will also be heading up the soon-to-open Balsa, the pub's more high-end restaurant which will be particularly fond of preserving natural flavours with salt, lightweight wood and smoke, so mains should be full of flavour, like wood-fired lamb rump with caramelised fig, smoked yoghurt and rocket, and crab calamarata with tomato, pangrattato, smoked chilli and basil. A signature lobster roll will also be on the Balsa menu, doubling down on the fresh seafood focus.
As for drinks, the smoke and salt philosophy will still apply. That means a series of margaritas with chilli salt smoked in the wood-fire, wines preferencing coastal and volcanic varietals, and crisp Aussie beers.
What's Next?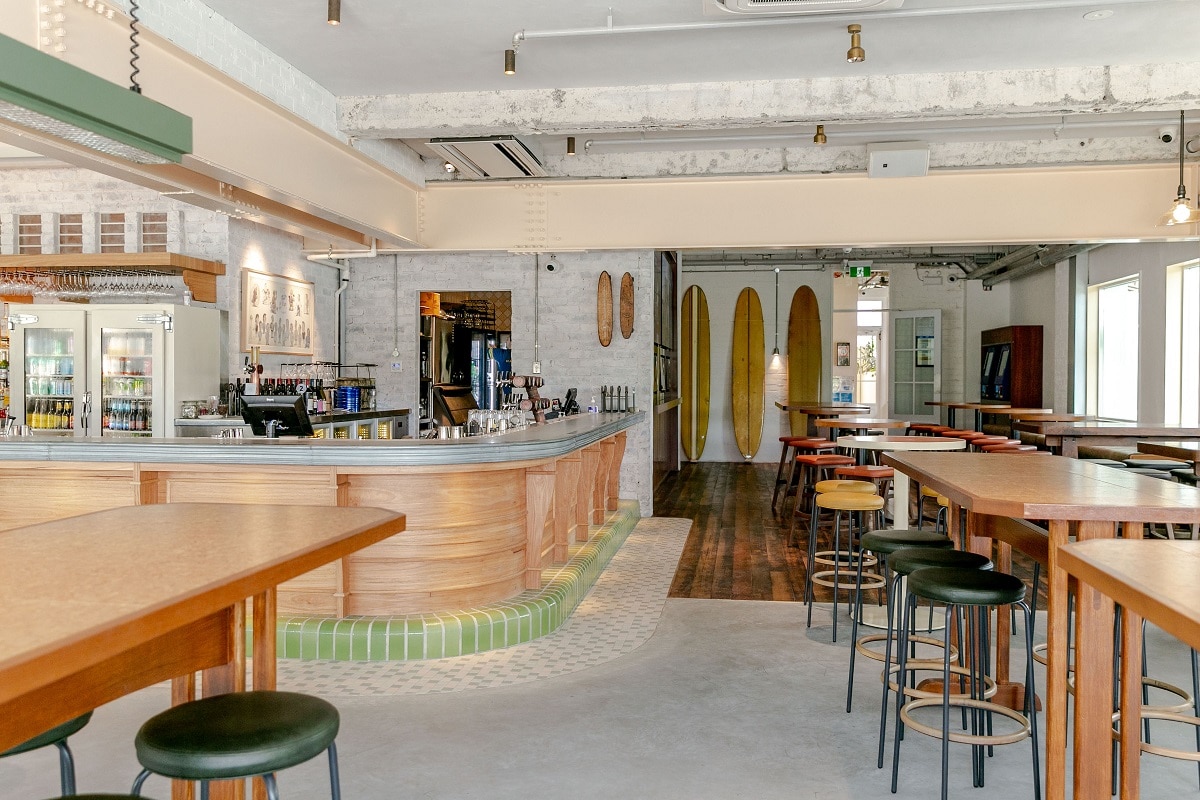 Though doors are opening today, the Harbord Hotel won't yet be operating a full capacity. The team are taking a gradual approach to the venue's refurbishment, with a second phase forthcoming which will add boutique accommodation and a café.
Anyone heading through those doors during summer – as rainy as it is – can expect a series of free live music to celebrate the venue's opening, showcasing local Northern Beaches talent like Shag Rock, Adohan, Great Gable and more.
The Harbord Hotel is now open everyday from 7 AM to midnight.
---
---
Address: 29 Moore Road, Freshwater NSW 2096
Contact: 02 9905 3434