If you have a love for travel and tequila why not combine the two with the Tequila Herradura Express in Mexico's southwest. Departing every weekend from the Mexican city of Guadalajara, this all you can drink tequila train travels to Amatitán, the birthplace of tequila, where you will experience the great joys of a uniquely tequila hangover.
On board the train you can sample a number of Herradura tequila varieties served straight or in cocktails while enjoying the picturesque landscapes of the Mexican countryside. Having arrived at the historic city of Amatitán you will be escorted to Casa Herradura and taken on a tour of the famous distillery, learning how the signature spirit has been created since 1870. There will tequila tasting and lunch provided, with an authentic Mexican Mariachi band providing the tunes and a folkloric ballet performed by the locals.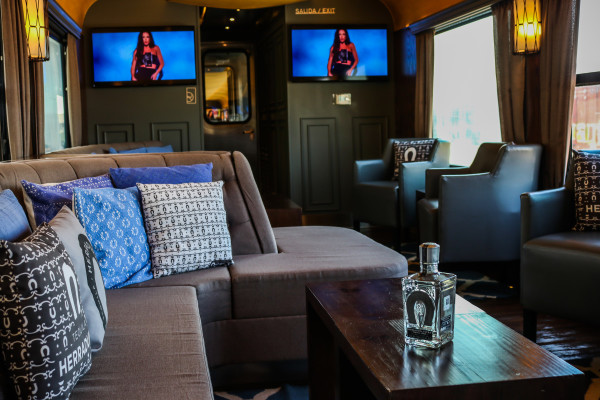 There are three types of travel options available for the train journey, with the Express Premium Car aimed at families and those wanting to enjoy the scenery as much as the tequila.
---
---
The Express Club Car is 18 plus and caters for those who like to party, as you can probably assume. It includes a large lounge area with music, games and entertainment. There are also waiters who will bring your drinks to your seats along with a mixologist creating inspiring cocktails. This package also includes a gourmet Mexican three-course lunch served in a VIP seating area after the distillery tour.
The final and most luxurious option is the Express First Class Cab. While you get the same distillery experience as the other two tours, the train cabs you ride in are next level luxe. The two cabs feature spacious leather chairs, stunning flat-screen TVs and a private bar service, so you can travel in comfort and style.
The Tequila Herradura Express runs every Saturday all year round, with tickets setting you back AU$164 for the Premium Car, AU$209 for the Club Car and AU$194 for the First Class Car.
You can book your tickets right here. Happy hangovers, gents.
RELATED: The Mexican "tequila hotel" that lets you sleep in a barrel