If you've been to Fiji, or at least the mainland of Viti Levu, you're sure to know that there is no shortage of seemingly identical resorts all within very close proximity. Resorts fight tooth and nail to get a touch on the constant influx of tourists coming through the arrivals gate, often on price. This can make it difficult for us savvy consumers and bosses alike to pick a winner – the last thing you want is to be stuck somewhere mediocre for your precious time abroad. We hit the ground in Fiji keen to sift through the pack.
Sitting pretty on it's exclusive 1.5 kilometre long beach with a vista of the world's most idyllic islands is Hilton Fiji Beach Resort and Spa; an oasis set against the backdrop of green mountain peaks reaching for the sky, endless sandy beaches, and water which seldom falls below 25 degrees. The resort sticks out with its sharp low-set buildings snaking along the coastline, all painted a bright white. It gives the impression of a modern, clean and cool escape from the hot, sandy surrounds. The lush landscaping is maintained to further push the 'oasis' aesthetic. The overall form at the resort is white billowing curtains, chocolate brown sun lounges and timber furniture with royal blue and black pool furnishings.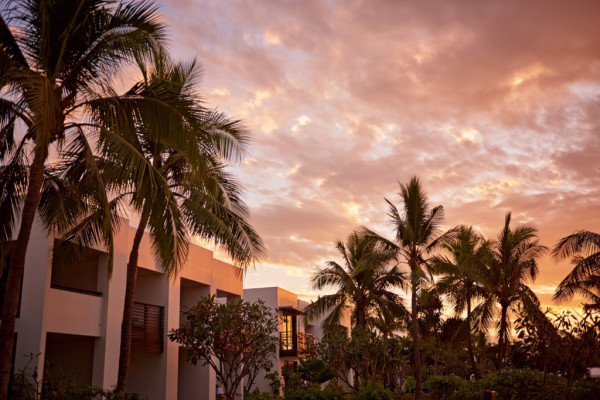 The plethora of facilities on offer were reverse engineered to ensure you don't have to leave the resort grounds if you choose. Most notable are the seven swimming pools lining the resort's seaside frontage. These are helpfully divided into adults only, shared use, and kids pools so peace and quiet is readily available if needed. Poolside bar service is a standard but always-pleasant touch, with drink prices not straying too far from those in Australia. Take advantage of happy hour from 4-5pm everyday – you can snag a killer cocktail for circa AUD $10.
The newest addition to the resort, KORO, deserves a mention. It's essentially an adults-only precinct with a five-star restaurant, infinity pool, fitness centre and spa, all on the beach. The space provides a getaway for those who desire and has a refined, contemporary feel about it. Sun lounges set in the pool and locally-sourced live entertainment each night are nice touches. Other accommodation options on the peninsula try their hand at an adults-only area as well but often tend to miss the mark where Hilton gets it spot on.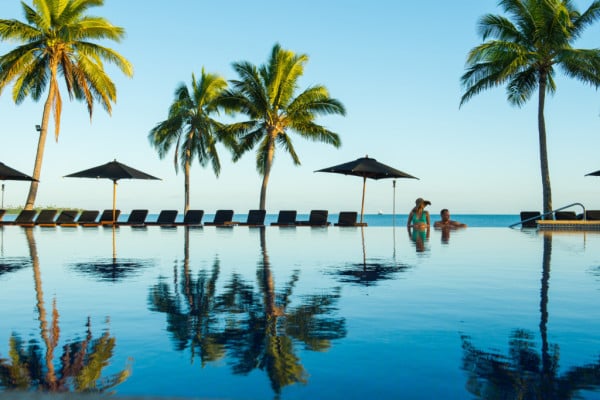 A major point of difference for Hilton is the dining options. Generally in Fiji, visitors aren't spoiled for choice and quality as they would be at home, with the majority of dining spots being sub-par or overly tacky. Hilton provides a welcomed recluse in this regard, offering three fine restaurants and an array of watering holes within walking distance. Choose between Maravu (Thai and Asian influence), Nuku (mixed international cuisine), and the brand-new KORO (high-end, share plate setting). Alternatively, the Deli onsite offers a selection of treats for those looking for a snack or quick pizza to go.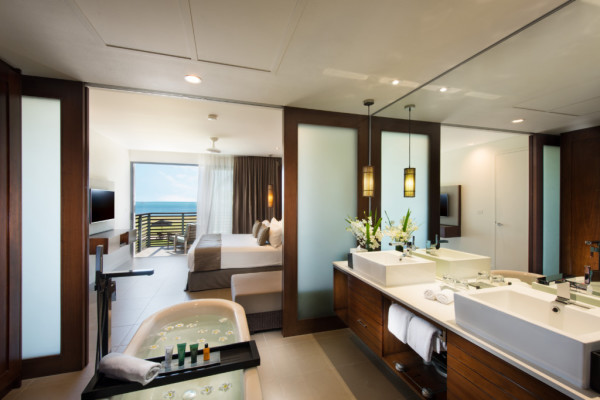 Accommodation options start at modest One-Bedroom Garden View Studios for around AUD $250 per night and finish at the ultra high-end Three-Bedroom Deluxe Penthouses for just over AUD $1,700 per night. For those travelling as a pair, we'd recommend the One-Bedroom Deluxe Beachfront Room, in which you get a separate living area and kitchen, as well as a shared plunge pool which is a game-changer when things are busy.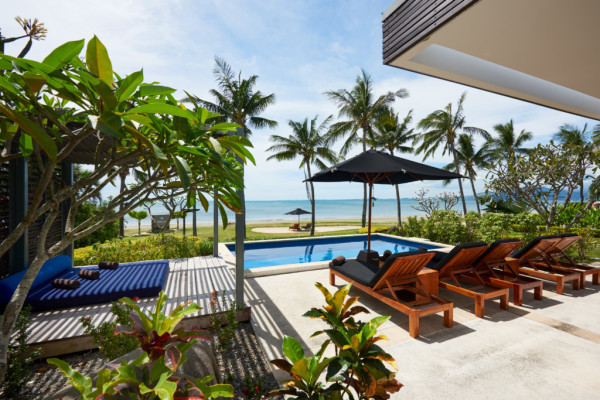 The Hilton is located on the northern tip of Denarau Island (which is connected to the mainland), approximately 20 minutes from the city of Nadi and the country's largest airport. There are four other international resorts on Denarau, a marina precinct and a golf course, making the peninsula a convenient tourist hub.
The location serves as great base for day trips, with many companies operating out of the marina offering island tours, deep-sea fishing and yacht charters. We strongly recommend treating yourself to a day on Fiji's floating day club, Cloud 9. For the surfers, Cloudbreak is mere one hour ride from the mainland so get ready to catch some shade in the green room.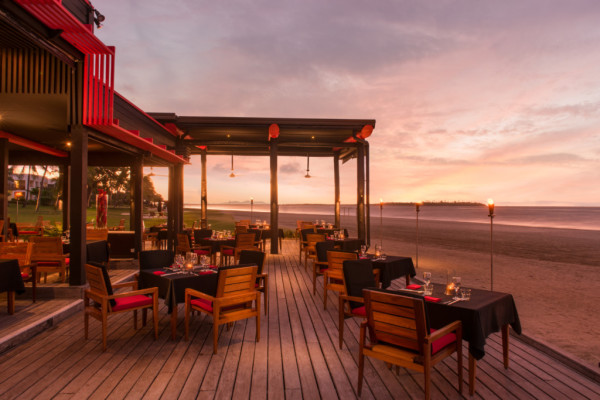 Overall, you get exactly what you'd expect from an institution bearing the Hilton name. The whole operation is sleek and efficient, no effort is spared in ensuring clients are satisfied, and the resort itself is a picture of esteem. The staff are impressively friendly, firing the Fijian trademark "Bula" (meaning hello) constantly and with smiles that go beyond the paycheck. Minor cons of the hotel include the beach itself, which occasionally lacks glamour due to the proximity to the Nadi, and the slight lack of Fijian cultural influence. Having said this, Hilton Fiji should be high on your Fijian getaway resort shortlist.