Time has almost stood still in Hydra. There are no cars, there aren't even bicycles; everyone walks, so you better hope that you travel light or have the skills to wrangle a donkey to help you with your bags. Locals all seem to know (and get along with) each other, and the local marina manager does not give two bobs if you're a local fisherman or a Saudi Prince. If you want to park in his marina, your tinny lines up next to that 400 footer, and vice versa. Visiting billionaires and travellers alike are encouraged to blend in with the unpretentious philosophies of the locals.
Yes, the people are friendly, the landscape is stunning and the food is delicious, but the art scene on Hydra is its real selling point. This island may not have embraced the wheel, but it has Greece's answer to David Walsh (of Tasmania's MONA fame) in the form of billionaire Dakis Joannou.
A self-made billionaire, Joannou made a name and fortune for himself by dominating the civil engineering and construction scene, but his social status isn't what garners the love and affection of the Greeks.
Joannou's contemporary art collection is parallel with that of national galleries around the world and is widely considered one of the most important art collections on the planet. Where Joannou differs from other 0.01 percenters though (and draws similarities with Australia's Walsh), is his insistence on sharing his incredible pieces with the public; making himself somewhat of an anti-collector.
The majority of Joannou's collection is housed at his Athens-based DESTE Foundation in a state of the art facility. It's impressive, housing a contemporary art trove of over 1,500 works, but it's also a little expected.
His Hydra outpost is much more unexpected. Opened in 2009 in nothing more than an old slaughterhouse once used to kill goats and sheep, the DESTE Foundation's Slaughterhouse has barely been altered from its original, bare-bones form. The slaughtering apparatuses are right where they've always been. It's a physical harshness that's perfectly juxtaposed with the treasures it exhibits inside, much like its physical setting on Hydra's arid, jagged landscape that meets with its iridescent aquamarine waters.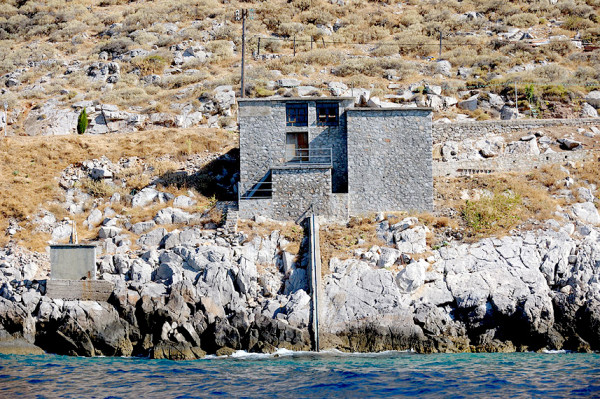 In 2020, The Slaughterhouse will be hosting a public exhibition for the first contemporary artists that Joannou every purchased – Jeff Koons. Considering Koons is a permanent fixture across the world's best galleries and is the most expensive living artist on earth, the fact that he's showing on this tiny island, for anyone to see, for free, is an appropriately big deal. Koons himself confirmed that he would be showing at The Slaughterhouse next year, and Joannau iced the cake by stating to artsy.net "you cannot miss next year."
You may be an art aficionado, you may be island hopping and looking to prove to your parents that you weren't just drinking solidly for two weeks – either way, in 2020, if you're going to Greece, you're going to Hydra.
RELATED: Learn All About The Art Market With This Awesome Video Series