Located in Sölden, Austria is the '007 Elements' museum – a wonderful real-life journey that pays homage to the story and success of the James Bond franchise. What's the coolest thing about it? It's built into the side of a mountain, right next to the filming spot for one of Spectre's most visually stunning scenes.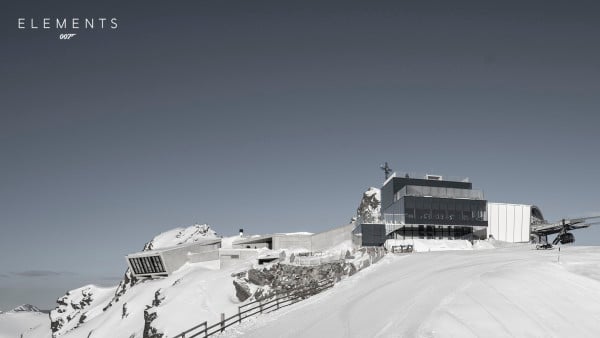 The museum was officially opened on July 12th of last year with a little help from current Bond it-girl, Naomie Harris (Moneypenny in Skyfall and Spectre) along with the team that made the whole project possible.
One member of this team includes art director Neal Callow, who worked heavily on Casino Royale, Quantum of Solace, Spectre, and Skyfall. With some assistance from Optimist Inc., Callow has created a truly marvellous cinematic experience that explains how the world of Ian Fleming's Bond evolved into the on-screen sensation it is today.
The approximately 14,000 square feet of space is situated right next to the ICE Q, the restaurant which acted as Hoffler Klinik for 007's visit to Dr Madeleine Swann in Spectre. If you've seen the film, you'd know that the view from this spot by itself is worth paying money for.
RELATED: 'Get Your Bond Villain On By Purchasing The Only Jaguar C-X75 For Sale'
Once visitors have had their breath taken away by the insane view, they will enter the Ballistic Corridor entrance, which resembles the barrel of a gun. Scattered with gear, gadgets, and guns (there's obviously plenty of cars as well, but it didn't work with the alliteration), the visitor's tour of the facility is guided by a healthy slew of Bond heavyweights that culminates in the Legacy Hall – a collection of the greatest 007 moments in the franchise's lengthy history.
The physical journey before the metaphorical journey isn't easy. Conde Nast suggests flying from Munich, Salzburg, or Vienna to the town of Innsbruck. From there, drive to Sölden, where a shuttle will take you to Sölden Resort. Finally, a cable car will drop you off right at the top of the mountain, 3,050 meters above sea level. And just as easy as that, you're there!
With sponsors like Jaguar, Land Rover, and Omega, 007 Elements could afford to set their prices fairly low at just €22 ($31 AUD) for adults and €12 ($17) for kids. Be warned, however, this price tag obviously doesn't include the financial and physical burden of actually getting to the spot. But something tells us it would all be worth it.
RELATED: 'How Much Would It Cost To Own The Life Of James Bond?'