Although it's unlikely travel to the US will be on the cards for Aussies anytime soon, it's good to keep track of the developments that await us when we eventually graduate from tiny travel bubbles to full-scale international adventure once again. The latest development: the ambitious new US$260 million (AU$335 million) Little Island New York, an offshore public park in the Hudson River that has been one of the city's most anticipated openings for a couple of years now.
Located at Pier 55, the fascinating public park has been designed to resemble a supersized leaf drifting on the Hudson, buoyed by a base of 280 concrete piles and precast columns driven down as far as 60 metres below water, as well as 132 tulip-shaped concrete pots positioned at various elevations from 4 metres to 18 metres above water, designed specifically by Heatherwick Studio, and developed by engineering firm Arup, to hold the soil, overlooks, and trees. This support base allows for the two-acre park to stay securely afloat so its 687-seat amphitheatre, smaller stage, and plaza don't suddenly drop to the depths of the Hudson.
The waterborne engineering is almost as fascinating as the park itself, but it's what's on top this mini-island that represents what many reports are (hopefully not naively) likening to a bridge between New York City's pre- and post- COVID era.
---
---
Chief designer Thomas Heatherwick conceived the park as a split between three distinct main areas. The first, and primary, is the "Play Ground," with the aforementioned thrust-stage waterfront amphitheatre (hopefully with a free Jay-Z concert somewhere down the line) and a dedicated area for parkgoers looking for somewhere a bit quieter.
The rest of the sections are made up of shaded nooks, grassy knolls, gentle green slopes, zigzagging wooden staircases, white-rose trellises, and three elevated overlook platforms for skyline and river viewing. Other mini-environments were created by landscape architecture firm MNLA and their founding principal Signe Nielsen.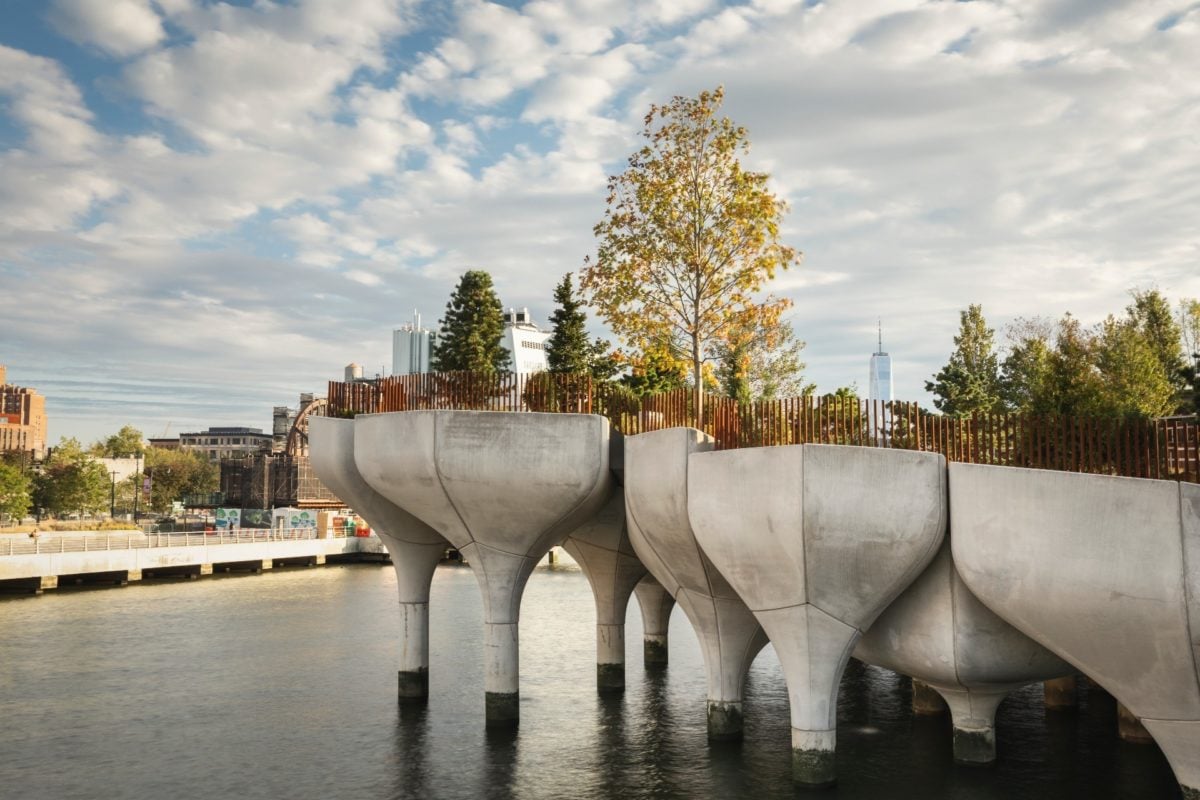 Various rolling hills, walking paths, and lawns help cover the park with an abundance of green spaces, where plantings will change seasonally. So far, the park has opened with 114 trees in 35 different species, no less than 65 species of shrub, 66,000 bulbs, and 290 varieties of grass.
The park is accessible via pedestrian bridges at West 13th and 14th streets, which connect Eleventh Avenue with Little Island New York. Already New Yorkers have been flocking to (safely) enjoy the park, which was bankrolled entirely by billionaire Barry Diller (current Chairman and Senior Executive of IAC/InterActiveCorp and Expedia Group) and his wife Diane von Furstenberg. According to reports, Diller has been having meetings about the park since 2010, sparking a passion project that has since struggled through legal action, permit cancellations, and re-negotiations to arrive at this point.
Arts & culture programming is set to begin on Little Island New York next month, which will include several artist in resident spots leading into performances and events six days a week – most for free or set at a very low ticket price. Reportedly, by the time 2021 is over, Little Island will have been about 500 events and performances.
"I hope Little Island will serve as a whimsical oasis for everyone who visits, a place to wander around and be happily surprised at every turn, to lounge and graze the landscape, and to be entertained, educated and stimulated by our programming," says Diller.
If you do happen to be over in New York City right now, take note that the current opening times for Little Island New York are 6 AM to 1 AM local time. Due to restrictions, timed reservations are required between 12 PM and 8 PM and can be booked online.
---
---
Check out more photos of Little Island New York below, credited to Michael Grimm Photography.