This article is the first of a three-part series with Destination NSW in the lead-up to next month's Emirates Australian Golf Open.
I was picked up in a Porsche Cayenne. What a top way to start the day, I thought, not to mention a great way to kick off this article.
Here at Boss Hunting, we're pretty big on golf. If we had a penny for every time we heard about a phenomenal golf course, to then only find out it was private – requiring a membership or the call-up from a good connection – we'd have a fair few dollars. So we put aside an entire day dedicated to checking out a service by a company called LuxGolf, who boast access to some of the most prestigious private courses in Australia. Throw in a neat transfer service, club selections, and cart hire, I was curious.
Waiting in the lobby of QT Bondi, I heard a sinister purr of a V8 rolling menacingly into the carport. I assumed it was just another valet bringing a high-rollers car around for collection. It was then I noticed 'LuxGolf' on the side of the Cayenne as it pulled up.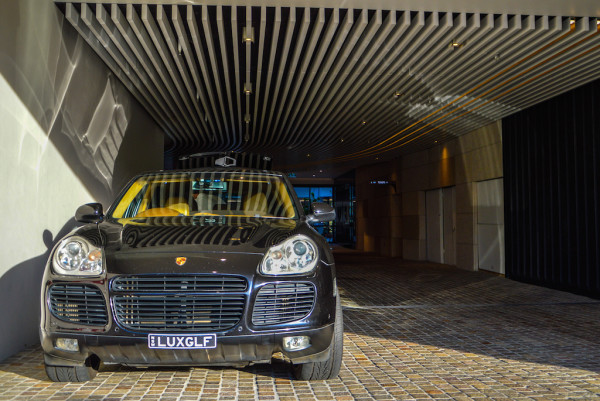 It goes without saying that my stoke level was high. I jumped in to be greeted by an enthusiastic guy, mid 30's – Travis Bruinsma was his name.
No matter where I go, I've noticed that the people you meet massively shape your experience. My initial thoughts were that LuxGolf had to be on-point with the service they provided and a clear brand they wanted to portray, given the affluent nature of their clientele. So, naturally, the people they employed had to match the company's image and experience. Trav induced a sense of excitement, you could tell he wanted to be there. This was clearly no nine-to-five grind. I asked how he landed a gig with LuxGolf and it turns out it's his company.
Here's the deal. Like us, Travis felt the pain of seeing so many deluxe golf courses in Australia and not being able to play at the majority of them. Living in Sydney, about 70% of the courses within ten kilometres of my home are private. That percentage seems to be proportional as you get closer to Sydney's coastline, and likewise internationally. I've read about the best courses in the world, and, while it would be ideal to have a hit at these incredible places, it's simply not possible for the vast majority of us. That's where the guys at LuxGolf come in. They've partnered with numerous golf courses in Australia, New Zealand, and Hawaii. Ten are in Sydney, four of which run along the coast.
You pick a partner course, no membership needed. Your transfer, clubs, game-day kit and cart hire are all taken care of. As it turns out, Harrison Ford, the LA Dodgers, and the Arizona Diamondbacks also feel this pain and have also ducked off for a few rounds at Sydney's best through this same service.
My curiosity had progressed to a feeling of intrigue.
So there we were, rolling through Sydney in a Cayenne Turbo, the sound of which never seems to get old. I was asked if I prefer Callaway's latest graphite or steel clubs. I replied graphite, but also mentioned I wouldn't mind trying out a steel set. We pulled up to a public fairway just before our private course for the day, St. Michael's.
Trav whipped out the two sets and said, "give both a whirl and see which ones you like". The graphite set seemed to be doing the job rather well. LuxGolf has a partnership with Callaway to offer you that tailored golf experience. Callaway assess your swing, what you're doing well at and where you're lacking. They determine the optimal length for your style, then, if you would like to own the clubs, so be it. It doesn't matter if you live in Tokyo, London, Melbourne or anywhere in between -they'll be on your doorstep within 48 hours.
We promptly rolled into St. Michael's Golf Club, a breezy 25-minute drive south of Sydney's CBD. Trav had a spare couple of hours and happily joined me for the game. Sydney's considerate weather Gods put on yet another typical masterclass of spring weather – blue skies, 27 degrees, a touch of wind to keep the flies away, warm enough to brush up a glow, but not too hot to have us pink by the end of the day. This, with the array of surf beaches, is one of the main reasons that makes me promote my native Sydney with a cult-like bias.
I'll tell you a bit about the course. The ocean views are unreal. A few of the holes hug the coast, sitting on the cliffs above the ocean, while some run towards the ocean, allowing you to tee off directly into the blue expanse. There's not much more to say about this – I'm sure you can imagine that it is a pretty nice way to play golf.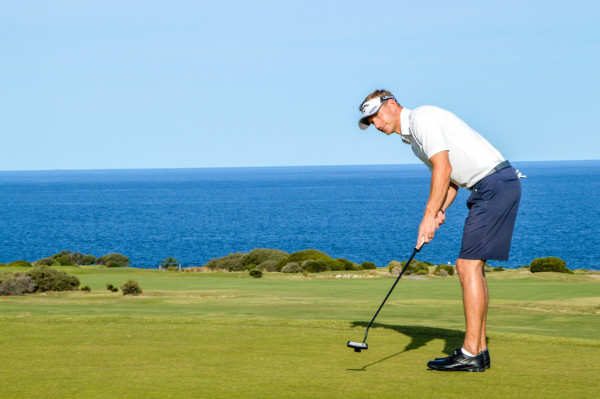 The beauty of this had a double-edged nature to it, while it had a calming effect on me, allowing me to appreciate the serenity, it was also a touch distracting. Ladies and Gentlemen, as if it were scripted, we spotted a Southern Right Whale breaching just a few hundred metres from the cliffs we were standing on. Absolutely spectacular.
The course has a cool design. The fairways and greens are smooth and manicured, while the rough coastal Australian shrubs can swallow your balls unforgivably. The course has a series of clever traps and turns that force one to add care and strategy to the day. The design exploits the slight hill it sits on, giving some holes incredible open views of the whole course and the inviting Pacific Ocean. Given the course backs onto Botany Bay National Park, it has to share its playground with the likes of Kookaburras, Magpies and Lorikeets that effortlessly cruise the fairways – one of the smaller aspects that I enjoyed.
I hadn't played a great deal this year, so my game was a tad rusty. Trav's was on fire and he gladly threw a dog a bone with some crisp hints for my technique.
For me, it's the smaller intricacies that add up to make the whole experience enjoyable – it doesn't have to be one big event in the day that does it for me. Rolling around in the Cayenne, the cracking weather, the good company of the guys at LuxGolf, the insane Callaway kit, sampling both the graphite and steel clubs, practicing at the range, indulging in refreshments throughout the day, the birds on the course, the ocean views – all in Sydney's postcard-perfect eastern suburbs. That's what made it for me.
St. Michael's is just one of the many prestigious club's in LuxGolf's line-up and we'll be sure to tick off the others on offer very soon. As I was standing on the fairway, I thought of the possibilities. From corporate groups to a weekend splurge with your mates, this is a stellar option when spending a few days Sydney-side, or similarly if you're looking to sneak in a game in any of the other partner cities.