Forget sex, seclusion is the most reliable seller for 2020. At a time when social distancing counts as due diligence and Aussies are languishing in a world without open borders, it has never been more vital to look to the nation's pockets of lavish escapism which can be found at the most remote hotels in Australia. Postured magnificently amongst the restorative embrace of nature, they certainly make for compelling offerings.
A bubbling desire for the ultimate staycation is something we can all relate to right about now, and luckily for us, Australia is more than up to the task. From Tasmania to the Northern Territory, this country's often untamed and dramatic landscapes host some of the finest hotels, glamping experiences, guesthouses, and resorts this side of the globe.
Below you'll find ten of the wildest and most remote luxury hotels in Australia, each beautifully expressing their unique locations between smacks of sumptuous indulgence and rugged outdoor adventure.
Emirates One&Only, New South Wales
Surrounded by a signal-jamming palisade of sandstone cliffs, Emirates One&Only Wolgan Valley Resort sketches the internationally revered luxury brand onto classic bushland Australiana.
With its philosophy hinged on conservation, the property offers roughly 7,000 acres of undisturbed land snaking across the expansive valley floor, best explored through a combination of horseback riding, nature walks, mountain biking, and a daily 'Wildlife and Sundowners' tour that typically ends with a toast to multicoloured sunset hues.
The property's forty freestanding villas fan out from a historic homestead, all as stylishly dressed as the dapper staff who attentively run around the sprawling resort (kitted out in R.M. Williams no less). You can be as isolated as you wish, choosing to retire to your own private fireplace and heated pool, or give yourself over to a daily bespoke itinerary which could include anything from outdoor yoga and sound therapy to habitat restoration activities led by a dedicated team of expert Field Guides.
Whatever the choice, there's a custom A.H. Beard bed waiting for you at the end of the day, as well as a nightcap of the resort's very own 1832 Wolgan Gin – a spirit cobbled from seven native Australian botanicals and the unsullied waters of nearby Carne Creek.
Saffire Freycinet, Tasmania
Sheltered from the outside world by the aquamarine waters of Great Oyster Bay and the pink granite Hazards mountain range, Saffire Freycinet is widely lauded as one of Australia's premier eco-luxe getaways.
The award-winning destination resort is known in particular for its complex design, as conceptually linked to its surrounding natural environment as the complimentary outdoor activities. This includes zipping up in a beekeeper suit for an immersive tour of an on-site apiary, searching for the elusive Tasmanian Devil, and donning waders to pan for highly-prized Pacific oysters on a working oyster farm.
Wealthy gourmands the world over make Saffire a regular stop for internationally acclaimed wines that express the Freycinet's Mediterranean-like climate, and daily bounty delivered from the local fishing villages that trawl the pristine stock of Great Oyster Bay. And they couldn't care less about overeating, seeing as they can just crash in one of twenty lofty suites and drink in the sublime views of Freycinet Peninsula while nursing that food coma.
Sal Salis, Western Australia
Scanning the epic stretch of the West Australian coast, you'd be forgiven for glossing over the eco-friendly Sal Salis. This luxury safari camp is camouflaged by white sand dunes on the shores of the biodiverse Ningaloo Reef, set a stone's throw from a dense population of whales, dolphins, dugongs, manta rays, and whale sharks.
Direct access to Australia's largest fringing coral reef means that days would typically start with a quick snorkel from shore, a swim with whale sharks, or a guided gorge walk tracking the ancient limestone formations of Cape Range National Park.
When you're done with the outdoors, sixteen elegant glamping tents await, decidedly swapping the distractions of modern technology for the core comforts of handmade jarrah beds and a promise that the sparkling waters of the Indian Ocean will still be there come sun-up.
Longitude 131°, Northern Territory
Few spots in Australia are as emblematic of the country's outback charms as the Red Centre, which surely makes Longitude 131° one of the most distinctive luxury safari camps you can find. The legendary property first opened back in 2003, immediately attracting global repute before a multi-million dollar refurbishment pushed the acclaim even further ten years later.
Defined by its uninterrupted view of Uluru, Longitude 131° embraces and serves as an oasis from the rugged desert landscape it calls home. Sixteen ultra-luxe tented pavilions make up the guest offerings, as well as a central Dune Pavilion – the only accommodation to offer dual views of both Uluru and the equally awe-inspiring Kata Tjuta.
Daily desert expeditions highlighting the region's geographical heritage and ancient indigenous culture, as well as guided hikes around Walpa Gorge, are there for anyone who can bring themselves out of the pure serenity of soaking in an outdoor hot tub with Uluru as the landscape. By night, the property also hosts an exclusive Table 131° outdoor dinner among the dunes, sharing a four-course meal with fine Australian wines underneath the luminous southern night sky.
Capella Lodge, Lord Howe Island
A recent $4 million facelift has doubled down on exclusivity at the ritzy and highly regarded Capella Lodge on Lord Howe Island.
Each of the nine close-yet-distant suites now boast individual outdoor decks with either a hot tub or a plunge pool, ramping up the privacy just in case an 11-kilometre-long, 2-kilometre-wide sub-tropical island with a tourist cap of four hundred wasn't isolated enough for you.
Although Lord Howe is best known as the perfect spot for scuba diving, kayaking, surfing, and birdwatching, tranquility and downtime are two of the island's most valuable trades. In fact, you'd be hard-pressed to tear away from the beach-chic accommodations – which welcome dramatic views of the island's formidable twin peaks, Mount Gower and Mount Lidgbird, while the salty Pacific breeze creeps in from all angles.
El Questro Homestead, Western Australia
Hiding amongst the various toothy cliff faces and capacious chasms of the Kimberley, El Questro Homestead keeps a low profile with only nine suites. The property's size is barely a drop in the 700,000-hectare ocean splayed out in front of it, taking in thundering waterfalls, shaded watering holes, and rocky thermal pools.
The Homestead is always capped at eighteen guests, so there's plenty of space for privacy whether it's relaxing in the pool overlooking Chamberlain Gorge, tasking the staff with setting up an intimate dinner over a waterfall, or flying low over the billowing Cockburn Ranges.
Exhaustion built up from hiking and horse riding is met with smartly appointed rooms, peaking with the Chamberlain Suite, which is uniquely cantilevered over the edge of its namesake gorge, and offers the best views in the house from its wraparound veranda.
Satellite Island, Tasmania
If having staff at your beck and call is too far beyond your social threshold, then how about grabbing some mates and lounging with an entire island to yourself? That's the idea behind Tasmania's Satellite Island, a 34-hectare landmass in the middle of D'Entrecasteaux Channel, where guests are left to their own devices, and a lone caretaker discretely maintains the area.
Dropped off in the lap of luxury, you get private access to the entire island with its blue gum forests, rocky cliffs, and unspoiled beaches. Choose from a three-bedroom summer house, two-bedroom boathouse, or a glamping tent set up overlooking the cliff to get even closer to the white-breasted sea eagles that call the island home.
Although there aren't any shops on the island, local supplies are plentiful and provide guests with all the Tasmanian cheeses and fresh oysters they'd need. There's also an organic herb and vegetable garden for fresh pickings, and chickens so you can collect your own fresh eggs. If seafood is more your bag, you can fish for urchin, abalone, and mussels straight from the water.
Naiko Retreat, South Australia
Best reached by 4WD, Naiko Retreat sits completely isolated on the bottom of the just-outside-Adelaide Fleurieu Peninsula.
The rugged 5-kilometre dirt road leading up to the sculptural guest house doesn't see much traffic, so cosying up in this private clifftop oasis will essentially cut you off from the rest of the world.
Only three bedrooms make up the striking home, which was designed by renowned Max Pritchard Gunner Architects with a distinctive curved roof to reflect the undulating hillscape and the waves below. Expansive views across the Backstairs Passage to Kangaroo Island are maximised, while the only thing interrupting the postcard vistas is the overactive wildlife – the house is surrounded by conservation parks and its own fully private cove.
Daintree Ecolodge, Queensland
When you're searching for the best of remote luxury in Australia, it'd be foolish to overlook the rainforests of Queensland. Daintree Ecolodge anchors down in the heart of its World Heritage-listed namesake rainforest, flitting the magnificent canopy of Bull Kauri trees with fifteen eco-friendly treehouse-style 'bayans'.
While the bayans keep it simple with a sharp focus on comfort, the real magic here comes from the morning choir of birdsong and green-eyed tree frogs that flow in through the screened balconies, prefacing a day of relaxation built up by the celebrated Daintree Wellness Spa, natural solar-heated pool, and gentle onsite waterfall.
Anyone who feels like braving the rainforest can also follow the dedicated walking trails, take an organised day trip to the Great Barrier Reef, or hop on a Daintree River cruise for easy crocodile sightings.
Elysian Retreat, Whitsunday Islands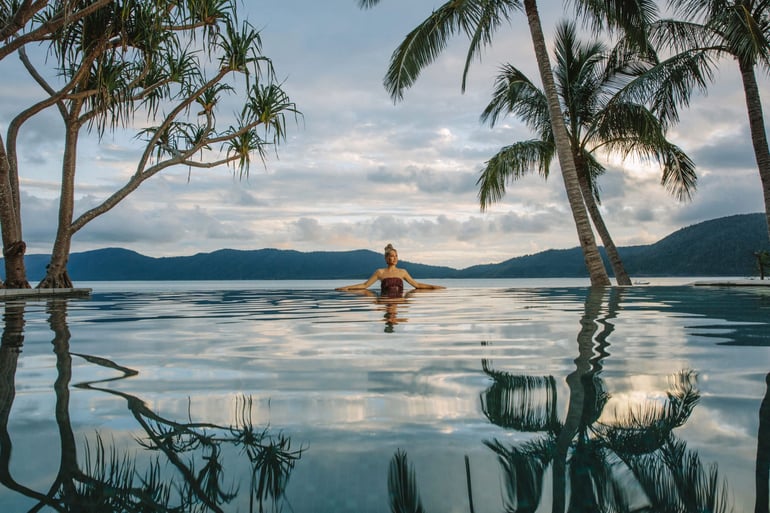 As one of Australia's newest eco-resorts, Elysian Retreat is the type of island getaway where guests arrive by helicopter or boat, dropping them straight into the middle of an intimate, highly coveted staycation that's usually reserved for honeymooners and well-heeled celebrities.
The three-hectare private cove is the first fully solar-powered resort on the Great Barrier Reef, narrowing focus on unrelenting sustainability without sacrificing the ultra-luxe aesthetic of its former life as cyclone-damaged Paradise Bay Eco Resort.
Only twenty guests stay here at any given time, spread across ten recently remodelled ocean-front villas, maximising privacy to make each feel like they're the only accommodation on the island. Expect illustrious views of the Whitsunday passage and the rainforest of nearby national parks.