The Hotel:
The Location:
Sea Containers, Southbank, London, United Kingdom
The Vibe:
Modern sophistication meets a 1920's cruise liner
The Rate:
From AUD $390 p/n
Here at Boss Hunting, we're aiming to build up a list of reliable, go-to accommodation options – just as much for our own benefit, as for yours – for when we're presented with hastily organised business trips or spontaneous getaways to various cities around the globe.
It seemed fitting then, following our stay at Sydney's newest five-star digs, that we jump across the world to its British counterpart in London, a place commonly frequented by many of our readers. Don't fancy scrolling through hundreds of hotels for a city that is well and truly oversaturated by the hotel market?
Take it from us, then, that the Mondrian London at Sea Containers on Southbank will effortlessly tick every box you could require from a central London hotel or any London accommodation. Individuality is a trait that couldn't be more essential in London. Despite the Mondrian being part of the Morgans Hotel Group, you'd never guess its affiliation with any brand.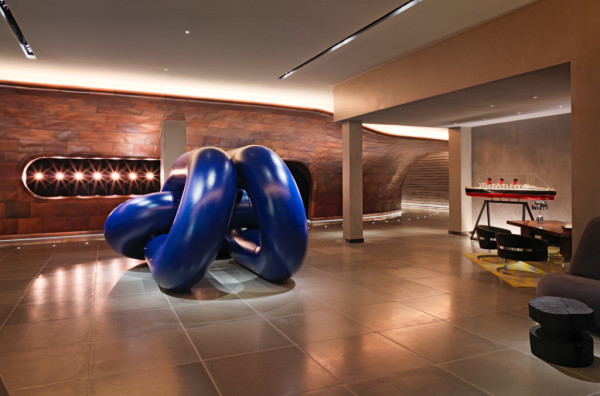 Design
The bold and striking interior will take command of every one of your senses as you enter the lobby. Designed with an abstract blend of nautical curvatures and stark colour contrasts, you can't help but accept you're clearly riverside. A selective lighting experience radiates modern sophistication, complementing rich copper tones that exude a feel of rustic prestige throughout the entire hotel.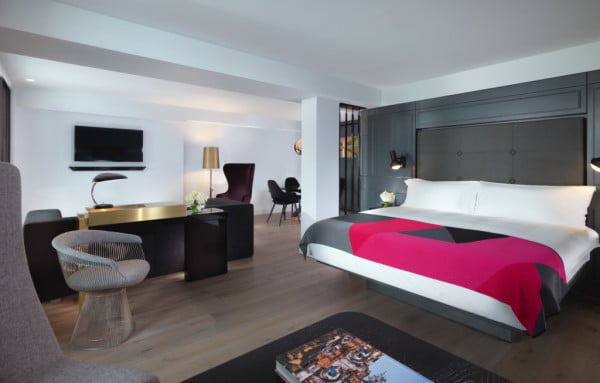 Room
We were lucky enough to be upgraded to a Riverview Suite, overlooking the twinkle of West-end lights and St. Paul's Cathedral reflecting off the Thames.
London can be much like New York or Hong Kong as far as hotel room stereotypes go – small and expensive. The Mondrian, however, does its best to mitigate such, emphasising space and minimalism. The furnishing is elegant yet simplistic, the bathroom bright and overwhelmingly spacious – you could almost fit another bed inside.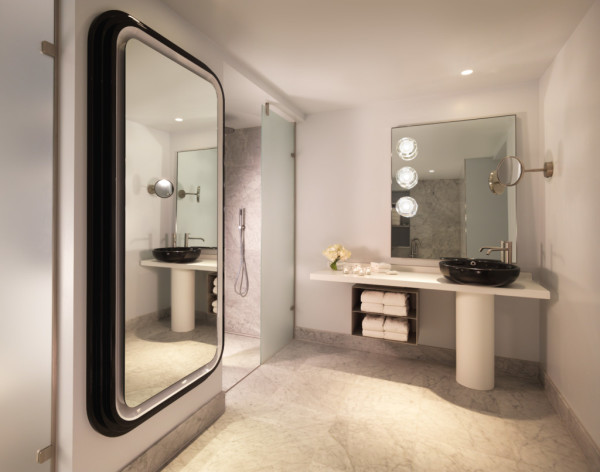 What to do?
Should your stay be short and sweet, or at the end of a painstakingly long international flight, I'd highly recommend relaxing at Agua Bathhouse & Spa. Specialised treatments are available, or simply treat yourself to a quick but deserved unwind before dinner.
Afterwards, your best bet would be to start high and work your way down, quite literally. The Rumpus Room (cover photo), the Mondrian's glass box rooftop bar and lounge, boasts fantastic views of London and is by far the most glamorous space in the hotel. If you can get there before sunset, the last rays of sunlight might tease you as they make their brief appearance below the overcast skies before dipping below the horizon. With a drink in hand and an unparalleled view before you, there aren't many places you'd rather be.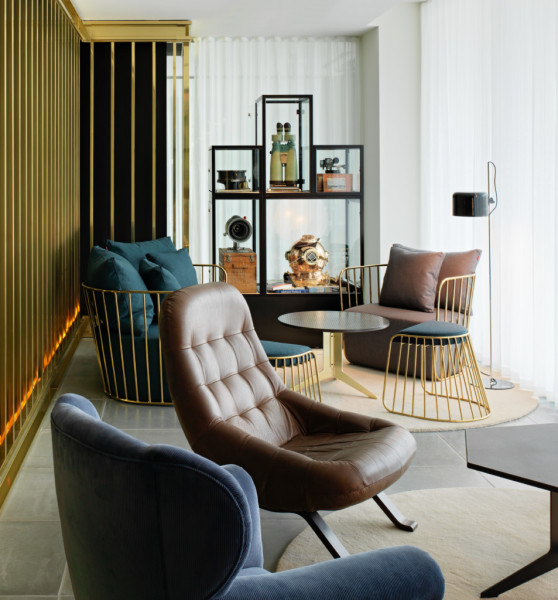 Dandelyan Cocktail Bar
Dandelyan, the award-winning world-class cocktail bar is down at the Thames' waterline, with a noteworthy green marble bar and smiling, enthusiastic staff. Originality is key here. No two cocktails you order will be the same, with each bartender adding their own signature flare to complement your unique experience. Besides being voted as the 'Best New International Cocktail Bar' two years running, they've also taken out the top spot for 'International Bartender of the Year.' Either way, you're in good hands.
Location
If curiosity gets the better of you and you just can't help but venture outside (so it should do, you're in London), then a rich selection of bars and restaurants await you on both sides of the river. The London Eye, Tate Modern, Globe Theatre and Borough Market are never far away either, all within an easy walking distance. You can also check out some lifesaving London brunch spots to cure that pesky hangover.
Final Thoughts
The most intriguing aspect of the hotel, however, was undoubtedly its identity crisis; torn between a modern, art-deco twist on the Mondrian brand, and the feeling that I'd just boarded a Titanic-era cruise liner every time I entered the lobby.
Engulfed by a city that is almost overwhelmed by its historic aura, it was nice to see that the Mondrian could gracefully and charmingly capture both vibes, moulding them into one holistic and unique hotel experience.
If you want a minimalistic class with something that has a genuine boutique character, then look no further than the Mondrian at Sea Containers for your next visit to London Town.
For more information visit: www.morganshotelgroup.com/mondrian/mondrian-london