It seems luxury hotel openings are full-steam in 2021, with the latest being the newly minted One&Only Portonovi Resort in Montenegro. Not only does this mark the long-awaited (and long overdue) European debut for Sol Kerzner highly coveted luxury resort brand, but it's one of the most ambitious properties that will open anywhere in the world this year, given it's located at the entrance of Boka Bay in the UNESCO World Heritage Listed Kotor Region.
With plenty of history to live up to, One&Only Portonovi Resort keeps it tight with just 113 rooms, suites, villas, and private homes. Much like other One&Only properties around the world, which includes Australia's One&Only Wolgan Valley, the focus seems to be on balancing intimacy with a grand sense of scale, and a commitment to the ultra-luxury label that has floated around the One&Only brand since it debuted in 2002.
Since 1979, the Kotor Region has been recognised as one of the most important places on the Adriatic coast. And that's more than enough drama to provide the backdrop for this stunning new resort, which is bordered by a private beach and features a number of swimming pools spread across the property. This is in addition to big-ticket amenities like five restaurants, the high-end Chenot One&Only spa – treatments are hinged on the east-meets-west Chenot Method – and a tennis club with floodlight-lit courts.
---
---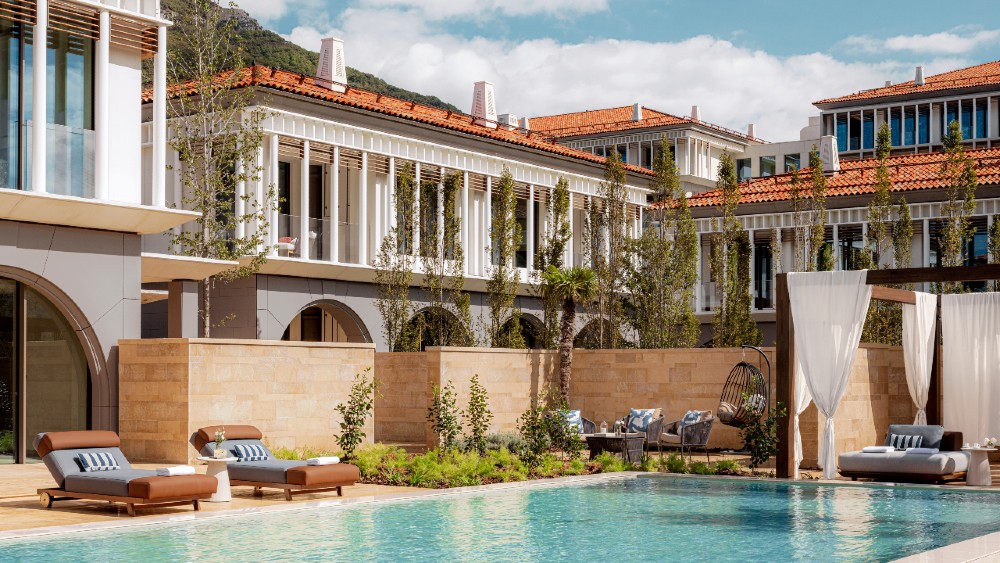 One&Only Portonovi is surrounded by the action-packed nature of the Adriatic coast, which means guests don't have to look far to find immense mountains, hidden beaches, well-preserved medieval villages, historic vineyards, premium dining experiences, and yacht-filled marinas. The latter will especially have a presence at the resort, seeing as its part of the wider Portonovi luxury lifestyle development, which features a 238-berth D-Marin superyacht marina, and of course a helipad.
Both inside and outside, the resort looks very much like it was inspired by a Venetian palace, bringing a slice of Italy to the Balkan country. This should only help further along the idea behind making Montenegro the next French Riviera, as has been touted for the past for years of development.
This means what you'll see when scanning the resort's lavish exterior is a mix of colonnades, red tera-cotta roofs, beautifully manicured gardens, and generous pops of blue from all the indoor and outdoor pools. Reportedly, inside most room and suite types reveal luxury features like modern fireplaces, expansive bathrooms, furnished terraces, and floor-to-ceiling windows looking out to either the mountains, marina, or Boka Bay.
One of the higher end accommodations, the 1-bedroom Suite One, comes with an outdoor dining area that can seat up to 12 people. Both indoor and outdoor fireplaces are featured in the design, as well as a separate butler's entrance and a private wine vault that can store up to 268 bottles.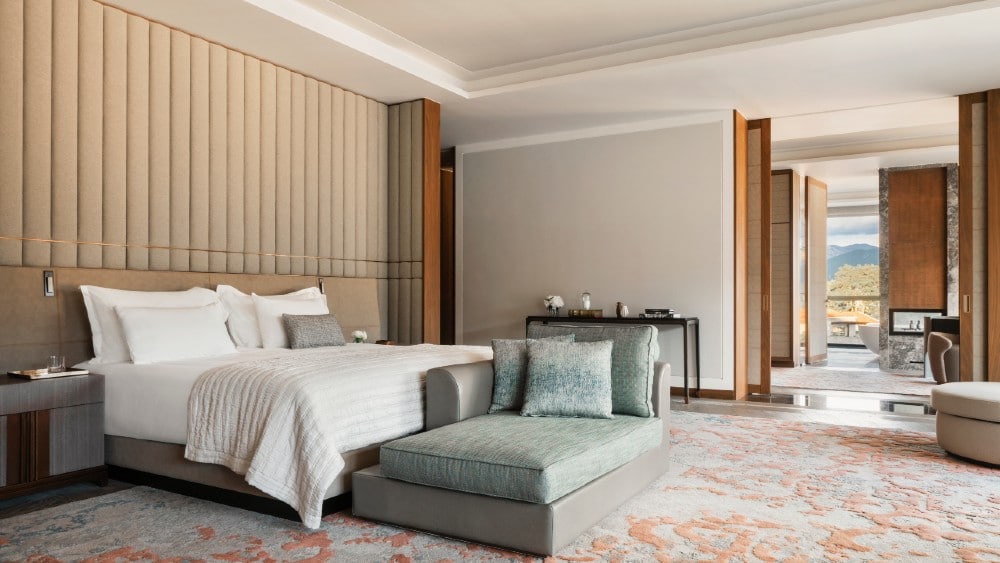 Two villas – a 3-bedroom and a 2-bedroom – are offered in complete solitude from the rest of the resort. Both have private gardens, swimming and hydrotheraphy pools, outdoor showers, and their own teams of butlers, chefs, and valets. Those looking to invest in the resort should also know that there are 10 3-bedroom and 4-bedroom One&Only branded private homes available for sale, each with a pool, internal courtyard, and direct beat access where the boat jetty is.
London-based Italian chef Giogio Locatelli, who is probably best known for Michelin-starred Locando Locatelli and, most recently, the Italian iteration of MasterChef, heads up the resort's headline restaurants, Sabia. Here, Southern Italian is showcased with a focus on fresh seafood. Guests who want something more pan-Asian can dip into the poolside Tapasake Club, which will be the site of plenty of sets from international and local DJs, while anyone wanting a bigger focus on local Montenegro favours will want to go to La Veranda. Caminetti Bar, located in the lobby, is the go-to for cocktails, afternoon tea, and a pre-dinner caviar menu.
Given wellness has pretty much become a core pillar of the hotel industry and continues to become more central in luxury hotels, it's unsurprising that so much effort has been put into Chenot One&Only spa. Chenot, a Swiss wellness company, are known for their fusion of modern scientific techniques with traditional Chinese medicine and a few other Eastern practices. This allows guests to undergo personalised multi-day retreats should they need, with programs worked based on goals like detoxing, fitness, and stress-relief. The scope of treatments is therefore quite large, and even includes hydrotherapy and cryotherapy areas.
---
---
The strong wellness focus can also be found in the resort's roster of regularly scheduled activities for guests, listing the likes of yoga and guided hikes around the area. You also have a contemporary fitness centre, and a kids' club because wellness and screaming kids are pretty much incompatible.
While One&Only Portonovi Resort is the first to open in Europe, it definitely won't be the last. One&Only Kea Island in Greece is expected to open later this year.