Slowly but surely, Brisbane is becoming Australia's place to be for quirky art, fantastic food and a damn good time.
The Ovolo Hotels group brings all of that together with its latest launch: Ovolo The Valley. Last month's grand opening was indeed that, perhaps 'grand' was even decidedly an understatement.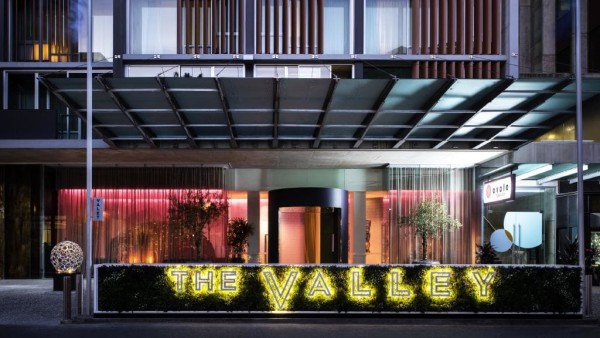 Though Ovolo The Valley is not the first Ovolo in town, it is the first of its kind. The Ovolo Inchcolm launched earlier this year, bringing classic modern elegance, glamour and sophistication to Brisbane's CBD. Ovolo the Valley is the slightly wilder younger sister, taking Brisbane's Fortitude Valley by storm with its quirky and incredibly artistic edge. Though the two Brisbane Ovolo locations are very different from one another, one thing is for sure; luxury runs in the family.
---
---
Its evident from check-in. You're greeted by commissioned artwork and incredible design before you can even get to the front desk. The hotel's art curator Kathleen Wilson has done an exceptional job selecting the playful and eccentric art pieces scattered throughout the entire property.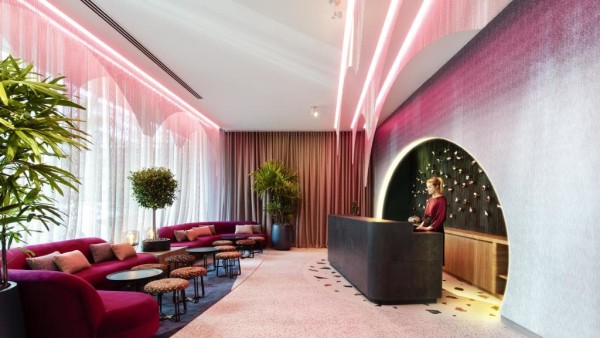 RELATED: Brisbane's Best Bars
Stay
A groovy elevator ride takes you to one of the hotel's 103 stunning guestrooms along with all of the freebies that lie within.
In terms of the rooms, they're epic. There's plenty of floor space to house a comfy queen bed with a curated selection of pillows, a luxe velvet couch and a huge, high-res flat screen TV. The walls boast bold floral wallpapers custom-designed for the colourful property. The bathroom features a spa bath alongside a shower, both equipped with body and haircare products from Biology, a natural range of Australian made products free from sulphates, parabens and chemicals.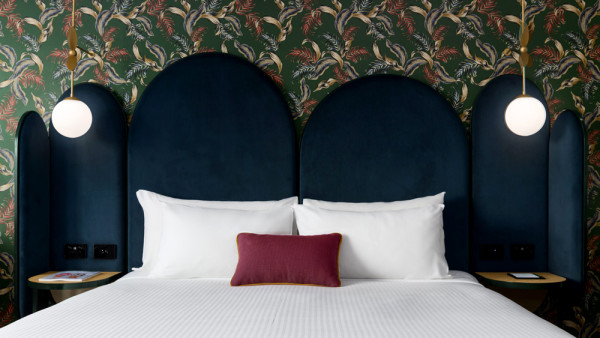 Now for the freebies, because let's be honest, there are few things more disappointing after a long day of travel than seeing a stocked mini bar and having to pay an arm and a leg for the goods that lie inside of it. Ovolo The Valley agrees. Every guest has a free in-room minibar on top of free breakfast, free "loot bag" of snacks, free Wi-Fi, free laundry and free happy hour drinks daily. Not to mention a Nespresso machine, milk steamer and all the essential ingredients for crafting a perfect flat white in the morning.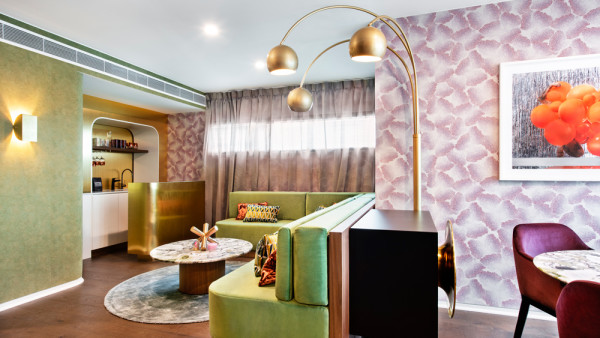 Play
If the saying "location, location, location" rings true for hotels, then Ovolo The Valley is winning the game. It's nestled within the coolest area of Brisbane, Fortitude Valley. Though the Valley was once considered the underbelly of Brisbane, today it's home to the city's trendiest restaurants, bars, shops and art galleries. The GOMA, The Queensland Art Gallery and Gallery of Modern Art are just a stone's throw away on the other side of town and the hotel is smack in between the airport and the CBD, a 15-minute drive to both.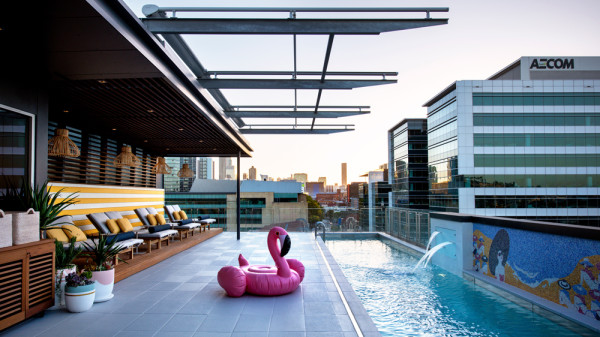 Just because Fortitude Valley is bursting with things to do doesn't mean Ovolo skimps on the in-house amenities. For one, there's a slick rooftop pool overlooking stunning city views. It's the perfect place to kick back with a great book or cocktail and soak up Brissy's hot afternoon sun. For those looking for a bit more action, there's a 24-hour gym and sauna, also conveniently located on the roof in case an after-workout pool cool-down is in order.
---
---
Feast Away
For now, the hotel boasts Societe, a cafe located downstairs to cater to all of those brekkie needs (in its quaint cafe setting or in your room via room service… your choice). The menu has a scrumptious French twist nearly as delicious as the fact that it's included in your stay. Ovolo The Valley's next step will be a restaurant and bar concept set to launch under renowned chef Justin North in early 2019. Though this culinary venture is still a work in progress, there's one thing for sure: The Ovolo group takes food seriously. Other Ovolo locations are home to restaurants such as Alibi at Ovolo Woolloomooloo, Monster Kitchen and Bar at Ovolo Nishi Canberra, Mister Percy at Ovolo 1888 in Sydney and Salon de Co at Ovolo Inchcolm in Brisbane. Food is yet another thing the Ovolo Hotels group does exceptionally well.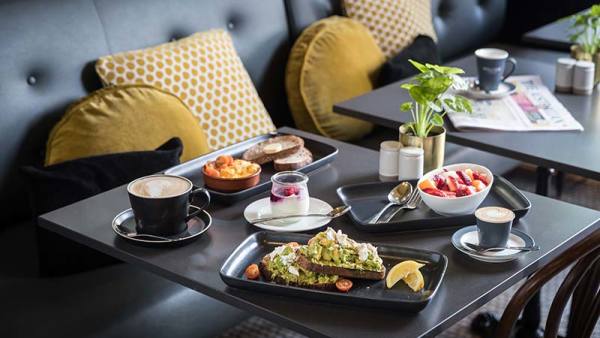 Check it out all that Ovolo The Valley has to offer by booking your next Brisbane getaway in the coolest spot the hot city has to offer.
RELATED: Brisbane's Best Restaurants For 2018