America's most accessible major ski town is also host to the biggest ski playground in the United States. Any guesses? In 2015, Utah's Park City Resort merged with nearby Canyons ski resort to create America's largest ski area. Just across the ridgeline – almost within a snowball's distance – is the famed and ultra-premium Deer Valley Resort. Here arises the big question: Park City Mountain or Deer Valley Resort?
There's no easy answer, that's for sure, but together, both resorts share one fairytale-like commonality – the town of Park City itself. The home of celebrities, Sundance Film Festival, epic ski-in ski-out mega-mansions and some of "The Greatest Snow on Earth®", Park City is the classically western American experience that one might not initially associate with snowsports. And it's all just a 35-minute drive from Salt Lake City International Airport.

If you're visiting Park City, we'd assume you're hunting for two things – fantastic snow conditions alongside quintessential American hospitality.

Both Park City Mountain & Deer Valley Resort offer their own slice of the goods for every type of rider, while both delivering the common charm that comes with the authenticity of Park City itself.
Let's figure out which one is right for you – before we tell you which one is our favourite.
---
---
Park City Mountain vs Deer Valley Resort
Park City Mountain
Best Groomer: Anything from the top of Daybreak lift
Best Powder Area: Dreamcatcher
Best On-Mountain Feed: Tombstone BBQ
Best Apres: High West Saloon
We've said it before and we'll say it again, Park City Mountain (PCM) is the biggest ski resort in the USA. Think 300+ trails, nearly 40 lifts across 7,300-acres which includes 14 bowls, three to four times the size of famous destination resorts like Snowbird, Steamboat or Copper Mountain.
---
---
What surprised us initially about Park City Mountain was its enjoyable balance of challenging, off-piste terrain and wide, open groomers. You'll never have to ski the same run twice if you don't care for it. If you're one to chop and change your terrain desires daily and according to the conditions, there's literally a run for every mood you might be in on a certain day.
Casual rollers criss-cross down wide, open faces. Mellow, undulating mountains offer leisurely cruisers at the lower altitude levels, while rocky couloirs and gnarly fall lines can be found along the Jupiter Peak ridgeline that overshadows them.

To be perfectly honest, though, there's almost too much terrain to cover. If you don't know where to go according to the conditions, you could find yourself stuck in a little bit of a repetitive rut. Until visiting PCM, we've never really appreciated the efficiency of having a guide – but we'd sure as hell recommend it for your first morning on the hill if you can find the cash.
Regardless of the day's snow, trust us when we say the 'Dreamcatcher' lift always delivers. After skimming over the top of some of Utah's most incredible mountain homes, the lift then rises steeply and opens up beneath for some hair-raising, choose-your-own-adventure skiing back to the base of the lift. The trees are about as perfectly spaced as you could ever ask for.
The 'Town Lift' is a long and slow chair but ascends right from the centre of Historic Park City itself. From the top of this lift, you can connect to both Park City Mountain Village and make your way via the Quicksilver Gondola over to Canyons Village at PCM, or ski back down to the world's only ski-in distillery, High West Saloon. Catch a park by the outdoor fireplaces with a hot toddy in hand to wind down from a huge bell-to-bell day scrambling across the most terrain available within one boundary in America.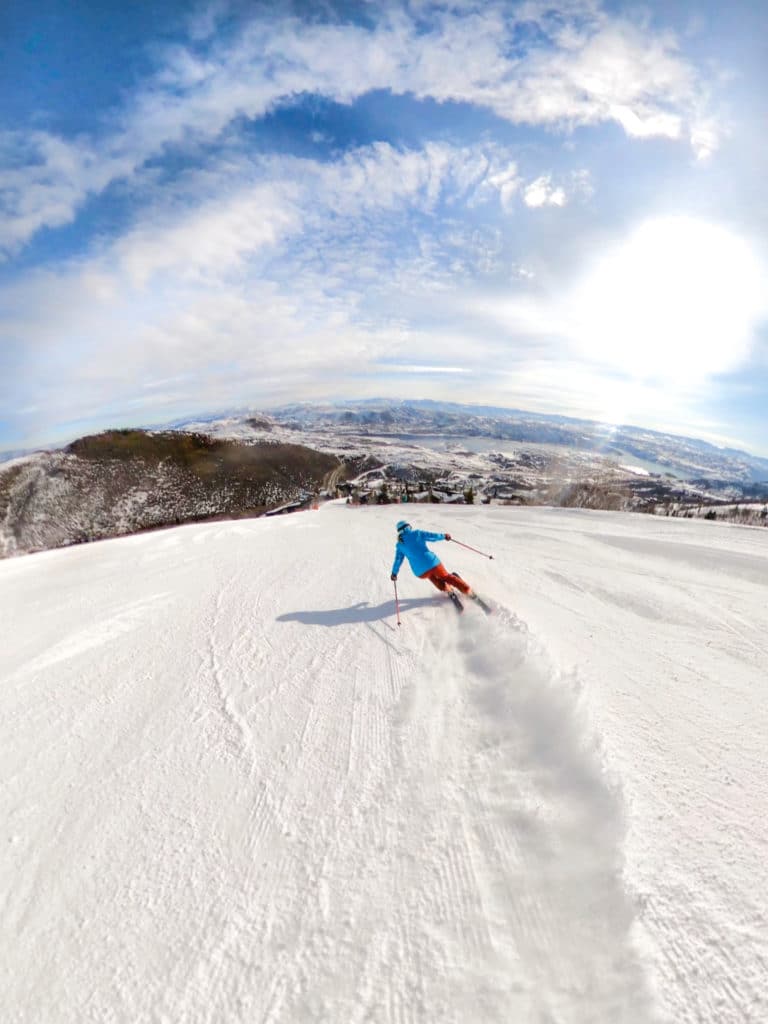 Deer Valley Resort
Best Groomer: Jordanelle
Best Powder Area: Empire
Best On-Mountain Feed: Royal St. Cafe
Best Apres: Montage
---
---
The St. Moritz of North America, Deer Valley Resort is without a doubt the most premium on-mountain experience for riders in the USA. And by riders, we specifically mean skiers.
That's right. If you didn't already know, Deer Valley is a skiers-only resort. High-end clientele and celebrities alike frolic at the opportunity to enjoy virtually no crowds, A1 conditions and gourmet hospitality at Park City's other ski resort.
At Deer Valley, it's possible to drive to the base of all major lifts, which are spread across six unique, interconnected mountains. Ticket numbers are capped each day as to avoid lift lines and ensure that on-mountain dining venues always have a table for you when you want one.
The moguls especially are pristine (a glorious by-product of no interference from snowboarders) and the groomers are bashed to perfection to allow for some of the most enjoyable carving you'll ever experience – and with the spellbinding views to match.
While the terrain itself is by no means the size of Park City Mountain, the ability to quickly and effectively get to the goods on a pow day at Deer Valley over the former resort makes the slightly steeper investment in lift passes a worthy one to consider.
Deer Valley has also managed to capture a snapshot of boujee European service with classically American cuisine across its restaurant venues. We'd put our money on Royal St Cafe for lunch, Montage for après and the open-flame gourmet buffet at Fireside for dinner.
Historic Park City
The town of Park City itself has to be one of the prettiest ski towns in the USA. Staying right in the centre of town ups the charm, food, retail and après options considerably, yet almost anywhere in the area is accessible via a free shuttle service or Uber. That being said, given its size, you'll have to think carefully about where you book your accommodation if you want to be anywhere near the action. Luckily for you, wherever you end up, the folks at Park City Lodging almost certainly have the right digs for you – including spots along the action of Main Street.
Luxury boutique stores and galleries line Main Street and alternate with traditional American bars, restaurants and breweries that prop up western facades that make you feel like you're walking through a Westworld film set.
---
---
Hearty local feeds can be found at downtown institutions such as Butcher's Chophouse, Wahso, and 350 Main, and are best washed down with a pint or a whiskey at the spirited No Name Saloon. Brush off the hangover with an Australian-style flat white with avocado on toast at Harvest Cafe, before doing it all over again.
Park City Mountain vs Deer Valley Resort: The Verdict
As diehard skiers in the BH office, the question of Park City Mountain vs Deer Valley Resort has no simple answer, as there's plenty to love about both. The size of Park City Mountain, in particular, makes it a sure-fire option for large groups. If you exclusively snowboard, though, then obviously the decision will be made for you.
Deer Valley, however, really does tick every box you could ask for. Given its achievable size, we were able to zip across the entire resort in a half-day, with plenty of time to revisit our favourite runs in the afternoon.
This extra time is a direct result of thinner crowds, faster lifts and even faster runs. On a powder day, the option of driving straight to the base of your favourite bowl is a trump card you rarely get to play anywhere in North America. It's perks like these that make Deer Valley the mythical winter playground you've been searching for ever since you learnt how to french fry.
Is it a little bit boujee? Damn right it is, but it's not very often the stars align in the lifetime of a skier like they do at every day at Deer Valley Resort.
You can fly to Salt Lake City from east coast Australia via Los Angeles & San Francisco with United Airlines in just under 18 hours total. Check out our United Polaris Business class review here.
The author travelled as a guest of Park City Tourism Chamber/Convention & Visitors Bureau.