Despite every man and his dog somehow claiming a relative 'might be able to get them an upgrade,' the odds of flying in the elusive Emirates Business Class cabin for a long haul trip are quite slim for most.
For the younger half of the generational spectrum at least, luxury air travel is not where our money is prioritised. This is generally the mindset, however, of those who haven't had the opportunity to know any better.
So if the time has finally come to splash the cash (or points) on a more than comfortable luxury airfare, you may as well aim high. Flying has forever been an experience. The days of classy attire, impeccable service and vibrant on-board atmospheres are fading behind us, but some airlines are almost single-handedly holding onto its sliver of an elevated flying experience – and that airline in question today is Emirates.
During our recent trip to Dubai, Emirates offered us the chance to indulge among the elite, so we thought we'd share those thoughts below.
The Emirates Business Class Experience
On The Ground
This is the thing with Emirates, and what will be the overall theme of this article. Emirates Business Class is about the entire flying experience – from door to door. Every inclusion and every luxury is designed to take the hassle out of flying.
Take our 6 am flight for example. Emirates is the only carrier to still offer a chaffeur driven transfer to and from the airport in both departing and returning destinations. Leaving for a flight at 3:30 am in the early hours of the morning had never been easier.
With copious amounts of luggage allowance (40kgs checked and two carry on) you can bring as much or as little as you please and not have to worry about your bags exceeding the limit on the scales. Simply check in and proceed directly to the Emirates Lounge.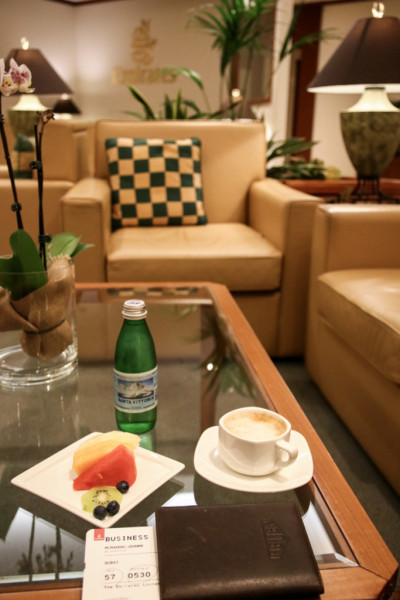 A dedicated space for Emirates Business Class customers to relax in Sydney Airport, the lounge was open nice and early to accommodate the morning departures and offered every food and beverage option you could hope for at such a time.
In Dubai, you're able to board the upper deck of the plane straight from the lounge. The lounge in Dubai, in comparison to Sydney, however, was a little busy at prime time on a Saturday evening.
In The Air
Being a split level aircraft, the Airbus A380-800 boasts a Business Class cabin of 76 seats exclusive to the upper deck, with First Class in the forward cabin on the same level.
In a 1-2-1 configuration, each seat is basically a cosy and secluded cocoon (some more secluded than others) awarding passengers with as much space as you could really need. Every second row in the middle seats is more suited for couples, family, or friends travelling in pairs, with the partition not offering a great amount of separation for solo travellers.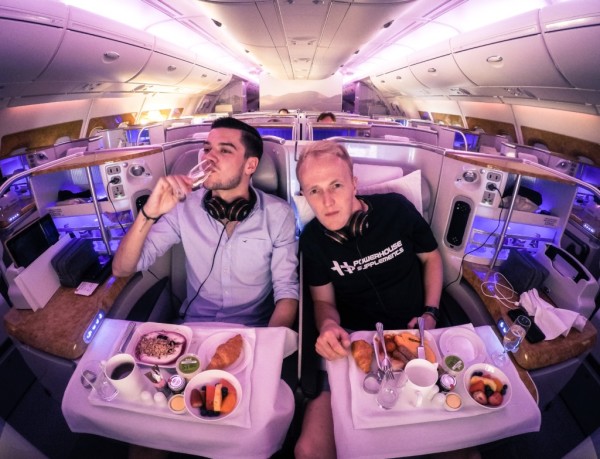 The service is undoubtedly the pillar on which the luxury, one-of-a-kind Emirates Business Class experience is built on. You're greeted before take-off with a personal introduction, a selection of beverages and offered a mattress-like lining for your fully flat bed once in the air and the seat belt sign switches off.
The stewards are there to attend to your every request at the touch of a button, but will make regular appearances throughout should you need anything. As a precursor to your three course fine dining, you're offered an aperitif before the table space is set with a white linen cloth and silverware. There's no obtrusive trolley, just a restaurant-like waiting service and a premium selection of wines and spirits to accompany your (actually appealing) plane food.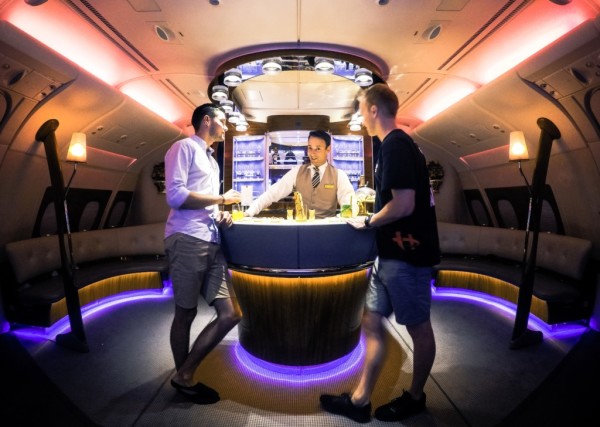 You may have heard of the on-board bar and lounge. Sure, while it doesn't have a bunch of overly attractive individuals smoking cigars and a man playing the piano like the golden era of 747's, the bar isn't a gimmick either. It's quite functional, with enough space for a stretch, a chat with strangers or a browse of a magazine with a cocktail in hand. The semi-circle counter sits opposite a television screen that can even play live sport or news on some equipped A380's.
The amenities are on-point. Noise cancelling headphones, enough charging sockets and USB ports to power NASA's mission control and your own personal minibar if you can't be bothered leaving your seat. While the toiletries pack stocks the best of Bulgari, the lack of pyjamas in the Business Class cabin was a slight surprise, given the modus operandi of Emirates' partner airline Qantas.
It was a little disappointing also to find out that the Wi-Fi enabled plane only gave each passenger 20MB of free browsing – which will basically let you load your Instagram page, and that's it. It's handy to note that if you're a skywards member and are in First or Business, the Wi-Fi is complimentary, although you have to have your details on hand.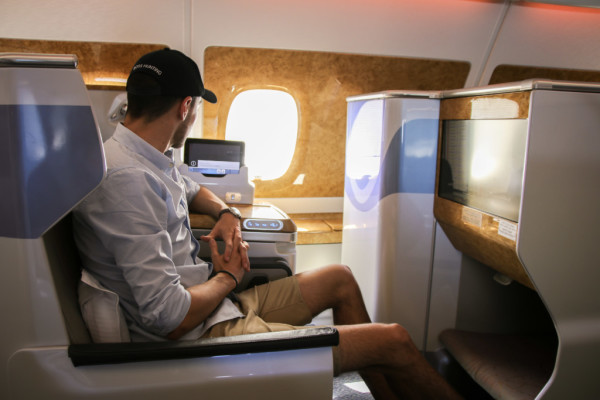 The infotainment screen is stocked with a plethora of entertainment options, although I thought it was a little lacklustre in the 'New Releases' section, but this would change every month as is very much my personal taste. It's responsive and easy to use, although a little too far away to reach if you've reclined your seat, and the iPad-like device isn't worth the hassle.
The Verdict
Above all, Emirates Business Class takes the idea of an experience and stays true to its definition. The luxury is easily on par with its competitors, but the service is where Emirates excel a cut above the rest.
Add a touch of personalisation and the genuine interaction with cabin crew with the on-board bar and lounge area, you wouldn't choose anywhere else to be at 36,000 feet. From door to door, we can't think of any better way to fly – except, perhaps, in First Class. Stay tuned.
Treat yourself here.
Boss Hunting was a guest of Emirates last month between Sydney and Dubai.