Tinkering away in the city of Cologne, designers for iconic German brands RIMOWA and Porsche have produced another ultra-premium collaboration to celebrate their respective legacies. In 2013, the two behemoths came together to celebrate 50 years of the Porsche 911 with a special Rimowa Trolley Case, but this time things are a bit different. While there aren't any wheels involved this time, the RIMOWA x Porsche Hand-Carry Case Pepita is a slick special edition that once again nods heavily to the immaculate design of the original Porsche 911, playfully bringing across a number of the car's defining features for a sophisticated and appropriately high-end piece of luggage for people who live without compromise.
The aluminium carry case rests on the three pillars that both RIMOWA and Porsche value most. Those being functional design, technical innovation and high performance, blending that with a nostalgic take on the rich heritage of both brands, presenting a wheel-free case that can easily stow away in the boot of a Porsche or draw the envy of fellow passengers next time you feel like flexing on an international flight.
RIMOWA's signature grooved aluminium is met with design cues from a first-gen Porsche 911, covered with high-gloss details as a tribute to the silver mirror finishing of the car. There are also black leather straps attached by polished crest-shaped holders to mirror traditional hood straps, alongside an authentic Porsche crest on the front of the case.
---
---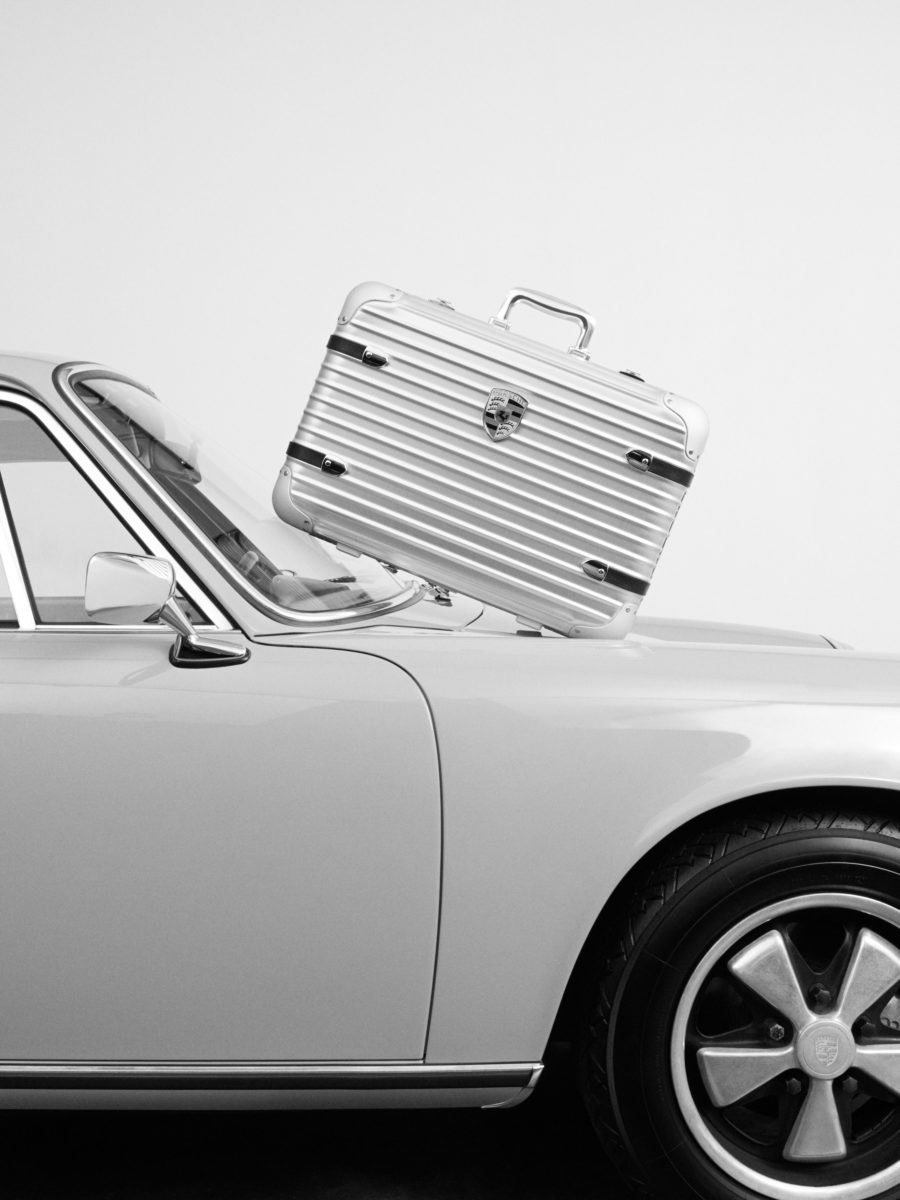 RELATED: RIMOWA's Bottle Case Will Keep Your Bubbles Bulletproof
Inside, a zipped U-pocket and X-strap, designed to resemble a seatbelt, feature along with Houndstooth Pepita fabric resembling the iconic interiors of the 911 Porsches made between 1963 and 1973. Given the houndstooth was one of designer F.A Porsche's favourite patterns, the inclusion is one of the carry cases' defining features, sitting alongside black leather accents, an imprinted Porsche crest, and a yellow instructional label similar to the one found in a Porsche 911 trunk.
"Our partnership celebrates the unparalleled quality of German design as we both poured our wealth of expertise into a one-of-a-kind piece," said RIMOWA's Chief Marketing Officer, Emelie De Vitis.
"We are thrilled to see this momentous collaboration bring two legendary German brands together."
The RIMOWA x Porsche Hand-Carry Case Pepita also includes the expected TSA-approved locks and an attractive aluminium handle. Only 911 numbered pieces have been produced for this very limited edition carry case, making it the perfect fit for collectors or just anyone who appreciated some good, well-considered design.
The exclusive RIMOWA x Porsche case is best taken with a RIMOWA x Porsche Pepita Sticker Set, which will be sold separately at RIMOWA boutiques as well as the brand's online store. The carry case itself will be available in Australia via both RIMOWA and Porsche from 21st April 2022 for an RRP of $4,095.