Where better a place to be writing a review of the new Singapore Airlines A380 Business Class, than from an A350 Singapore Airlines Business seat perched 42,000 feet above Turkey. So, how does the new A380 go when compared to the A350 Business Class product?
The A350 has really impressed me in the past, so much so that I'm struggling to come to terms with the drastic changes made to the new A380 hard product. In the A350, the seat is wide and flat, all the storage compartments make sense, the seat controls are responsive and well positioned, and I love folding the seat over to reveal the pre-made bed and hidden blankets. There's a real sense of occasion deciding that it's time to rest and transforming your seat into a bed.
Unfortunately, I don't have too much great to say about the new Singapore Airlines A380 Business Class. In fact, my SQ232 flight out of Sydney was pretty disappointing, which, given my excitement after viewing the product in December, surprised even me. Outside of the plush pillow provided, I think almost every aspect of the new product is a step backwards from the A350 seat.
---
---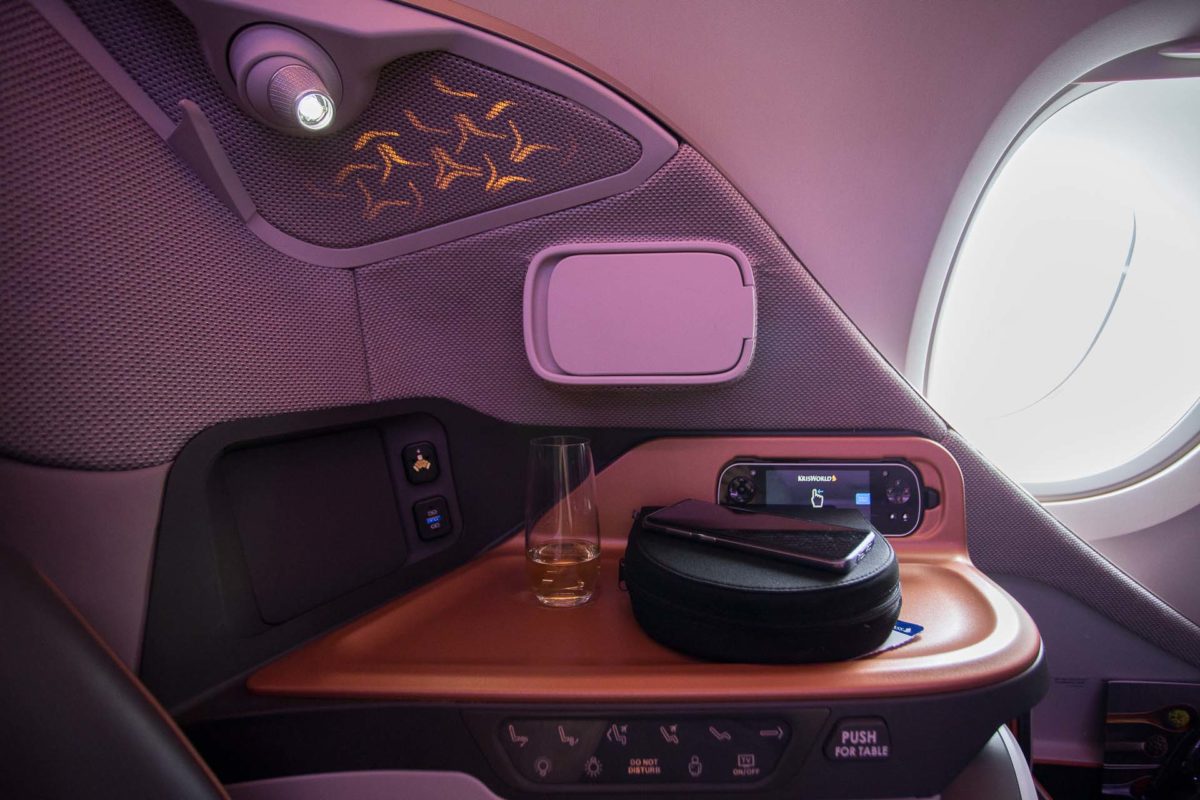 The Seat
Let's start with the seat. Aesthetically it's nice, but it's smaller and feels more cramped than the A350 one. The backrest is bolstered instead of flat, which is comfortable for sitting but not as good for lying down. The controls have been moved to the table side of the seat and not only are they less responsive than the A350 buttons, but they also want to recline you to pre-arranged angles, not to an angle of your choice. They are also prone to being knocked; I must have done it four or five times with my hip, which after fine tuning my angle, was repeatedly infuriating. Also, I'm not sure if they offer mattresses for the seat, no one asked me if I'd like one.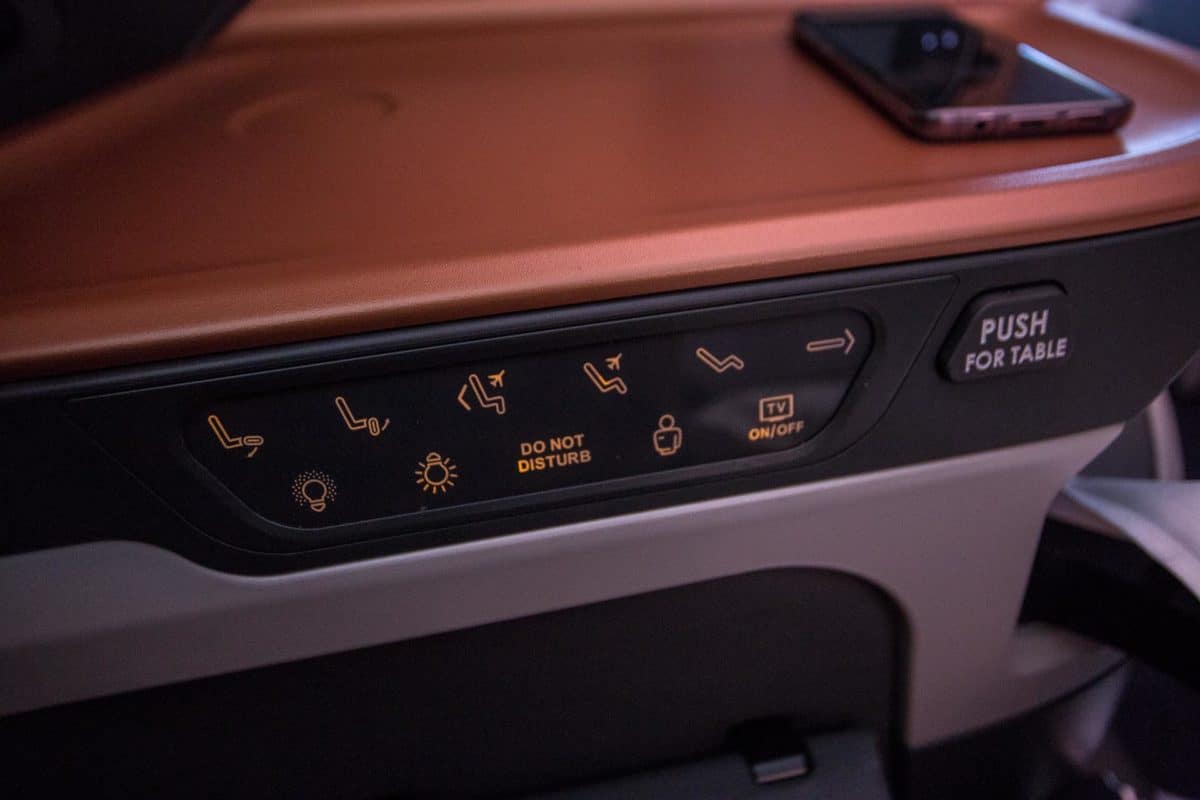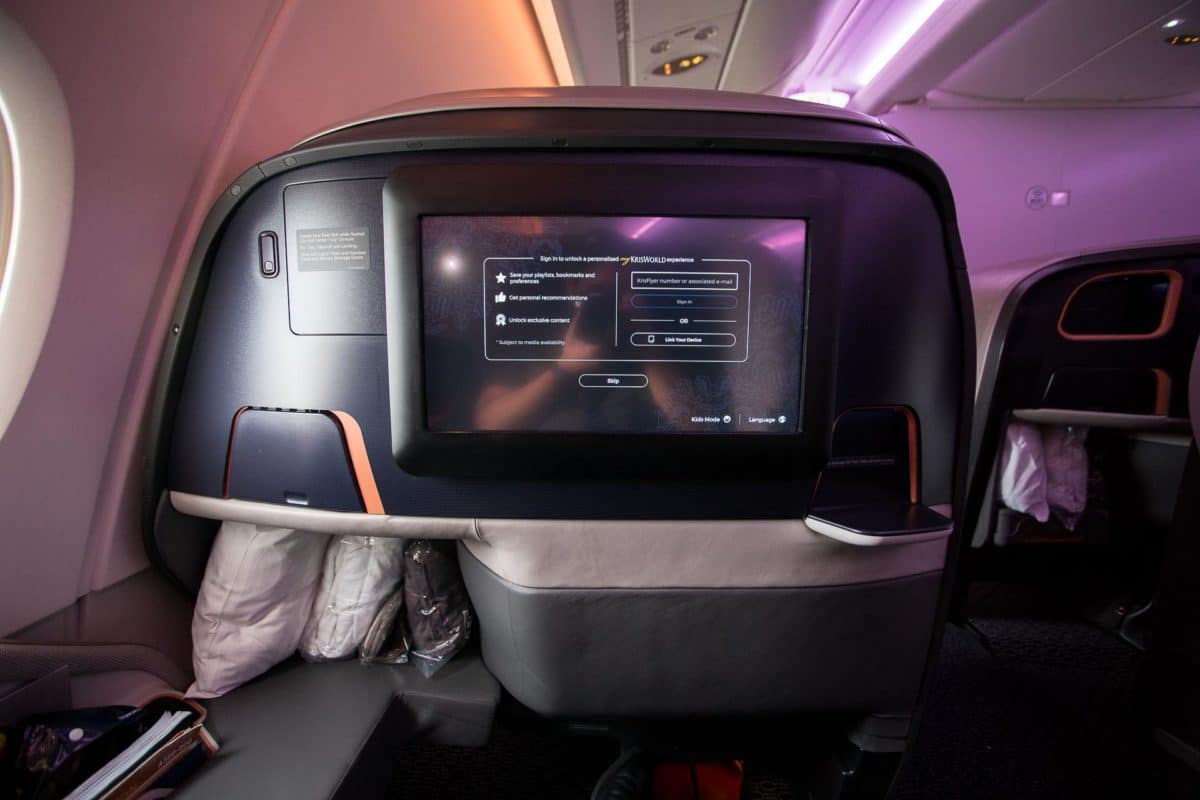 No longer is your blanket and pillow hidden in the fold over bed either, it's tucked into the footwell in front of you. There is a fixed shelf on the rear of the seat (you can see above) that juts out which I banged both my elbow and hip on, and a number of storage options replicated from the A350 seat, but not the most useful deep bucket right next to the seat, because now the table pulls out horizontally instead of lifts out vertically. The table is also over-engineered, I attempted to push it forwards a bit so I could lean over to get my camera and found out that it was horizontally spring loaded, rocketing my entree and champagne glass off the table. All I could do was laugh. Finally, the central seats have this dicky leg rest that you need to pull out from the seat in front so you can recline, definitely worth avoiding.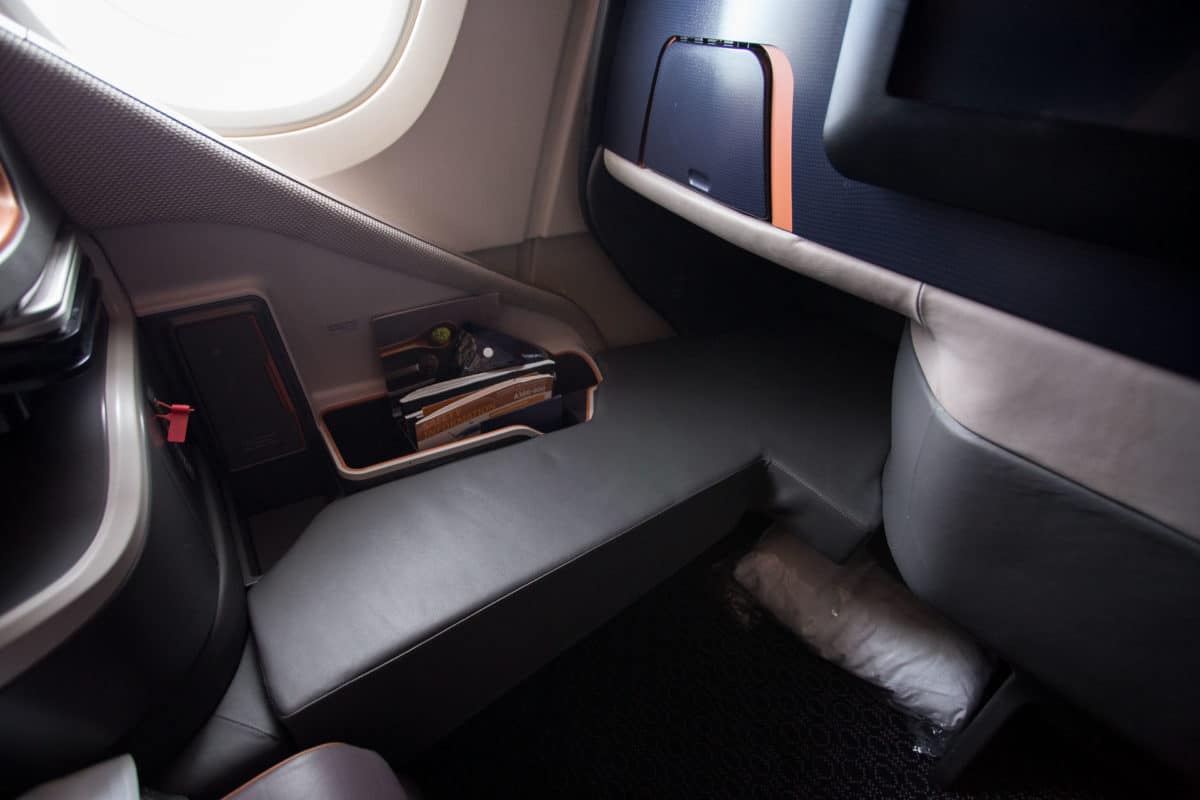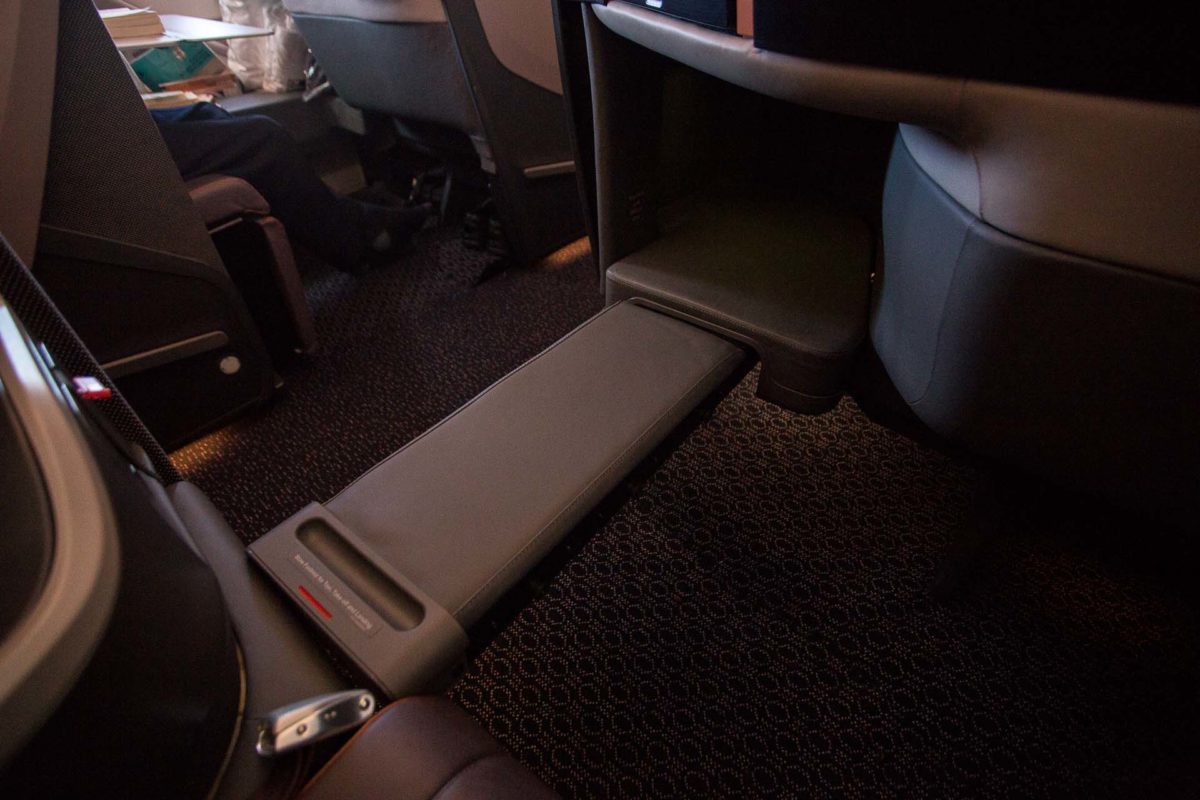 Seat Condition
What I found unbelievable was how poor a condition the seats were in having made their debut flight in December last year. I sat in two seats, migrating from a window to a bulkhead and both were as bad as each other. The first seat's Orange plastic table top wasn't attached properly, the lining around the back of the seat was coming off and the footwell cushion was already sagging. The second bulkhead seat, while superior due to its wide footwell, had bits of foam sticking out from the dividing wall and parts of the seat peeling away revealing double sided tape and stapled fabrics (You can see some more over at the TVG Instagram via the pinned story). I can't imagine what they're going to look like on their one year anniversary, currently rivalling a mid-nineties Kia on build quality.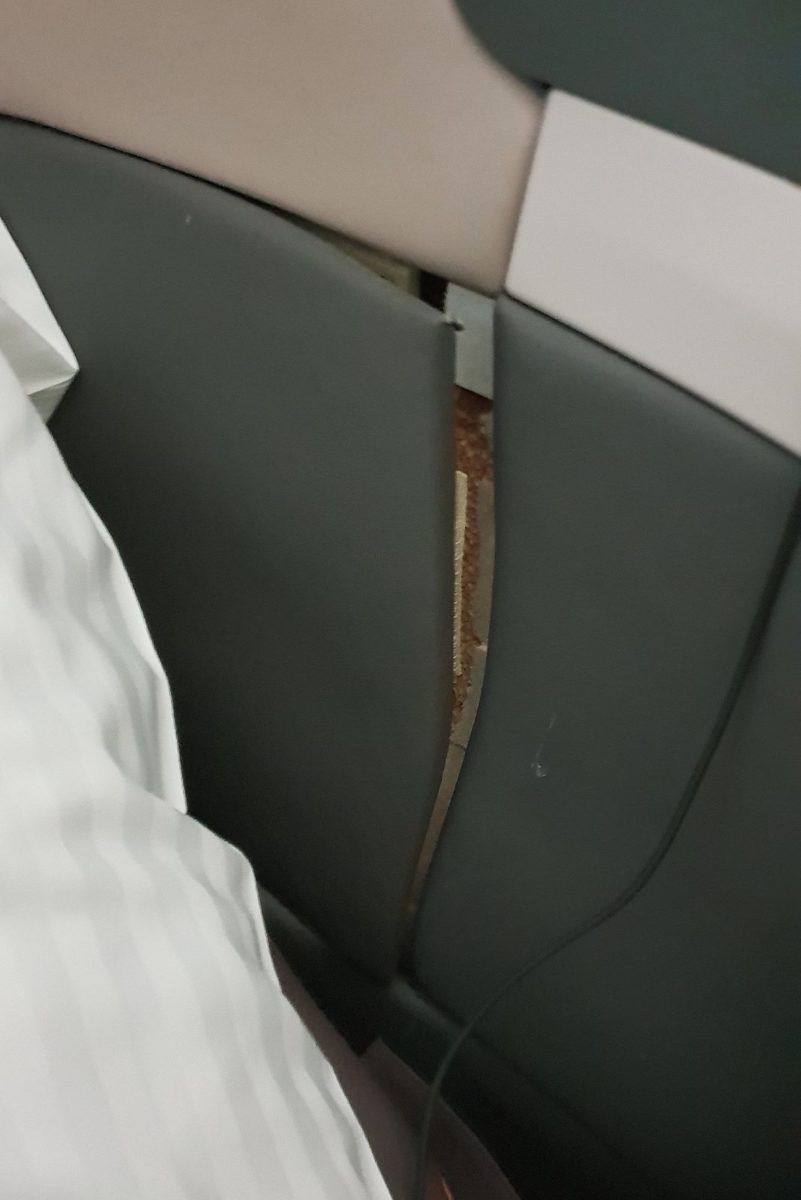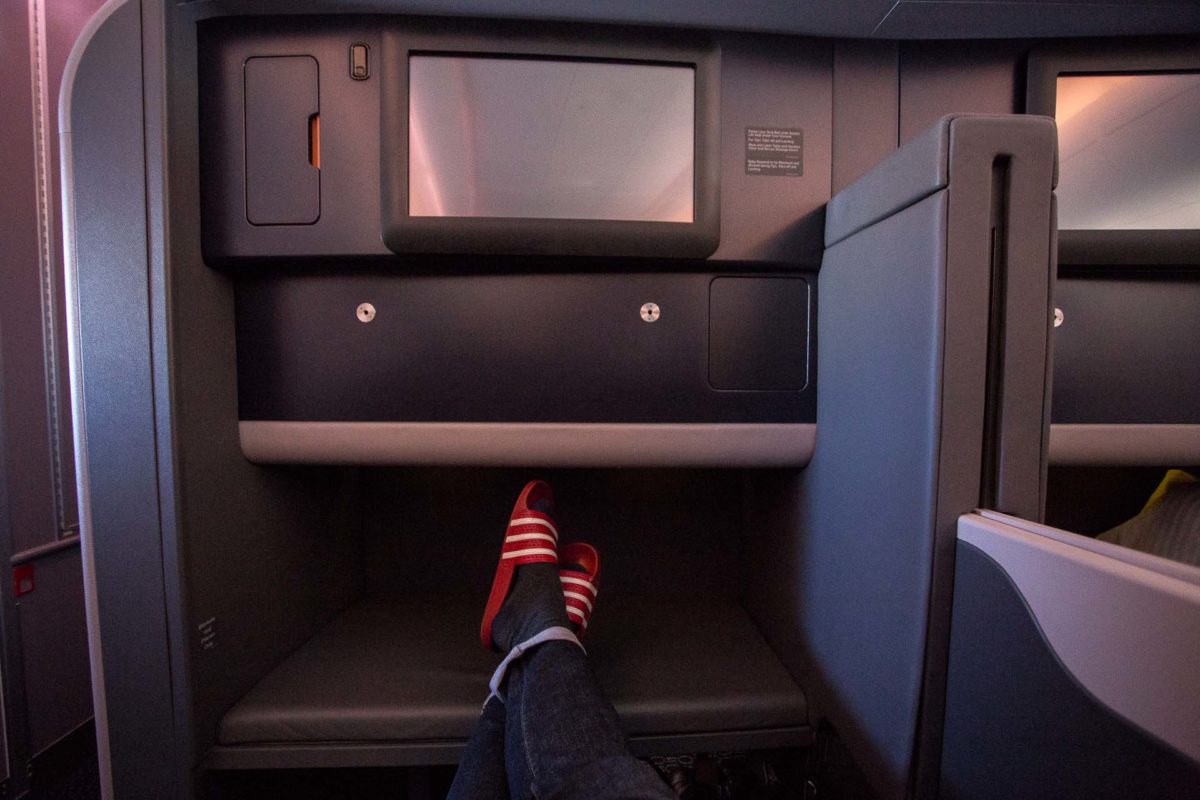 Service
To add insult to injury, the service was unfriendly, ineffective and totally underwhelming. Empty glasses stood at my seat for far longer than they should have and were not cleared when new ones were brought. No Champagne was poured at my seat, unlike previous flights where the bottle would be presented and poured (in this case lovely Charles Heidsieck). New glasses were produced each time I asked for another and plonked down in front of me without clearing the last. I know it sounds so farcical to pick out such minor things as the service of Champagne, but you notice when it's not done properly.
Food
My prawn entree was meh, and my Salmon main, while nice, was cleared before I finished, while in the restroom, along with my cutlery which I had to ask them to replace when they served dessert. I did, however, enjoy the breadbasket and addition of a dried Flatbread to the mix for cheese.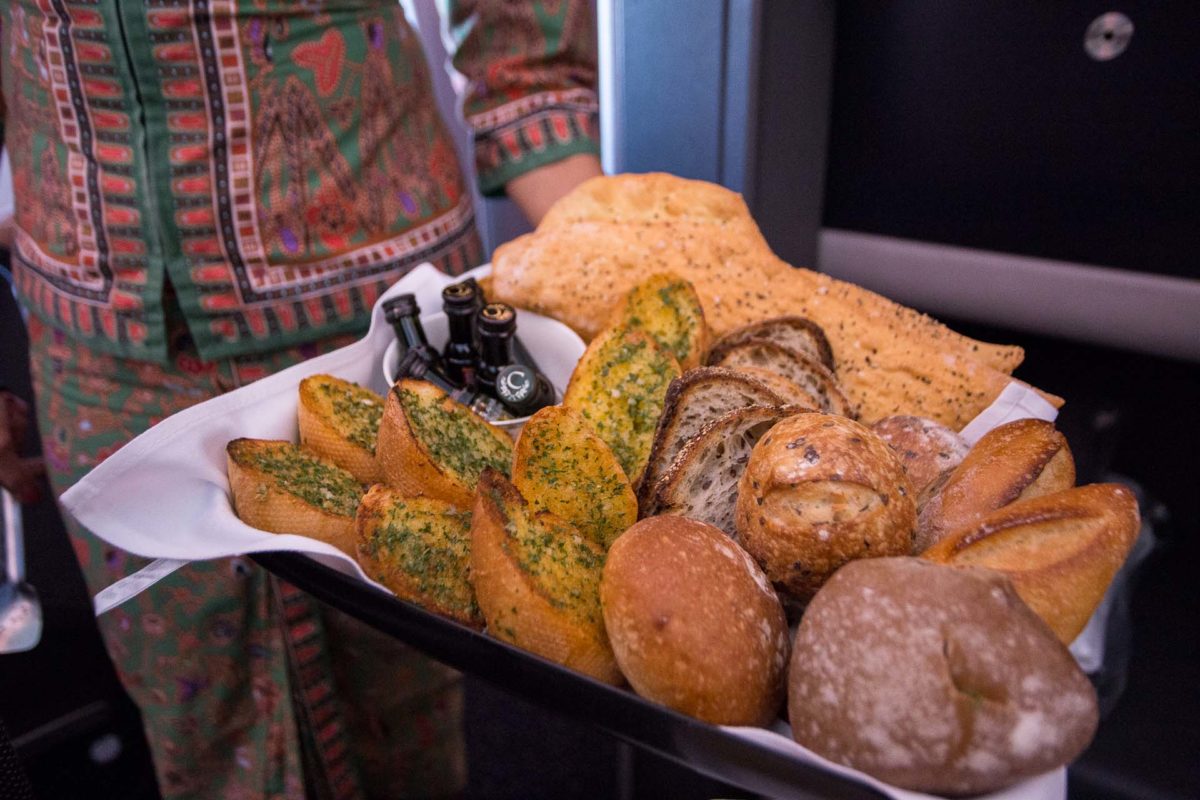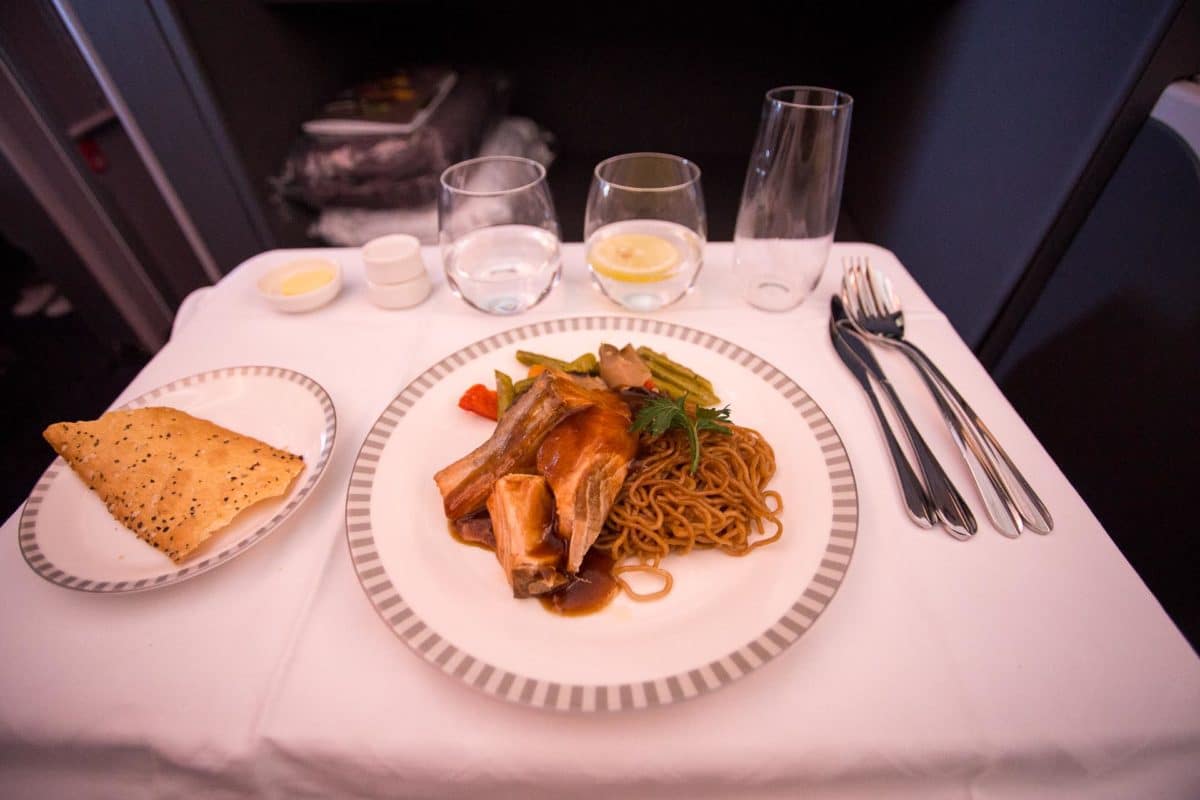 Entertainment
Once done with my meal, I flicked open my laptop to do some work, only to discover the Wifi wasn't working, much to the frustration of the chap next to me. Fortunately, the multimedia system was excellent, with a solid selection of films and box sets, so I tucked in Season One of Sons of Anarchy before a quick rest prior to landing. While packing up to disembark, I realised no one had given me a Singapore immigration card to fill out. I asked the cabin supervisor to rectify it asap, and he said they'd run out. Fascinating.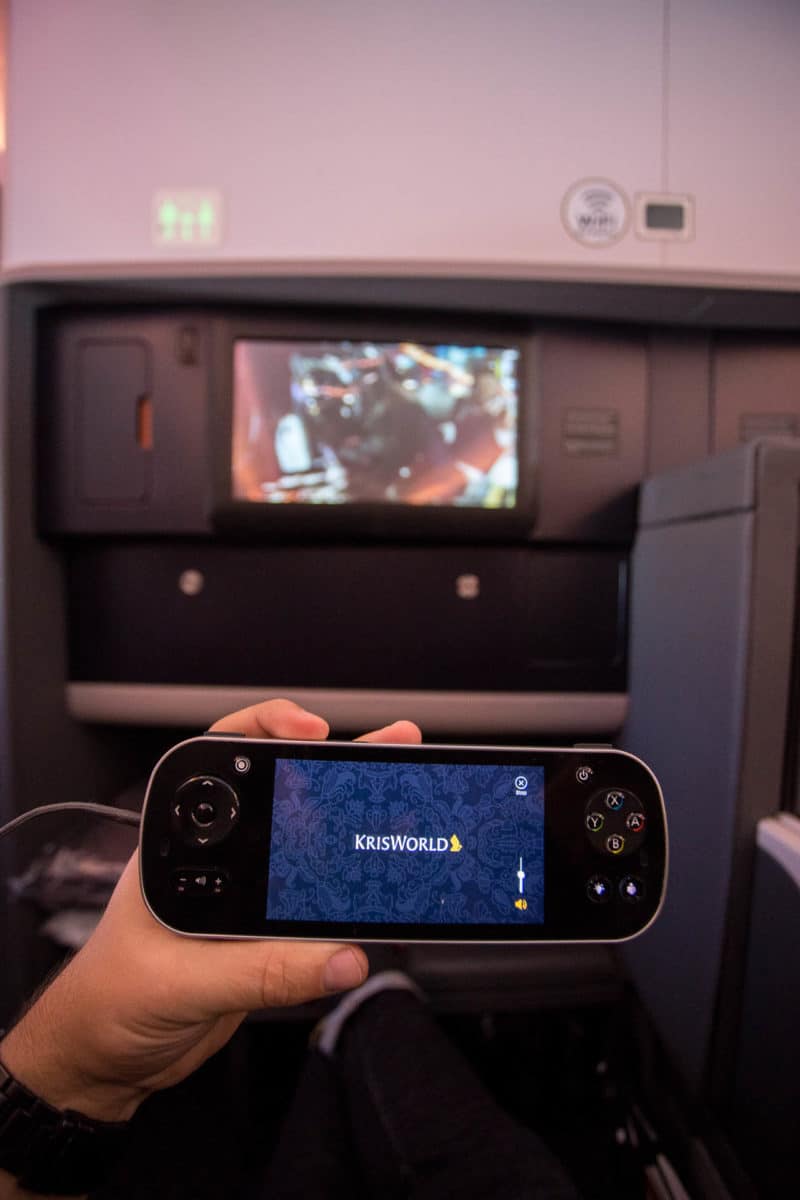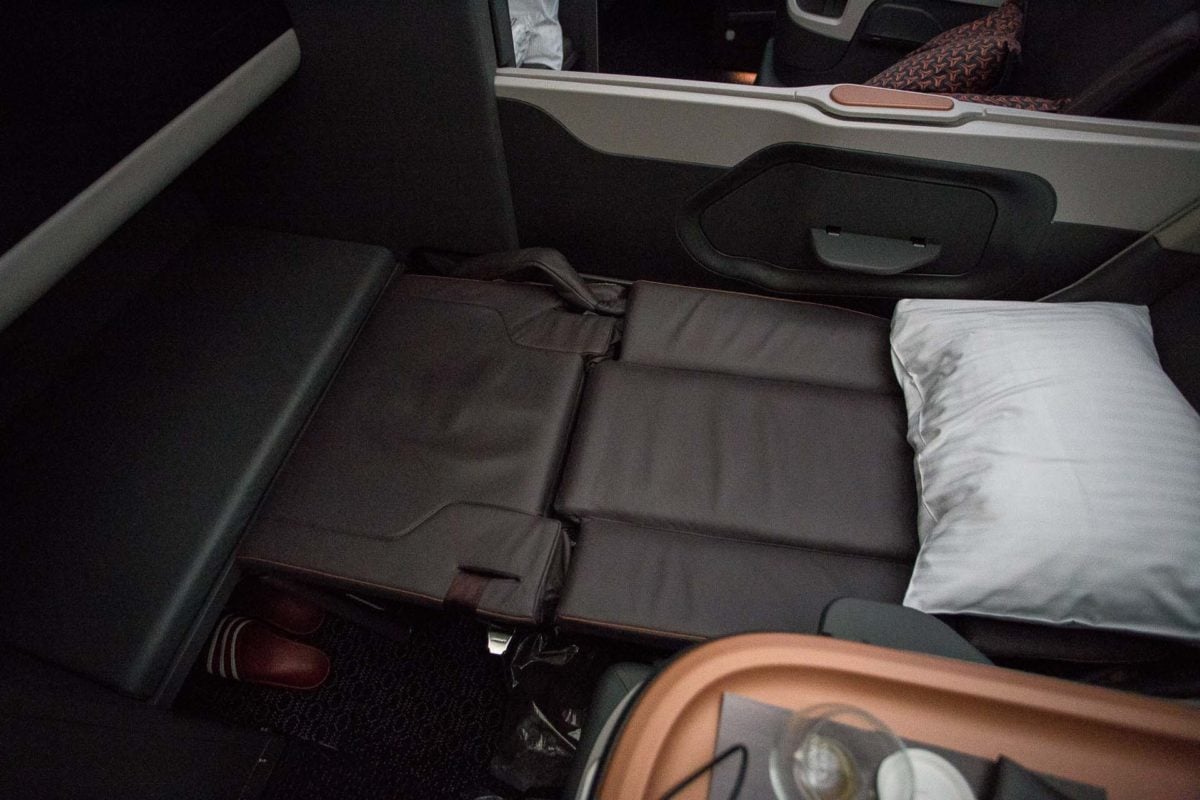 Final Thoughts
All in all, it was one of the most disappointing Business Class flights I've ever flown, which is a huge takeaway given my praise of the new Emirates Business class last month. Service played a big part in my experience, or lack thereof, ultimately, however, the new Singapore Airlines A380 Business Class seat just isn't as good as the A350 one, which I'm currently sitting in and enjoying tremendously.
---
---
Looks like I'll be flying from Brisbane or Melbourne next time I choose Singapore.
Let me finish with some tips for flying the new Singapore Airlines A380 Business Class:
If you can fly an A350, do that instead.
Where possible reserve a bulkhead, you don't need to sit at an angle and you'll have a wider space for your feet when lying flat.
If you're flying as a couple definitely go the bulkhead so they can make you up the fancy double bed, not that you'll use it for a daytime flight between Sydney and Singapore.
Avoid the central seats.
Enjoy flying Business and First Class? You might enjoy some other flight reviews:
United Airlines' Polaris Business Class Review
Etihad A380 Business Class Review