This is Australia's highest non-alpine lodge, a palace above the clouds in Queensland's Scenic Rim region. Spicers Peak Lodge is an all-inclusive retreat redefining the meaning of decadence and luxury, found atop an exclusive mountain peak at the end of a 12-kilometre dirt road.
Spicers Retreats
The hotel forms part of Spicers Retreats, a group of ultra-high-end boutique hotels scattered throughout New South Wales and Queensland, gracing only the most picturesque locations. Each establishment has its own unique design and feel: Clovelly Estate exudes a French-provincial theme and Tamarind Retreat touts it's Eastern Asian influence, for two examples. However, uniform across all is the guarantee of over-the-top opulence and impeccable service. We made passage into the hills to see for ourselves what the Spicers Peak Lodge property has to offer.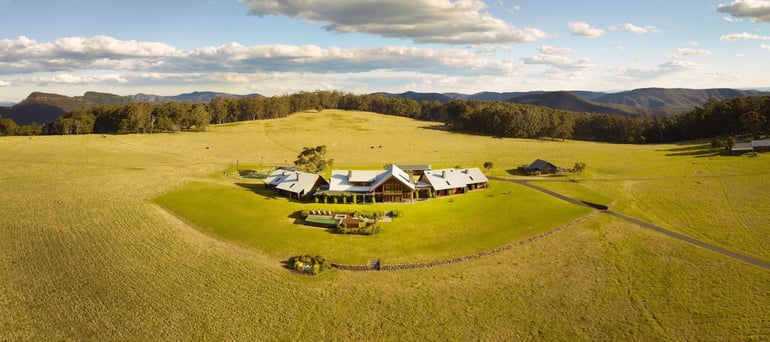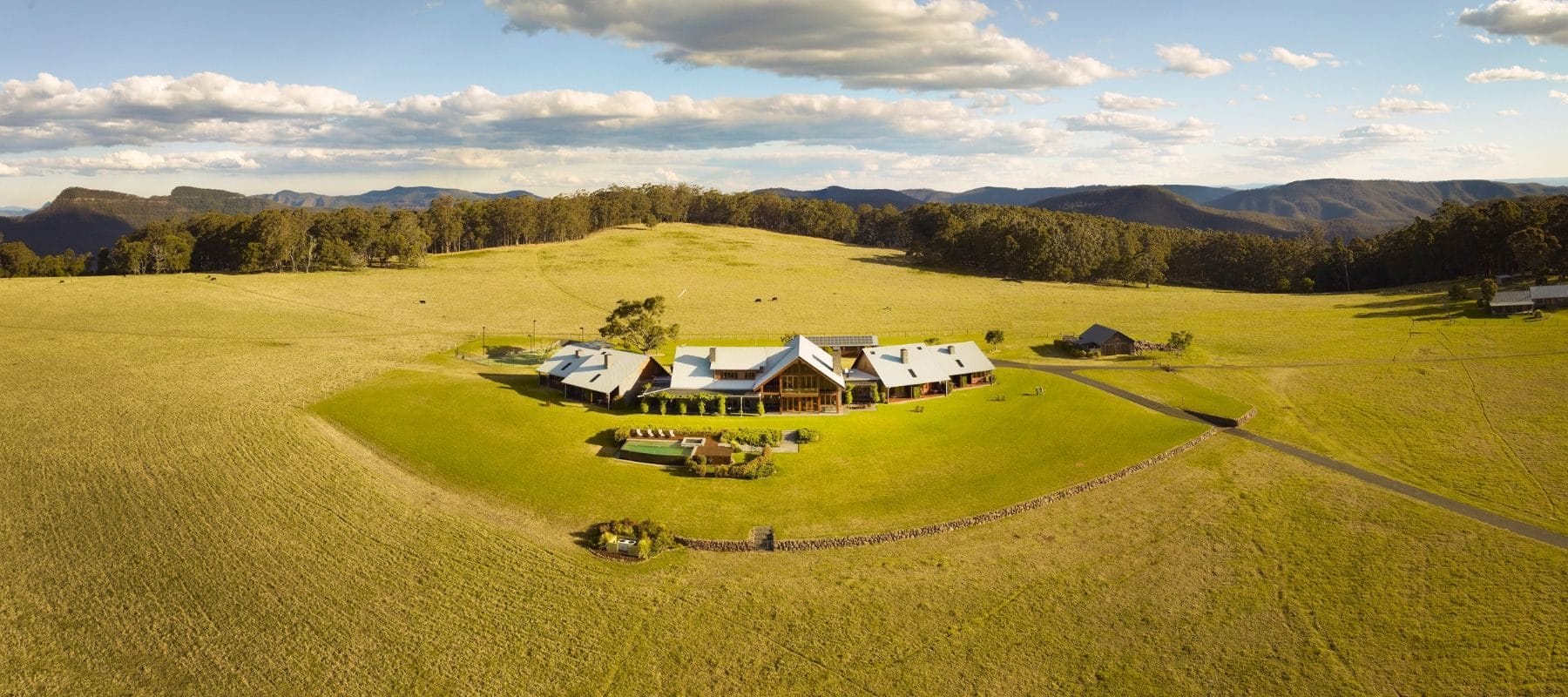 Spicers Peak Lodge Location
Peak Lodge is situated on 10,000 acres of land surrounded by the World Heritage listed Main Range National Park and the Great Dividing Range, approximately 2 hours inland of Brisbane. The main building sits majestically pronounced on the peak, offering unbeatable views of the surrounding mountains.
Design
The Retreat offers a grand total of thirteen rooms, so is thus reserved for a few select guests to experience. This, coupled with the grandeur and size of the estate, gives an air of extreme exclusivity. Century-old Scottish bluestone and recycled wide timber floorboards along with signature design elements, bespoke furnishings and local landscape photography add a touch of style and sophistication to the uniquely relaxing ambience.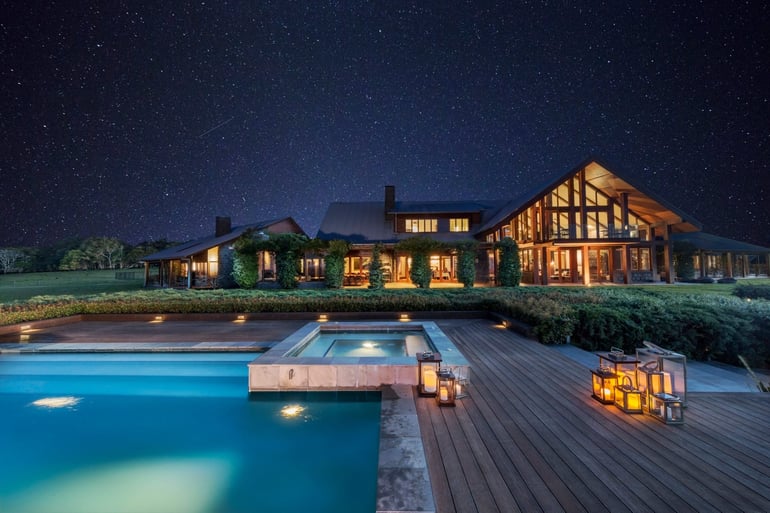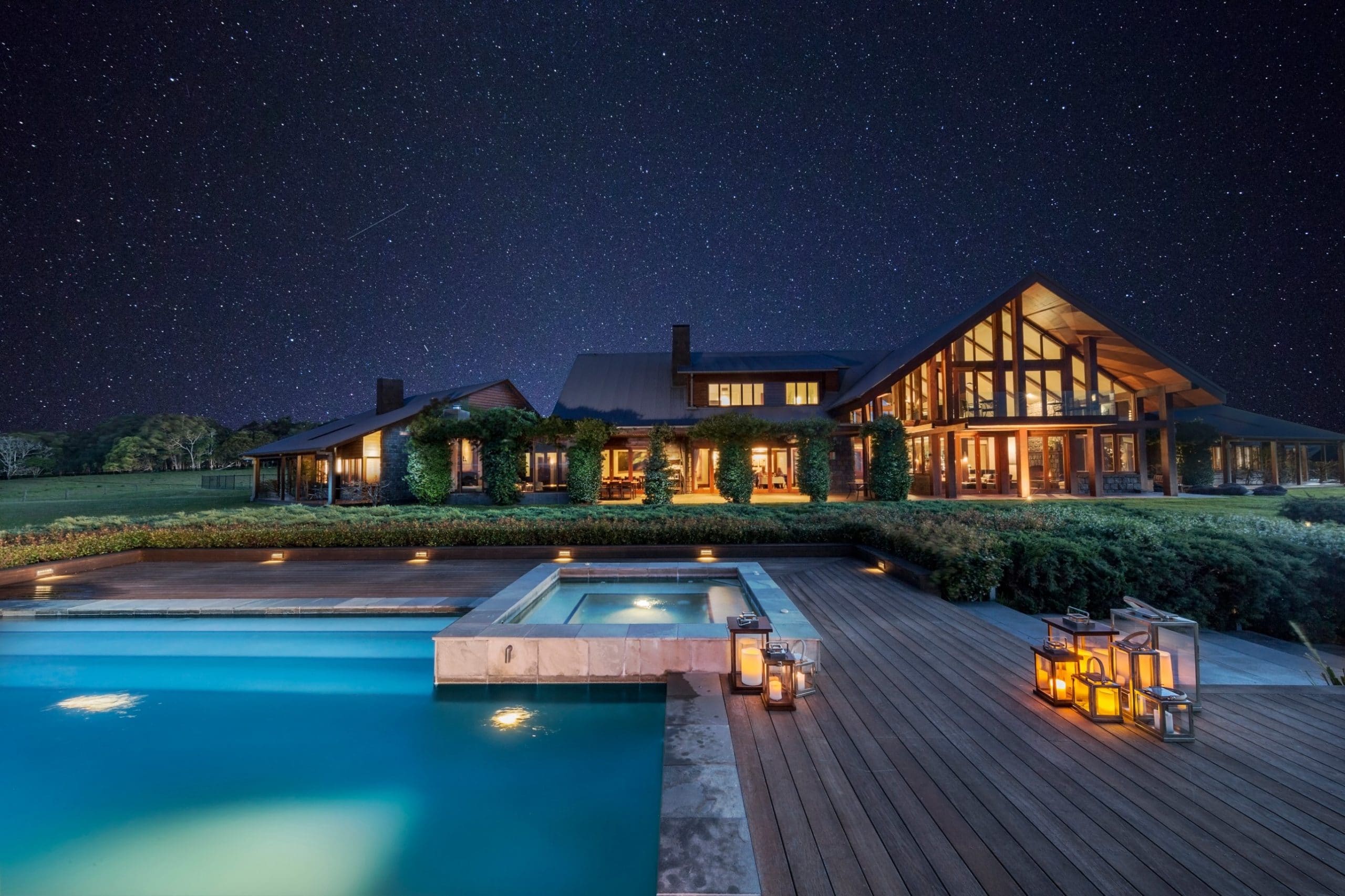 Rooms & prices
The eight Lodge Suites in the main building retail for approximately $1,400 per night and are spacious, with each featuring open fireplaces, private veranda and some with large spa baths. The two Loft Suites, starting at around $1,300 per night, boast elevated views with cosy reading nooks and direct access to the mezzanine library. Perched on the edge of the escarpment are two private standalone lodges, both featuring separate lounge rooms and outdoor spas, open fireplaces and private verandas with panoramic views. These form the pinnacle of Spicers' accommodation offering, the one-bedroom will set you back around $1,700 per night and the two-bedroom; $2,749 per night.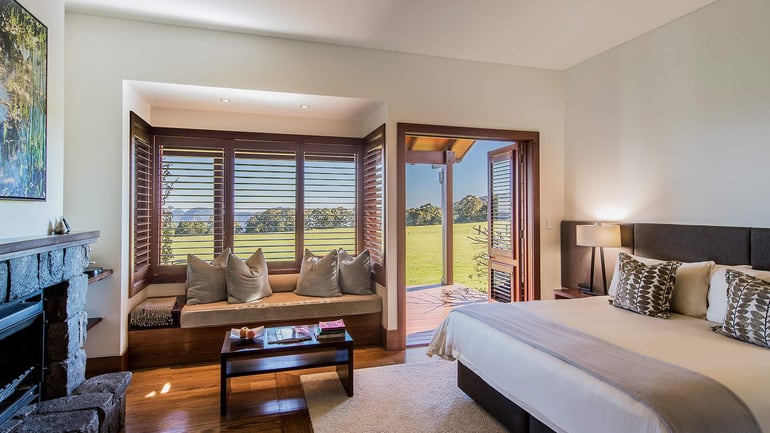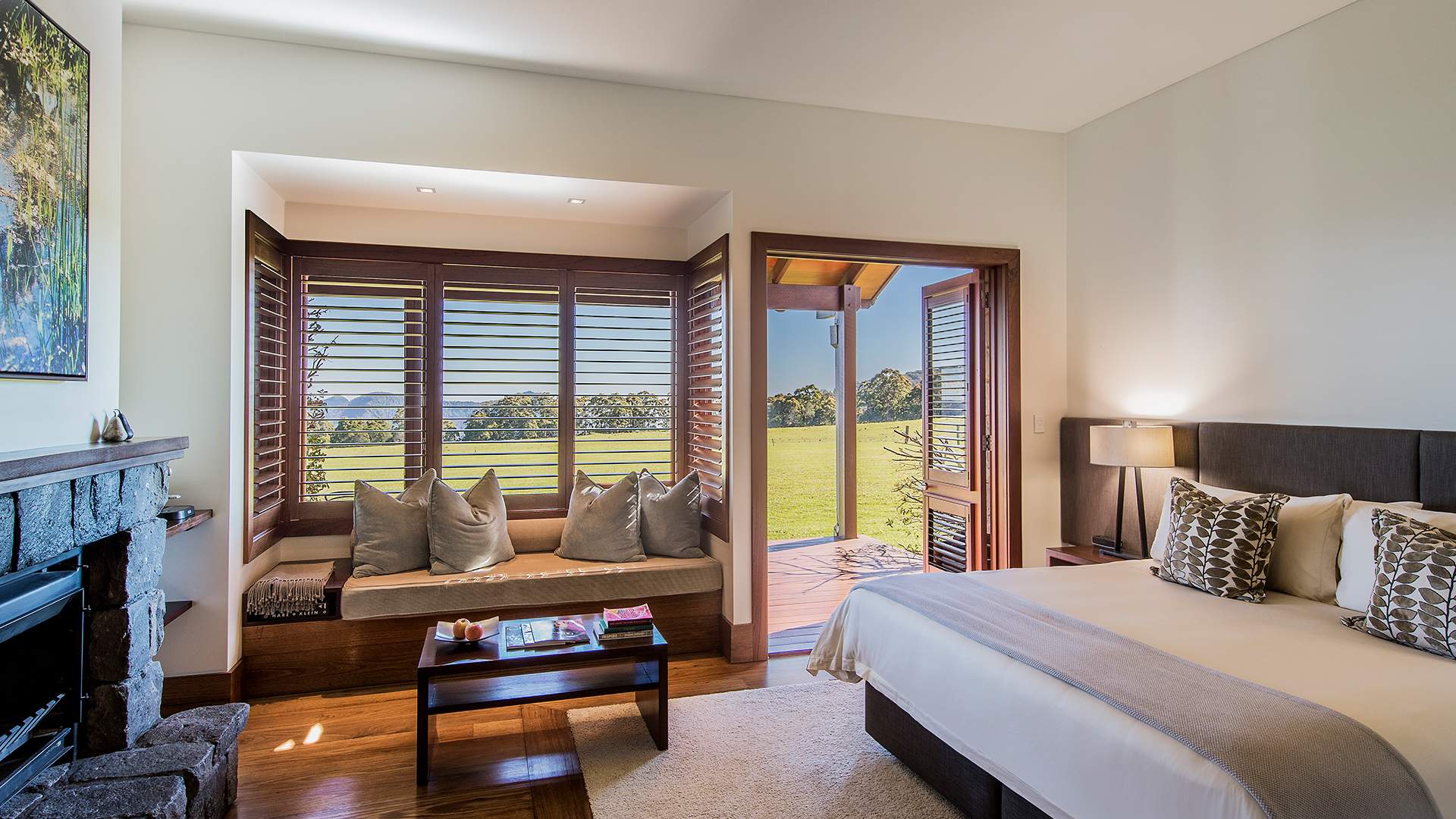 Staff & interaction
To be honest, the whole setup feels like more akin to a family mansion than a hotel. The staff treat guests as friends rather clients – some may be opposed to this but it works well and is requisite given the small number of fellow customers. Similarly, the interaction between guests is fairly high thanks to daily activities and shared spaces, if you choose.
What's included
A primary reason for Peak Lodge's flagship status in the Spicers portfolio is the all-inclusive package, meaning that included in your prepaid rate is ALL food and drinks for the duration of your stay. You'll be greeted with drinks before you're even out the car upon arrival. The fully stocked bar is yours to indulge in without compromise – you'll find anything from XXXX to Veuve Clicquot, and any spirit you desire. I'd recommend grabbing a Mimosa on the way down to the pool for a morning swim before breakfast. Of course, there's also a minibar in your suite with all the necessary supplies in case you don't feel like walking down one set of stairs.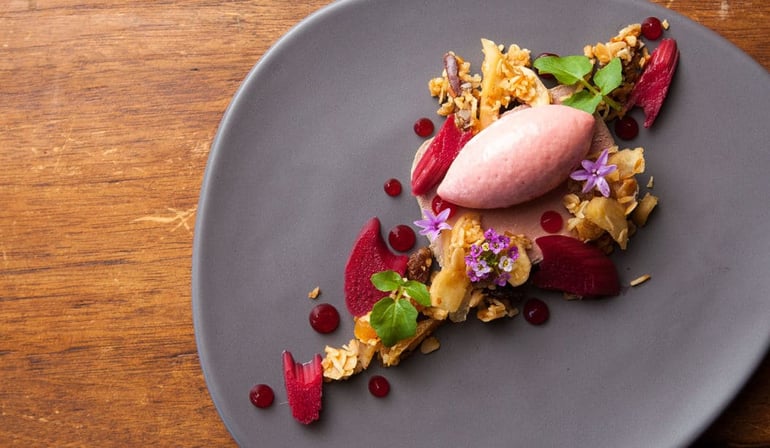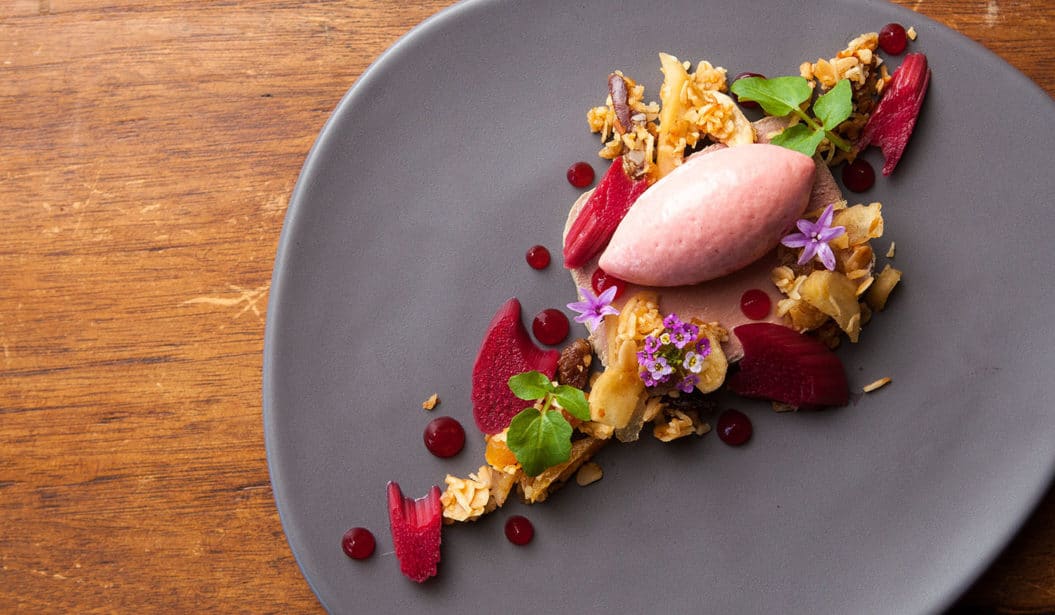 Menu & food
Leave home with an empty stomach. The food at Peak Lodge is decadent, creative, plentiful, and best of all: included. The "light lunch" is a huge platter of hand-curated, whimsical flavours that will satisfy any tastebud's desires. If that wasn't enough, you can order a signature charcuterie board to your room almost any hour of the day. These aside, the five-course degustation dinner with matching wines is the jewel in Peak Lodge's culinary crown. Fresh, locally sourced ingredients are artfully combined by the onsite chef – a pure magician – to perform dining tricks on your senses not thought possible.
How to spend the day
There are a variety of ways to spend your time during the day, all being centred around the core theme of relaxation. Hire bicycles and cruise to the nearby lakes with a picnic lunch, stroll to one of the many viewpoints perfect for getting down on one knee with someone special, or hit up the world-class Spa Anise. The outdoor pool and hot tub are a fine place to park up and simply watch nature go by.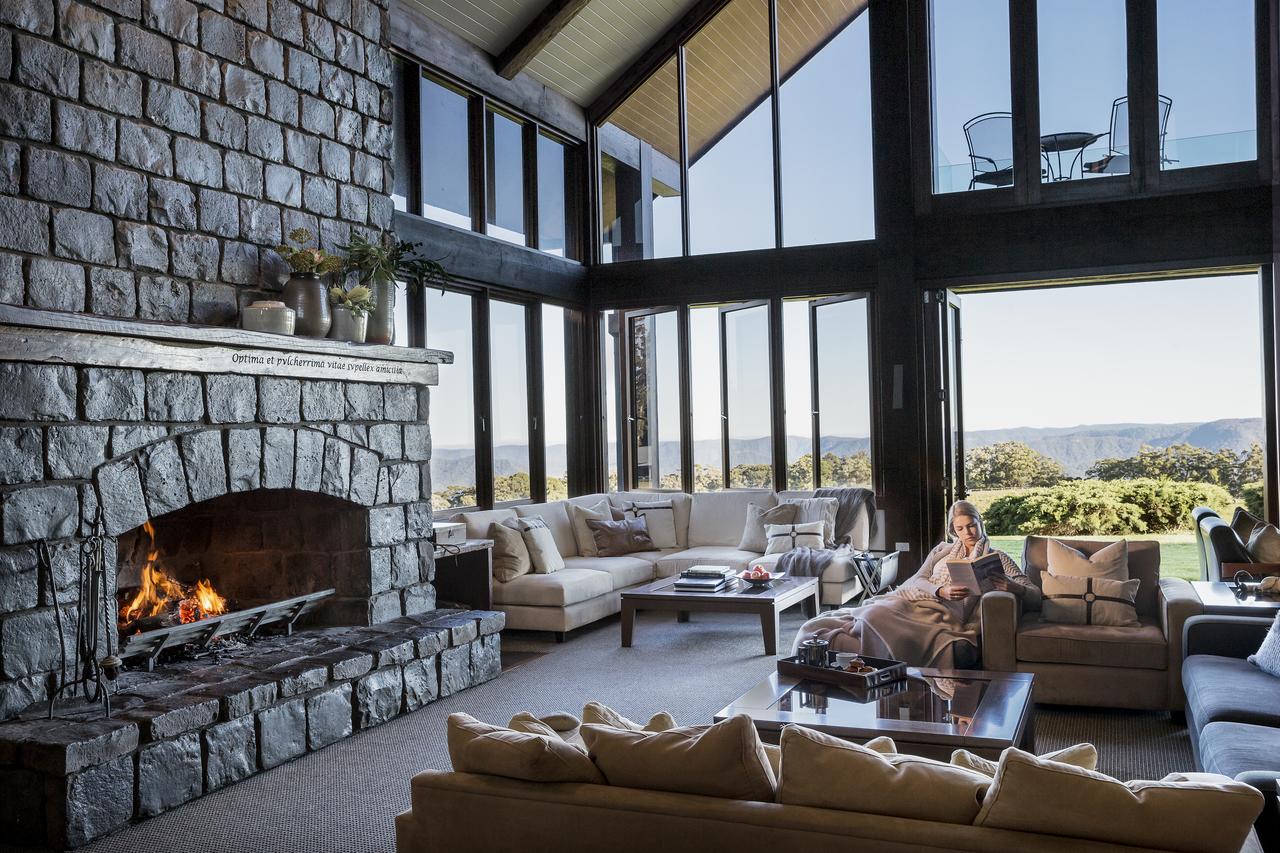 Final thoughts
Overall, Spicers Peak Lodge is as close as it gets to the pinnacle of Australian luxury hotels. It has a certain special homely quality which separates it from larger scale institutions that makes it so attractive – it's truly the little things that stand out. Minor negatives are the isolation and the necessity of a 4 x 4 to reach the property. Analysing it on a value for money basis, this might be a place you reserve for a very special occasion. It's almost always fully booked, so I recommend getting in early or aiming for a stay during the week (when you'll also get a cheaper rate). Head over to Spicers for more info and to scope out the rest of the portfolio in Queensland and New South Wales.
Still looking for accommodation? Check out Australia's Best Hotels.