As Australian luxury tourism numbers reach new heights seemingly every day, the luxury hotel business in this country is becoming increasingly competitive with the boundaries of service and luxury being pushed all the time.
For travellers, that's a great result, but with the plethora of luxury options available, it's also incredibly difficult to separate the wheat from the chaff – particularly when the chaff is still pretty bloody good. Below are our picks for the very best of Australian hotels in 2019, but beware, money better be no object if you're expecting to rest your head at any of these luxury options.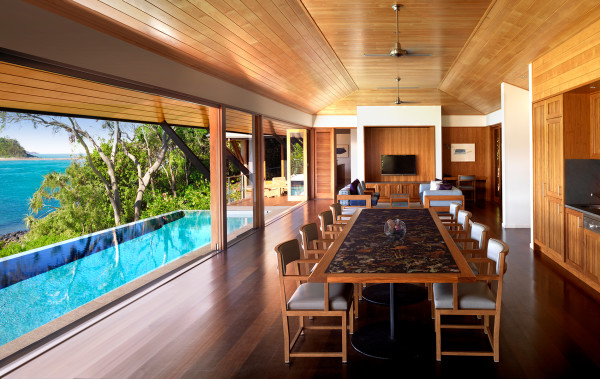 Qualia – Hamilton Island, QLD
From: $1250 per night
Winner of Conde Nast Traveller's 2012 best resort in the world, Qualia took Australian levels of luxury to new heights when it opened in 2007 as the jewel-in-the-crown of Queensland's ever popular Hamilton Island. Comprising of sixty free standing bungalows designed by Aussie architect Chris Beckingham, Qualia is still operating at a level above almost any other hotel in Australia. The service is impeccable, views incredible, and the perfect place for a few days of R&R in the ever-sunny Whitsundays.
Treat yo' self: The Beach House, a two bedroom plus living room pavilion with a private pool and dining room. From $4550 per night.
Emirates One&Only – Wolgan Valley, NSW
From: $2,300 per night
The first and now only (following the closure of Hayman Island) Australian property from the globally renowned luxury hotel group, Emirates One&Only Wolgan Valley is the most extravagant countryside getaway in Australia. To put the no-expense-spared nature of this hotel into perspective, the driveway cost $4m to build.
What it lacks in affordability, it makes up for in unadulterated rural luxury while still staying true to its Blue Mountains surroundings.
Treat yo' self: The three-bedroom Wolgan Villa is probably bigger than your house and costs about the same, coming in at almost $10,000 a night.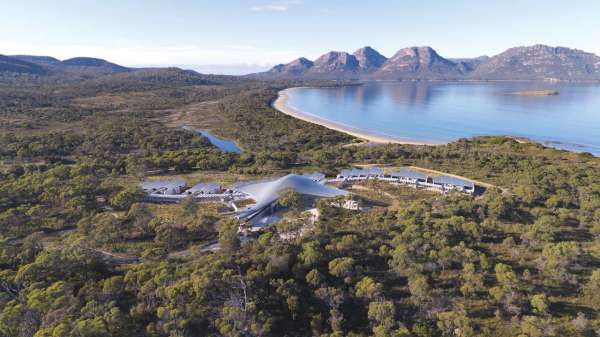 Saffire Freycinet – Coles Bay, TAS
From: $2,100 per night
Possibly the most architecturally impressive hotel in Australia and located in one of the most spectacular locations in the country, Saffire Freycinet takes remote eco-luxury to the next level.
The food and beverage offering is high on the menu at Saffire Freycinet, with its in house restaurant Palate open to guests only, and widely regarded as one of Australia's most exclusive, and indeed best dining rooms. Reservations are properly all-inclusive, meaning breakfast, lunch, dinner, most activities, and the high-end mini bar are complimentary.
Treat yo' self: There are three room types at Saffire Freycinet, with the Private Pavilions offering plunge pools, a tastefully decorated living room, and the option to have your included meals cooked by a private chef in the pavilion. It's not much more than the standard Luxury Suites…so in this case, it's definitely worth treating yo' self.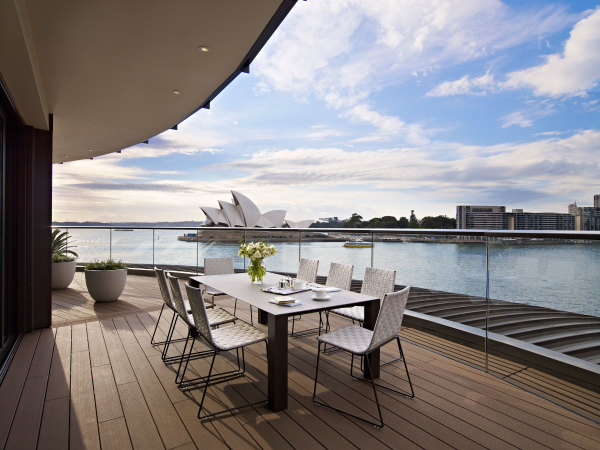 Park Hyatt – Sydney, NSW
From: $990 per night
Australia's most iconic hotel and boasting arguably the best views of any hotel in the world, Sydney's Park Hyatt is 5 star luxury at every turn. The go-to for any visiting celebrity (think Elton John, The Rolling Stones, Michael Bublé, and Jerry Seinfeld to name just a few), if it's good enough for them, it's good enough for you.
With some of the best trained hotel staff in the world, the Park Hyatt does the small things just about perfectly, like addressing guests by name as they get out of the cab at check-in, a pillow menu, and a world class food and beverage offering. If you've got cash to splash on a stay in Sydney, there's really no other option.
Treat yo' self: You wanna know where those aforementioned celebs stay? It's the two-bedroom Sydney Suite which starts at $16,000 a night.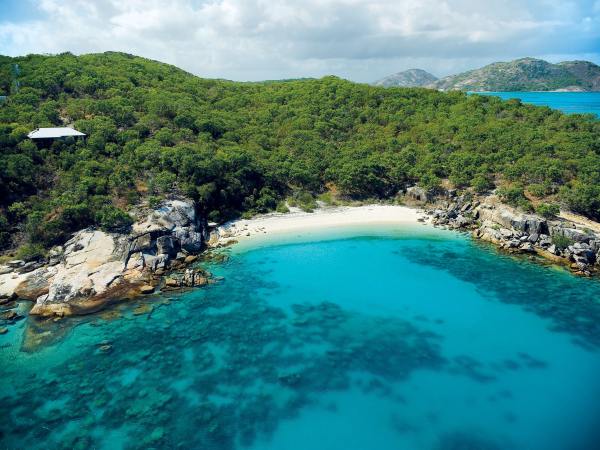 Lizard Island – Great Barrier Reef, QLD
1,013 hectares, no more than 82 guests, 40 rooms, 24 private beaches. 1 all-inclusive island. Lizard Island is one of the most remote and luxurious hotels in Australia, a 60 minute charter flight from Cairns in Far North Queensland.
Although operating as a luxury resort for a number of years, the island was hugely damaged by a cyclone in 2014 and extensively refurbished in the year following, leading to a grand relaunch with new levels of luxury. As an island resort, it's only rivalled by Qualia, although both have their charms. For the fisho's amongst us, it also boasts some of the best game-fishing in the world, and hosts the annual Lizard Island Black Marlin Classic.
Treat yo' self: Accommodating up to five guests in two bedrooms and coming in at a lazy $5,999 a night is The Villa. While you're at it you may as well splash the extra dough on a $700 sunset BBQ.