With a great variety of white sandy beaches, vibrant coral reefs, dramatic mountains, and tropical forests, Fiji's natural sprawl of over 330 islands has often been used as the archetype for an idyllic tropical holiday. The distorted sense of island time and a plethora of adventure means that Fiji is frequently associated with an actual escape when it comes to looking for holiday destinations to recapture the classic idea of a much-needed vacation. We know you've been wanting to pull the trigger on the Fiji holiday for a good while, but don't go shopping around without first getting across the best resorts in Fiji.
You don't want to rock up only to find a sub-par base for your holiday, especially since part of Fiji's appeal is being able to strip away all the bullshit and stress of life back home. Relaxing at a resort you're truly proud to be a guest of is something that could take your Fiji holiday from a 6 to a 10 almost immediately.
That's why we've rounded up a good mix of where to stay if you're unwilling to compromise on luxury and comfort once you touch down in Fiji. Most of them will run your bank account dry for a good few months, while there's a few that nail that idea of affordable luxury so you can spend time exploring Fiji and island hopping without feeling like you've just wasted most of your cash on accommodation.
---
---
With Fiji now open to Aussie tourists, make sure you're keeping this round-up in your back pocket so you know exactly where to book next time you feel like a genuine island escape.
Fiji's Best Resorts For The Uncompromising Luxury Traveller
---
Six Senses Fiji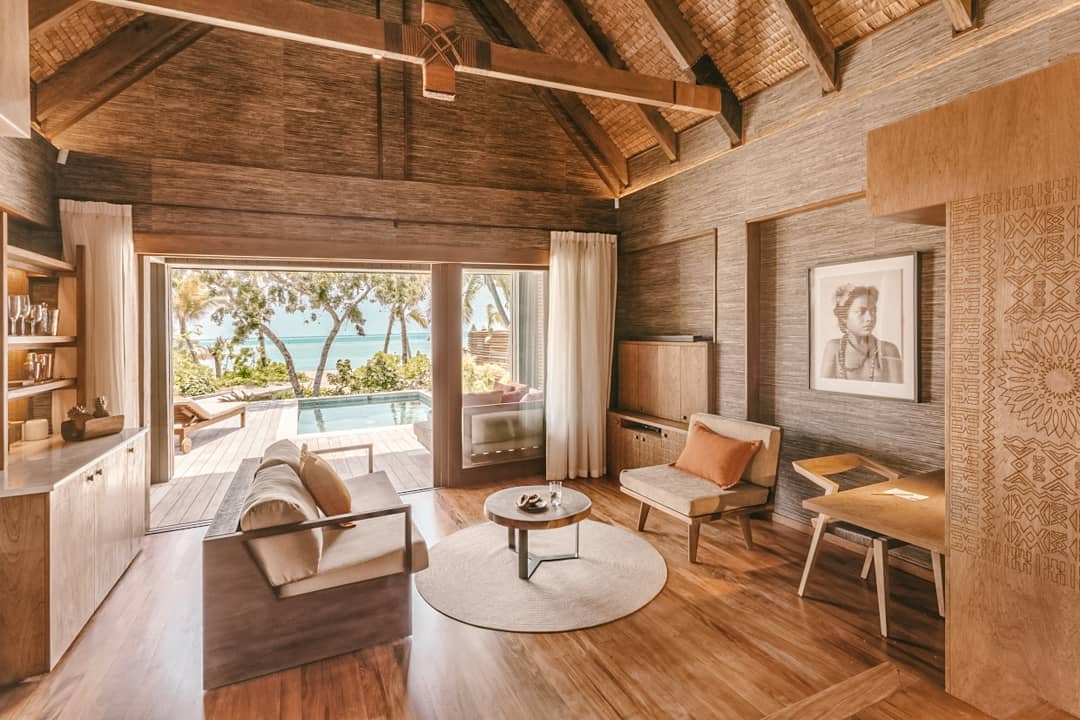 IHG owns and operates a number of hotels across Fiji, but none are as highly sought and consistently awarded as the Six Senses Fiji. That's no surprise of course, with this particular Six Senses regarded as one of the best expressions of the luxury brand in this part of the world.
It only takes about an hour to reach Six Senses Fiji from Nadi International Airport, given the property is located on Malolo in the Mamanuca archipelago.
You've got an idyllic beachside location, two full-service marinas, several eco-facilities, a luxury spa, and the resort's very own cooking school to help keep you out of your villa. Although it'd be hard to leave the room. These 24 pool villas are some of the most well-balanced and attractive accommodations in Fiji, reflecting the brand's ritzy reputation with raintree wood furniture, vaulted ceilings, stylish black-and-white prints, and massive beds. It's a great showcase of sustainable luxury, with everything running on Tesla solar panels.
A sense of calm is extended to every aspect of the resort, from the delicate Pacific tasting menus and modern-Asian food to the long list of complimentary activities like yoga, wood-carving, spear-making, private meditation sessions, and tennis. The team behind Six Senses Fiji clearly know how to channel the time-distorting idea of island time into how the resort functions each day.
Six Senses is also one of the closest resorts to the famous Cloud 9, Fiji's iconic floating bar and quite possibly the number one attraction for anyone looking for something to rival the day-drinking meccas of Bali.
Address: Malolo Island, Fiji
Contact: +679 666 5028
---
---
---
Laucala Island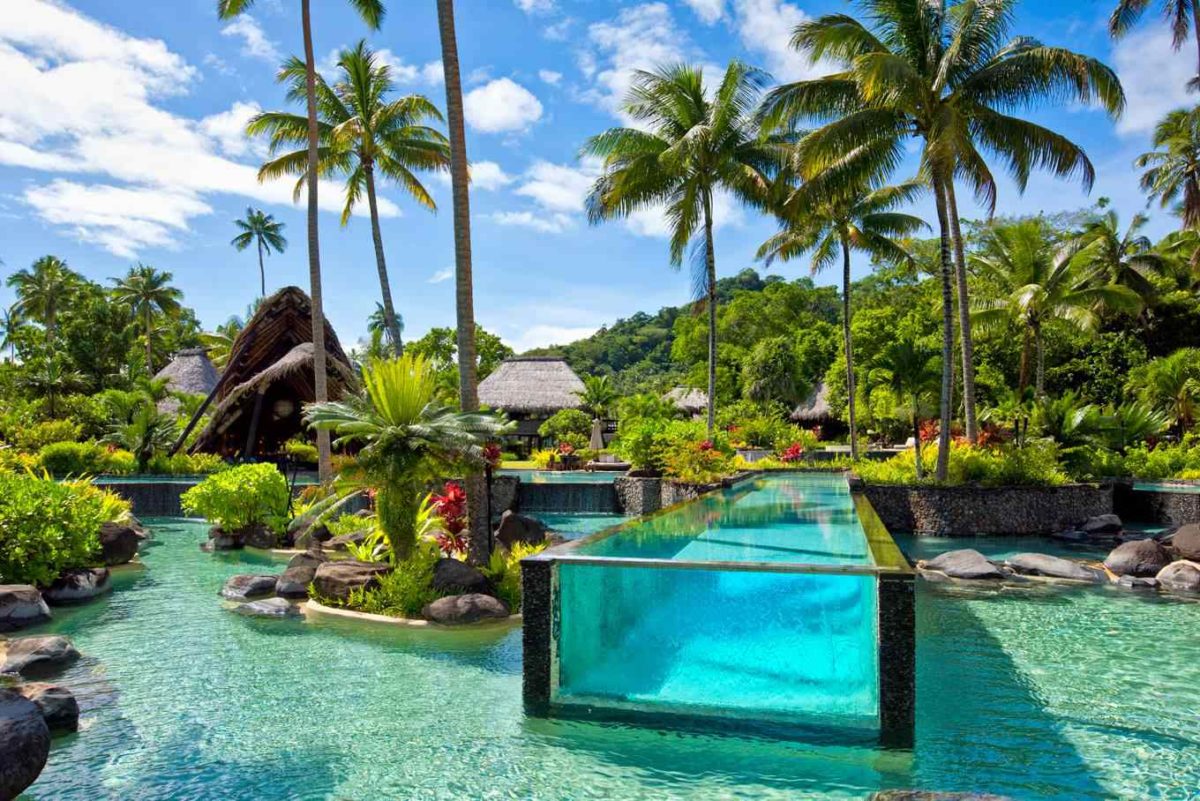 Laucala Island is known as one of the most exclusive private resorts in the world, with a price tag to match. Currently owned by Red Bull co-founder and Austrian billionaire Deitrich Mateschitz, who purchased the island in 2003, the high-end luxury resort is one of the only places in the world where guests get private use of a $2 million state-of-the-art DeepFlight Super Falcon personal submarine so they can explore the pristine aquatic environment. The only other is Four Seasons in the Maldives.
Mateschitz opened the resort to more than just his celebrity friends back in 2009, and it's since been a favourite for the most well-off travellers visiting the South Pacific and wanting an incomparable luxury experience unlike anything else in the region.
The 3000-acre island is only accessible via private jet, cruising you across the famed coral coast and planting you firmly on the edge of dense jungle forests and perfect white sand beaches. The resort itself has 25 exclusive villas, each allocated 16 staff, and a private buggy for exploring the island.
You may be paying a steep price for a night here – around US$5,000 (AU$6,817) – but everything's included. That'd be all food and drinks – including a cliffside Teppanyaki experience – water sports, boating, spa treatments, child services, golfing on an 18-hold course, yoga, and – yep – those submarine rides.
There's plenty to do in the resort itself, but exploring the entire island is the best part. There's a Water Sports Centre with a fleet of 14 boats for guests, including a Riviera Open Flybridge for game fishing, and traditional Fijian outriggers for sunset cruises, along with various other jet skis and kayaks. There's also snorkelling equipment available for guests and a PADI certified Dive Centre for anyone who wants to get up close with marine life like hawksbill turtles and angelfish. Then you've got rainforest walking tours, visits to a private farm, and horseback riding. Clearly, the buggy is included for good reason and you'll have more than earned that relaxation by the end of the day.
Address: Northern Lau Islands, Fiji
Contact: +679 888 00 77
---
Shangri-La Yanuca Island Resort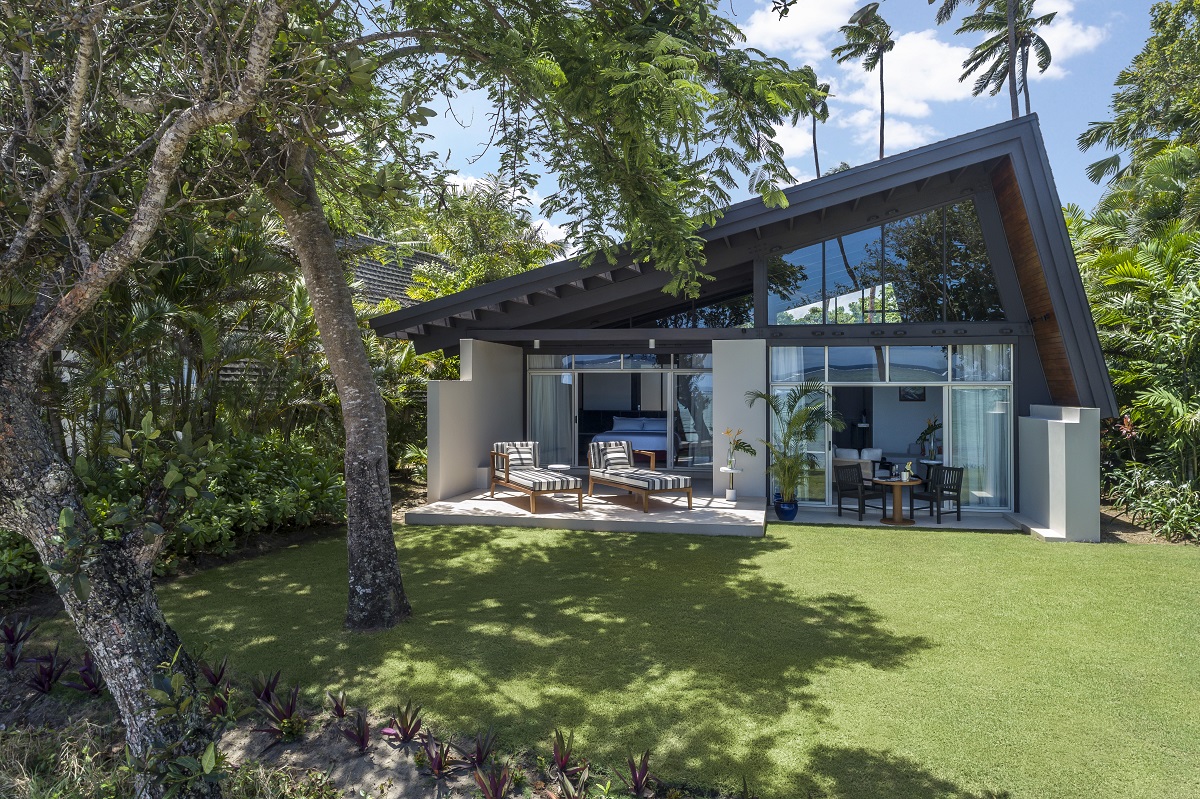 Shangri-La Yunuca Island is often the best choice for anyone looking at a luxury family resort that's well located amongst Fiji's scattered sprawl and still offers a heady dose of the archipelago's famously impeccable landscape. All 442 rooms and suites, which are laid across 12 categories, face the Pacific Ocean so there's no view-envy going on if you don't score yourself the ideal room.
It's worth forking out for the top-notch Reef Suites, which offer up to 82 square metres, or the private Reef Bures, which are located in an adults-only wing with each coming with a complimentary golf cart so guests can zip around to the various amenities, the best being a 9-hole golf course and Shangri-La signature Chi, The Spa.
---
---
Address: Yanuca Island Coral Coast Fiji Islands, Fiji
Contact: +679 652 0155
---
LikuLiku Lagoon Resort (Reopens February 2022)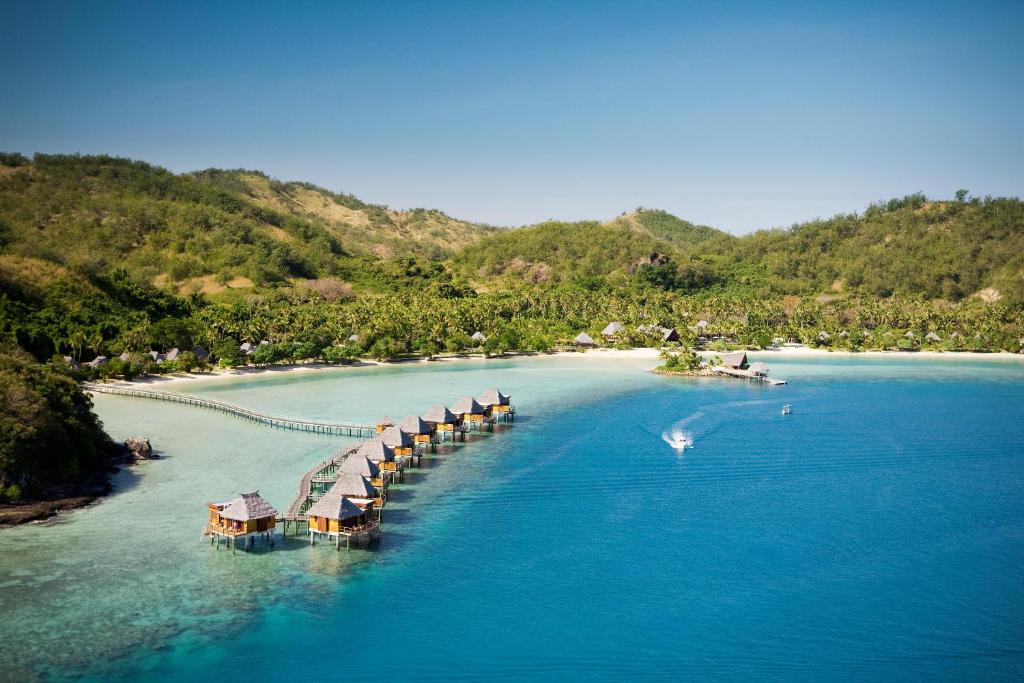 There was once a time when the high-end LikuLiku Lagoon Resort boasted the only overwater bungalows in Fiji, regularly luring couples and honeymooners to the adults-only resort for the kind of status quo-shattering escapism postcards are made of.
Located on the edge of Malolo Island in the Mamanuca archipelago, the highly regarded resort is a short boat ride from Nadi and an easy pick if you want a no-expense-spared Fijian getaway.
The modern-traditional design also incorporates the archipelago's only authentic overwater bures, which are rustic Fijian huts that have been touched up with natural materials and a swift sense of luxury framed by a protected marine sanctuary. Guests here have direct access to snorkelling and swimming, as well as various other on-water activities that always keep the eco-system in mind.
There's a deep reverence for traditional Fijian design at LikuLiku Lagoon Resort, expressed through inventive cultural references, like the main building shaped in the image of a Fijian canoe house with a hand-woven thatch and a mix of modern flourishes.
Luxury amenities include a full-service day spa, the premium Fijana Restaurant with a focus on local seafood and tropical fruits, and exclusive access to Mociu Private Island, which is only for resort guests to snorkel, picnic, and watch the sunrise, while the Ahura Resorts group (which owns and operates the property) use to expand their constant eco-initiatives.
Even if you aren't shacking up at one of the coveted overwater bures, the other rooms are all beachfront, and half of them have private plunge pools with huge decks, daybeds, outdoor showers, and courtyards. As if having your own private plunge pool wasn't enough.
Widely regarded by some of the world's top travel sites as one of the best luxury resorts in the area, Likuliku Lagoon Resort is a no-brainer for our list of the best accommodation in Fiji.
---
---
Address: 745X+F9P, Yaro, Fiji
Contact: +679 666 3344
---
Jean-Michel Cousteau Resort Fiji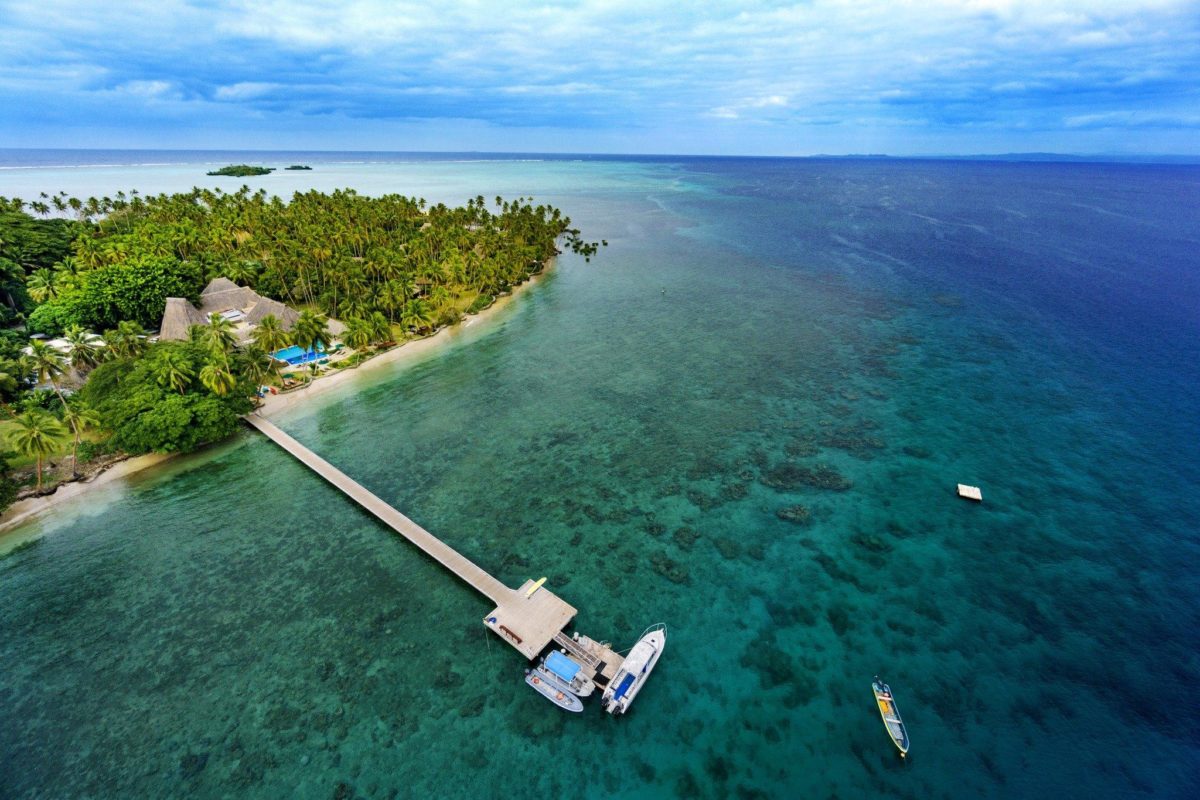 Jean-Michel Cousteau is the son of famed French naval officer and explorer Jacques Cousteau, and quite the explorer in his own right. He used the family name to open this luxury five-star resort in Fiji in 1995, an act that got him sued by his own father. They settled out of court, but clearly, Jean-Michel was able to continue using the Cousteau name, which is synonymous with ocean conservation and exploration and wraps the resort in an unmatched legacy.
That legacy is best expressed by one of the property's key amenities: the Jean-Michel Cousteau Dive Centre, giving resort guests the opportunity to go diving around the Namena reserve sites, join guided snorkel trips and reef walks with a resident marine biologist, and even earn their own PADI certification.
Aside from that, you've also got a whole bevvy of paddleboards, catamarans and kayaks to explore the productive lagoon. Although there's just as much to do on land, including various cultural tours alongside exploring mangroves, pearl farms, and hiking up to hidden waterfalls.
The resort is just a 20-minute drive from Savusavu airport, so it's nice and easily accessible in case you don't have a private jet flinging you around Fiji.
As far as the resort itself. You've got 25 deluxe beachfront bures, topped by the Predestian Villa which has its own infinity pool, separate living room, dining pavilion, and a huge master bedroom suite amongst 5 showers, 1 of which is outdoors and overlooks nearby private island Naviavia.
Address: Lesiaceva Pt Road, Savusavu, Fiji
Contact: (03) 9815 0379
---
Royal Davui Island Resort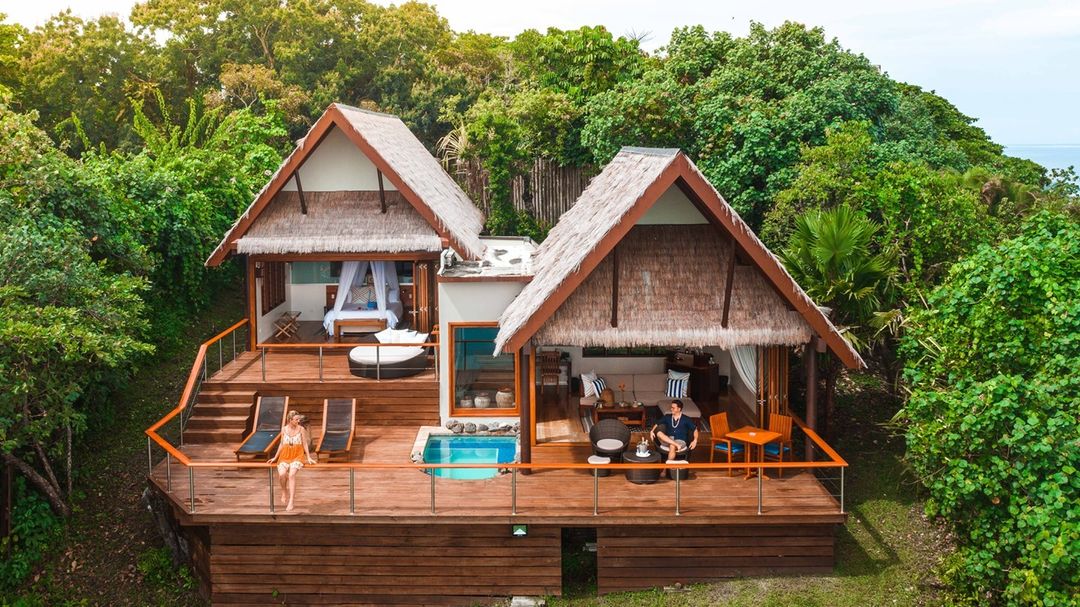 Located near Beqa Island, Royal Davui Island Resort is another award-winning, five-star property that's perfect for those who aren't willing to compromise on comfort and luxury. Although, unlike the slightly larger profile LikuLiku Lagoon Resort, you've only got 16 villas here, all sitting on the edge of a rocky hillside and scanning the calm waters for perfect vistas.
---
---
It'll take you around 30 minutes via Pacific Harbour to get here by boat, ferrying you directly into a sea of fine dining and luxury amenities. All rooms come with spa baths, retractable roofs, decks with private plunge pools, and high-end four-poster beds. This is the kind of accommodation even the most hard-to-impress bloke would be bowled over by, with interiors that have clearly been worked to the highest of standards.
Luxury aside, the location near Beqa Island is one of Fiji's best, with easy access to a great variety of waterfall hikes, traditional villages, and some of Fiji's best snorkelling spots in and around Beqa Lagoon. When that's all done, there are some of Fiji's best spa treatments waiting for you back at the resort, and meals that can be taken under a 400-year-old Banyan tree.
Contact: +61 2 8091 2700
---
Tides Reach Resort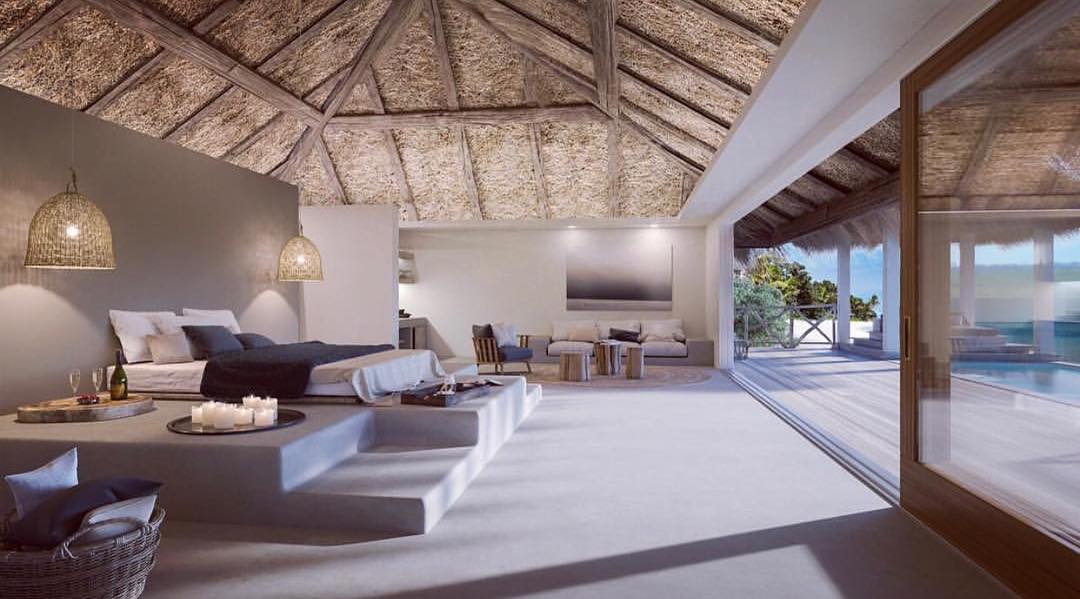 Located on Fiji's third-largest island, Taveuni, Tides Reach Resort is widely regarded as one of Fiji's most consistent and welcoming, standing out with its slightly South African-inspired design and a minimal aesthetic that is nicely contrasted against the dense hums of nature that surround the small property.
Only a handful of beachfront villas make up the actual resort, all fitted out with spacious king-size beds, Belgium linens, and a fascinating blend of art and designer furniture where each and every piece was handpicked by the resort's South African owner to help distinguish Tides Reach Resort from the handful of other ultra-luxury properties dotted across the soft coral capital of the South Pacific.
Guests aren't lacking when it comes to things to do and ways to engage with the massive island. Pretty much anything reasonable you can think of is included here, from kayaking and paddleboarding to biking around the island and riding horseback to private beach picnics.
Address: Matei, Fiji
Contact: +1 888 466 0740
---
Nanuku, An Auberge Resort
You'll find Nanuku, an Auberge Resort on Beqa Lagoon by Pacific Harbour, nestled into its own nice little groove on Fiji's southern coast with pristine vistas all around. You're only looking at a 1.5-hour drive some Suva, or two hours from Nadi Airport, so Nanuka is nice and accessible but still feels far-flung enough for a deep sense of privacy and cultural immersion.
---
---
Direct access to Pacific Harbour is one of the main reasons you'll want to rest your head at this highly regarded Fiji luxury resort, with shark drives, zip-lining, whitewater rafting, and various cave systems to explore.
The resort only spans 10 acres and features just 18 rooms, all designed with serenity in mind with a lot of natural woods and muted palates. Most of the colour comes from the surrounding tropical gardens, as well as the personality of the staff from the personal butlers and private nannies who are clearly told to treat all guests like family.
Address: 11 Nanuku Drive, Pacific Harbour, Fiji
Contact: +1 855 857 3882
---
Kokomo Private Island Fiji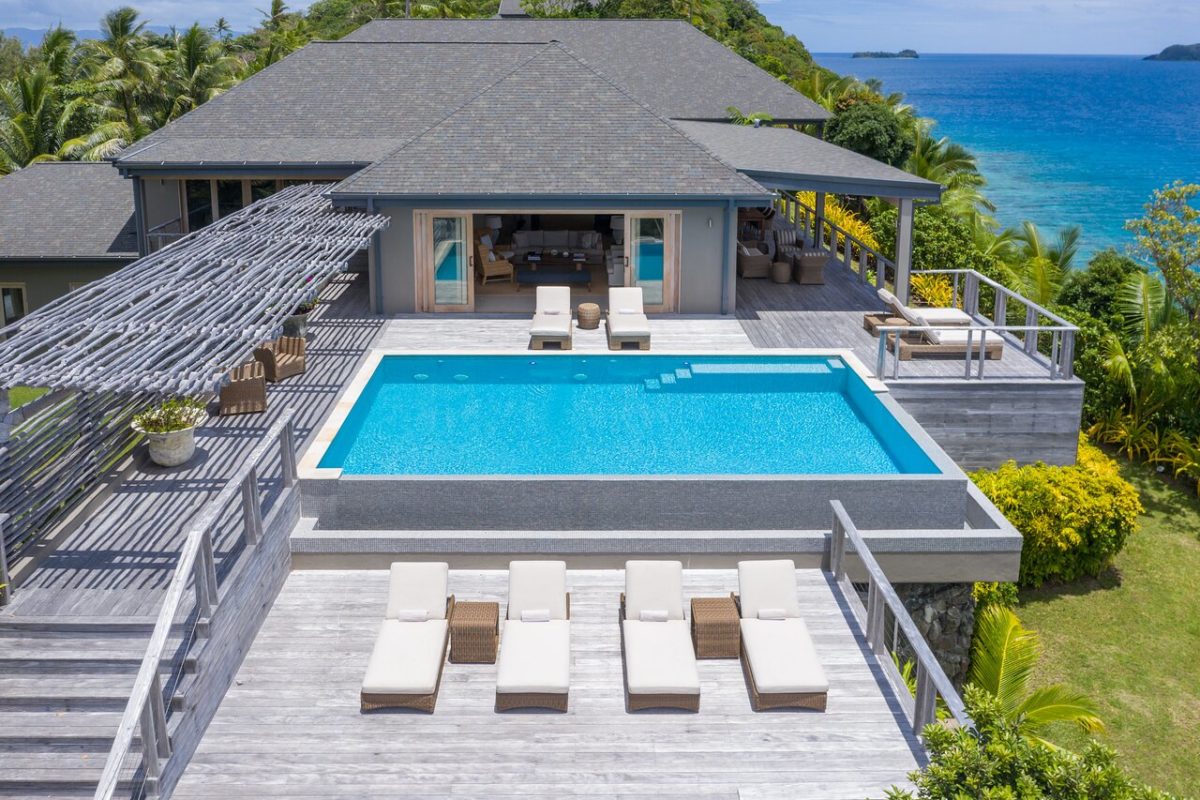 If you and your mates have $88,000 a night to spare, the ultimate Fiji luxury holiday idea is a no-brainer: rent Kokomo Private Island. With the entire island's accommodation spanning 21 villas and 5 residences, there's a genuine sense of escape and privacy at Kokomo that you wouldn't get one of the more mainstream resorts lining the edges of Nadi and Suva.
Like most luxury resorts in Fiji, the design expresses traditional Fijian accents through upscale modern comforts and high-end amenities. The bigger plays are the best, so the 5 expansive residences are the most popular for families who want to shell-in for a few days and let a small army of butlers and nannies pamper them.
And of course, it is Fiji, and you are on your own island, so you've got as much kayaking, diving, snorkelling, fishing, cultural tours, and boating to look forward to.
Address: Yaukuve Levu Island, Fiji
Contact: +679 776 4441
---
Vomo Island Resort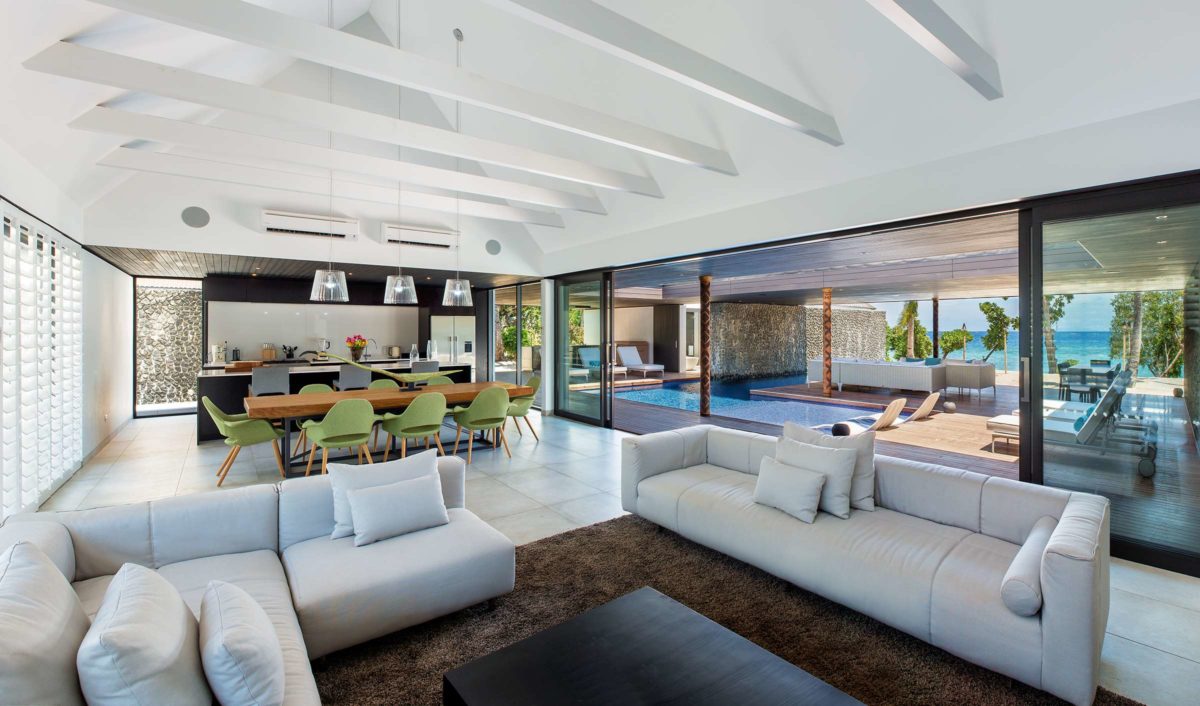 If you want to stick close to the famous (and famously volcanic) Namunuca Islands but don't want to be too far from the mainland, Vomo is your best choice. The island is one of the easiest to access to flying in via helicopter from Nadi usually the way guests arrive at the high-end Vomo Island Resort.
Those crystal quartz waters and white sandy beaches are welcoming enough, but the resort has been kitted out with an obvious desire to capture the warmth and hospitality of Fijian culture. Soft design defines just about every corner of this resort, which is made up of 28 villas and private residences all with direct beach access.
Expected amenities include a gym, the lush Senikai spa, a kids village, restaurants, and a new PADI certified dive centre. Although the most popular amongst guests is the Rock Bar, frequented by celebrities and the well-dressed, overlooking the resort's own private island, Vomo LaiLai.
Other than that, you've got all the best water sports Fiji can offer readily available, best experienced after a night in one of those upper hillside villas which offer incredible 180-degree views over the island and ocean.
Address: Beachfront Vomo Island, Fiji
Contact: +679 672 7297
---
Malolo Island Resort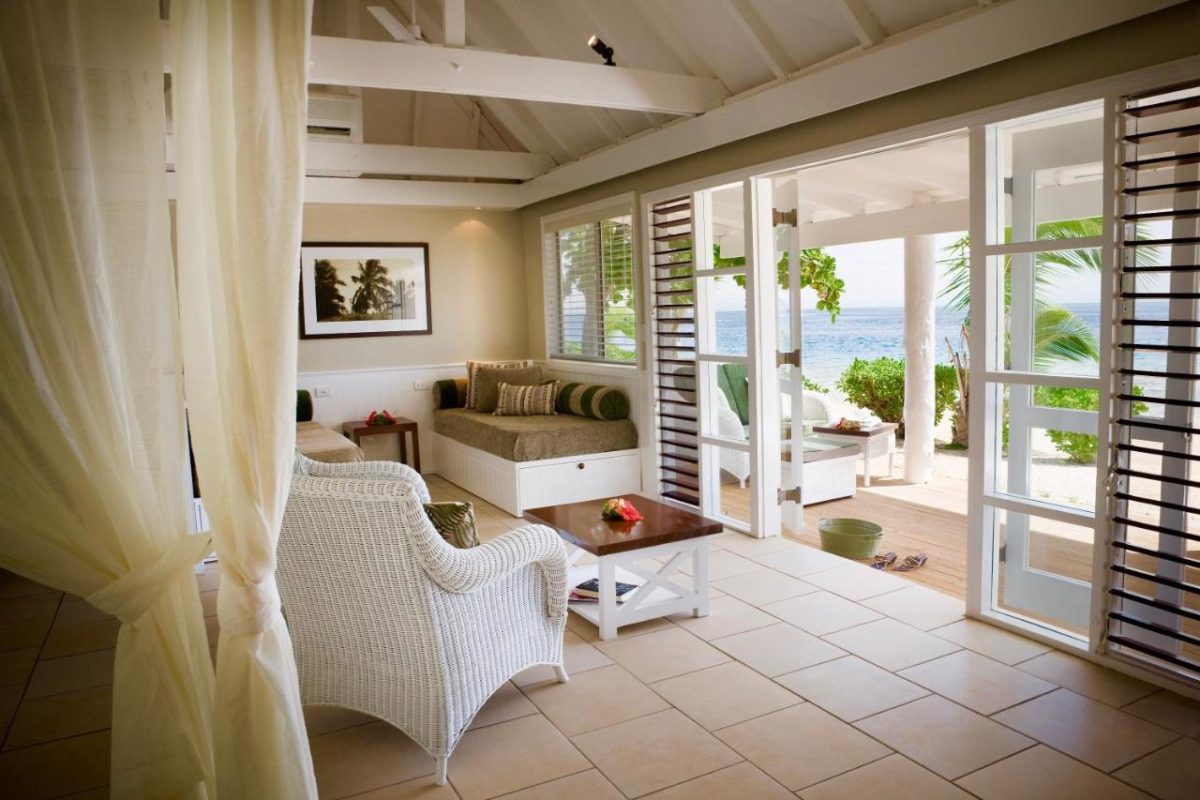 It's only a 30 minute drive from Nadi International Airport before you hit Malolo Island, clustered in Fiji's dramatic Mamanuca archipelago. But that's a boring way to get to this luxury resort compared to the alternatives: scenic seaplane flights leaving Nadi Airport, or private speed boat transfers.
However you choose to arrive at Malolo Island Resort, you're greeted like family and taken along the interconnected boardwalks to your premium bure, which is dressed in a colonial-style balanced nicely with a tropical aesthetic.
You know the deal here. Lush rainforests, fringing coral reefs, white sandy beaches – Malolo Island is quintessential Fiji, so you've got all the typical activities to look forward to, knowing you've got a comfortable base to rest your head at. The resort is nothing if not a complete luxury experience, from the Leilani's Spa in the middle of the rainforest with open-air treatment rooms to some of the best Fijian food coming with a side-serving of a traditional dance show.
Malolo Island Resort is known for being one of the best resorts in Fiji for gourmands who've flown to the island especially to slap their palate with the fresh flavours of simple Fijian cuisine elevated to fine dining. Treetops is the showcase restaurant here, but there are other more casual options at the sunset-perfect Beach Bar.
Unlike most other resorts, you won't really get room service here, but given the hospitality venues are so beautifully designed, you won't want to hide away in your villa at dinner time.
Address: 744W+JXR, Yaro, Fiji
Contact: +679 666 9192
---
InterContinental Grand Pacific Hotel Suva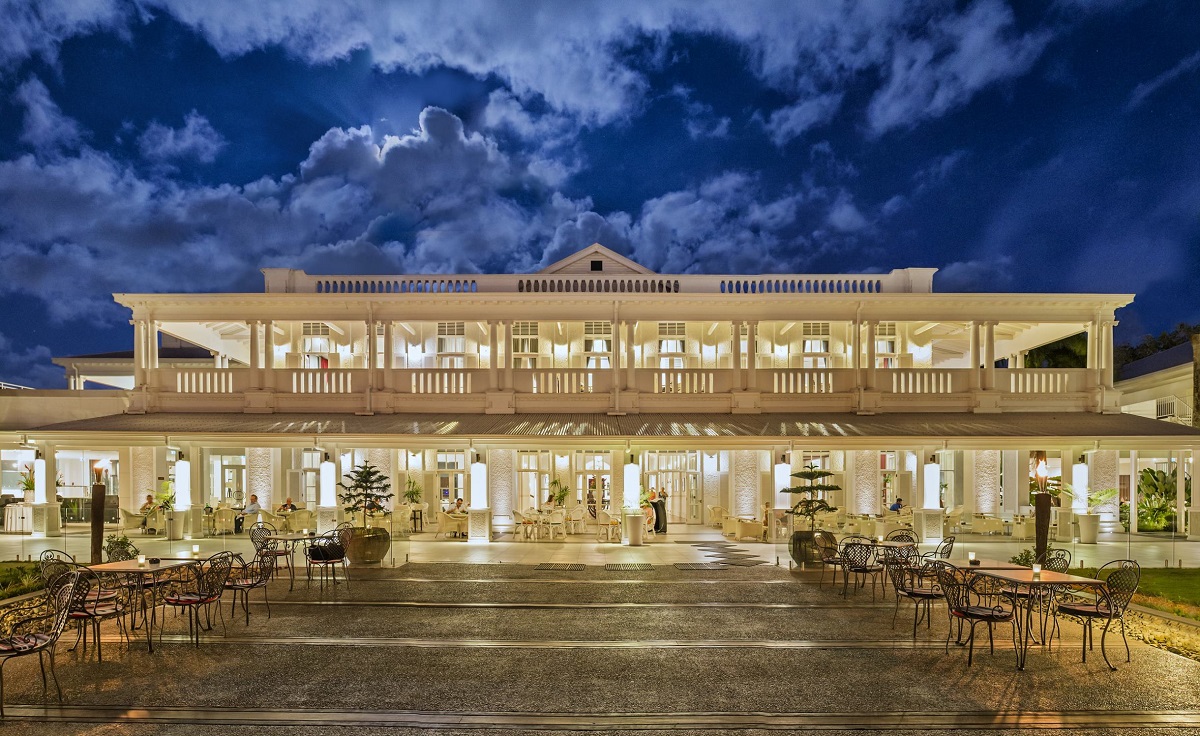 If it's good enough for the British royal family, it's probably good enough for you. The Grand Pacific Hotel, a historic building built in 1914, sits on the main seafront along Victoria Parade in the Fijian capital of Suva. Given most of the more convenient hotels in Fiji have absolutely nothing on the private resorts that make up most of this list, Grand Pacific Hotel stands apart as an accessible, centrally-located property that's actually worth your hard-earned cash.
IHG owns this Fiji luxury hotel, playing heavily on the building's history and the reverence locals have for the property. The Grand Pacific Hotel, with its head-turning contemporary colonial architecture, even appears on the country's $10 note, reiterating its status as the pride of Suva.
The rooms themselves are typical of a premium hotel, but the way smaller details, like luxury bathroom amenities, are used help give them a bit of personality to match with the grand architecture. Why else would Her Majesty Queen Elizabeth II have chosen to visit the hotel 3 times?
Although the property is more than just a game of "who has stayed here before". It's possibly Fiji's number one property when it comes to business travel, with various features including a 600sqm ballroom and other meeting rooms. That coupled with the location in Suva make the Grand Pacific Hotel a no-brainer if you're ditching the fam and heading over with the co-workers.
Do note that, for 2022, IHG Group will be updating and rebranding the hotel like the InterContinental Grand Pacific Hotel Suva. As opposed to what it currently is: the Grand Pacific Hotel Suva. Hotel groups like doing things like that.
Address: Victoria Parade, Suva, Fiji
Contact: +679 322 2000
---
Sheraton Resort & Spa Tokoriki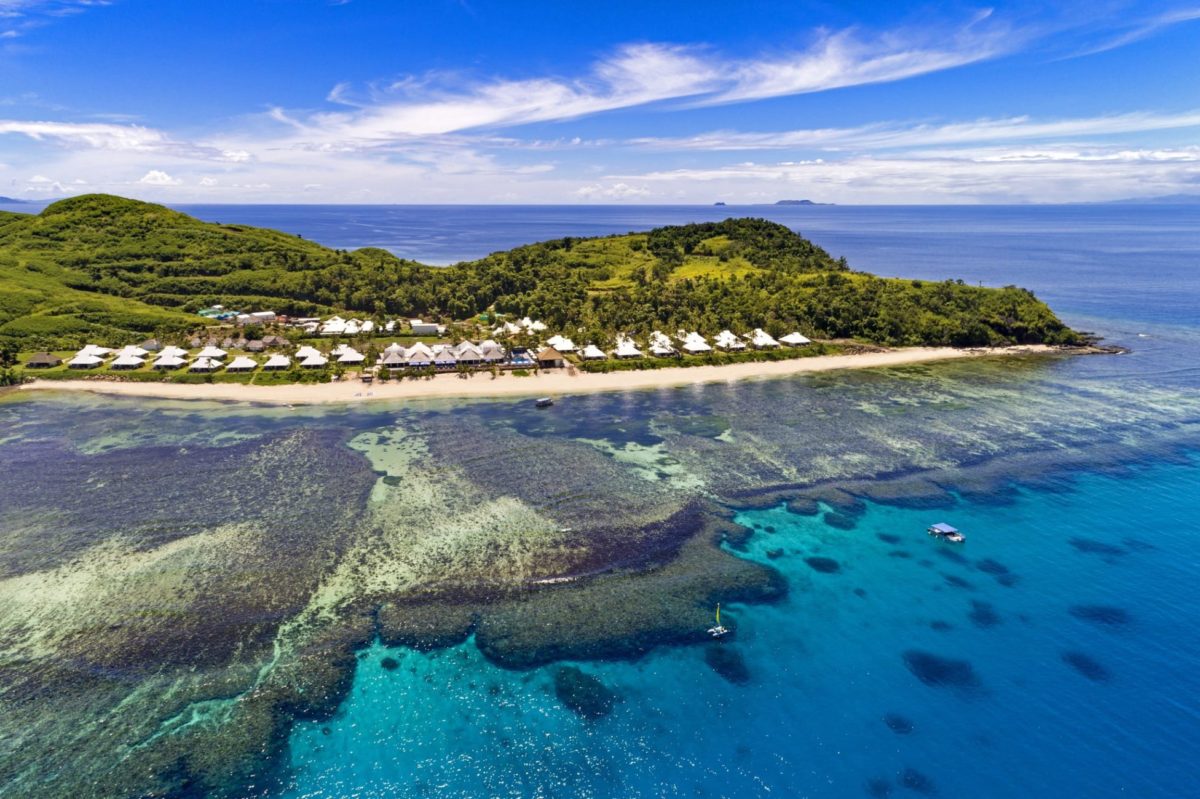 The better of the two Sheraton branded resorts in Fiji, Tokoriki Island is blanketed by the majestic Mamanuca Islands with around 101 guestrooms and suites that include 30 incredibly luxe Tokoriki Retreats. It's the latter category of rooms you should be going for if you want a nice little bump of affordable luxury, and while it can't really compare to some of the more remote five-star resorts on this list, there's a great deal of value being offered here that's worth inclusion on this list of Fiji's best resorts.
Tokoriki boasts some of the best white-sand beaches and soft coral reefs in all of Fiji, so Sheraton Tokoriki is a smart choice if you don't want to drop a fortune so you don't feel tethered to the resort and you can actually explore the wider surrounds without the guilt.
Address: Tokoriki Island Mamanuca Islands, Fiji
Contact: +679 666 7707
---
Hilton Fiji Beach Resort & Spa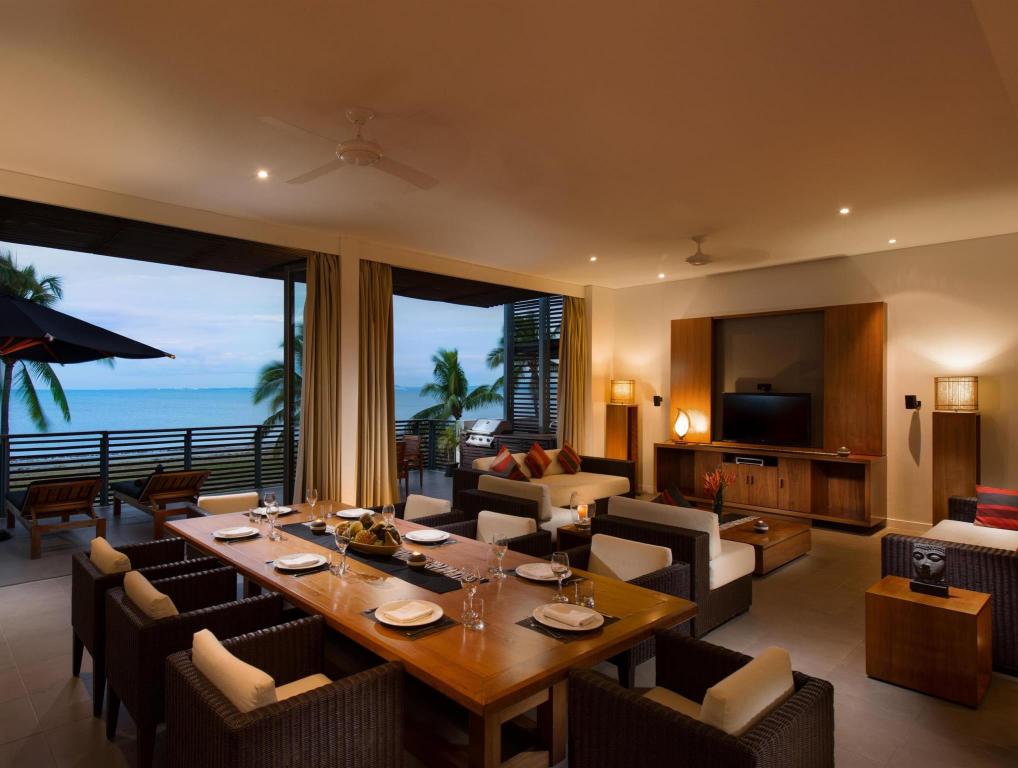 There aren't many resorts near Nadi International Airport that are worth your time if you want some comfortable digs in Fiji. Hilton offers an exception here with Hilton Fiji Resort & Spa one of the best options if you don't want to stick close to your ride home.
The convenience isn't a compromise. Hilton has done well to align their Fiji expression with the island's distorted sense of time, offering plenty of premium amenities complemented by soft design to dial in the idea of island time.
Given it's just over a 20-minute drive from the airport, the location is one of the best things about the Hilton Fiji. You're also a short drive from the famous Flavours of Fiji Cooking School and the slightly metropolitan swagger of Port Denarau.
As with the Sheraton, you're not paying thousands a night as you would at some of the more private upscale resorts, so you can better explore the island without feeling like you need to get your money's worth by staying put at the resort.
Address: Denarau Island, Fiji
Contact: +679 675 6800
---
Turtle Island Fiji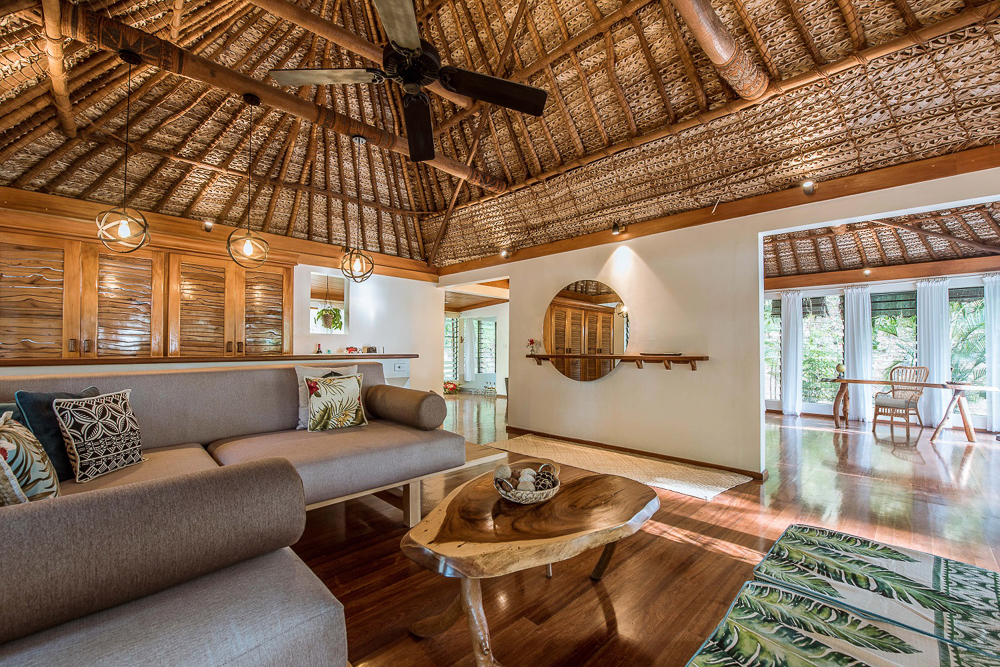 Only around 14 couples at a time can come and experience Turtle Island, which is an all-inclusive luxury resort that has been around since 1980. The entirely sustainable, solar-powered resort sits on 500 acres of privately owned land, offering up some of Fiji's most pristine nature along with private beachfront villas that are designed with a sense of cultural immersion and are obviously geared towards honeymooners.
The island has around 14 private beaches, so it's easy for couples to spread out and feel like they have the entire place to themselves. Not that privacy is entirely unique when it comes to Fiji resorts, but Turtle Island is known as the place to go if seclusion is at the top of your list of demands.
Address: Turtle Island, Nanuya Levu, Fiji
Contact: +1 800-255-4347
---
Best Resorts In Fiji – Frequently Asked Questions
What is the best resort in Fiji for couples?
Most resorts in Fiji are designed especially with romance in mind, but some of the absolute best for couples are Tides Reach Resort, LikuLiku Lagoon Resort, and Six Senses Fiji.
What is the best hotel in Suva?
The best hotel in the Fiji capital of Suva is the Grand Pacific Hotel (soon to be the InterContinental Grand Pacific Hotel).
What is the best hotel in Fiji for adventure?
The best hotels in Fiji for adventure are the ones that offer the widest variety of activities. None can compete with the very active Laucala Island Fiji.
Feel like sticking closer to home? Check out the best hotels in Tasmania.