If you feel like backing your return to the hedonist hotspot of Cancun with a spot of elevated luxury then the newest property in Mexico, Etereo Auberge (Spanish for "ethereal"), has arrived at the perfect time. Given plenty of Aussies have no doubt already pencilled in their Cancun trips, it looks like heading to this protected mangrove forest on Mexico's Mayan Riviera will be the perfect cure for any inevitable comedown resulting from such a prodigious party destination.
Hanging out in all that greenery is the latest expression of Auberge Resorts Collection, with Etereo's sizeable swagger encompassing 75 spacious studios and suites, all of which look over the section where the Gulf of Mexico meets the Caribbean Sea.
New York City-based design studio Meter Davis and architectural firm Migdal Arquitectos have carved a mammoth tribute to Mexico's artisanal heritage, sourcing entirely local from chukum plaster and Tzalam wood to installations from Mexican artists such as Daniel Barreto and Marcela Diaz. The result soars with the level of luxury oft associated with the Mayan Riviera, except taken to new heights by working with the environment instead of against it.
---
---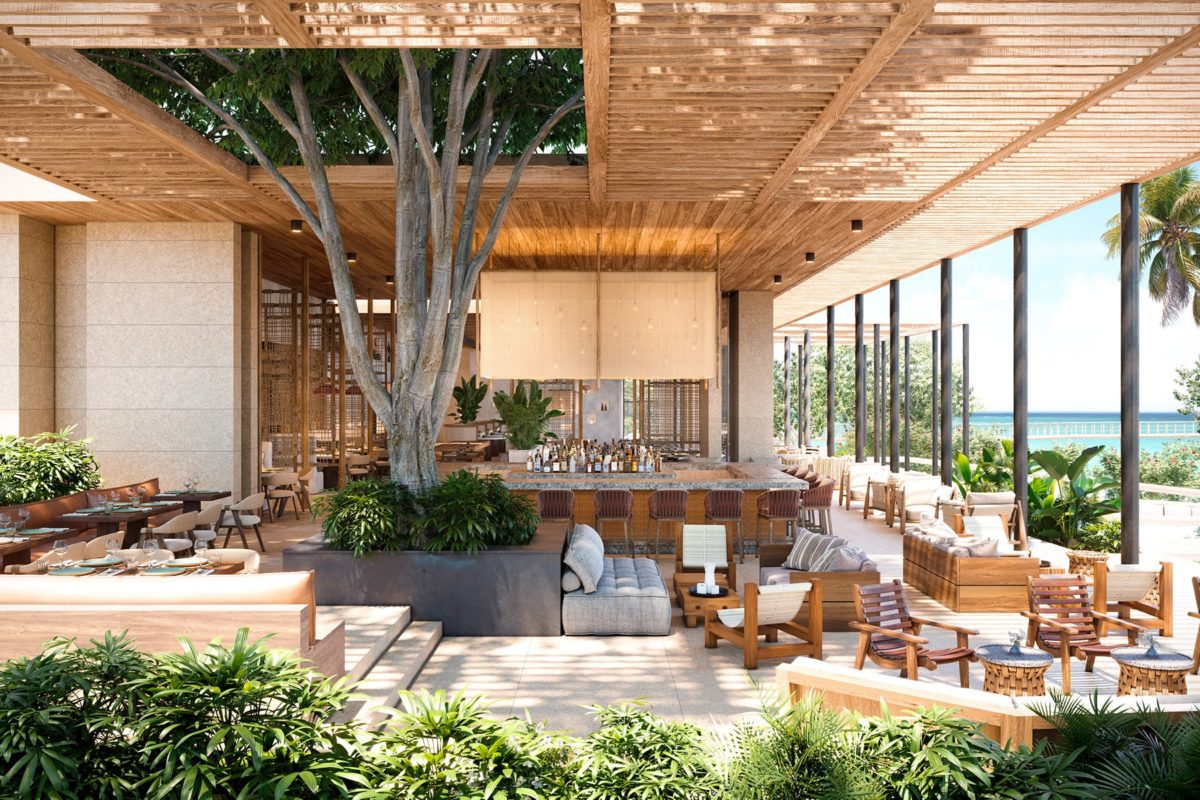 RELATED: The Wildest & Most Remote Luxury Hotels in Australia
Wellness is clearly caked into every corner of Etereo Mexico, restraining all that eccentric design with a single-minded goal of serenity, maximising the natural ambience of the protected mangrove forest that surrounds the property and balancing that with the kind of uber-luxe creature comforts one would reasonably expect after forking out at least US$1,299 (~AU$1,735) per night.
Studios – the smallest room type – are still quite generous at 81-square-metres and floor-to-ceiling windows, private plunge pools and wooden walls carved by Manuel Felguérez. Much like the larger suites – starting at 127-square-metres – these entry rooms also feature private outdoor space so guests can take full advantage of sparkling vistas. If you climb the ranks, those suites also come with private butler service.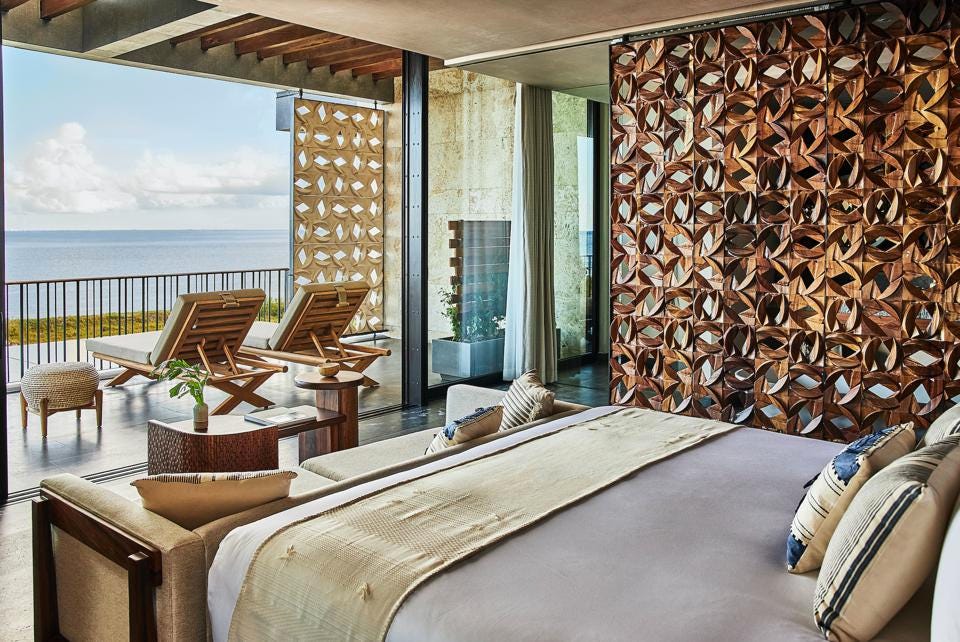 The property also features several two- and three-bedroom penthouses that each have outdoor hot tubs on their main bedrooms' private terraces. Given the competition along the Mayan Riviera, Auberge Resorts Collection isn't pulling any punches.
The 9-acre Etereo Mexico is just one of three flagship properties that make up Kanai, the region's latest luxury development aimed at redefining the Caribbean coastline. The others, the larger St. Regis Hotel – opening this year – an Edition Hotel – still being built – should help assert the project as Mexico's new luxury playground. For now, Etereo looks to hold down the fort just fine for those wanting something a bit more relaxed and sophisticated than yet another weekend in an influencer-infested hotspot like Tulum.
Key to this is Etereo's approach as more of a wellness retreat rather than a glitzy hotel, with a prominent lean towards sustainability and eco-friendliness as well as a more soulful take on the classic guest experience.
Not only has the property even employed a team of in-house botanists to make sure everything about the hotel enriches the surrounding environment, but nature has been worked into the various activities on offer for guests.
---
---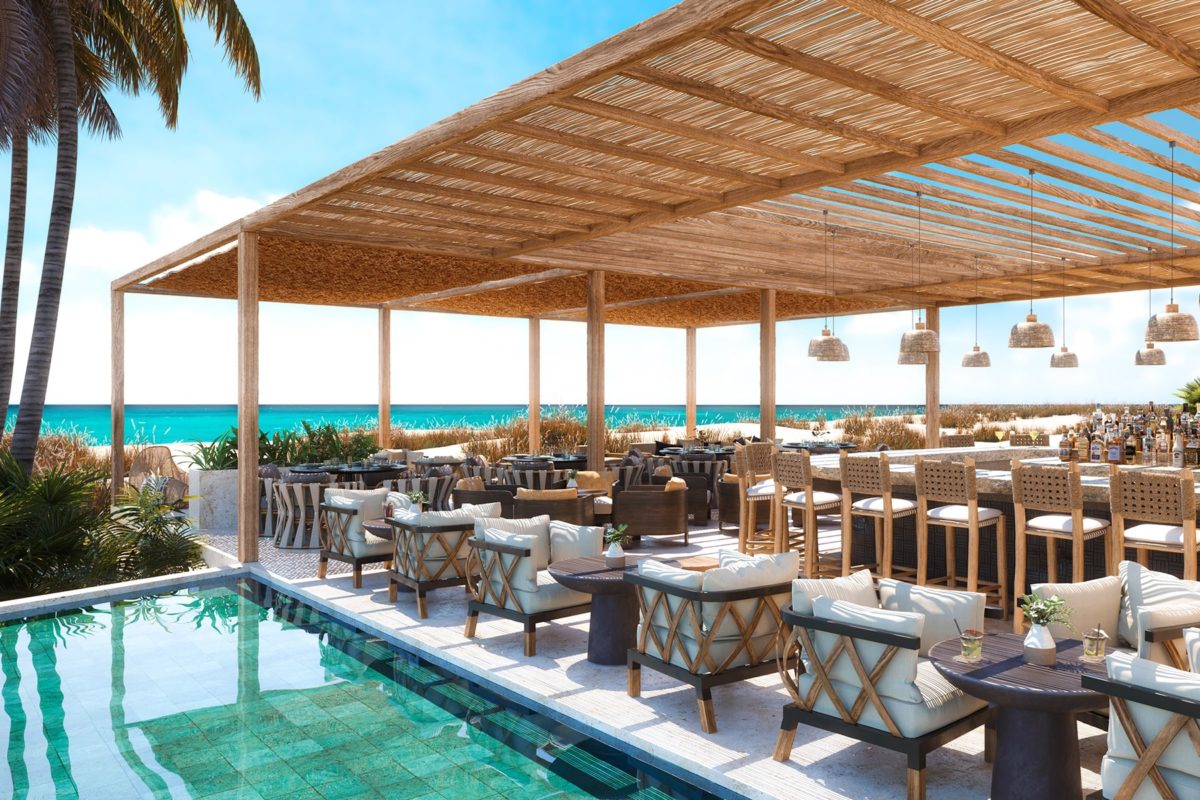 The program, available to anyone staying at Etereo, was put together in a collaboration with local communities, university researchers and conservation groups. It includes experiences such as hands-off encounters with the 4 mains of animal life that reside along the coast – manatees, whale sharks, sea turtles and jaguars.
Etereo's wellness program doesn't end at natural animal encounters either. Things get a bit out-there with detoxifying Mayan clay wraps, crystal healing and south baths, full moon ceremonies, aerial yoga, chromatic breathing and reiki circles. You've also got your standard spa and wellness offerings such as massages and facials, using organic skincare products.
Although perhaps the most curious feature is an in-house Shaman, available for rituals in case you've really gone full Maradona in Cancun.
Rates at Etereo Mexico start at ~$1,735 per night. The best way to access the property is from Cancun International Airport, which is just a 48 km drive from Kanai.