As Sydney eyes a string of new luxury hotel openings over the next few years, one of the city's great grand dames is about to reaffirm its position at the front of the pack. Just months from revealing an ambitious restoration, InterContinental Sydney plans to present a complete $110 million facelift in September, the result of work that began in 2020 in collaboration with renowned design firm Woods Bagot. Set to be the biggest change the historic building has gone through to date, the InterContinental Sydney refurbishment will ideally re-establish the property, which opened in 1985 in Sydney's restored Treasury Building, as the quintessential harbour city hotel.
Everyone from former US presidents and Oprah Winfrey to Matt Damon has stayed at InterContinental Sydney. And for a long time the hotel's expansive 32nd floor rooftop bar was known as the single best vantage point for anyone wanting a breezy reminder of the city's charm. Repute has always been quite solid for this five-star hotel, so you'd imagine a modern makeover would take things to the next level.
If all goes to plan, the hotel will once again be the epicentre for Sydney's luxury offerings, crowned by a reimagined outdoor terrace and signature rooftop bar that will stand in addition to various other new food and drink options throughout the hotel.
---
---
Each of the hotel's 509 guest rooms and suites will benefit from a full transformation, including a new colour scheme that is said to favour green and blue hues to mirror the hotel's location near the gateway to the Sydney Royal Botanic Garden and Circular Quay. This will be played off the building's classical architecture, which will obviously remain largely untouched to maintain its character. Although some of the building's heritage facade will also be restored.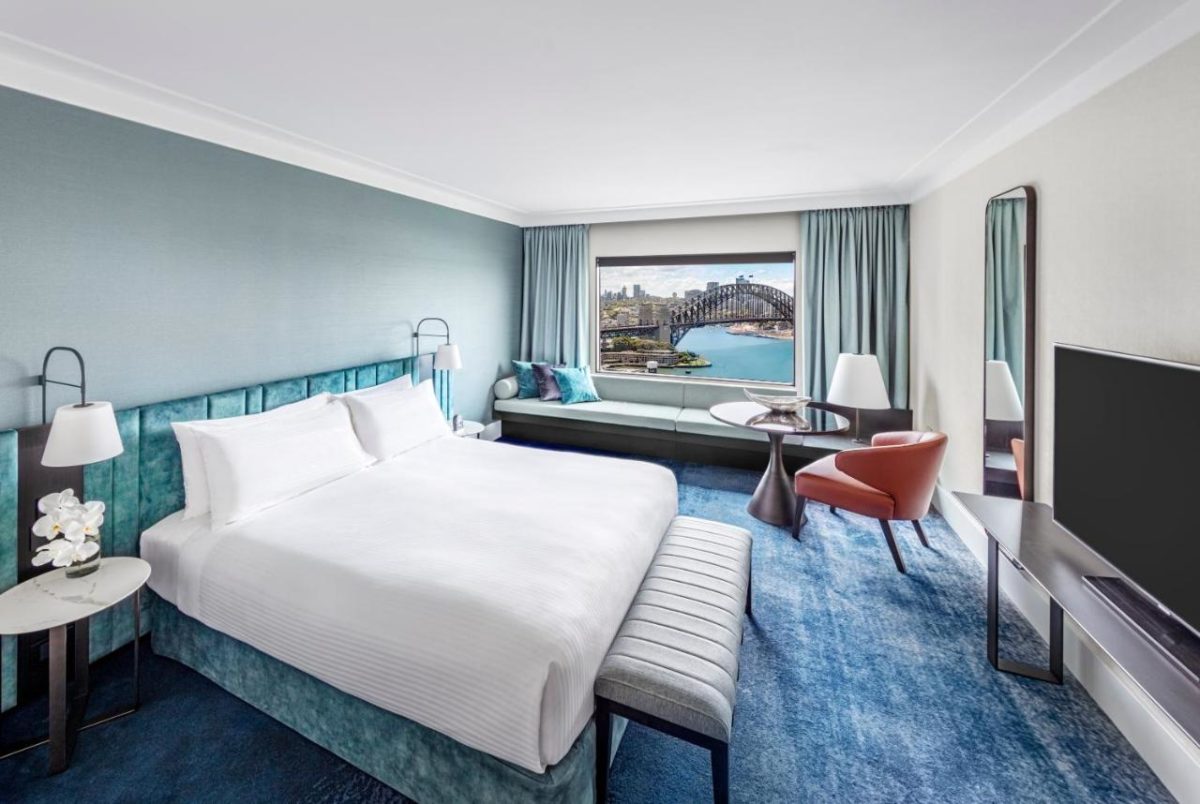 RELATED: The Best New Restaurants In Sydney
"We are thrilled to finally share more on what's been happening behind closed doors these past two years," said Jennifer Brown, General Manager of InterContinental Sydney.
"The reimagination of Sydney's most iconic heritage hotel redefines the contemporary luxury hotel experience whilst paying homage to the building's rich past and its many unique stories. This is the beginning of an exciting new chapter for the hotel. Together with our owners, Mulpha, we are proud to have elevated this very special place."
The new InterContinental Sydney should play well into Circular Quay's overall transformation, which includes the new Quay Quarter precinct and all the restaurants and bars that have opened there so far.
Perhaps most notable about the InterContinental Sydney refurbishment is that the rooftop bar will, for the first time, be open to the general public as well as hotel guests. Previously the coveted space was only really accessible for hotel guests outside of a few exceptions.
This should help Sydney step up the global plate when it comes to world-class cities with world-class hotel bars. I don't even need to tell locals how dismal Sydney's hotel bars have been for the past few decades, outside of exceptions like QT Sydney's Gowings, Hyatt Regency's Zephyr, Pullman Quay Grand's Hyde Hacienda, and more recently A by Adina's Dean & Nancy on 22.
---
---
InterContinental Sydney will remain open for guests until the new renovations are revealed to the public in September 2022.