Often described by veteran luxury travelers as a younger, more fashion-forward sibling to the OG Mandarin Oriental, the Landmark Mandarin Oriental (or 'Landmark MO' as it's colloquially known) offers a discrete and contemporary way to indulge your penchant for luxury accommodations in Hong Kong.
Tucked away in a corner of the eponymous retail/commercial complex in Central, the Landmark Mandarin Oriental's 113 guestrooms are a masterclass in pampering modern comfort. Add to that a staggering number of F&B attractions (including two-Michelin-starred Amber) and one of the city's most popular wellness destinations, and you have a hotel that is a very different animal from its iconic sister property down the road. If you ask us? That's a very good thing indeed.
Check out our full Landmark Mandarin Oriental review below.
Landmark Mandarin Oriental Review – Contents
---
Location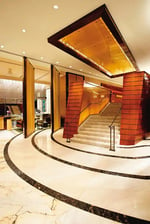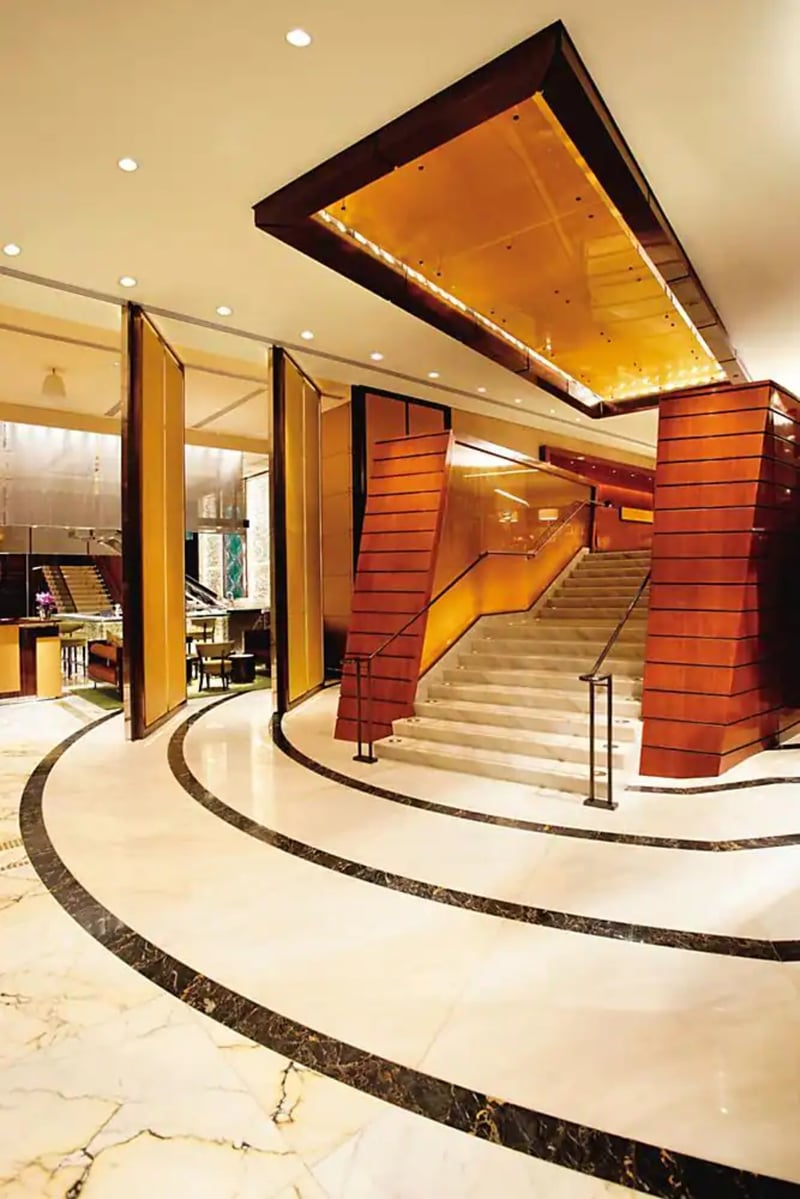 Accessible via the atrium or second floor of the surrounding Landmark retail complex, this Mandarin Oriental property's location puts you at the heart of the action in Hong Kong. Central's many distinctive office towers (including Jardine House and ifc) are within walking distance; with easy access to all of these, via a series of overhead concourses connecting much of the district's busiest addresses to one another.
Though not quite as adjacent to crucial transportation links such as the city's Airport Express or legendary Star Ferry (especially when compared with neighbouring luxury hotels like the Four Seasons) Landmark MO serves as a great springboard to what Central has to offer.
The property's 'nesting doll' location – distinct from many other standalone luxury hotels on Hong Kong Island – also puts guests in an insulative mindset, in which the tiny (verging on diminutive) reception feels like the gateway to another blissful, extravagantly cosseted dimension.
---
Design & Aesthetic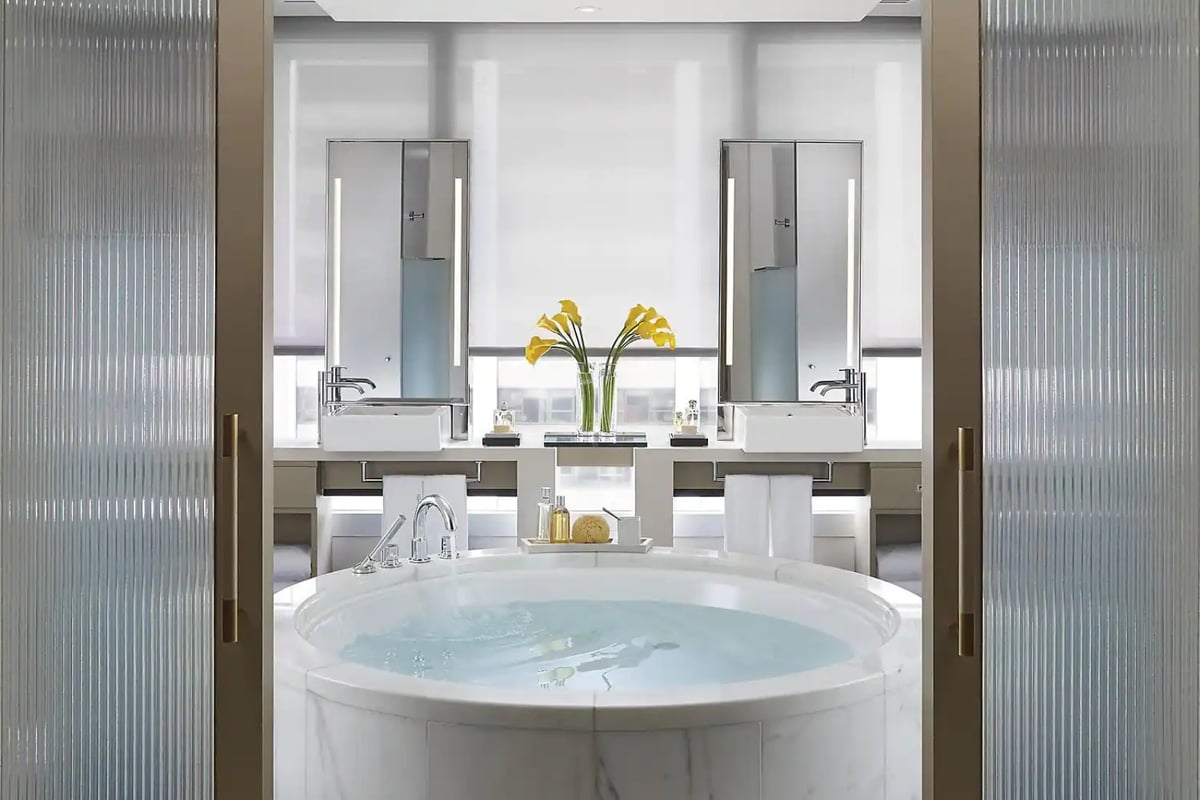 Again, the way in which Landmark Mandarin Oriental elegantly sets itself apart from the grand old trappings of its next door neighbour is reflected in the hotel's striking contemporary décor. Common areas are swathed in calming shades of beige, toffee and burnished gold; with these colours adding to the pervasive sensation of 'ebb and flow' most travelers will experience once they cross the threshold of the lobby.
More granularly, different locations throughout the hotel might highlight the work of a particular high-end designer (a sensation that's especially apparent whenever you visit any of the numerous specialty restaurants) yet these context-rich aesthetics never feel out of lockstep with the hotel's singular air of calm – one which comes together through painstaking attention to small details like lighting, sophisticated art centrepieces and the wonderful signature scent wafting gently about the hotel's corridors.
---
Rooms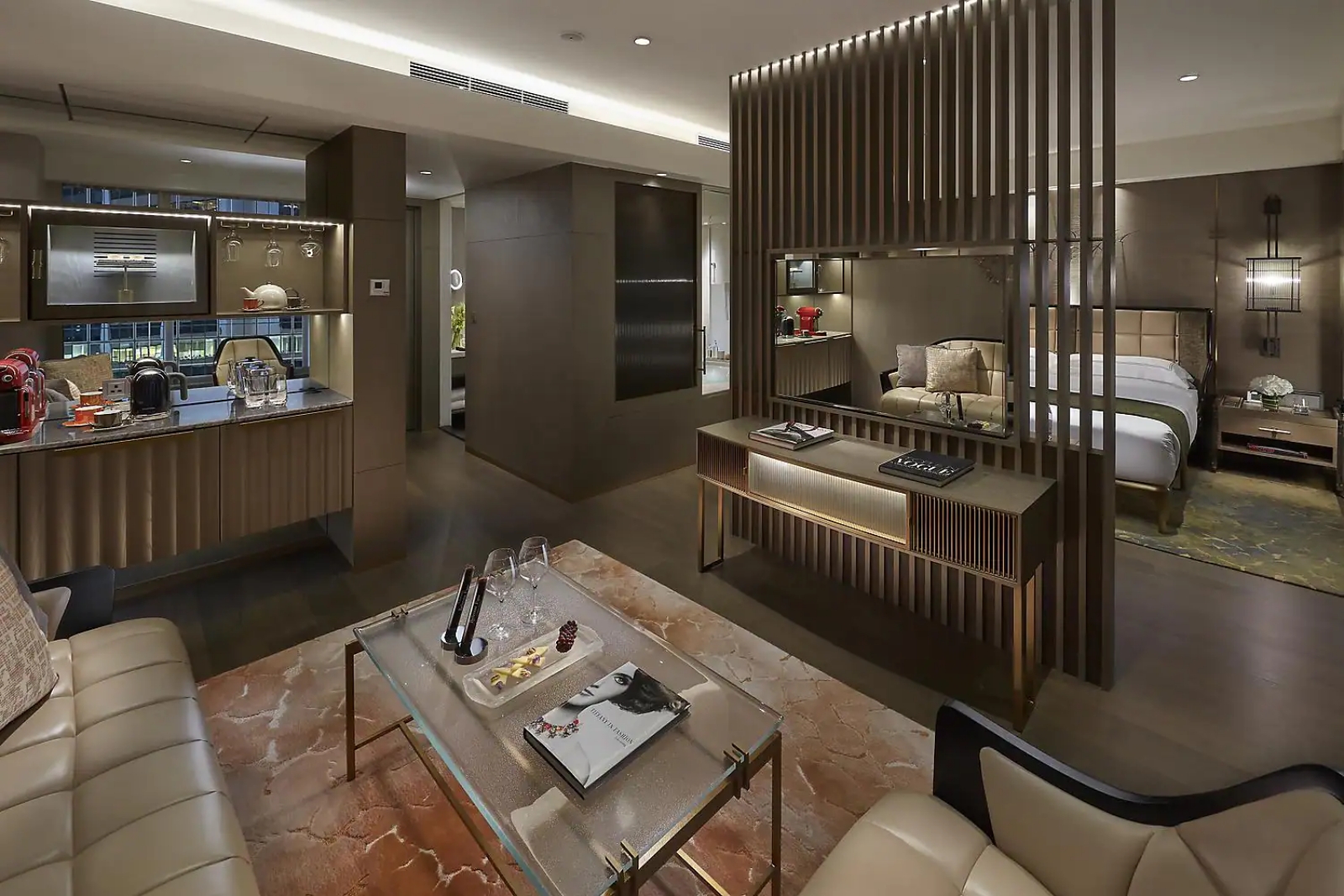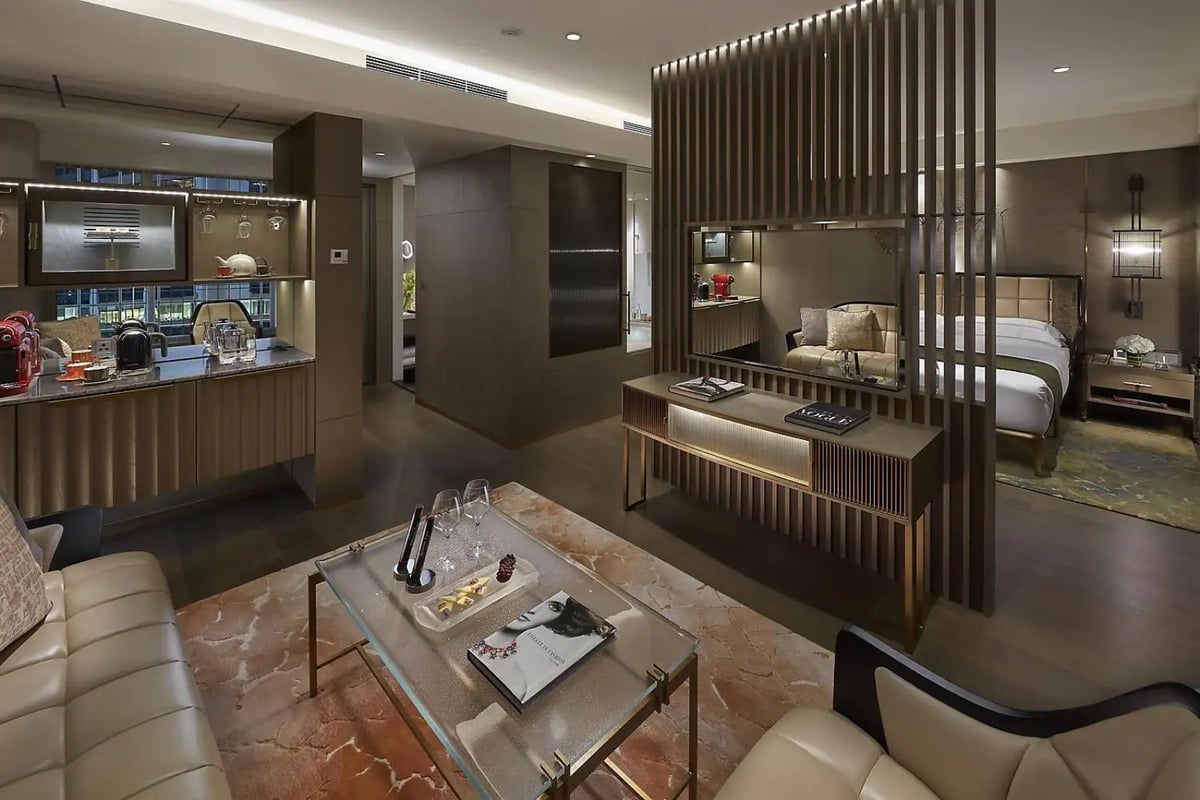 With over 100 stylish rooms to choose from – including the state-of-the-art Entertainment Suite – the Landmark Mandarin Oriental is all about metropole luxury. The hotel's mid-office-tower location mean that it doesn't offer up quite the same smorgasbord of Hong Kong vistas associated with the original Mandarin Oriental; however, the details in the L600 'Executive' – where I was accommodated for the duration of my stay – more than make up for this, by appealing to the preference of many luxury travelers for sophisticated in-room touchpoints.
After all, it's difficult to be too upset about one's view (or lack thereof) when the minibar is abundantly stocked with local specialty coffee (courtesy of The Coffee Academics) and still/sparkling Nordaq water. The vitrine-style cabinet – a centrepiece in every L600 Executive – is another especially nice touch: stocked with goodies from the hotel's various dining venues prior to your arrival.
As for the space itself, the Executive riff on the hotel's ubiquitous L600 room category continues the aforementioned theme of 'ebb & flow'. With the notable exception of the spacious bathroom and walk-in wardrobe, the vast majority of the space is laid out in an open-plan configuration – making intelligent use of central Hong Kong's notoriously finite real estate.
Conceived by award-winning hospitality designer Joyce Wang, these L600 Executives are flush with details evoking popular luxury travel motifs. Sofas and bedding are designed with a look that cribs from modern first class cabins; while a pass-through divider turns the large sunken bathtub (sufficiently big for two) into a conduit between your room's living quarters and wet areas. For many, the liberal use of sliding fixtures and boxy metal surfaces may feel a touch industrial, yet I personally never thought these touches overshadowed the room's broader atmosphere of airy and fashionable luxury.
---
Food & Drink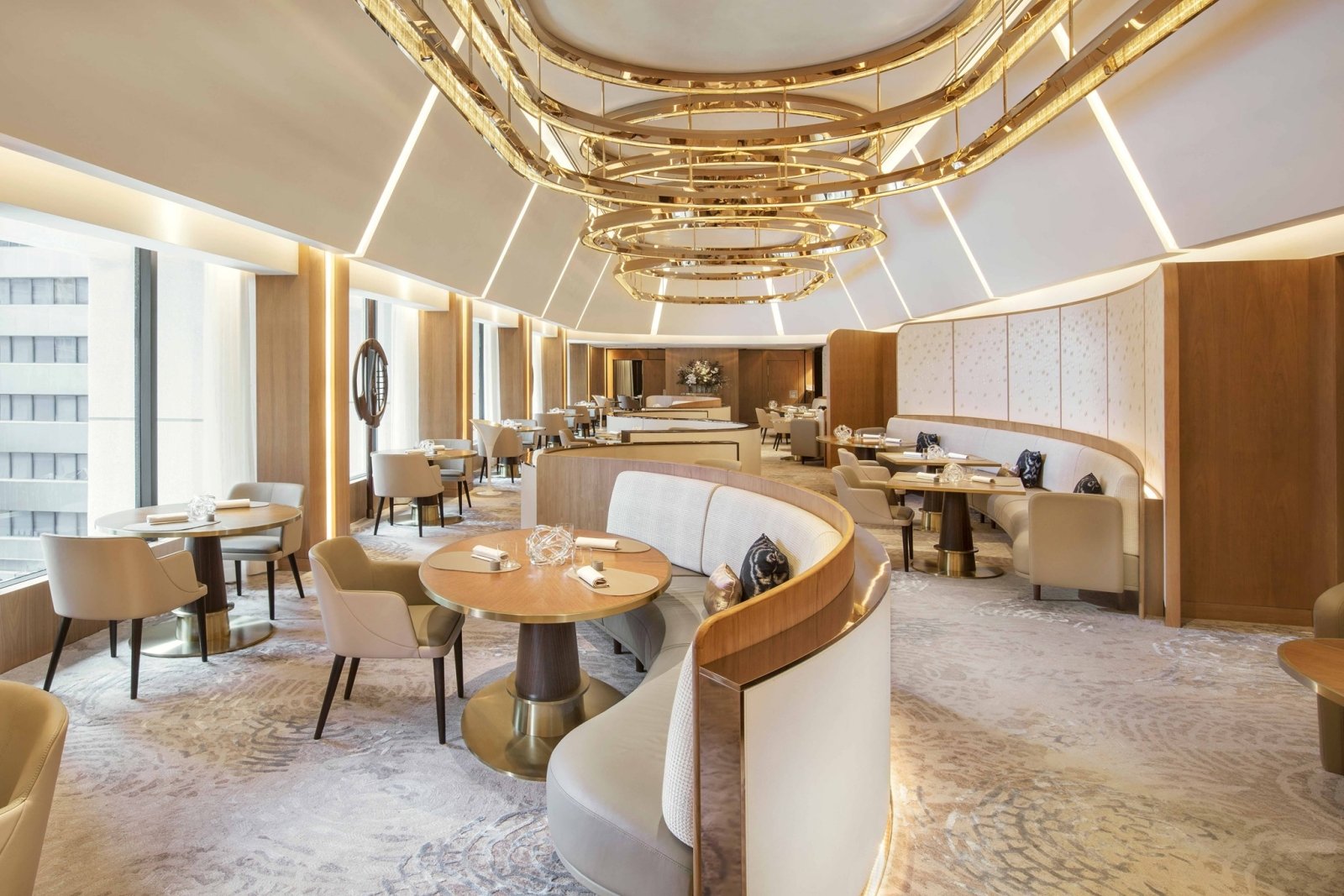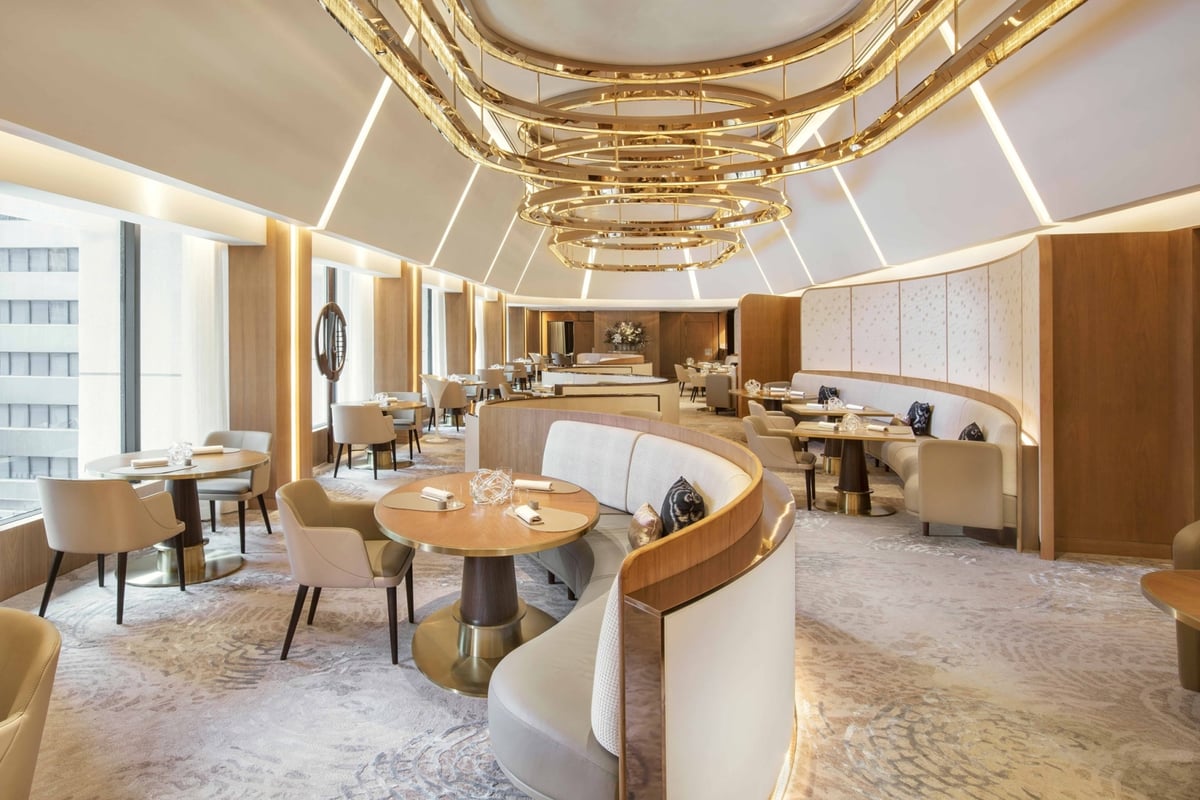 Positively jampacked with eating and drinking destinations for a hotel that's so deceptively compact, dining at Landmark MO takes on a number of guises – all espousing the hotel's intimate and progressive credentials.
Being on the ground floor, the titular MO Bar is a convenient and reliable spot for brekky, with tons of vegan and heart-smart fare on offer. More importantly, it's also the entryway to Please Don't Tell – the Hong Kong outpost of Jim Meehan's award-winning New York cocktail bar, tucked away up a staircase at the venue's far end (try the tater tots or PDT's iconic fat-washed Blanton's Old Fashioned).
With the exception of MO Bar and PDT, the lion's share of dining outlets are all tucked away on the hotel's 7th floor. These include tiny, rarefied, wallet-obliterating Japanese eateries Sushi Shikon and Kappo Rin; a wine bar with 'by the glass' lists crafted by prodigious Director of Wines, Dirk Chen; and finally, Amber.
RELATED: The 16 Best Hotels In Hong Kong To Book In 2023
The latter venue is where I enjoyed the most substantial meal of this review and – as a writer fortunate enough to have sampled Culinary Director Richard Ekkebus's cooking over the years – Amber's latest incarnation is the most aligned with the ethos of the surrounding hotel that this two Michelin star restaurant has ever been.
A lodestone in Hong Kong's burgeoning scene for "responsible" fine dining, Ekkebus has moved beyond the foie gras and lobster tail of his early years in pursuit of cuisine that is ennobled by sustainable produce and delicately layered flavours of immense creativity. At HK$2,788 (approx. AU$518) the restaurant's 'Full Amber Experience' is hardly affordable; yet, the signature oasis grouper with sugar peas – assembled by Chef Ekkebus himself, during each diner's mid-meal excursion into the kitchen – is almost worth the price of admission.
---
Service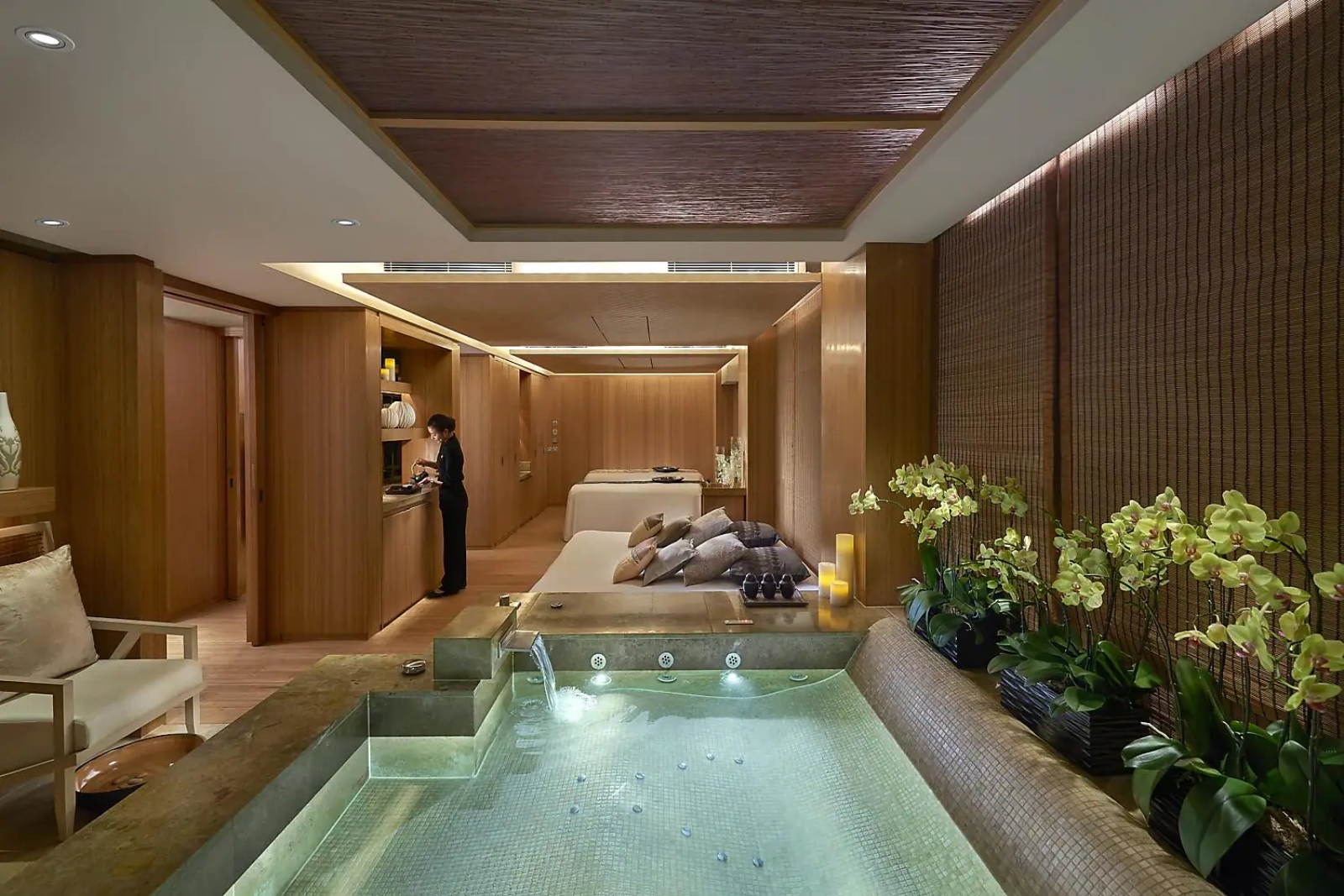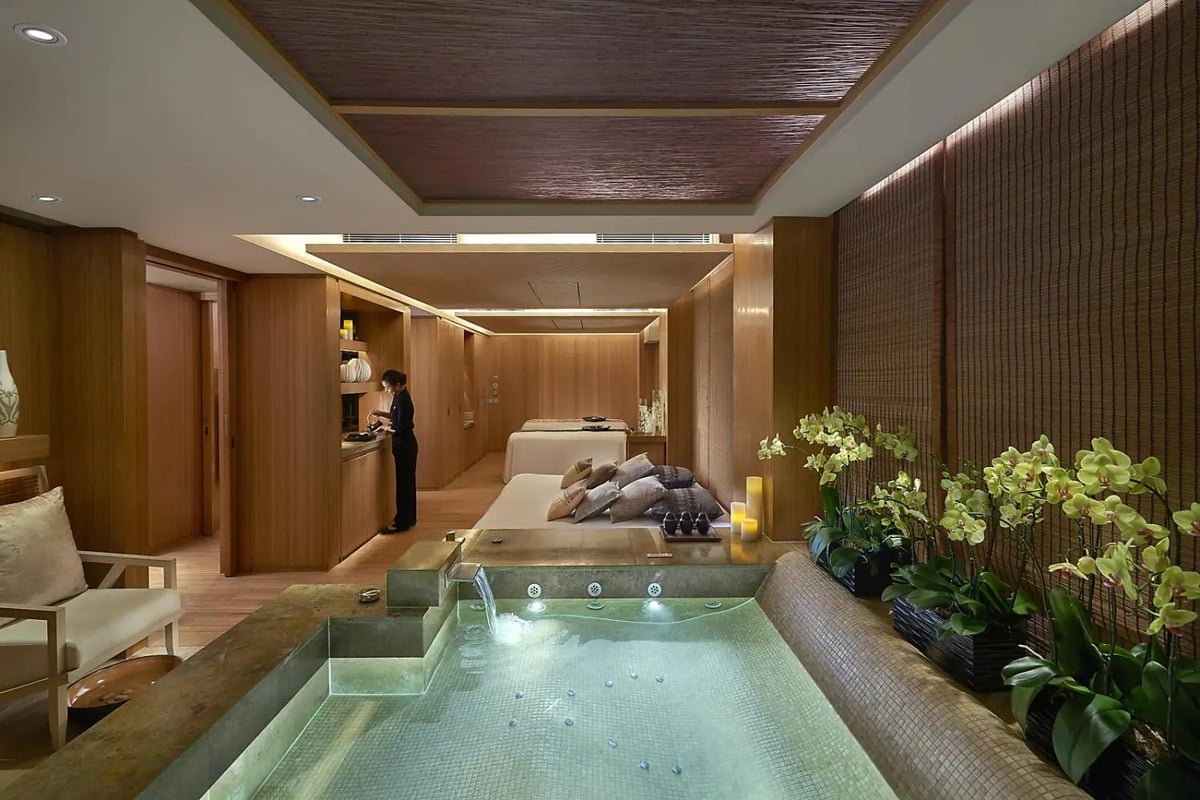 Unsurprisingly, the Mandarin Oriental hotel group's industry-leading mastery over service is fully on display at this smaller, chicer Hong Kong bolthole. Each category of hotel staff – whether they be members of the dashing reception team or one of the highly efficient housekeepers who materialise, seemingly, from thin air – nails their professional raison d'etre.
Continuity is yet another way in which the staff at Landmark MO regularly demonstrate their talent for great service. Over the course of my 2-night stay, I chose to organise much of the itinerary via a combination of email and the hotel's (diligently manned) WhatsApp Business account. It's a testament to how meticulous the approach of those working in guest services is that this all felt like one smooth, uninterrupted conversation – a feeling that's sadly lacking in the majority of hotels where QR codes and online service agents are the norm.
A decently sized indoor pool, fitness centre and pilates studio all prove useful in helping guests fight jet lag; yet for many Hongkongers, it's the famed Oriental Spa that exerts the strongest gravitational pull. Spread across two floors with a variety of treatment rooms – including the couples-friendly 'Sanctuary' suite – the Oriental Spa programme draws on techniques rooted in aromatherapy and traditional Chinese medicine.
If a full-body scrub in the hammam or LED face masks sound a tad too invasive, then I'd recommend the 'Oriental Essence' treatment (starting at HK$1,400). Basically a straightforward back, neck, and shoulder massage, it makes use of the spa's numerous custom-blended oils in order to help you achieve a relaxed or reinvigorated state – great for executives and over-enthusiastic shoppers alike.
---
Verdict & Value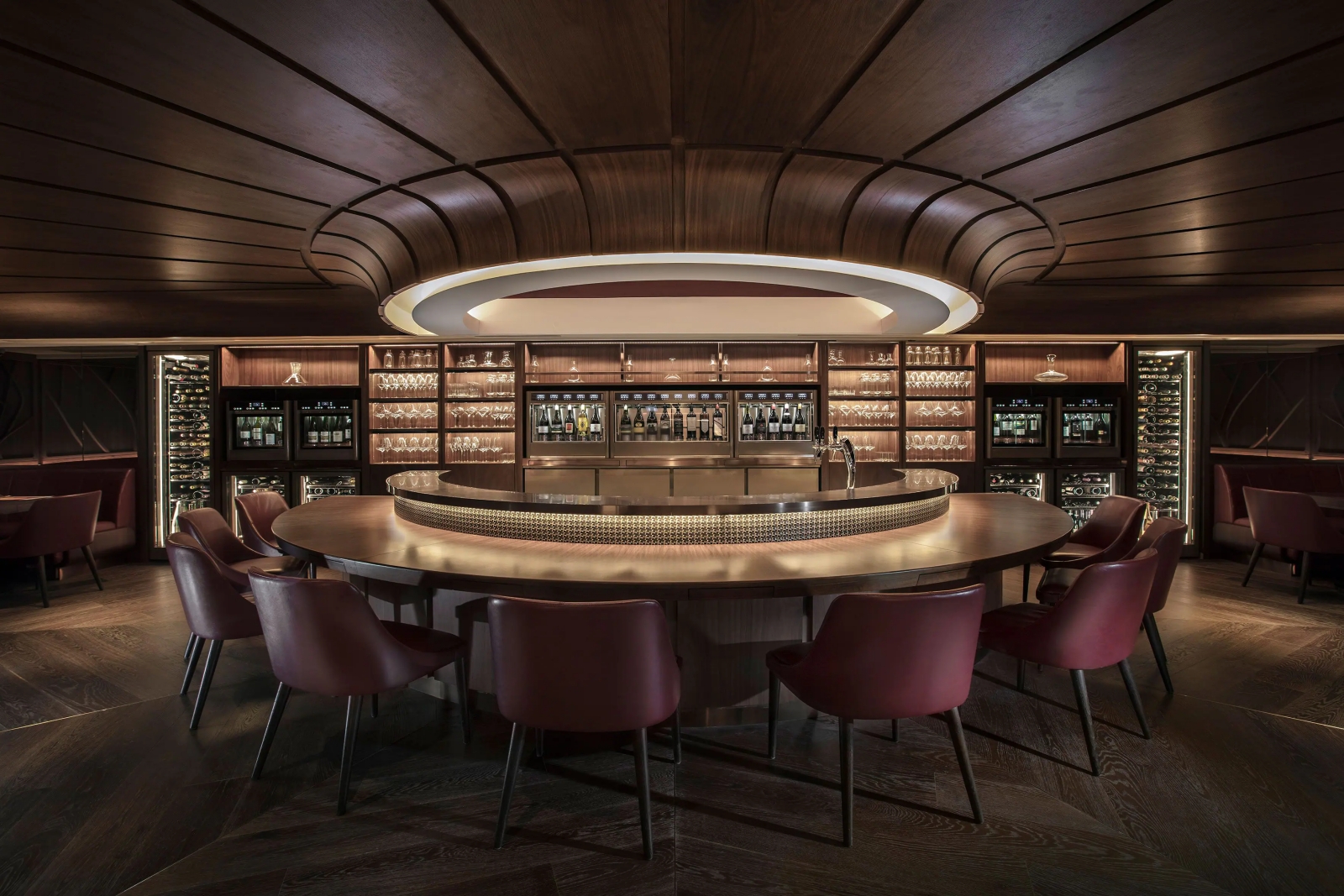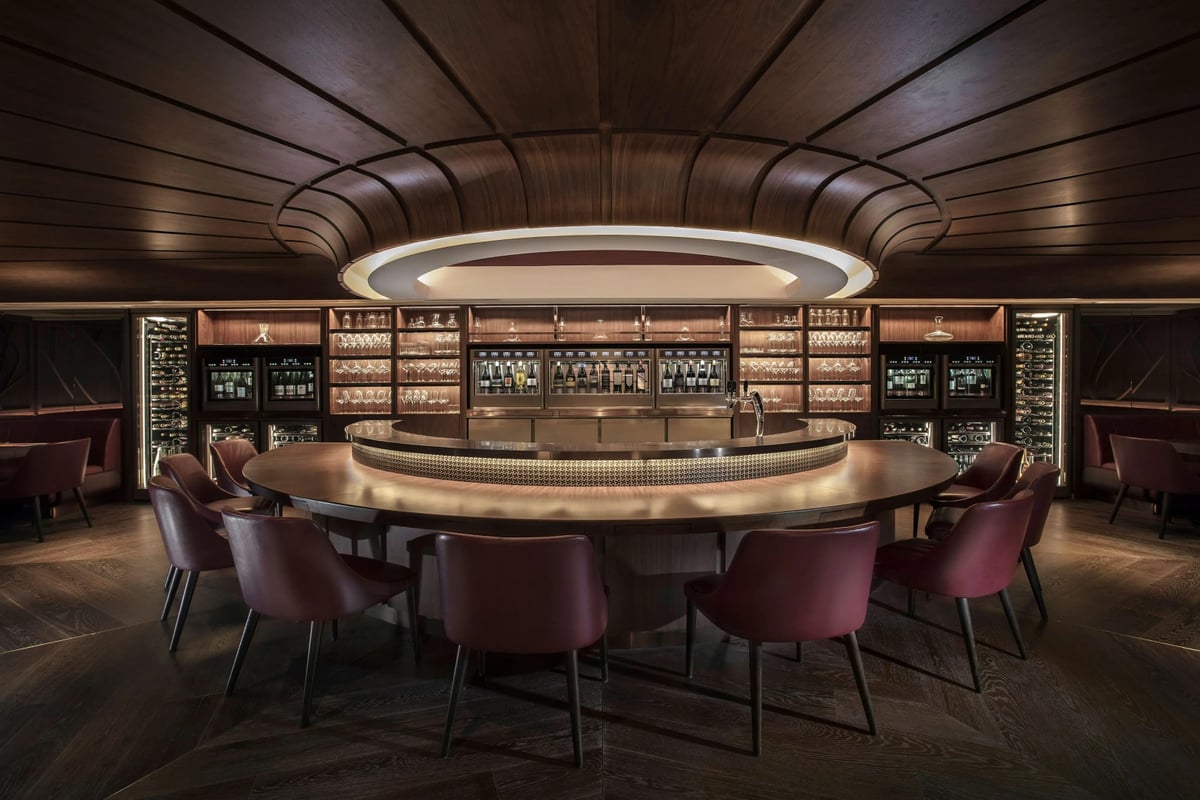 For a stay in one the hotel's L600 Executive rooms, per night rates at the Landmark Mandarin Oriental commence at HK$6,100 (approx. AU$1,130). Among Aussie travelers taking advantage of Hong Kong's recent mass rescission of COVID travel restrictions, it's important to note these prices fluctuate between late November to early February – owing to Christmas and the Lunar New Year holidays.
Still, all things being equal, I couldn't more enthusiastically recommend a stay at the Landmark Mandarin Oriental – particularly for guests who want to experience a smaller-scale (yet no less opulent) expression of the eponymous hotel group's trademark hospitality. With a convenient location, exciting dining options, award-winning spa facilities and rooms that are a lot of fun to spend time in, this is one of the best bases you could ask for – price being no object – to explore central Hong Kong.
---
The Landmark Mandarin Oriental, Hong Kong
Address: 15 Queen's Road Central, Central, HKSAR
Contact:+852 2132 0188
L600 category rooms starting from HK$5,300 (AU$983) per night.
The author stayed as a guest of Landmark Mandarin Oriental for two nights.