It's difficult not to get caught up in hammy hyperbole and throwaway superlatives when confronted with the finely-tuned luxury of One&Only Mandarina and the property's newly launched collection of Signature Villas. Worked in such a way that elevates the resort's natural surroundings and bangs on sustainable design while still offering supreme comfort, genuine privacy and – something all too rare in the realm of ultra-high-end travel – uniqueness, the Signature Villas represent an expansive option for luxury travellers and buyers looking for elite residences in Mexico, bolstering the resort's already broad scope of offerings for those seeking something uncompromisingly luxe just hours outside of Guadalajara.
The two Signature Villas at One&Only Mandarina are clearly designed with large groups in mind. It seems like they are essentially more voluminous versions of the resort's existing Grand Villa Collection, which already comprises five high-end properties – Villa One, Villa Banderas, Villa Tortua, Villa Jaguar and Villa Pacifico. Villa One, for example, is the biggest of the Grand Villas with three bedrooms in total across 1,747 square metres of living space.
On the other hand, the One&Only Mandarina Signature Villas range from five to eight-bedroom residences, each with multiple interconnected buildings threading through a central indoor-outdoor living area. The largest of them is 1,725 square metres, which is slightly smaller than Villa One but it can accommodate a greater number of people with up to 24 guests.
---
---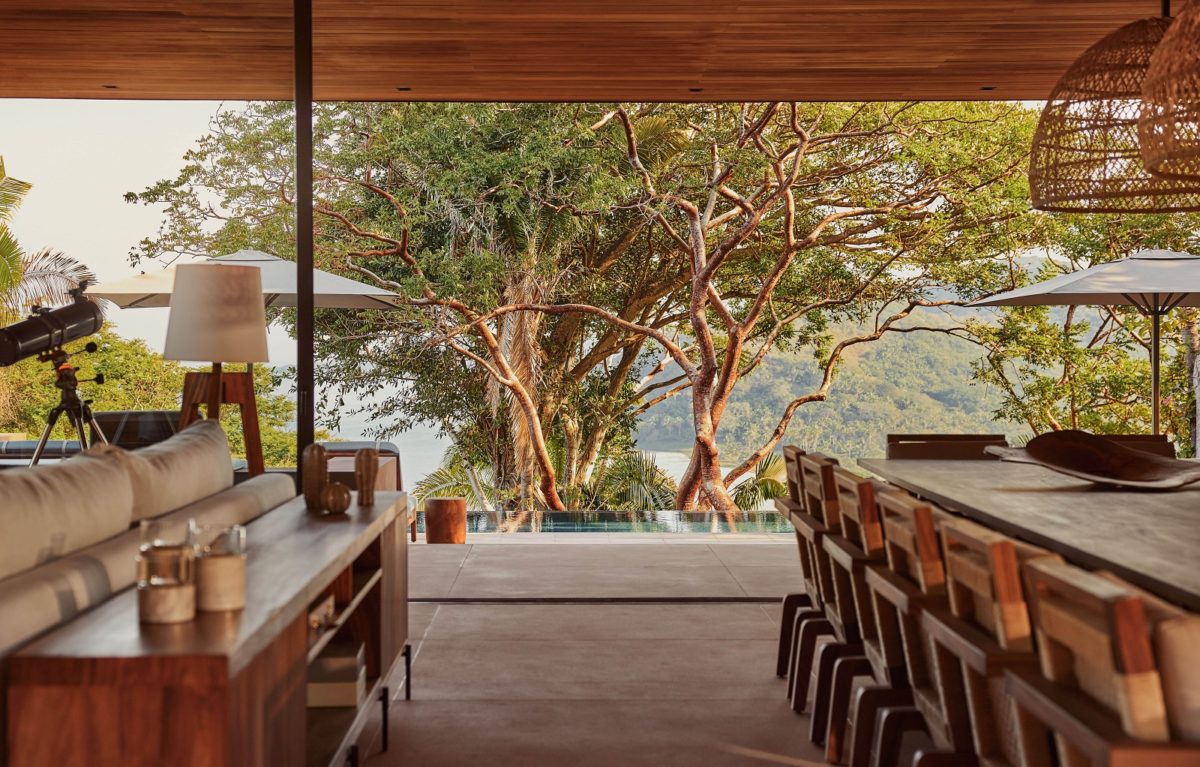 RELATED: Mexico's Etéreo Auberge Resort Is Perfect For Post-Cancun Comedowns
Let's do some math here. To book a stay at one of the One&Only Mandarina Signature Villas you're looking at US$14,000 (~AU$20,000) per night. Split that equally amongst 24 and each guest is paying just over AU$800 per night. Considering the level of eco-powered luxury, that's not too bad.
The Treehouses – the entry-level category for One&Ony Mandarina – are priced at around AU$2,000 per night. This should give you a good idea of what kind of level you're looking at when checking into this wide-eyed nature resort, which opened in 2020 and within months was already being touted as one of the finest expressions of the One&Ony brand in the world.
Just recently, the resort also became the first One&Only to actually offer private homes for sale, totalling 55 properties. Some of these coveted multi-million-dollar homes are positioned amongst the dense plant life with floor-to-ceiling windows and others are perched on the edge of the dramatic cliffs, looking beyond the pristine jungle canopy to swallow vistas of the diverse and dramatic Sierra del Vallejo mountains.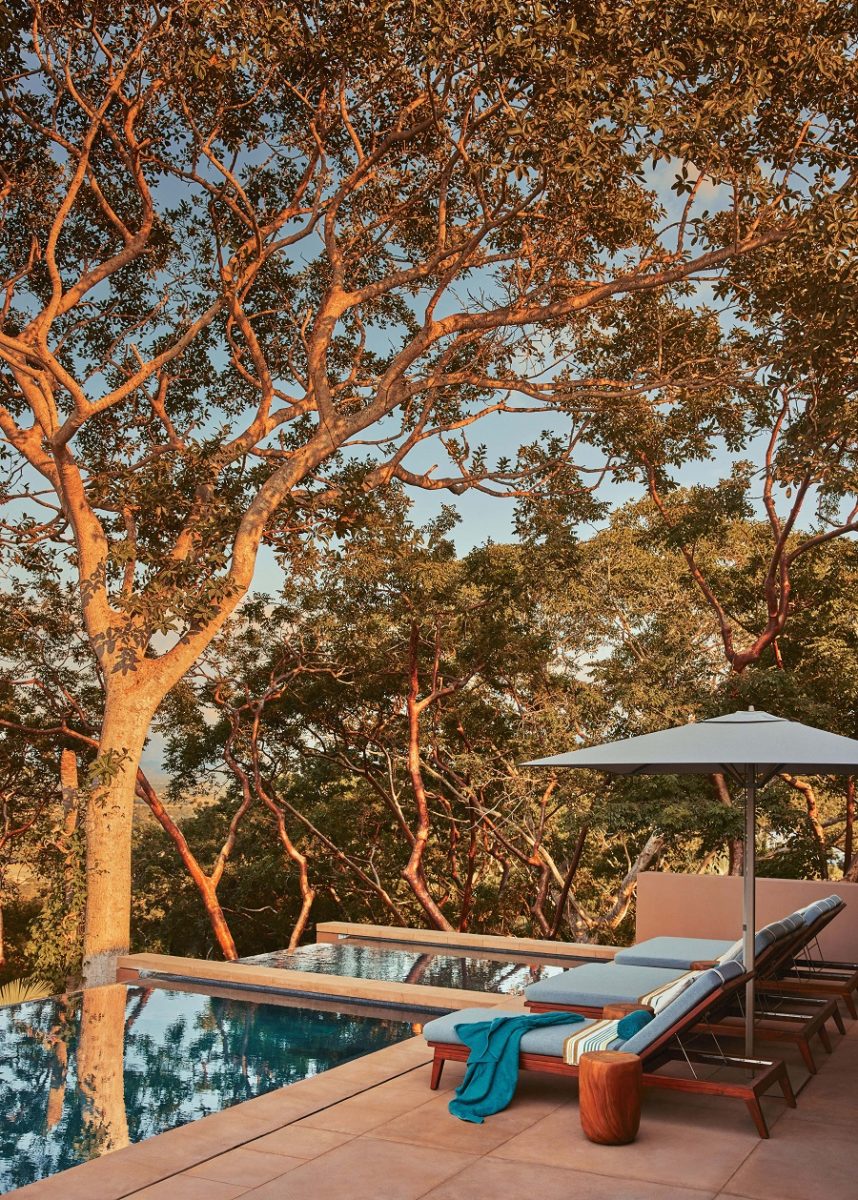 RELATED: Jose Cuervo Express – Mexico's All-You-Can-Drink Tequila Train
Much like the private homes, the Signature Villas have been designed to reflect the ultimate indoor-outdoor living situation by Studio Rick Joy, whose most acclaimed work to date is the renowned Amangiri Resort in Southern Utah. Arguably, the firm's work with One&Only Mandarina now matches that repute, and while I have as much proof of that as you – these photos – it's not hard to imagine why.
Guests opting to stay in either of these two Signature Villas have access to a very wide range of amenities including pre-arrival shopping with a dedicated host service, private chefs, musical entertainment on request, and wine studios that can be outfitted with leading drops from the region. The typical features also make an appearance, so all that lush landscaping and those billion-dollar views are complemented by spacious terraces, infinity-edge pools and outdoor jacuzzies.
---
---
The resort's team of fitness instructors and expert therapists are part of the overarching wellness approach One&Only is known for, which also finds its way into the design with locally crafted custom woodwork and warm stone accents complemented by air and water purification, dehumidification and circadian lighting systems.
The entire resort stretches across 33 hectares of the largely unexplored coastline along the Riviera Nayarit, which is located just 45 minutes from the arguably more famous peninsula of Punta Mita, where Four Seasons, St Regis and W all have their own superlative resorts. With One&Only carving out its own slice of the region without disrupting the surrounding natural environment, it seems like this resort is now the more attractive lure for luxury jet-setters who are increasingly valuing privacy above all else.
Guests staying in the Signature Villas also have access to an on-site restaurant, Carao, helmed by globally renowned chef Enrique Olvera and treatments at the signature One&Ony Spa curated by "beauty guru" Tara Harper. There's also the Jetty Beach Club, a large Polo & Equestrian Center and the resort's very own treetop zipline course.
Rates for the One&Ony Mandarina Signature Villas start at around AU$20,000 per night.