Just a few years ago you would have been hard-pressed to find a genuine five-star hotel in Reykjavik. Despite Iceland's capital still being one of the most fabled and desired destinations in Europe, the tiny city – measuring just 200 square kilometres – has never really had the scope for ultra-premium accommodation outside of the famed Tower Suites. There have been a few opened outside of Reykjavik – notably Hotel Grimsborgir in the iconic Golden Circle, Silica Hotel and The Retreat at Blue Lagoon – but up until last year, Iceland's largest city had really only seen a few four-star hotels pop up over the years. Enter legendary hotelier Ian Schrager and The Reykjavik Edition.
Most Australian travellers may not be as familiar with Edition Hotels as they would with similar luxury boutique brands like Aman, COMO and Banyan Tree. Schrager, the co-founder of Studio 54 and widely considered the "father of boutique hotels," started the Edition brand with Marriott International back in 2010. The first property was in Honolulu and the luxury-boutique collection has since been expressed in global cities like London, Madrid, Barcelona and Miami.
The naming convention for these luxury hotels is charmingly simple – The Barcelona Edition, The Miami Beach Edition, The Madrid Edition etc. The latest, The Reykjavik Edition opened in preview towards the tail-end of last year, positioned on the waterfront just a stone's throw from the immense Harpa Concert Hall. Now the 253-room hotel enters its final phase of opening with the addition of a rooftop bar offering panoramic views across to Mount Esja and Snæfellsjökul glacier.
---
---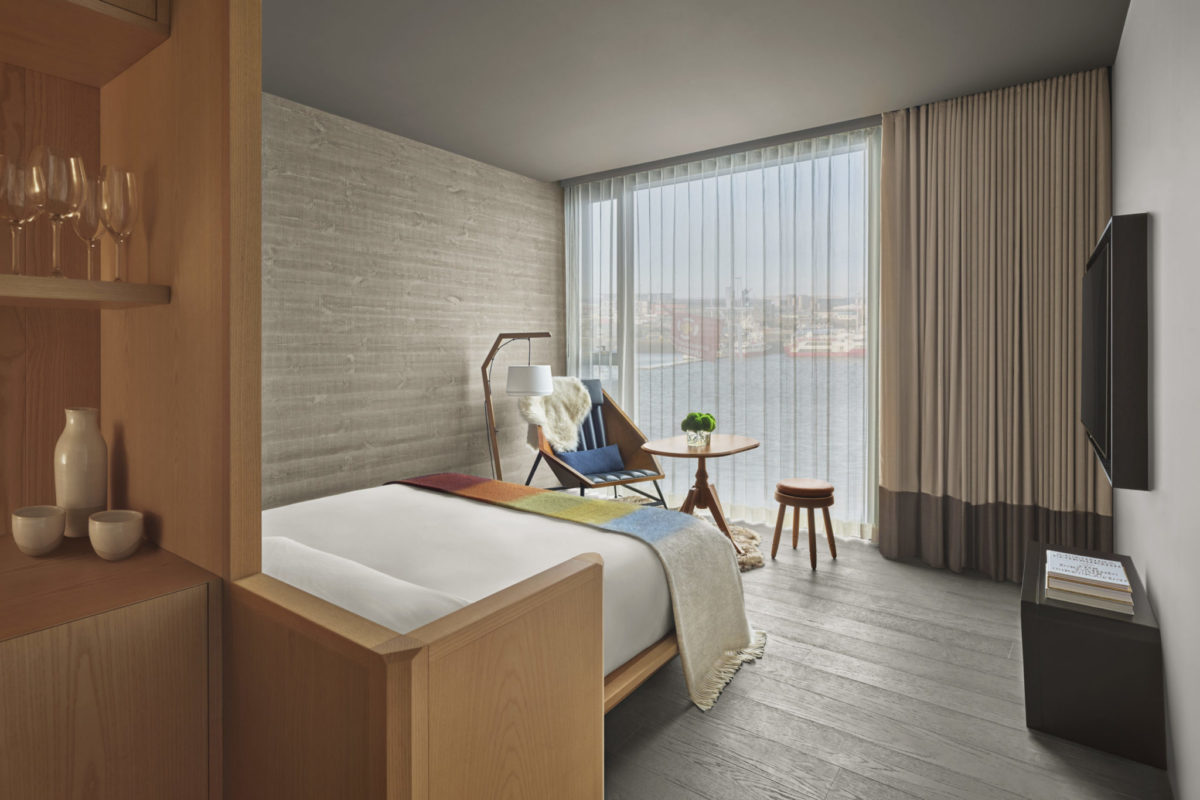 RELATED: Six Senses Svart In Norway Is The Most Incredible Hotel You've Ever Seen
The rooftop bar, simply titled The Roof, crowns the hotel on the 7th floor and has a large wrap-around seasonal outdoor terrace. This should easily make the lavish bar a major draw for any luxury travellers heading through to the land of otherworldly volcanoes, geysers, hot springs and lava fields. Obviously, this is going to be a prime spot to view the Northern Lights in the colder months but should also be the most desirable cocktail bar year-round. Considering Reykjavik is mostly made up of more casual subterranean pubs and grungy small bars.
That being said, the sophisticated rooftop bar sounds pretty grungy itself. The interior has mostly black features to help the views really pop, with a black ebonized wooden floor, black window frames, black painted ceiling and black solar shades.
Local architect firm T.ark and New York-based studio Roman and Williams worked on the hotel in collaboration with the Ian Schrager Company, single-mindedly aimed at avoiding clichés and presenting a property that's both sophisticated and stylish while still capturing the spirit of the city. Although I guess that is a cliché for these ultra-premium boutique-minded hotels in the first place – express the brand signatures and try and blend them seamlessly with an individual aesthetic inspired by a sense of place.
The hotel's clean lines have been angled to maximise the views of Reykjavik's immensely satisfying waterfront, justifying its location and making a statement from the get-go with the harbourside entrance defined by a canopy of 12,210 glass LED nodes.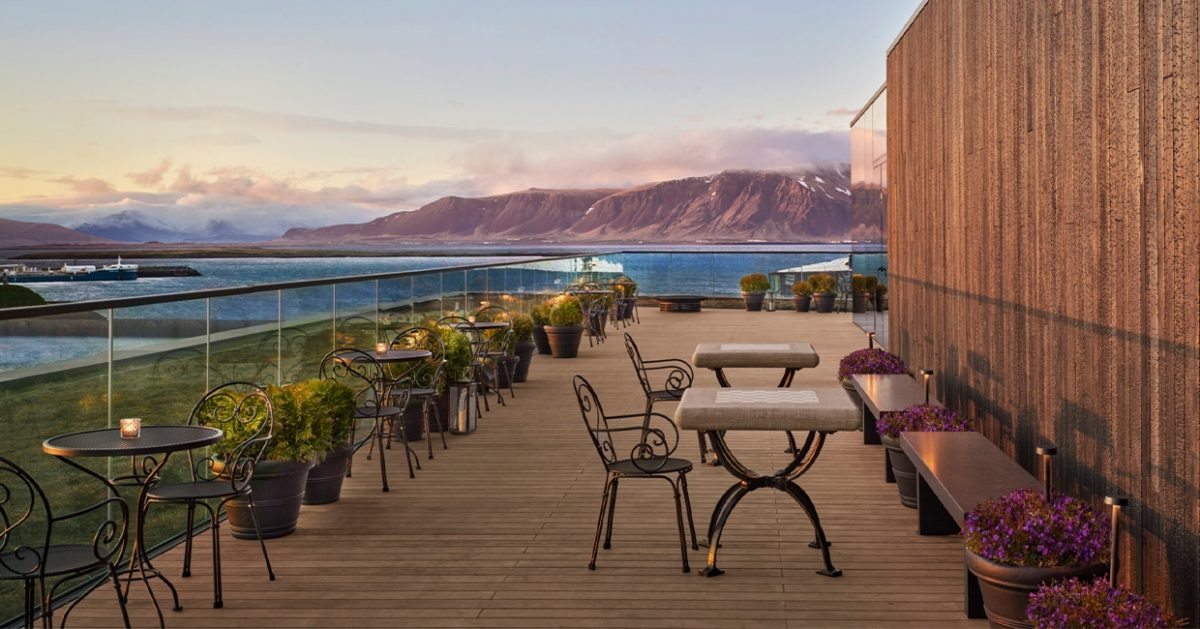 RELATED: Iceland's Four-Day Work Weeks Have Been An "Overwhelming Success"
Basalt stone flooring gives the lobby its personality along with an intricate pattern inspired by Icelandic geometry. Anyone not wanting to head up to the rooftop on one of Reykjavik's colder days can chill here at the lobby bar, with a menu that's set on global wines by the class and locally-inspired cocktails best sipped by a central open-flame fireplace. It's here that the hotel's signature all-day restaurant, Tides, can also be found with dishes like whole Arctic char with lemon, dill and garlic butter, and baked Atlantic cod with grilled potatoes, mixed herbs and butter.
---
---
Most interestingly, the Reykjavik Edition will also eventually be home to a boutique club space called Sunset, punched up with a dark and edgy black concrete interior and three separate spaces that will host a roster of events and DJs. Undoubtedly this will also serve as one of the more premium spaces for mega SXSW-esque festival Iceland Airwaves in the future.
Rounding out the amenities is, of course, the requisite spa with just three treatment rooms alongside a steam room, hammam, sauna and plunge pool. A "spa bar" with Viking-themed shakes, Champagne and vodka infusions can also be found here, serving up snacks like volcano bread with black lava salt. The spa is located directly across from where Sunset will be, so partygoers have a bit of contrast to play around with to keep them on the lower ground floor for longer.
As for the guest rooms and suites – they all have beds facing floor-to-ceiling windows to help make the most of the views, which face either Harpa or the harbour. Some even come with their own outdoor terrace. The sixth-floor Penthouse Suite is the pinnacle offering, with its own private terrace edging on a corner to offer the trifecta vista – harbour, Harpa and mountain views all in one span.
Average nightly rates at The Reykjavik Edition start from around ISK 50,000 (~AU$533).
Address: Austurbakki 2, 101 Reykjavik, Iceland
Contact: 00354 582 0025