Stayz Australia has today unveiled the winners of its 2019 Holiday Home of the Year Awards, with this luxury shipping container from Victoria's Hepburn Springs taking out the coveted 'People's Choice Award'.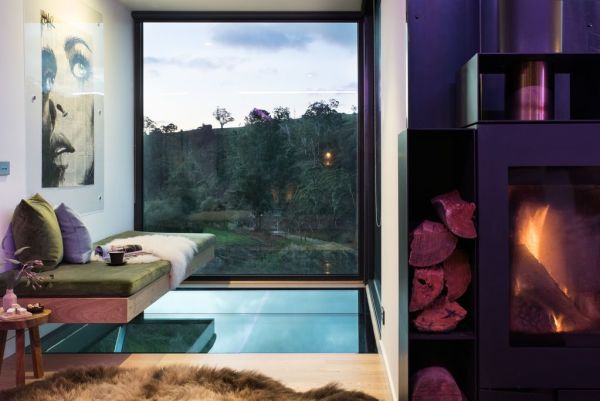 Dubbed the 'Paris Villa', this striking abode takes inspiration from the world's most romantic city, encapsulating the very essence of a romantic luxury getaway making it the perfect stay for a couples weekend away. Guests who are lucky enough to enjoy it for a weekend walk on a transparent glass floor that is surrounded by rock-pool views and waterfalls, transporting them to a blissful country paradise.
Unwinding in the villa's Tasmanian black-wood bath is a must, followed by a snooze on the world's leading massage chair. For a cozy Netflix-and-chill sesh with your other half, the 75-inch TV will be your best friend (and it includes a PS4, if you can somehow twist her arm into a game of FIFA). Feeling a little tired? The floating king bed will cradle you to sleep or you can take a nap on the infinity day-bed in front of the stunning fireplace.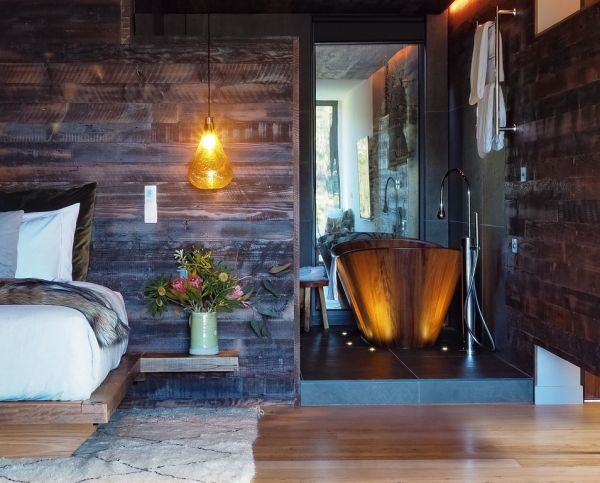 The five-star shipping container is the definition of exclusivity on its extensive property in Victoria's acclaimed spa-country. The panoramic views from any of the colossal windows look out onto a cliff face that blends into an old pine forest and serene bushland.
To kick the romance in, set the mood with seductive lighting throughout the villa that can be transformed by a touch to the digital colour wheel. The villa is also a Tesla destination-charger hub if you're a city slicker with an electric whip looking for a weekend escape.
This is a second-time win for the Paris Villa heritor, who had his entire Clifftop at Hepburn property crowned champion in the 2017 awards – clearly, this guy knows how to host a pleasurable stay.
The annual Stayz awards recognise the very best of Australia's holiday homes, selecting winners across an array of categories as well as bronze, gold and silver properties, with Victoria taking out five homes, New South Wales four, and one each for Queensland, Tasmania and South Australia.
In the mix of category winners Paris Villa crowned first place in the Unique division, with:
Design: AERIE private wilderness retreat in Tinderbox, Tasmania.
Pet-Friendly: Sunningdale House in Victor Harbour, South Australia.
Family Friendly: Fingal House in Rye, Victoria
The best part? The price. It's only $435 a night – say no more.
For more information visit Stayz.com.au.
RELATED: Spain's Most Expensive Holiday Villa Is The Mallorcan Fortress From 'The Night Manager'