Down a little side-alley, tucked away from the hustle of Broadway and behind an unassuming 1930's red brick façade hides the entry to The Old Clare hotel. Perhaps you've heard of it, perhaps not. If you fall into the latter category, you would have never even noticed the luxury urban hotel from a simple stroll along the main street.
One thing's for sure, once The Old Clare makes it onto your radar, you'll be lucky to give any other five star inner-city hotel a look-in.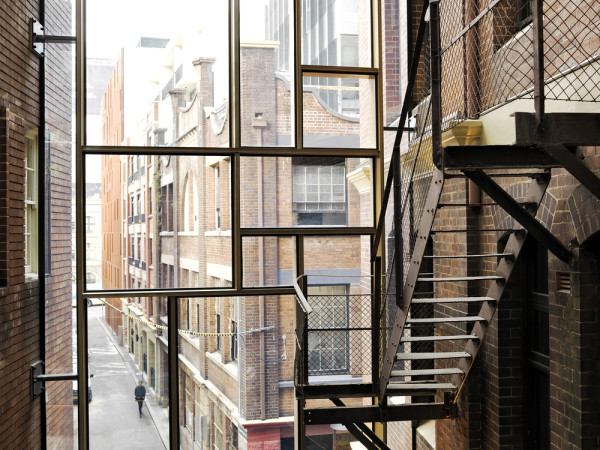 Revamped by the Unlisted Collection hotel group in 2011, The Old Clare reignited a spark in the now thriving Chippendale area when it opened its doors in late 2015, helping the suburb make a determined name for itself on the Sydney map. What were once the Clare Hotel Pub and Carlton & United Breweries Administration Building have since been moulded together by way of crafty, New York-style architectural walkways to form this smouldering urban destination.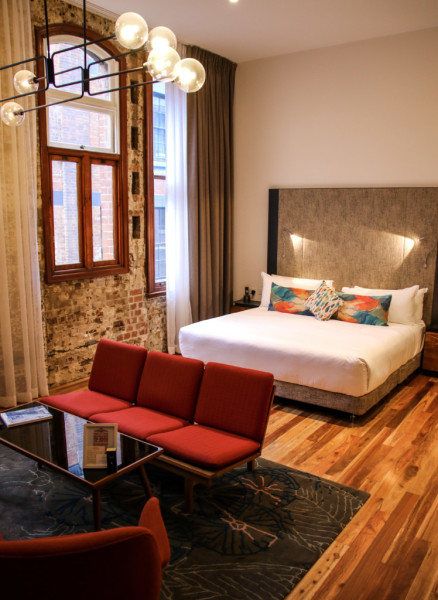 I say destination in a premeditated sense. The Old Clare has chosen not to become just a feature of the area, but rather the focal point of the area itself. Despite being dwarfed by the adjacent towers above Central Park Mall, The Old Clare's bold and rustic presence dares curious Sydney-siders and visitors alike to explore the excitement within the original, exposed walls of the sixty-two suite establishment – if they know where to look.
Originality is a standardised theme across the seven distinctive room types, each unique to the one before. We were bumped up to 'The Clare Room,' an intimately spacious, high-ceiling and wooden window framed corner room with copious amounts of space for work, rest and play.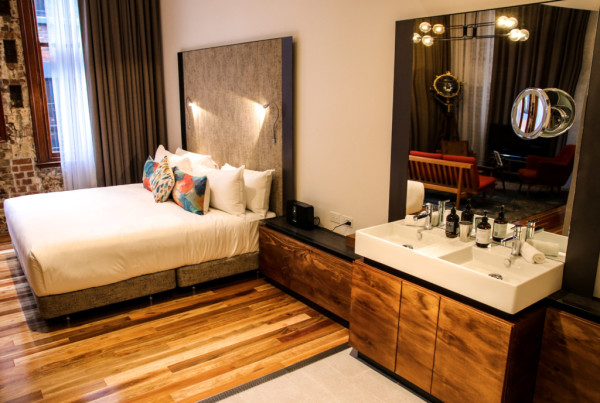 The Clare Room is one of those hotel rooms that you can't help but enter while muttering a few tasteful expletives under your breath to yourself as you step inside. You know the rooms – ones where that childish excitement takes over you as you peak around every corner, open every door, and examine every aspect of the décor like a kid infatuated with his new toys on Christmas morning.
A sizeable entertainment area with quaint settings sat at the foot of my super king-sized bed which was draped in pristine white linen that contrasted with the bare brick background with ease. A huge (and working) early 20th century-era searchlight stood tall in the far corner of the room, adding a Titanic-era theme to the ambience after dark. The focused light cast itself right across the room onto the grand yet minimal bathtub, which stood confidently isolated in full view of almost any guest.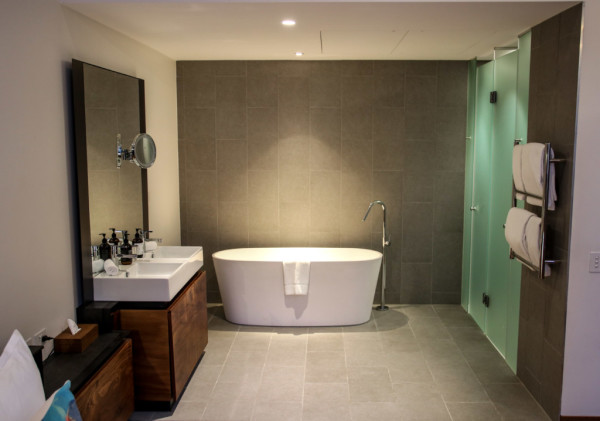 It was easy to conclude that every suite had been detailed and designed to suit its individual traits, a touch of genuine luxury you simply wouldn't find in a chain hotel's shoe box configuration. New Zealand amenities brand Triumph & Disaster invite you to step into the waterfall shower and outside your comfort zone with their bespoke amenities, the peculiar combination of aromas each strategically complementing the one before, leaving you feeling fresh and ready to tackle both business and pleasure.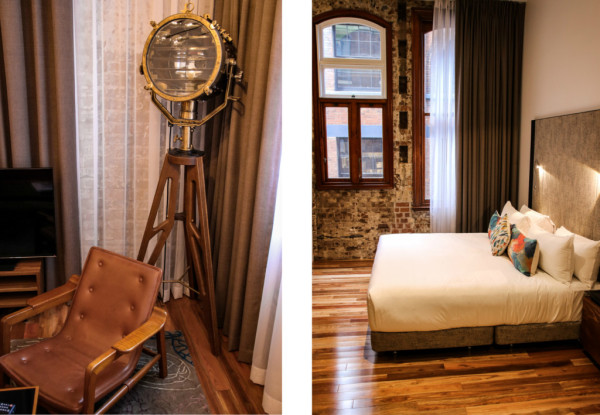 It will take something pretty inciting to drag you away from your room, but what better excuse to wander than a superb selection of Mediterranean sharing plates from the in-house restaurant and bar, Kensington St. Social. The informal yet in vogue setting allows for everything from a quick wine and cheese combination to an entire paired dining experience. The establishment also houses breakfast each morning, so you'll be sure to sample it either way during your time at The Old Clare.
As the winter months gradually subside, guests and vistors alike will eventually be drawn to the small but chic rooftop bar, as opposed to The Clare bar, the original ground-floor pub rehabilitated into a swanky evening nightspot. Cocktails and an a la carte menu will service the infinity pool and its surrounds during peak season. It'll be the place to be seen this summer for those who don't want to be seen (but low-key really do).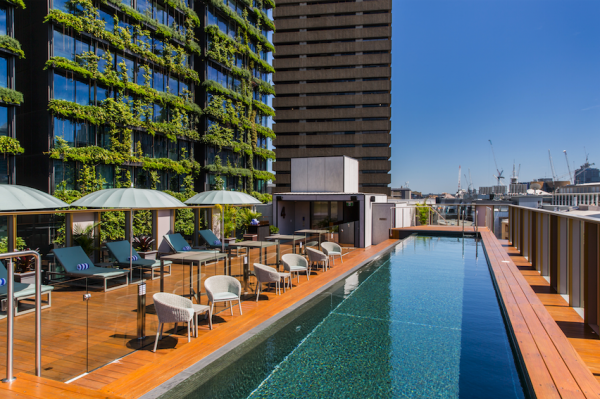 The Old Clare is at the helm of Chippendale's vibrant and exponentially popular scene along the Kensington Street precinct. Its reputation is slowly emerging as Sydney's most elite boutique hotel, and for a little while longer you have the chance to jump on the somewhat still classified Old Clare hotel before it overwhelms your Instagram feed. Your social circles will soon start to murmur, if they haven't already, with comments about a place they heard was worth a look-in down 'that little side alley' – and if you follow our lead, you'll already know which one they're talking about.
To book Gourmet Traveller's Boutique Hotel of the Year for 2017, visit The Old Clare's website.