As the piercing sun breaks the snow-capped ridgeline, imagine yourself sipping a freshly-made coffee from the expansive balcony of a top-floor five-star penthouse.
The negative temperatures slice through your clothes, the hot liquid rushing to counteract your core body temperature. The welcome warmth of the sun hits your face as the wispy mountain clouds clear rapidly, leaving behind a fresh dusting of the white stuff ready to be taken full advantage of.
You and your crew are gearing up, the pre-shred tunes echo throughout the three bedroom designer apartment and the stoke levels are exceptionally high.
You're at QT Resort, the pinnacle of luxury getaways in the Australian Alps, and you've just kicked off the ultimate boy's weekend away for this season at Falls Creek, Victoria.
In this article you'll find the ultimate set-play for how you and your mates can have the exact same experience we recently did at QT Resort Falls Creek with Jeep Australia.
Friday
All good weekends away start with an early hustle. Do you self a favour and hire your vehicles the afternoon before, so you're good to go come game day.
If you're doing the ultimate boy's weekend, you need the ultimate boy's toys to get you there and back. We looked no further than a fully kitted out set up from our friends at Jeep Australia.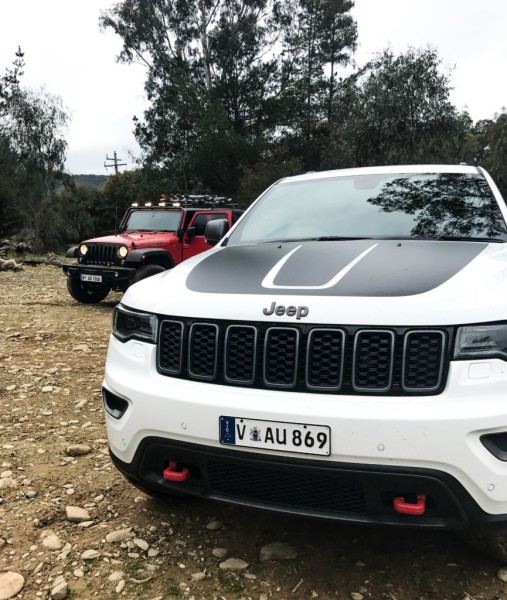 Luck was on our side for this trip, as it just so happened that the elite Jeep Grand Cherokee Trailhawk had just landed on Australian shores. Naturally, we had one of the first vehicles available in Australia; a crisp white Trailhawk, with a matte black bonnet, complemented by striking red accents throughout. Head to our full review for our thoughts on this ground-breaking SUV.
And ground breaking it was, quite literally. We boosted north-bound on the M31, and veered off towards the alpine region a few hours in. Our Trailhawk, followed eagerly by a menacing Jeep Wrangler Rubicon, complete with racks, roo lights, a lift kit, and a swanky leather interior, were crying out for a little testing off-road.
There was a logic to leaving so early, mostly so we could mindlessly muck around in mud with these absolute beasts of machines through pine plantations in between Melbourne and Falls Creek. Pick any fire trail between Myrtleford and Bright, and with a few wet days gone by, you'll have a blast off-roading in some of the most capable vehicles in the country.
After we'd had our fun, repainted the Jeeps in mud, and could no longer see out of any of the windows, we continued to our primary destination: QT Falls Creek.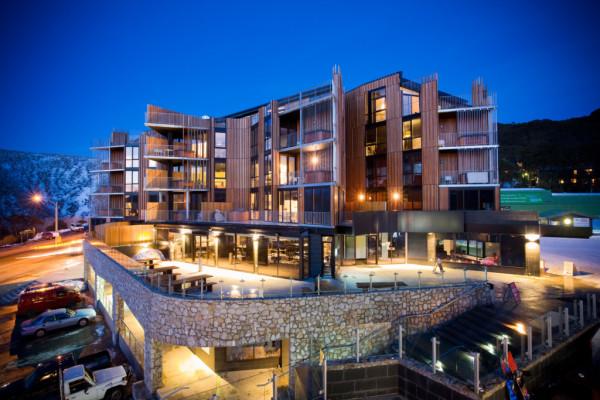 There's only one way to do a boy's weekend, and that's in a top-floor three-bedroom penthouse overlooking the snow covered valley from the angular balcony of the striking QT Resort.
The afternoon is for unloading your gear – the team at QT will happily store your sticks and any other gear for you – before cracking a few beers and relaxing after a (tough?) day of travelling in the massive 8-person private hot tub.
QT's adjacent building plays host to Stingray, one of the best casual dining experiences in the village. A common denominator across the QT Resort brand, Stingray sports unrivalled American-style bar food complemented by signature cocktails that go down all too easily. This is the place to be seen on a weekend while in Falls Creek. The 'Mountain Maitai' was a favourite of ours, an adventurous twist on the usual suspect.
We'd recommend a wind-down in the hot tub before an early night ahead of a big day on the slopes Saturday, but we also wouldn't say no to kicking on to one of the season bars in the village.

Saturday
If there's one thing QT Resort Falls Creek is known for, it's the next level buffet breakfast you'll find in Bazaar, QT's resident restaurant you don't even have to leave the hotel to get to. Even if you're not a hotel guest, we couldn't recommend enough kicking off a big day on the hill with a breakfast at Bazaar. When it'll only set you back $28 per person for the best pre-skiing breakfast you'll ever have, how could you not? There's an overwhelming selection of exquisite hot and cold options, and you can grab a coffee takeaway and walk out of the door literally a couple of metres onto Falls Express chairlift.
The quick lift will get you to the top of the mountain in no time, and should you be lucky to have good weather, you'll be privy to 360-degree views of the Australian Alps.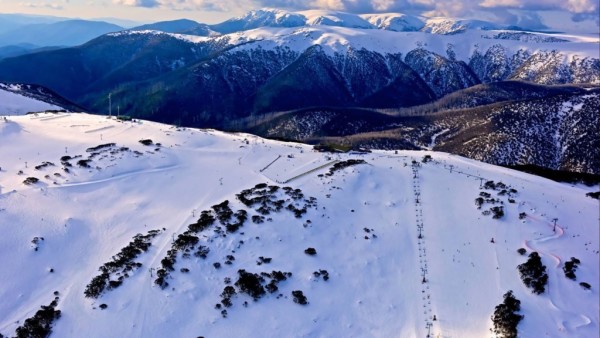 Lap the resort for the morning and work up an appetite that can only be cured by the pulled pork quesadillas at Stingray, at the bottom of Wombat's cat track. Grab a bucket of Coronas – even if it is only 11:30am – and if you're game, try the massive lunch time burrito bowl. We'd easily bet you won't finish it without help.
Cap off the afternoon with a few more turns, until the consensus is to move back to the penthouse for a few sunset beers in the hot tub.
For your Saturday evening, there's only really one option – that's to let the boys in the kitchen whip up quite possibly the best luxury dining experience you've ever seen in a buffet-style restaurant.
Australian ski resorts are pricey, we're well aware, so forking out an even $55 per head for an all-you-can-eat feast at Bazaar is probably the best value for money dinner you'll find on a mountain anywhere in the country.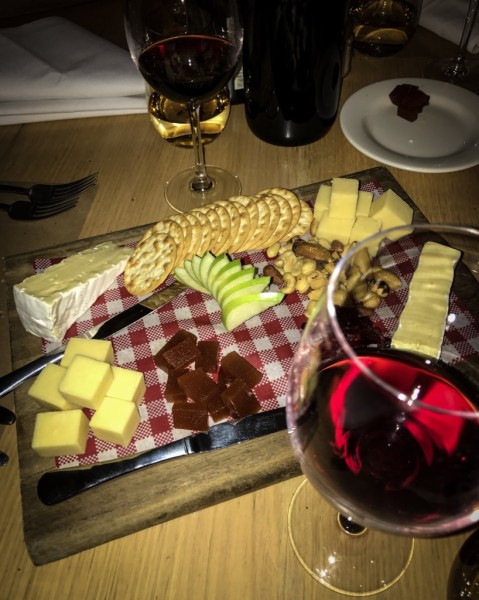 Start with an extensive cheese plater to share, accompanied by a light but complex Australian Pinot Noir before moving onto some hearty meats from the paddock-to-plate selection that's sourced from local farms.
Top it off with a few Espresso Martini's all around, and then kick on to a variety of village nightlife spots such as Cock 'n' Bull or The Man.
Sunday
The only way to hit that dusty hangover on the head is to get on the mountain ASAP. Scoff down another delicious breakfast at Bazaar, grab some fruit and a coffee for the lift, before getting your gear and your crew together as soon as possible.
Once you've warmed up from your first day on the mountain, head way right of the resort to International Chair for some black diamond challenges and fun tree skiing.
We'd advise you to come off the mountain a tad earlier and enjoy warm donuts from Snonuts, an unreal pit stop just opposite QT. Perhaps treat yourself to a hard-earned SpaQ detox. For the guys, a quick 60 minute 'Après Ski Recovery' spa package will do it, which includes a well-deserved hot stone massage.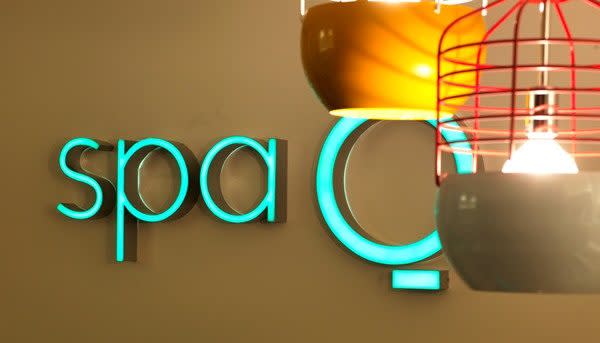 You'll need to leave yourself about five hours to get back to Melbourne that evening, so check out of the penthouse late afternoon and load up the Jeeps for the trip home.
Then repeat the next weekend.
QT Resort Falls Creek is one of the most sought-after ski destinations in Australia, so you better get in quick if you want your pick of the best digs in the Alps this season.
To book a weekend like ours, head to QT's website.
Video shot entirely on GoPro, thanks to our friends @goproanz