Branson's sea-going division of the Virgin Group, Virgin Voyages, has announced their inaugural cruiseliner coined the Scarlet Lady, restricted to adults 18 years and over.
Initial renders have been imagined by Tom Dixon Design Studio of London and Roman & Williams of New York with the aim of recapturing the "Modern Romance of Sailing."
"Our design partners, together with our internal design team, have dreamed up eye-catching, intimate and alluring spaces that we can't wait to see come to life," said Tom McAlpin, President and Chief Executive Officer for Virgin Voyages, as quoted to Business Insider.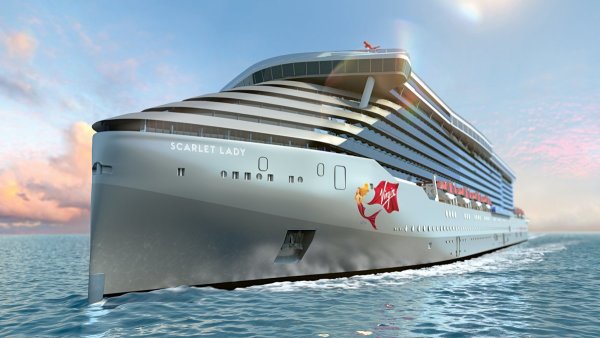 The ship's amenities and attractions are no work and all play. In particular, 'Richard's Roof-deck' is an exclusive outdoor lounge on the top deck for suite guests only. Deep below you'll find the signature nightclub called "The Manor" inspired by Branson's first ever Virgin Music studio of the same name.
The thermal spa called 'Redemption' is probably our favourite feature, playing host to a hydrotherapy pool, mud room, salt room, cold plunge pools, quartz beds, and other spa treatments. The outdoor athletic club was designed by Concrete Amsterdam and has both a running track and a boxing gym among the usual suspects, while the sports bar is about as American as you can get. There's also a barbershop, should you require a mid-voyage trim.
Pink Agave, one of two primary restaurants aboard the Scarlette Lady, will serve Mexican cuisine, and the other, Test Kitchen, will have an industrial, metallic vibe that'll feature light fixtures replicating the periodic table while also boasting a neo-modern menu.
The ship's name has actually been derived from two sources; the namesake of one of Virgin Atlantic's earliest planes and Virgin's mission to promote female management and leadership positions on cruise ships, which they will do so on the Scarlet Lady through the "Scarlet Squad" recruitment and training program.
The ship is expected to arrive at Port Miami in 2020 for its maiden voyage. It's current capacity is 2,700 passengers and 1,150 crew members with a second ship set for delivery in 2021.
RELATED: The Story Behind Richard Branson's Naked Kite Surfing Photo