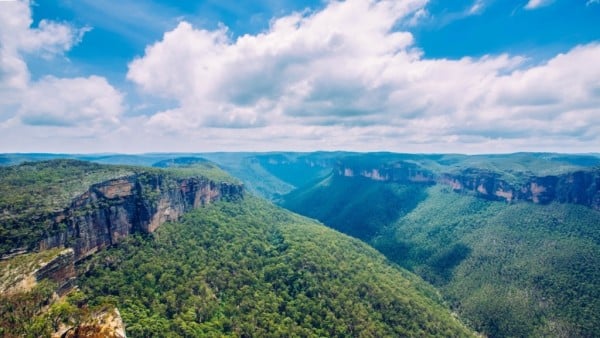 It's September, so we're guessing you've already been to Europe and used all of that holiday you had been saving. Work is bleak and another vacay isn't in sight for a while. So it's essential to make the most of your weekends. Cue the Blue Mountains.
One million hectares of world heritage listed bush, cliffs, and waterfalls. It's hard to imagine that all of this is an easy 2-hour drive from Sydney. Fun fact, it's the eucalyptus trees which give the Blue Mountains its name. A mist of oil is released from the leaves giving the clouds that bluey-haze.It's one of those places where photos just don't quite do it justice.
Adventure
For most, a trip to Scenic World is a guaranteed. Yes, the views are pretty cool (and home to the world's steepest railway) but the endless coaches and selfie sticks can all get a bit much.
To experience the Blue Mountains like a local, sort out an excursion with Blue Mountains Guides. These guys will show you a whole lot more than the Three Sisters. We're talking canyoning, abseiling and proper 5-day hikes deep within the bush. Real Bear Grylls-style.
If walking isn't your thing, hop in the saddle and explore the wilderness of Megalong Valley. Trek through paddocks, rivers, and forests for a few hours and follow it up with a delicious BBQ lunch. Or, go all out and take it in from the air, courtesy of Heli X Tours. You'll get a real sense of scale for the place and some great Instagram footage.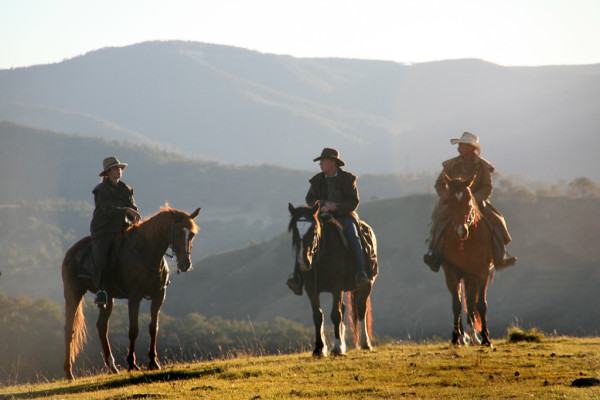 Explore
It seems like Leura is the Vaucluse of the Blue Mountains. We are talking boutique shops, ludicrous house prices, and perfectly manicured streets. Get in the good books and buy your mum a chutney or two from Leura Gourmet and while you're at it, may as well spoil her with some treats from Josophan's Fine Chocolates.
Food wise, if you are looking for the white table cloth sort of place, Solitary is our prime choice. The quaint cottage has a cracking menu and views overlooking Mount Solitary, naturally. Order the Turmeric spiced braised lamb shank and thank us later. For something a little more casual, head to Leura Garage and order a pizza and a Badlands Pale Ale.
Sleep
Settle into the Fairmont Resort by Sofitel for the weekend. It's got everything you need and just around the corner from the charming town of Leura.
You'll walk through the open-plan lobby which is illuminated by floods of natural light and instantly be drawn to the stone fireplace. An ideal spot to wash down some wine and enjoy some scallops and steak.
We suggest checking into the deluxe suites. They are large, open and have all the essential amenities. The views of the valley are pretty awesome and as for the beds, good luck getting out of them. If you're going all out you need to check into the Dalai Lama Suite, trust us on this. It was built for the man himself and is everything you would expect #regal.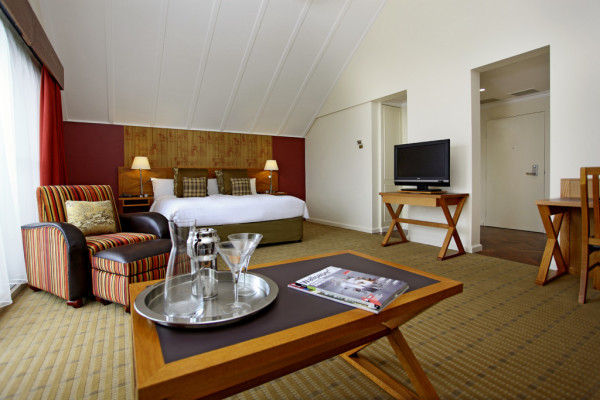 In the morning, make your way down to breakfast where you'll find the usual continental options ormade-to-order eggs if the buffet doesn't quite cut it. Otherwise, hold out for the high tea in the afternoon. Scones, sandwiches, and champagne overlooking the Jamison Valley.
The hotel is well kitted out. You'll find tennis courts, a couple of swimming pools and even a golf course to fit in a round or two. If for some reason you get bored, there's always a Segway tour of the grounds and in the coming months, the hotel's set to open a day-spa.
You'll notice the staff really go out of their way to make anything possible. Think picnic hampers at Sublime Point during sunset or cheeky film requests at their in-house cinema.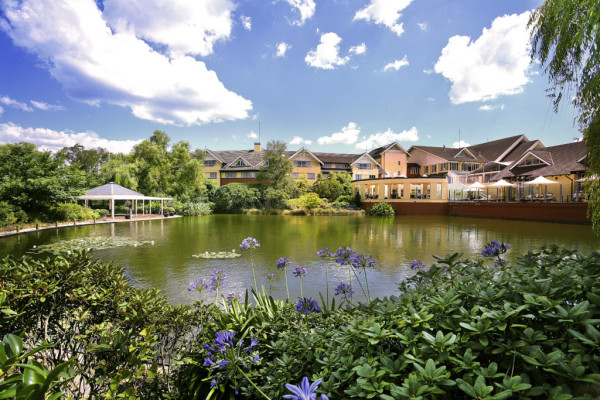 Rooms from $120. Book your weekend away in the Blue Mountains here.