There's quintessential Australia, and then there's Coober Pedy. The opal-mining capital of the world goes above and beyond your wildest dreams of what an outback town should be. Built partly underground to withstand the relentless desert heat, Coober Pedy is unlike anywhere else in the world, and this tiny town leaves a big impression on everyone who visits its streets.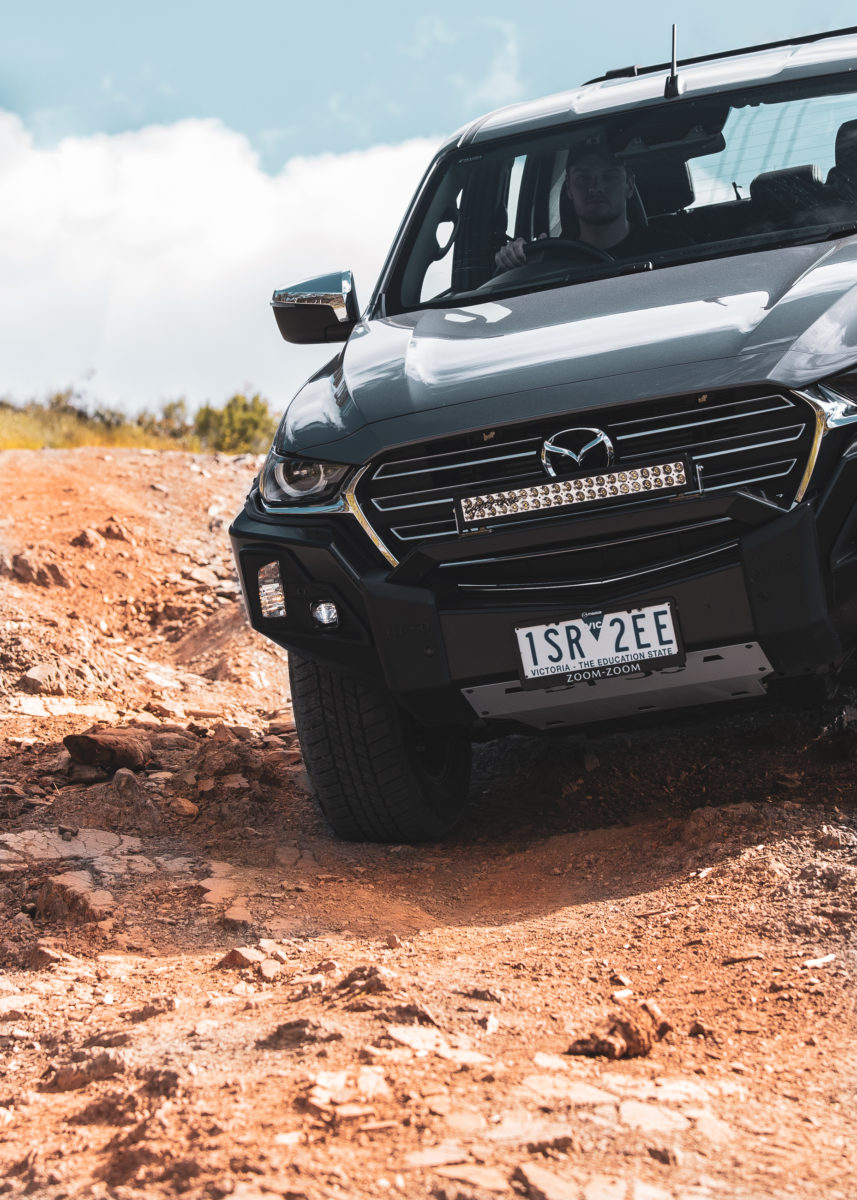 Friday
There's no sugarcoating it; the road trip from Adelaide to Coober Pedy is a bit of a mission. 850km straight up the guts of South Australia towards the red centre (or 650km south of Alice Springs), it's a long, straight road, and having a ute as capable as the Brand-New Mazda BT-50 Thunder is essential. It's important to be prepared when driving through the outback, loading up your tray with supplementary fuel, water, and road-trip snacks, your bags for the weekend will still fit snugly alongside your weekend's safety provisions.
Leaving from Adelaide, take off on Friday morning and jump on the A1 north. No GPS required, just head straight towards Port Augusta; the biggest town between the city and your outback destination, the last place to refuel, stock up on supplies, and where you'll likely leave behind all sense of 'normalcy' before finding Coober Pedy. While in Port Augusta, crash for the night at Majestic Oasis Apartments, where after a long drive you'll be able to have an equally long shower and refresh in their modern and well-equipped rooms that sit waterside by the town's port.
---
---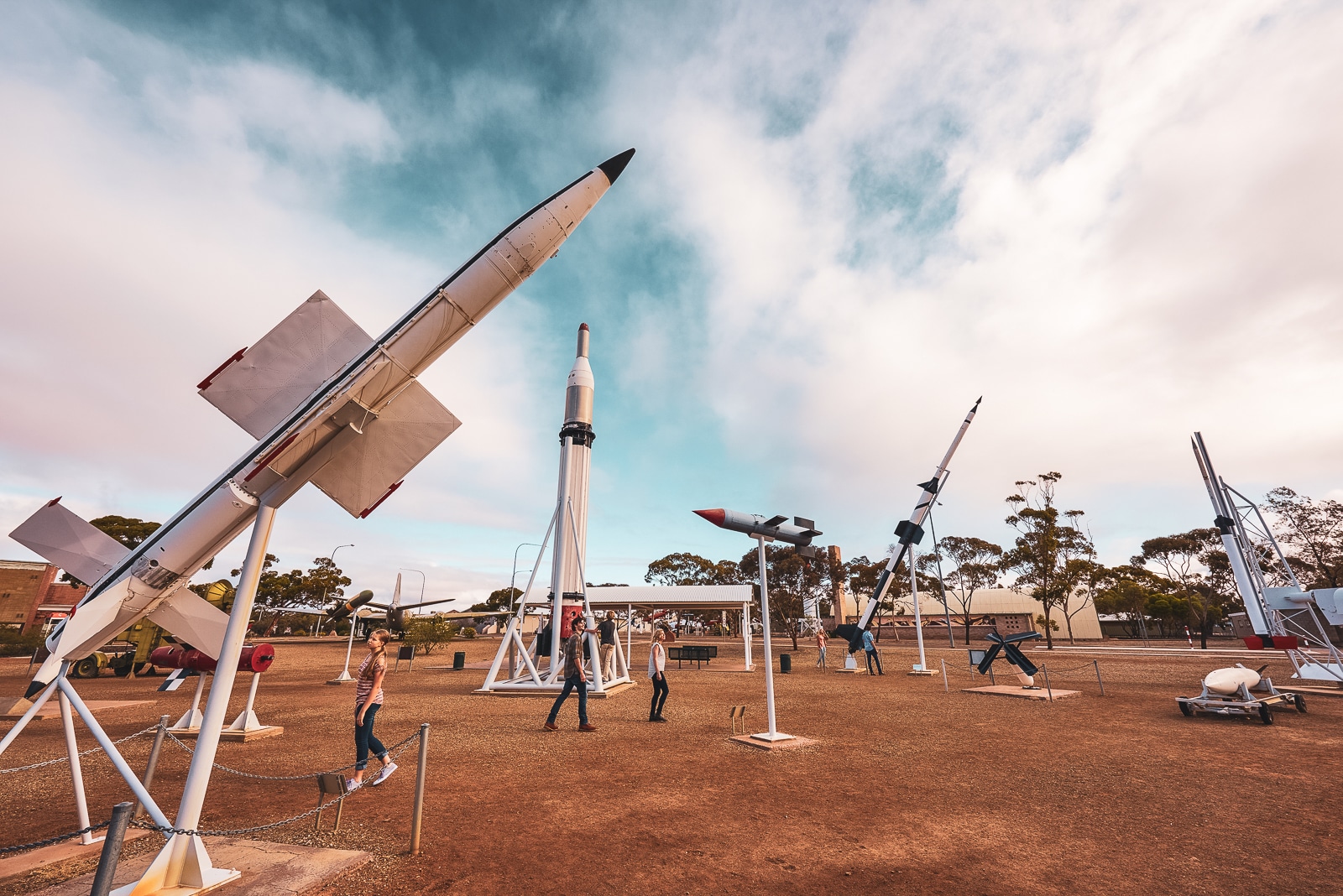 Saturday
Leaving Port Augusta early on Saturday morning, another 500km+ lies ahead of you, and you can set the adaptive cruise control to 110 straight off the bat. Seemingly endless and flat horizons lie ahead of you, but the scale of this expanse and its surroundings is more jaw-droppingly impressive than almost any other drive in Australia. The starkness that unfolds across the horizon (and probably 30 horizons beyond that) is breathtaking, and the gentle rises in elevation lead to even greater vantage points and even more impressive vistas.

Two hours into your trip, with morning sun now streaming into the cabin, you'll need to rely solely on the car's Sat Nav (as deep outback regions like this have little-to-no phone reception), and take a slight detour off the main highway for a taste of the unique and the unexpected. The small town of Woomera was originally built to house 5,000 workers, and casually had a missile testing site attached to it. While the missiles are no longer flying, stretch your legs and count how many rocket remnants are dotted all over the town.
As the liberating feeling of total isolation begins to take hold, the temperature will begin to climb. Out here in the middle of the desert, daily temperatures in Coober Pedy's winter average out at 30 degrees celsius, and in summer, can reach 50 degrees on a regular basis. Whilst you may need to apply sunscreen throughout your drive, the BT-50 Thunder's dual-zone climate control will keep you icy no matter the conditions beyond your four doors.
Arriving in Coober Pedy, all you can plan for is to expect the unexpected. Since the first opal was found here in 1915, miners have flocked from all over the globe to dig for their fortunes, and the population of 2,500 is surprisingly cosmopolitan for the heart of the outback. You'll find everything from Chinese restaurants to Greek cafes, and while the options are there, this is not a town you come to for a gastronomic experience. Choose simply (or snack on your pre-packed food), and head to The Underground Motel to check in for the night.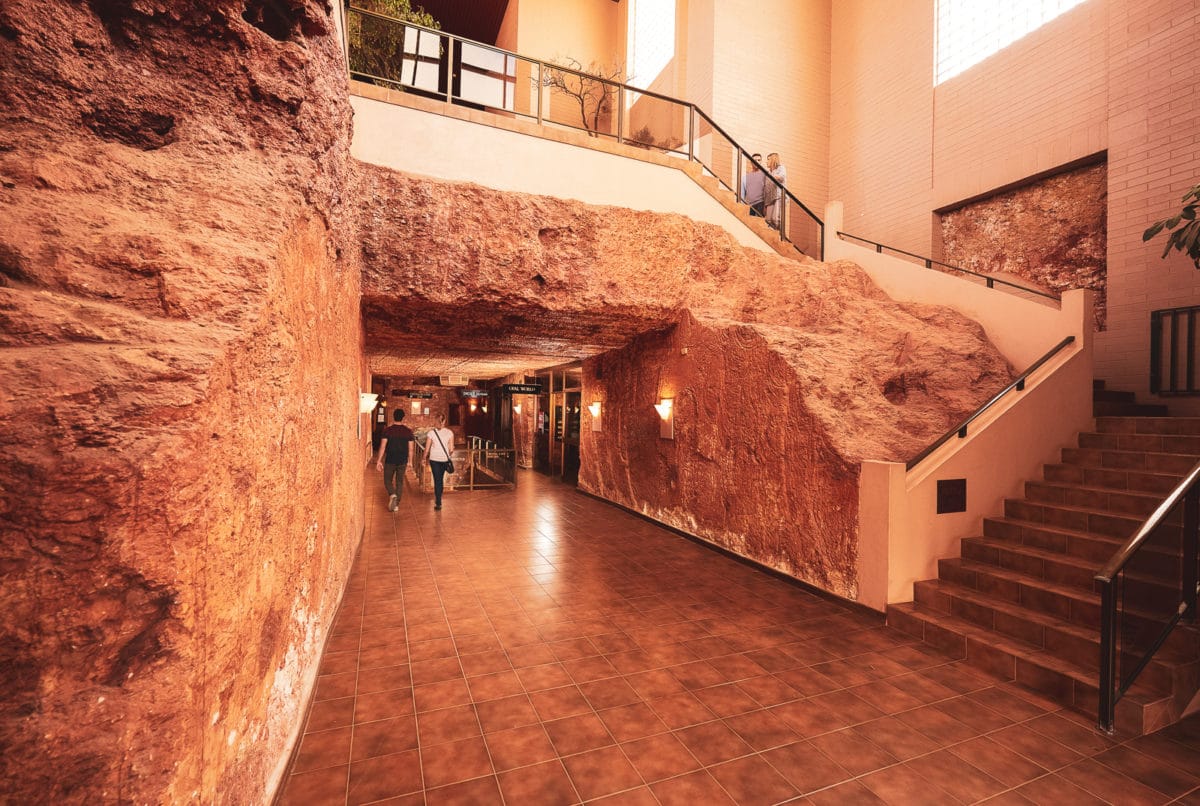 Like 80% of the town, dealing with the sweltering summer temperatures means building a life underground in order to stay cool, and The Underground Motel is no exception. Dug into sandstone back in 1984, it appears that the interiors haven't been updated since, but a night in this quirky hotel is an experience you won't soon forget. For something a little 'ritzier', The Desert Cave Hotel has 19 underground rooms, underground shops, a cafe, and an underground bar and gaming room.
You'll still be privy to the same cultural experiences in Coober Pedy as you would in great Aussie capital cities. There are Museums and churches; they're just a little bit different. Once you've checked in, brave the outside with a 5 minute walk to the nearby Catacomb Church, or jump back in the car (and pump that crispy 18 degrees Celsius) and head 3km across town to the Umoona Opal Mine & Museum. An original mine back on Coober Pedy's main street that is now one of the town's biggest attractions, the Umoona Museum gives a true sense as to why in the world people would cross oceans to come and live underground in the middle of nowhere. The opals are absolutely stunning, and you can pick up one or two to take home with you, if you're so inclined.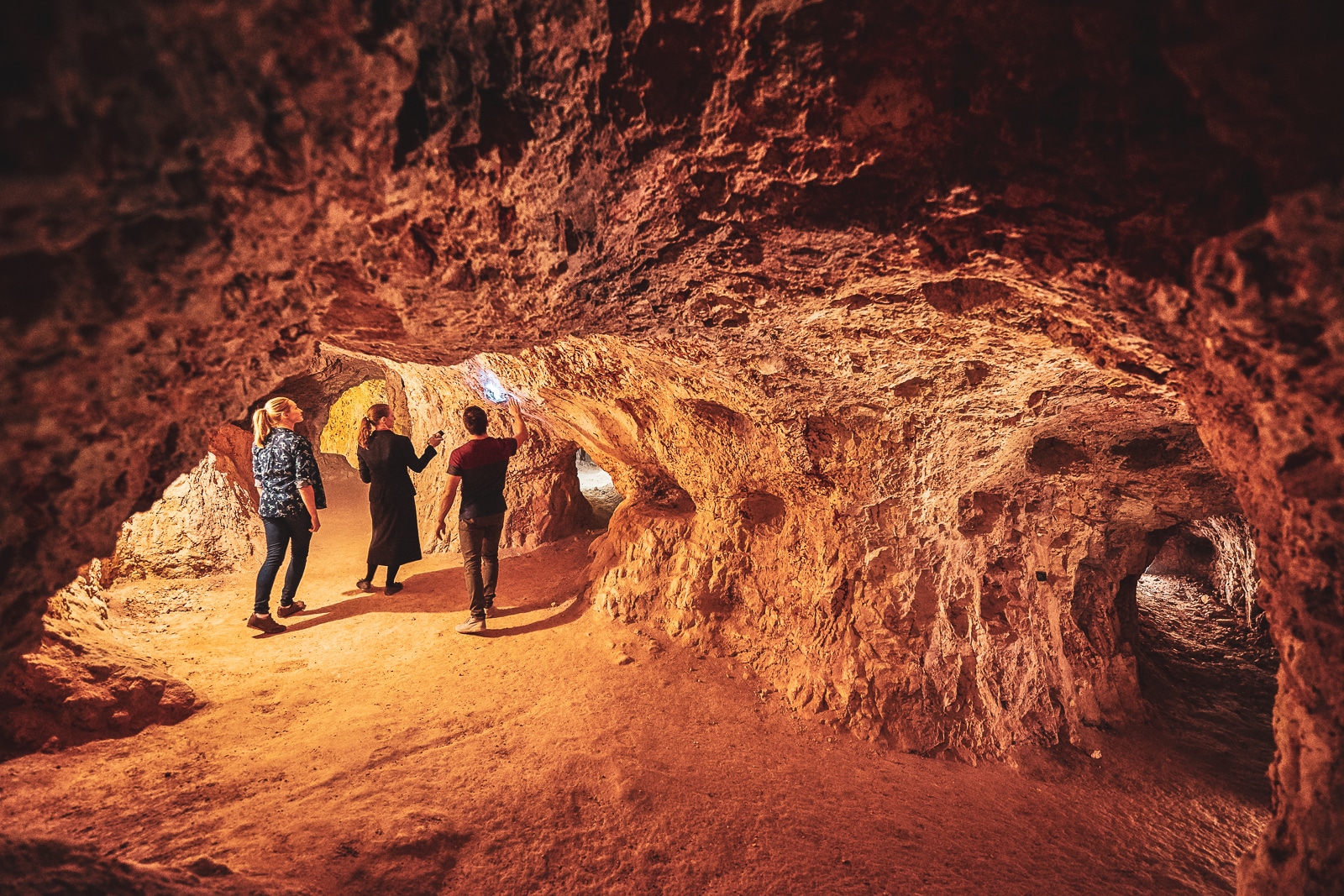 With the sun setting, make your way across to Faye's Underground Home, for a first-hand look at what the houses are actually like in this bizarre part of the world. A three-bedroom home completely excavated by three women with pick-axes and shovels, Faye's Home has an underground swimming pool, living room, kitchen, and all the amenities you are still surprised to see in this dugout town. It's a fascinating stop before retiring to your own underground home for the evening.
Sunday
The trip back to Adelaide, as you may have guessed already, is a long one, but there's still time to take in more of what Coober Pedy has to offer before heading back down south. Rise early and check out the Spaceship from the film Pitch Black, where you can catch a fun glimpse behind the scenes and take a look at the inside construction of what is a pretty impressive film prop (though the lack of signage and proper information may lead you to believe otherwise).
---
---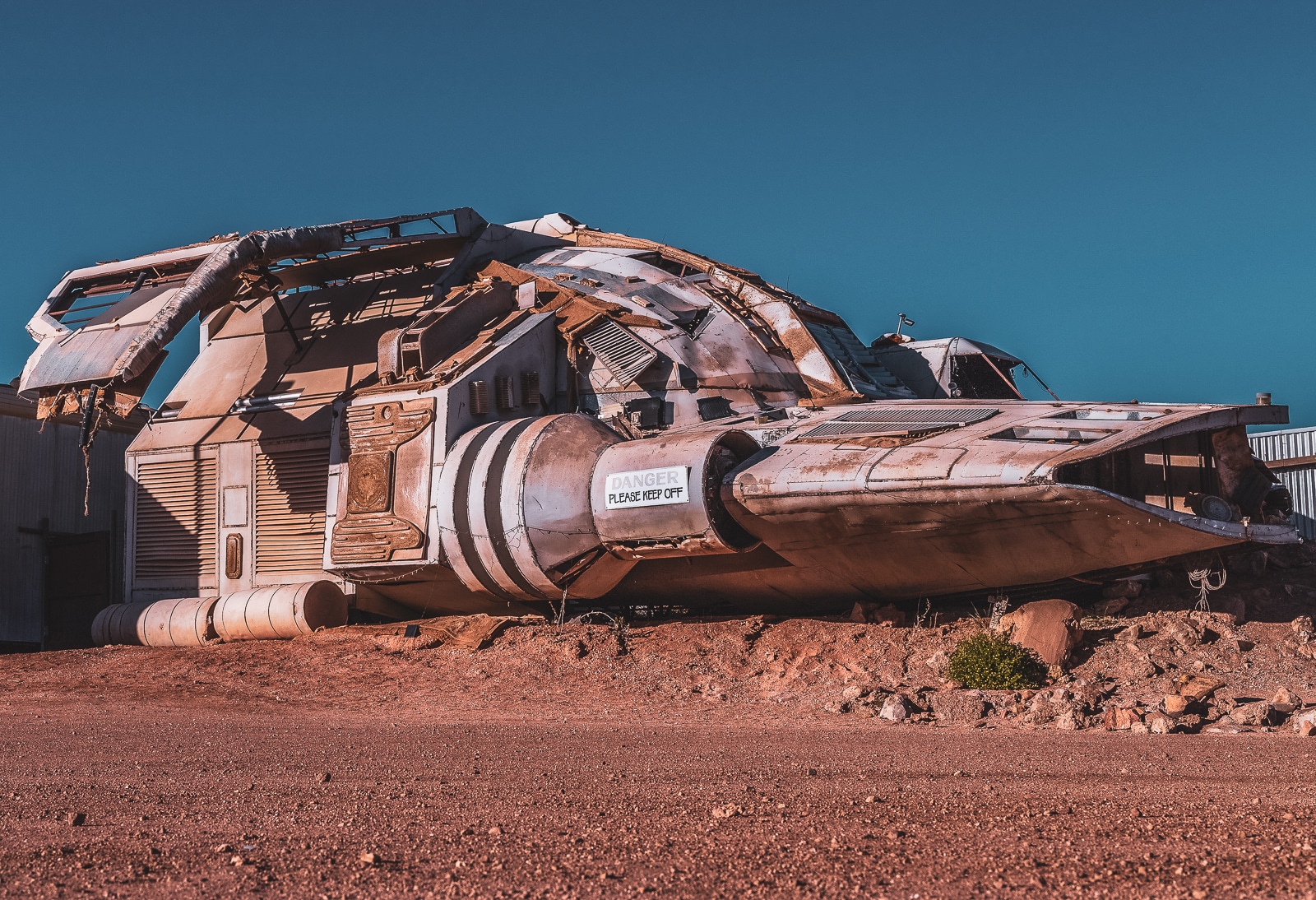 Before leaving the town behind you and settling in to the long straight ahead, put the BT-50 Thunder to the test by driving the dirt track through Kanku Breakaways Conservation Park on the outskirts of the town. Marvel at the spectacular, multi-colour peaks rise from the wide, flat plains and show off the different sedimentary layers – a glimpse into thousands of years ago when this whole area would have been under the ocean.
After spending the weekend in Coober Pedy, you're left with so much to think about, so much to question, and so much to love about this eccentric tiny outback town. The resilience and persistence required to live in such a unique place makes the 850km journey home feels like a piece of cake and the Brand-New Mazda BT-50 Thunder the perfect sharp knife to slice it with.
This article is part of a series, proudly presented in partnership with Mazda. Thank you for supporting the brands who support Boss Hunting.