A summer hotspot usually ravaged by tourists, the NSW South coast spent the better part of the '19/'20 summer being ravaged and engulfed by bushfires. Rebuilding from literal ashes, this special part of Australia still has the most ability to capture both your sense of adventure and your heart.
There are a few big tickets on the NSW South Coast; Ulludulla? Been there. Hyams Beach? Done that. Batemans Bay and Mollymook? Tick and Tick. Quintessential beach towns that have earned their spots on the 'must visit' list of locals and overseas travellers alike (and with good reason). These destinations are ripe for visits year-round, but when you veer away from the hotspots, the South Coast is littered with a collection of gems as blue and green as their semi-precious counterparts.
Extending for around 200km below Sydney, this weekend we'll be pulling up stumps a little shorter – 120km on the Hume (or M1) ought to do it. With the Brand-New Mazda BT-50 packed and ready, skipping to the South Coast is a breeze, and we're ready for a weekend of off-grid boltholes that tick the box for relaxed escapism – a trip where nature is both the force and the remedy.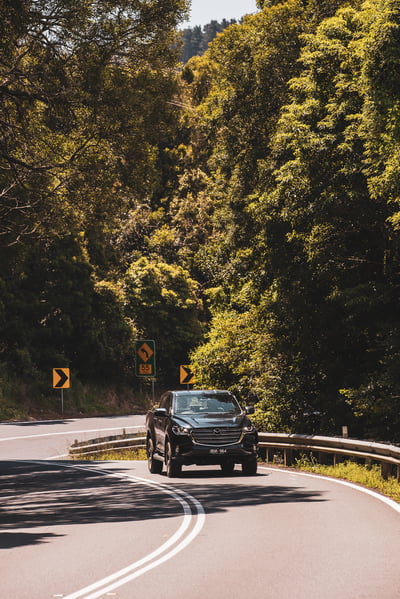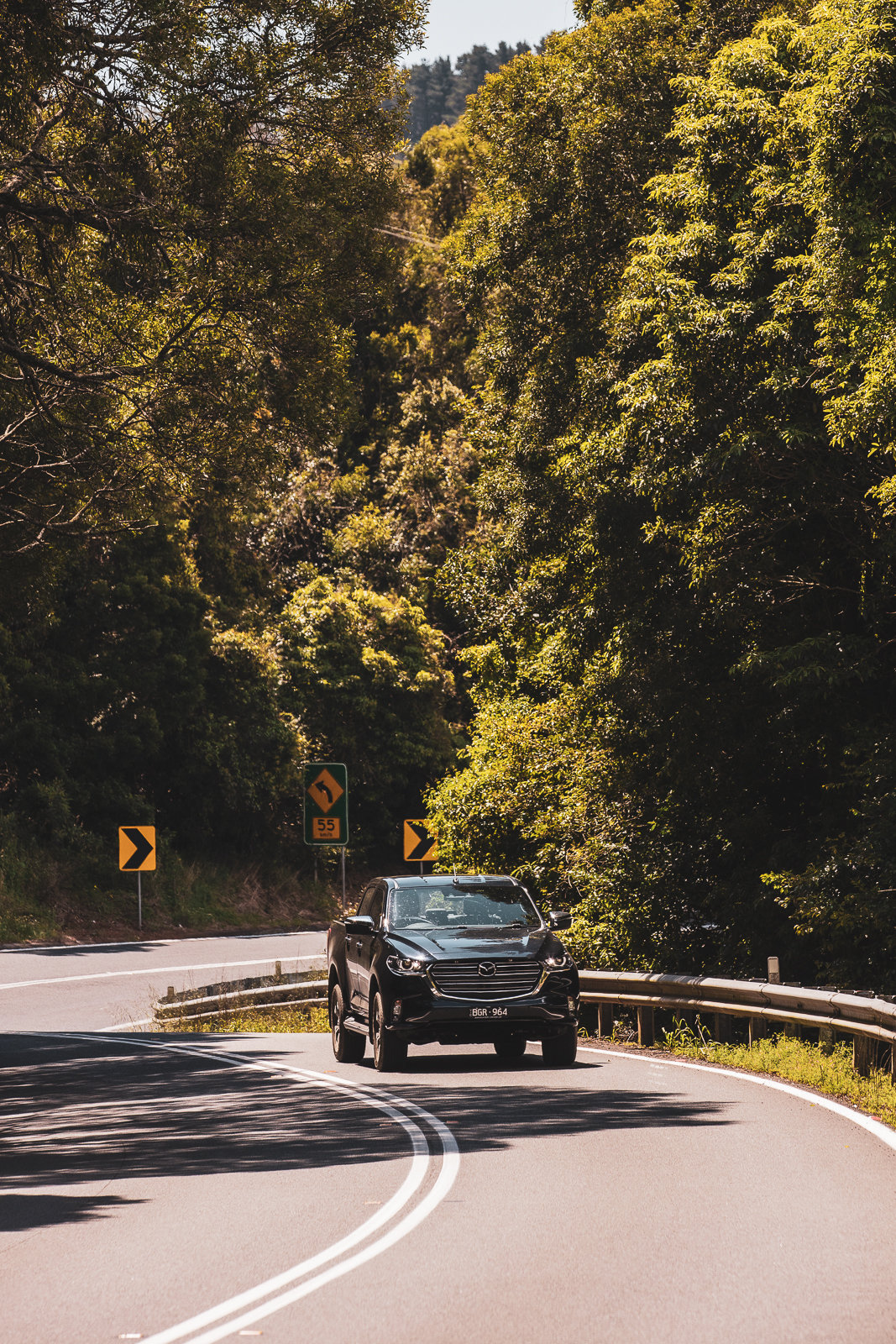 Saturday
Life might be short, yes, but it's never too short to take the scenic route. Before the city awakens, the Mazda's quiet but punchy 3.0-litre in-line four-cylinder will glide effortlessly through Sydney's empty streets. It's an incredibly efficient and stress-free way to make haste out of town in the early hours of the morning. No mad dashes to the airport to contend with, no infuriating traffic jams, just the knowledge that you'll get there when you get there.
Your first 'there' is just south of the Sutherland Shire, slipping off the Princes Highway onto McKell Avenue at the Waterfall entrance of the Royal National Park. The narrow, winding roads are made a breeze by an electronic drive-by-wire throttle control paired with an all-wheel-drive system, allowing you to grip the twisty tarmac on both the way down and then up to Bald Hill Lookout. Immersed in towering bushland and rocky cliff faces, this is the kind of Saturday morning drive you always hear about.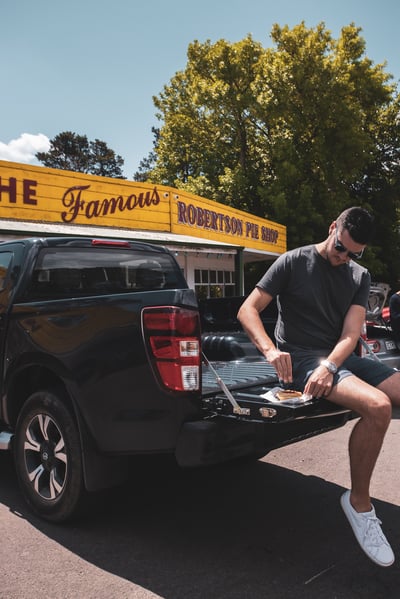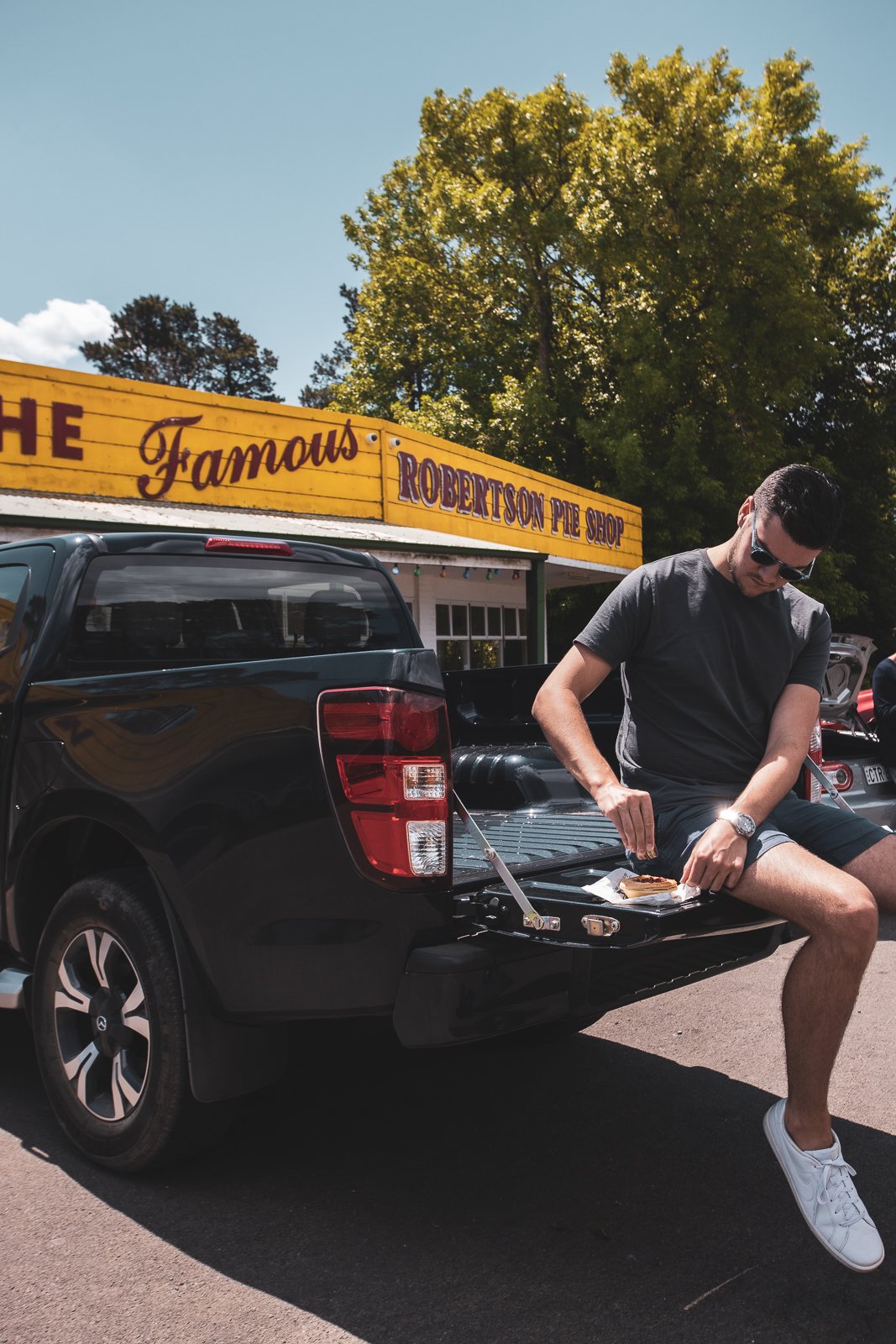 Onwards and inwards, you'll find yourself landing the first proper pit stop by late morning, and Macquarie Pass is quite the sight for tired eyes. At this stage, you'll likely be famished, but holding out for the famed Robertson Pie Shop is so, so worth it – nothing fancy, just a country-style bakery that absolutely nails the brief.
Until then, however, you should definitely consider stopping at the base of Macquarie Pass for a 30-minute detour to a locals-only swimming hole known as 'Jump Rock.' The icy-cold water, natural waterslides and epic cliff jumps can be found at the end of a relatively flat hike through rainforest-like terrain. A welcome jolt of energy that'll make your following pie pit-stop all that more delicious. Don't forget, one of the handiest Australian perks of owning a ute has to be the freedom of throwing your wet swimwear and towels into the tray with no worries in the world.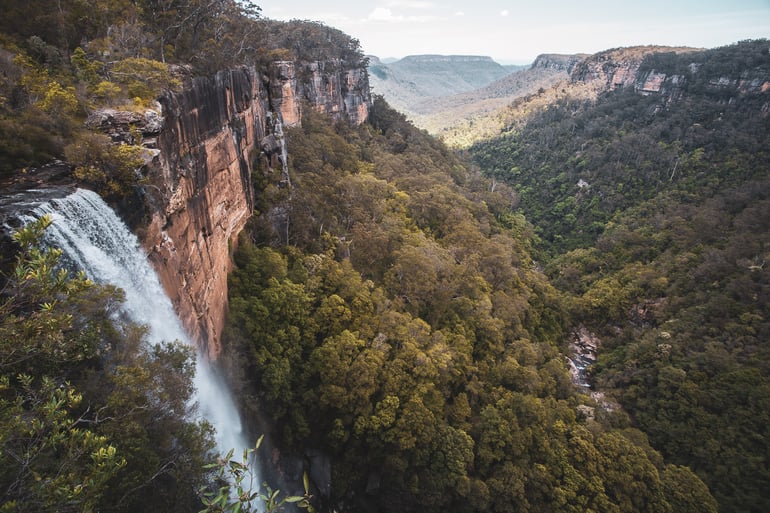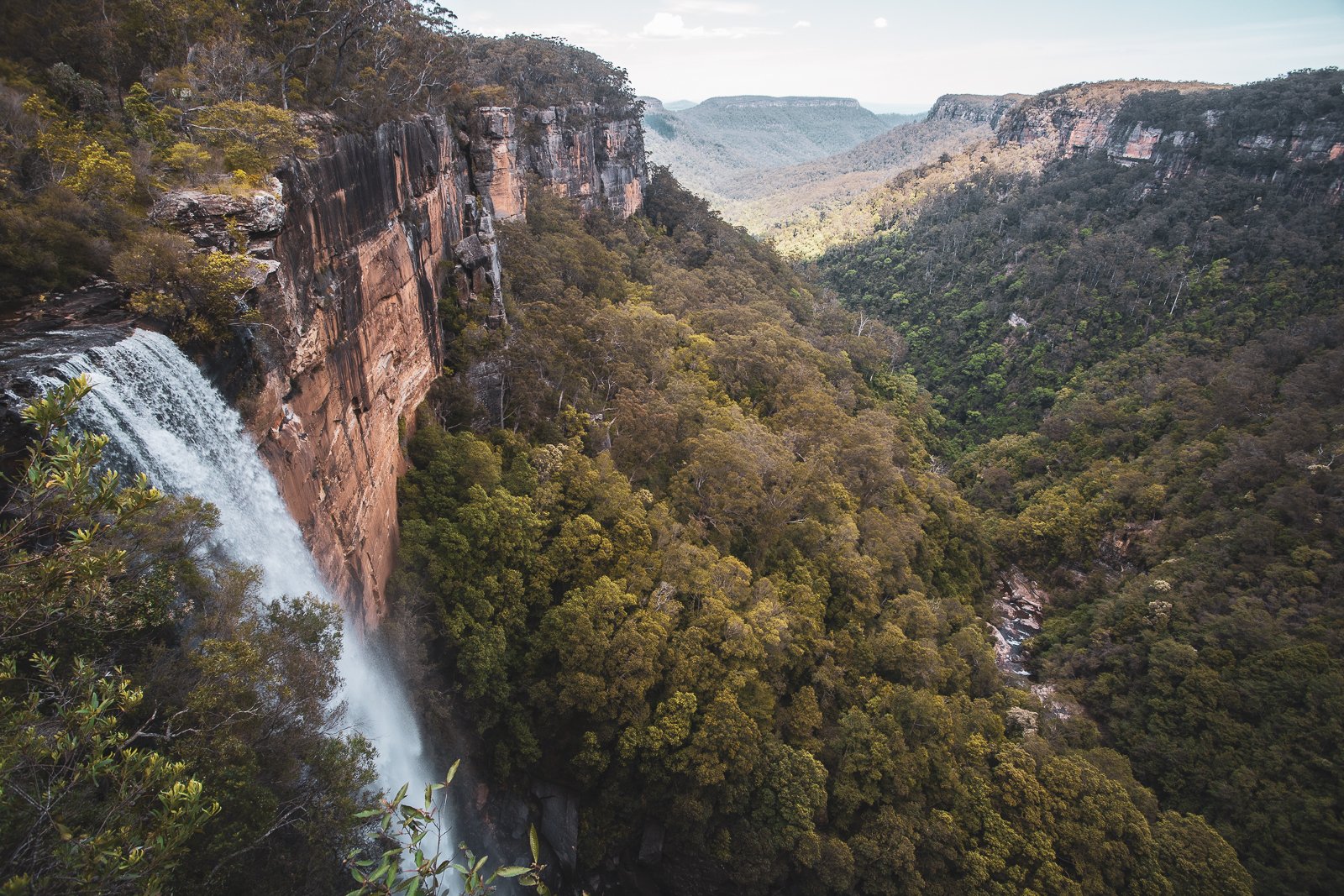 Continue up the lush pass, chow down on some of the South Coast's best pies, then press south to one of the most spectacular waterfalls in NSW. Fitzroy Falls drops 81 metres in a dramatic fashion down into the untouched Morton National Park below. A force of nature that is both calming and exhilarating, it'll really give you a sense of perspective on how expansive the valleys below really are.
Finding your digs for the night within Kangaroo Valley is just as much of an activity in itself. Opt for a completely off-grid tiny home such as 'Arabella' or a luxury bushland villa at Barranca. Either way, you'll feel like you're the only people for miles. Turning off the ignition, the silence of yet another Spotify playlist will be replaced by a drone of insects and the sounds of horses playing in the distance. There's little to do down in the valley except read, stoke the campfire and doze off as the light falls behind the valley's rim.
You might be off the grid, but you'll still need to eat, and while a home-cooked BBQ steak sounds divine, there's always the option of exploring the quaint country town of Kangaroo Valley. The Friendly Inn is the town's local, and its name is not without merit. Strike up a conversation with a few accommodating locals for tips on the next day's adventures, and settle in for a bowl of seafood linguine or a lamb shank pie (it's important to remember to always compare different country town pies when given the opportunity).

As the temperature drops in the valley, as it is known to do as night falls, don't forget to flick on your fog lights to guide you back to your little homes in the woods.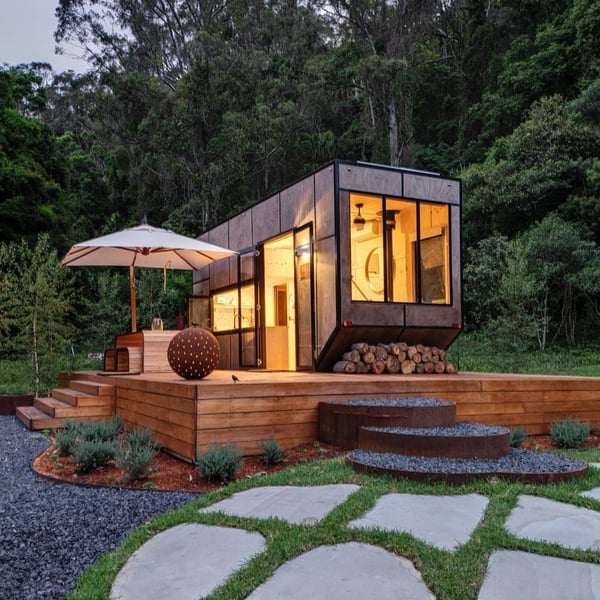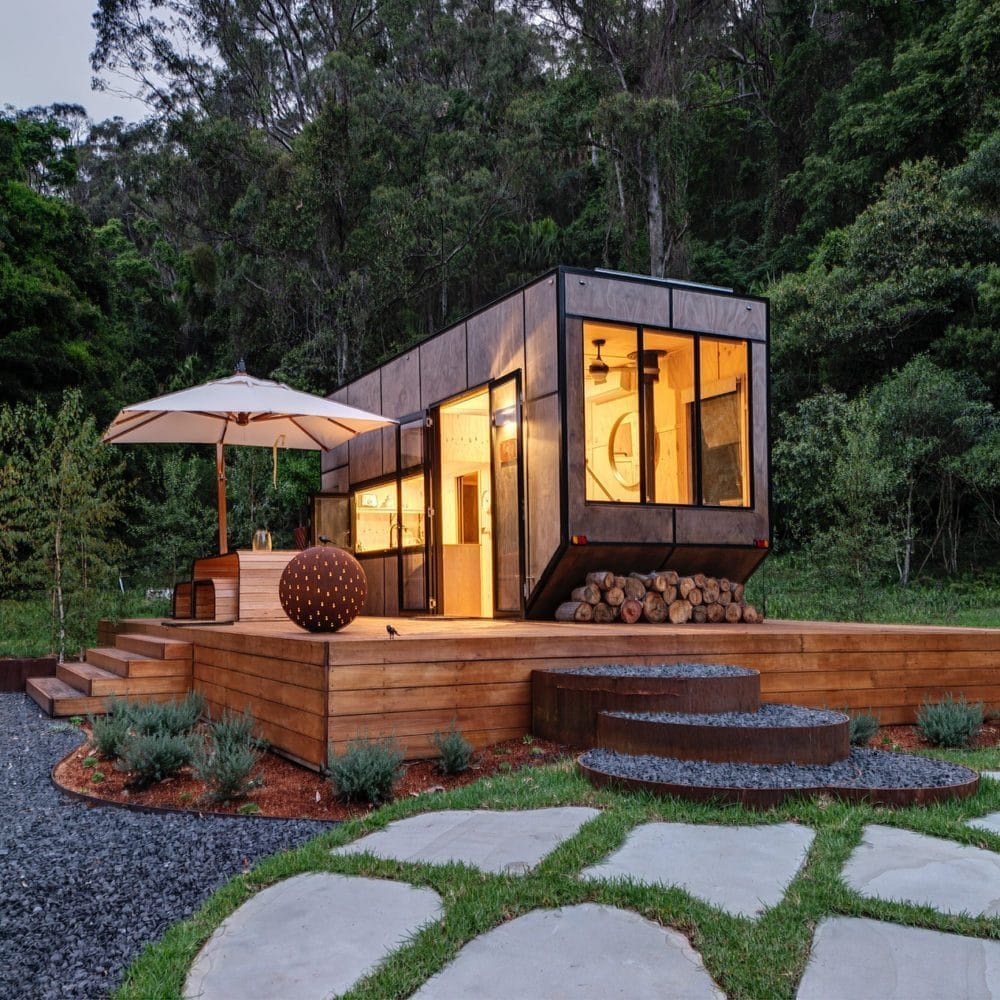 Sunday
It'll be a delight to discover in the morning that your cabin has some hidden provisions to help you start your day. Coffee and toast as you sit outside and hear nothing but birds and a breeze.
Sundays are a day of rest; for sleeping in, turning pages of a good book and strolling through farmers' markets, in particular, Kangaroo Valley's own ensemble of exquisite local produce and crafts. Not long after you'll say farewell to the cabin and to the countryside, we load up the ute's tray and coast towards the coast. It feels like the auto-equivalent of easing into a warm bath.
Heading east along Berry Mountain Road towards the ocean, pass high and low with incredible valley views along the way as you power towards the famous Berry Donut Van – a South Coast favourite that has been slinging hot cinnamon donuts since 1964.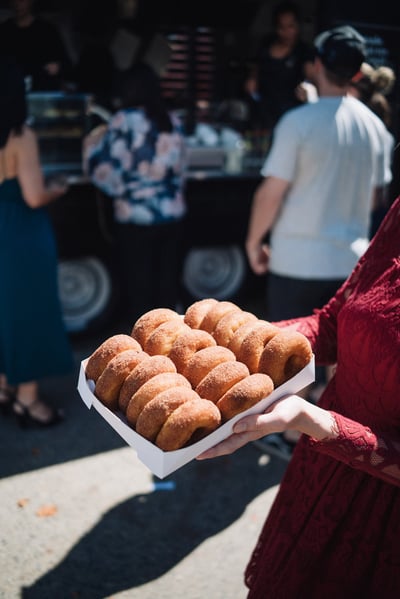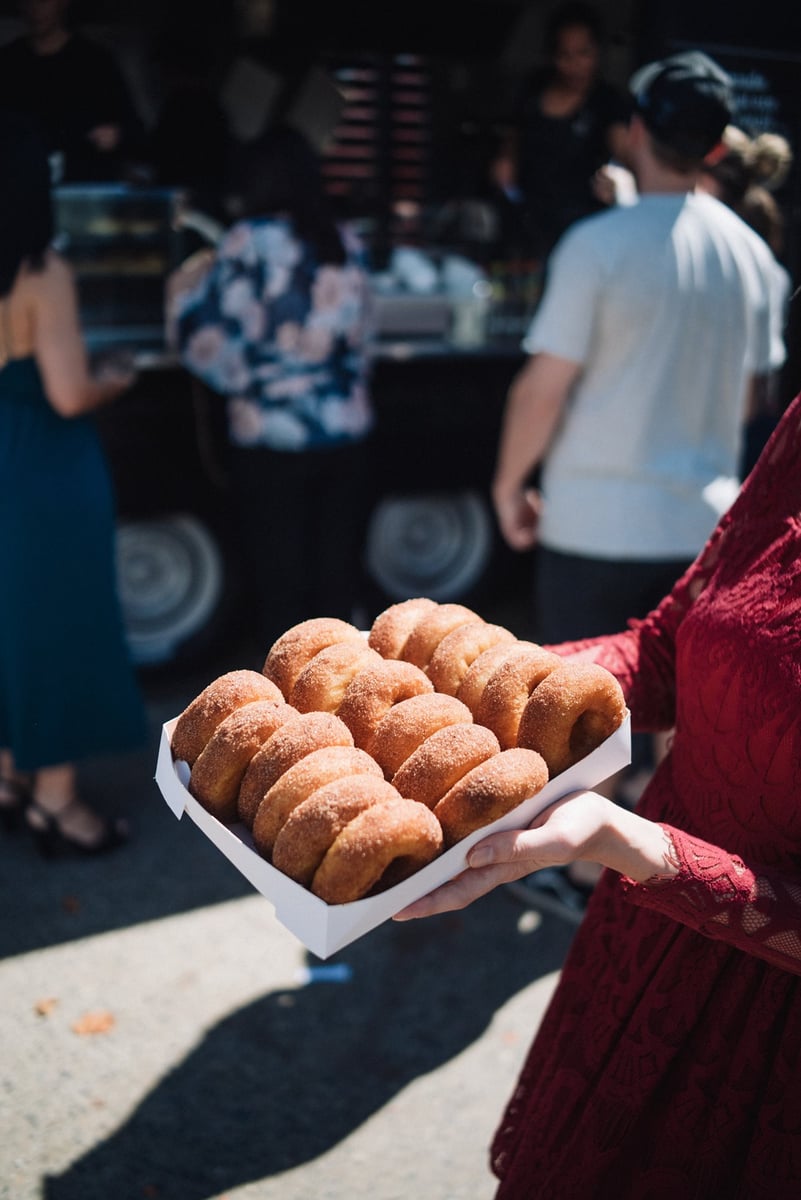 If waterfalls are the showstopper of rainforests, then blowholes are their ocean counterparts; just 20 minutes north of Berry, the coastal town of Kiama is home to the largest blowhole in the world, and it's not hard to spot as water shoots 30m into the air. The blowhole is also found along a 22km coastal walk, but you'll likely prefer to meander through town, ducking in and out of the terrace and sandstone shops that line Kiama's streets and grab an ice cream from Licked Gelateria. It's a little bit late-90's here in Kiama, and it's absolutely fabulous.
With the sun now packing a punch, and the blowhole teasing you with ocean spray, it's time for a dip before the journey home begins. This is the south coast after all, and a paddle in the ocean feels like the perfect ending to an all-time weekend. The Farm at Killalea Beach is one of the Illawarra region's most popular surfing spots, and it's rolling on-shore break makes for an easy-going surf before drying off and punching in 'home' on the sat nav.
This article is part of a series, proudly presented in partnership with the Brand-New Mazda BT-50. Thank you for supporting the brands who support Boss Hunting.