At the end of the day, all any of us are really working towards is that little slice of paradise to call our own. And this harbourfront Newport mansion – the award-winning 'Casa Paloma' formerly under the ownership of Jennifer Hawkins – offers just that. Complete with private access and intimate views of Pittwater.
"Unrivalled" in architectural design, owing its aesthetic to the acclaimed Koichi Takada, this property seamlessly blends the indoor with the outdoor to present something akin to a high-end resort.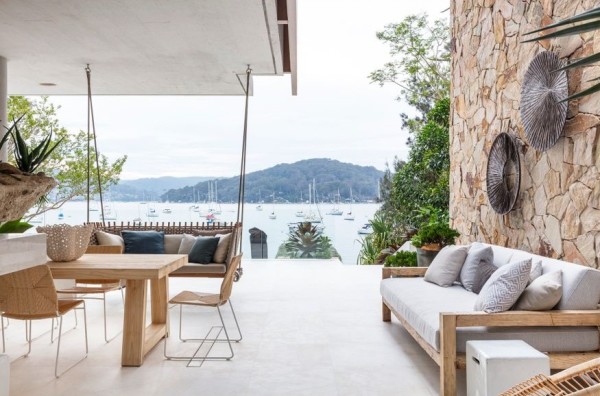 'Casa Paloma' holds five bedrooms, six bathrooms, and four garage spaces. Additionally, it showcases a temperature-controlled wine cellar with a capacity of 600 bottles, a "magnificent" Calacatta marble kitchen (as well as a butler's kitchen), home theatre, gym, and even a fully-integrated Sonos surround sound and smart home system.
The crown jewel of this property has got to be the alfresco area. With both Pittwater and Scotland Island practically at your doorstep, those who find themselves fortunate enough to stay here can take a load off with an outdoor bar, a pizza oven to throw on a quick feed, a heated pool, and a sunken lounge.
Just a little beyond the mansion's main limits, there's also quite a well-manicured lawn, a boathouse, slipway, and private beach to get back to basics.
A common critique people make about properties is how the activation of space can often render it daunting. Expansive space for the sake of expansive space. But what this Newport mansion does well is strike a balance between being upscale yet maximising relaxation.
To find out more about this 'Casa Paloma', head on over to realestate.com.au to find out more.
RELATED: On The Market This Week: The $12 Million Toorak Mansion On Some 'Thunderbirds' Shit
Images: Realestate.com.au