Microsoft sent aviation fans into meltdown at E3 yesterday by announcing its beloved Flight Simulator title would finally be arriving to Xbox this July. Before they even had the chance to calm themselves down using cold towels, smelling salts, and what-have-you, the Bill Gates-founded company decided to hit 'em with the old one-two combo by unveiling a devastatingly sexy simulator control rig produced alongside Turtle Beach: the VelocityOne Flight.
Enlisting the expertise of world-class aeronautical engineers and world-class pilots, both Microsoft and Turtle Beach have made their flight simulator gear debut in an exceedingly impressive fashion. Compatible with Windows 10, Xbox Series X | S, as well as Xbox One, if what we're being promised is even remotely true, players are set to experience immersion on the gaming mechanics front like never before. All you need after copping one of these bad boys is a big ass screen from Samsung.
RELATED: Set The Pace With This Ultra-Realistic Ferrari F1 Game Steering Wheel
---
---
Here are the key features of the Microsoft x Turtle Beach VelocityOne Flight simulator control rig:
Universal Design
"VelocityOne Flight includes everything you need to get off the ground. The throttle quadrant + dedicated trim wheel, and a realistic yoke + integrated rudder controls equips every home-pilot with a full suite of controls right out of the box. Plus, experience immersive audio and coordinate your flight through the integrated 3.5 mm headset audio jack."
Realistic Yoke Design
"True-to-life 180° yoke handle rotation tuned for smooth and precise adjustments of any aircraft. Built to last with a non-contact hall effect sensor in the yoke shaft, you'll have smooth control over long-term usage."
Modular Throttle Quadrant
"Dual lever and Vernier controls along with 10 programmable buttons and an integrated trim wheel provide a realistic experience for both light aircrafts and heavy jets. Customise your throttle controls with included custom lever handles to match your preferred aircraft."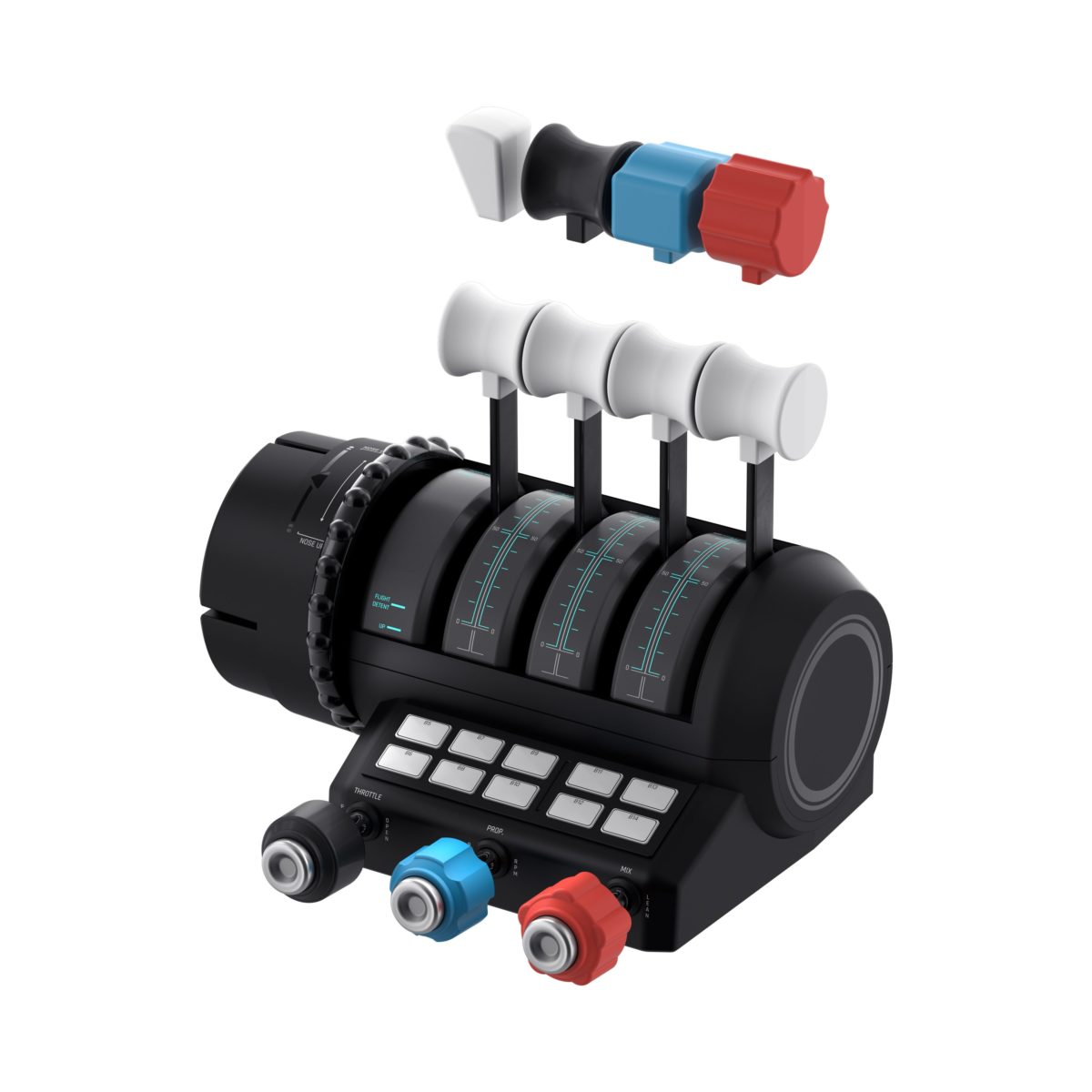 Integrated Rudder Controls
"Taxi, land, and turn with ease using integrated rudder controls and toe brake buttons at your fingertips. Execute coordinated turns in the sky with ease and stay straight during take-off and landing with dedicated rudder controls and make precise taxi manoeuvres with integrated brakes."
Comprehensive Controls
"Equipped with two POV and two HAT switches to toggle between multiple different camera views. 18 additional buttons included so you can navigate any aircraft in confidence and remap controls to your preference."
Status Indicator Panel
"Receive real-time status alerts and monitor essential cockpit, navigation and engine systems, as well as warnings. Customise the colour of the ambient light and swap between three different panels to fine-tune the cockpit to your liking."
Flight Management Display
"The full colour display with dedicated controls helps you learn and configure the system on-the-fly for Microsoft Flight Simulator. Easily switch between profiles for different aircrafts and use the training feature to familiarize yourself with each control so you spend less time on the tarmac, and more time in the air."
Microsoft x Turtle Beach's VelocityOne Flight control system will soon be available to pre-order for just US$349.95 (AU$455), scheduled to arrive something mid-to-late 2021 – hit the link below to sign up for a notification when that fateful day comes.