It's been six years since Grand Theft Auto V changed the face of gaming. Rockstar Games took things to the next level with the violent crime saga, allowing gamers to play as three different players across an enormous map with an intricate story that offered multiple endings.
The game's had an even longer shelf life thanks to GTA Online, with a slew of multiplayer options allowing players to team up and take on new challenges.
While GTA Online is solid fun, what fans are really salivating over is the next instalment in the long-running series. While Rockstar has kept hush on its plans, the internet is full of rumours regarding a new game, so we've collected the most plausible and ranked them.
---
---
RELATED: GTA 6 Could Be A Narcos-Inspired Bloodbath
1. A 2020/2021 release date
In December of last year, an unidentified designer took to Pastebin to leak details about a new console he'd been working on. In his post, he listed some of the specs regarding the console, and low and behold, some of those specs were confirmed by Sony this year when the PS5 was officially announced. The leak also explained the PS5 would be released in 2020 (which we know is true) and that GTA 6 would be one of the big games released towards the end of 2020/early 2021.
Considering Sony have confirmed the PS5 is coming at the end of next year, it's more likely than not GTA 6 will be one of the first titles to debut on the platform.
2. Rockstar's job listings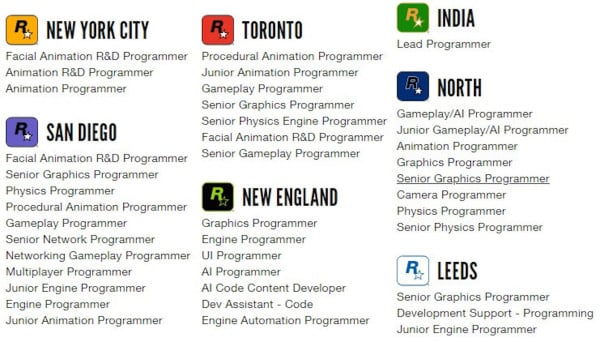 During January of this year, Rockstar advertised for a slew of jobs to help with a new project. The job description included the phrase, "Work with others to expand our next-generation graphics pipeline including advanced lighting and rendering techniques, and special effects," which sounds like the company are readying a game for the next-generation console.
Not only are Rockstar looking for new employees, but Scottish studio Ruffian Games recently put out the call for a host of designers and programmers to assist with an un-titled Rockstar project they are working. While it's true this could be for any game, considering Rockstar haven't shared any details about other projects they're working on, most believe these jobs are for GTA 6, with Ruffian Games recruited to help with the multiplayer side of things so the game is good to go soon after the PS5 launches.
We're #Hiring! https://t.co/W5YqjZODIJ

— Ruffian Games (@RuffianGames) October 11, 2019

---

---
3. The Cryptic 'Glassdoor' code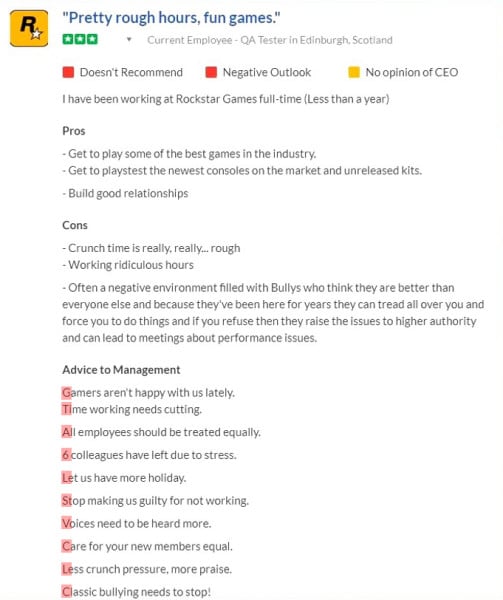 Glassdoor is a website that allows employees to leave reviews of their workplace. One person who had a tough time while working for Rockstar took to the platform to let their thoughts be known, also revealing a cryptic clue regarding the game they were working on.
While the unnamed employee complained about the long hours and negative environment, they also left an acrostic message in the advice to the management section. You'll notice if you alienate the first letter of every word it spells out "GTA6 LS VC LC".
Internet sleuths were quick to decipher the designer had been working on GTA 6, with the game set to feature three locations, Los Santos, Vice City and Liberty City. While most rumours hint at a new location setting for the game, is Rockstar is going all out and representing the three biggest and best locations in the next release?
4. Reddit users reveal intricate details
One of the biggest communities that makes up the internet, Reddit is home to thousands of rumours regarding video games, with one user providing some rather detailed information about GTA 6. While the user, who claims to have "reliable info from my source at Rockstar India", is no longer active, they provided quite a few nuggets of gold before the post was taken down.
Development started in 2018
Gameplay and mechanics will be similar to GTA 5 but much improved
Biggest map of the series
Vice City will be the main location
Set over a number of decades
Interactive weather system
The most interesting takeaway is the focus on Vice City and the game being set in different eras. If that's the case, here's hoping the game starts in '80s Vice City and progresses through to modern times with a decades-long Goodfellas type storyline.
5. Former employee confirms new GTA game
There's nothing worse than sending off your resume and then finding a spelling mistake, but have you ever listed a previous job that you've worked on that was meant to be top-secret?
According to Dexerto, that's what happened to one former Rockstar employee whose resume stated they helped "create concept vehicles matching with real-world for [GTA 5 DLC] and upcoming [GTA 6]."
---
---
Rockstar got word and the resume quickly disappeared, so fast that not even a screenshot exists. While the validity of this one is hard to confirm, it makes sense the owner of the resume would have deleted it due to a non-disclosure contract they most likely signed with Rockstar.
6. Is this the GTA 6 map?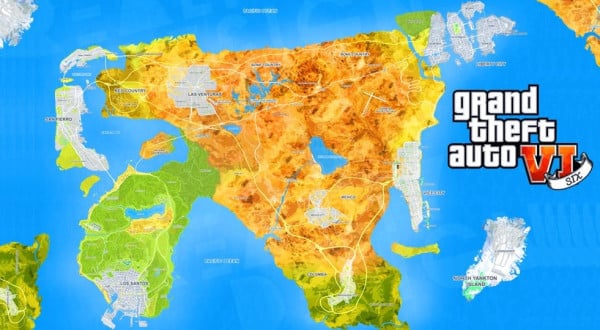 This one is a bit of a stab in the dark, but after working through all the leaks, one inventive designer took to GTA Forums and posted a map for what could possibly be GTA 6. The modified map almost resembles continental USA and consists of maps from GTA 3 (or GTA 4), Vice City, San Andreas and GTA 5. While user RealityDesign does state this is a "fictitious map", many of the leaks surrounding the new game discuss a large map and cities from previous titles, so there's a small chance we could get a map similar to this one – but that chance is small AF.
RELATED: GTA 6: All the news and rumours for Grand Theft Auto 6