2014 was one of the most diverse years in film on record, from biting satires such as Birdman and Nightcrawler, dramas like Whiplash and Boyhood, to big brand/product placement films receiving critical acclaim, al la The Lego Movie. 2015 looks set to be an even bigger year, with some huge names returning to the big screen. Here's our list of what's got us excited to hit Gold Class this year…
The Revenant
Director: Alejandro G. Inarritu Starring: Leonardo DiCaprio, Tom Hardy, Domhall Gleeson
Synopsis: The frontiersman, Hugh Glass, who in the 1820s set out on a path of vengeance against those who left him for dead after a bear mauling.
---
---
Fresh off his Oscar's success for Birdman, Inarritu reteams Leonardo DiCaprio and Tom Hardy for the first time since Inception. Based on the novel by Michael Punke, the film pits the two men against one another. Hardy plays one of the men who rips off DiCaprio's Hugh Glass and leaves him for dead. Setting the scene for an epic journey against nature's elements, wild animals, starvation, testing the human will, all in the name of bloody revenge.
Star Wars Episode VII – The Force Awakens
Director: J.J. Abrams Starring: Harrison Ford, Mark Hamill, Carrie Fisher, Oscar Isaac, Adam Driver, Andy Serkis, Domhall Gleeson, Lupita Nyong'o
Synopsis: A continuation of the saga created by George Lucas set thirty years after Star Wars: Episode VI – Return of the Jedi (1983)
Disney spent $4 Billion to acquire the franchise, so you can bet that they want to do it right. The original cast returns to help pass the baton on to the newcomers, including some impressive talent from the underrated Oscar Isaac to Girls star Adam Driver. J.J. Abrams successfully rebooted Star Trek a few years ago, and his other efforts, such as Super 8, echo early Spielberg Sci-Fi's.
Knight of Cups
Director: Terrence Malick Starring: Christian Bale, Cate Blanchett, Natalie Portman
Synopsis: A screenwriter living in LA tries to make sense of the strange events occurring around him.
---
---
The first of two films Malick has slated to be released this year and both with super casts, assuming they don't end up on the cutting room floor. After the critically acclaimed Tree Of Life, Malick received career worst reviews for his follow up, To The Wonder. However, judging from the trailer, this film looks much stronger as well as visually stunning. Pitting one of the greatest actors of his generation in Bale, against one of, if not the best actress of her generation in Blanchett. This looks to be a film about excess versus meaningfulness.
The Light Between Oceans
Director: Derek Cianfrance Starring: Michael Fassbender, Rachel Weisz
Synopsis: A lighthouse keeper and his wife living off the coast of Western Australia raise a baby they rescue from an adrift rowboat.
This could well be the year of Fassbender, with a number of films scheduled for release, and this being one of two possible Oscar contenders. Cast alongside the always excellent Rachel Weisz, and set just after World War 1, this film is even more exciting thanks to the presence of director Derek Cianfrance. Cianfrance is responsible for capturing some of Ryan Gosling's best performances, and just like the incredible Blue Velvet, he again has two incredibly strong leads to help bring this adaptation of the M.L. Stedman novel to life.
Steve Jobs
Director: Danny Boyle Starring: Michael Fassbender, Kate Winslet, Seth Rogan, Jeff Daniels
Synopsis: The story of the late visionary Apple founder's rise to prominence, told via three product launches representing three different periods in Jobs' life —the Mac, NeXT and the iPod.
Ashton Kutcher did his best as Steve Jobs, and thankfully that has now been forgotten.
---
---
After having a seemingly endless parade of talent circle this biopic, it is finally slated for release this year. Fassbender replaces Bale as Jobs (in his second Oscar baited role this year), while Seth Rogen attempts a more dramatic role than normal, playing co-founder Steve Wozniak. This film looks at the man behind some of the biggest inventions of this generation.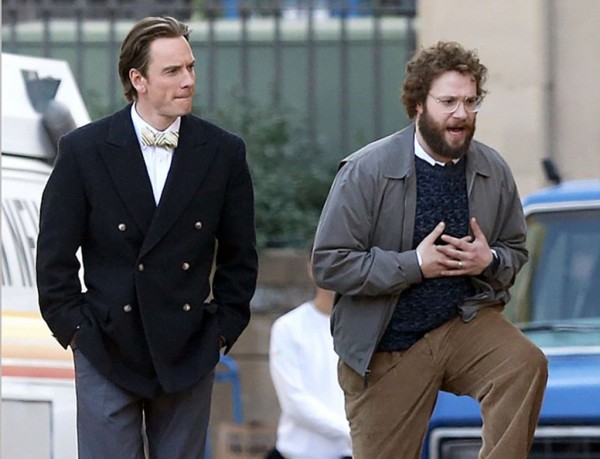 The Sea of Trees
Director: Gus Van Sant Starring: Matthew McConaughey, Ken Watanabe, Naomi Watts,
Synopsis: A suicidal American befriends a Japanese man lost in a forest near Mt. Fuji and the two search for a way out.
After his dark and thrilling work in True Detective, winning an Oscar for an incredible transformational performance, and a Christopher Nolan blockbuster, Matthew McConaughey teams with another great director for what promises to be a gripping film. Set in the haunting yet beautiful 'Suicide Forest' near Mt. Fuji, this promises to be a gripping tale lost hope leading to the rediscovery of life.
Legend
Director: Brian Helgeland – look at what he has written Starring: Tom Hardy, Tom Hardy, Emily Browning
Synopsis: Identical twin gangsters Ronald and Reginald Kray terrorize London during the 1950s and 1960s.
The film sees Tom Hardy playing identical twin brothers in 1950's and 60's London. The gangsters rose to prominence and were considered minor celebrities while owning nightclubs and rubbing shoulders with actual celebrities. While Helgeland's directing resume isn't exactly awash with hits, his CV as a writer includes L.A. Confidential, Man on Fire, and Mystic River. With one of the twins a suspected paranoid schizophrenic, Hardy's huge emotional range is expected to be on show. Also features a local talent in Melbourne born Emily Browning.
Hateful 8
Director: Quentin Tarantino Starring: Samuel L. Jackson, Kurt Russell, Michael Madsen, Bruce Dern, Channing Tatum, Jennifer Jason Leigh
---
---
Synopsis: In post-Civil War Wyoming, bounty hunters try to find shelter during a blizzard but get involved in a plot of betrayal and deception. Will they survive?
From the infamous script leak, leading to Tarantino shelving the script, only to bring it back after a successful table read, the road to production is like a metaphor for Tarantino's post Inglorious Basterds swirling narrative style. The intrigue is as high as ever with Tarantino, as he brings back many of the great character actors of his earlier films alongside new faces such as Channing Tatum, and veteran Bruce Dern.
Spectre
Director: Sam Mendes Starring: Daniel Craig, Christoph Waltz, Ralph Fiennes, Monica Bellucci, Ben Wishaw
Synopsis: A cryptic message from Bond's past sends him on a trail to uncover a sinister organisation. While M battles political forces to keep the secret service alive, Bond peels back the layers of deceit to reveal the terrible truth behind SPECTRE.
After decades of opting against big named directors, Skyfall became the highest grossing Bond film of all time thanks to Sam Mendes. With the long-standing court battle for rights over, the team behind Skyfall return with one of his greatest ever foes, Spectre. Craig suits up once more as 007, in the first direct continuation of the narrative since the disappointing Quantum of Solace. However in the hands of Mendes, and in more stable times than when the money fell out of Quantum, fans should expect another great Bond film to complement Skyfall.
Straight Outta Compton
Director: F. Gary Gary Starring: O'Shea Jackson Jr. Keith Stanfield, Jason Mitchell and Paul Giamatti
Synopsis: The group NWA emerges from the streets of Compton, California in the mid-1980s and revolutionizes pop culture with their music and tales about life in the hood.
---
---
Ice Cube is to be played by his son, and with the official backing of the surviving members of the band, this promises to be an in-depth look at one of the most influential musical acts of all time. Bringing the struggles of black American culture to the mainstream consciousness in a more visceral way than ever before, NWA pulled no punches during their reign at the top of the rap game. The prologue to the first trailer featuring Dr. Dre and Ice Cube draws parallels from their story to the current epidemic of police related shootings, giving a voice to those who have been oppressed by a system populated with whites.
Special mentions: Mojave, Grimsby, True Story, Demolition, Ex Machima, Joy, Black Mass, Beasts of No Nation, Macbeth.
[interaction id="55376cbba39598ff055fa9f3″]