We've spent many a night watching every mob flick under the sun to bring you our list of the best gangster movies of all time (arranged in chronological order).
Have we got it right?
The 16 Best Gangster Movies Of All Time:
---
---
Get Carter (1971)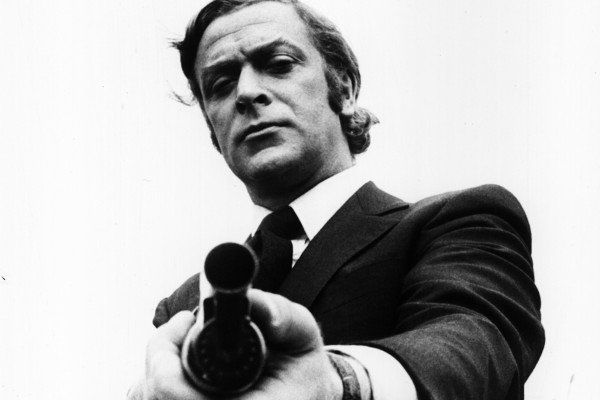 Based on the Ted Lewis' novel Jack's Return Home, this '70s gangster flick is a gritty tale of revenge that showed another side to British acting great Michael Caine. As London gangster Jack Carter, Caine returns home to Newcastle after the mysterious death of his brother. Against the wishes of the crime syndicate he works for, Carter uses violence as his main method to uncover what really happened to him.
Caine has never been better as the hardened crim who doesn't give a shit about anyone but himself, rampaging his way through the streets of Newcastle handing out beatings to anyone who gets in his way. The story takes some dark and violent turns before a surprise ending nobody could have seen coming. A stone-cold classic that still stands up against the best gangster films of the modern era.
Fun fact: The shotgun Carter carries around throughout the film is actually never fired.
The Godfather (1972)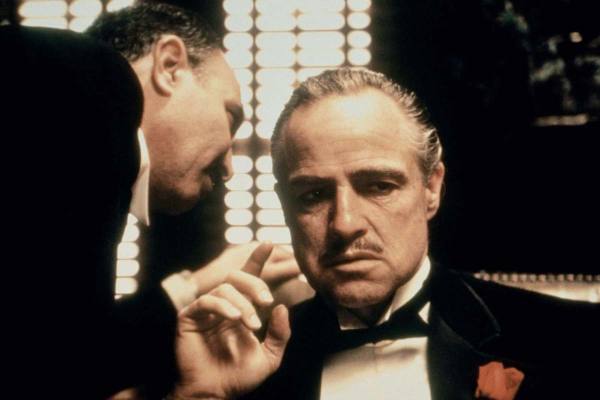 Of course, no best gangster movies list is complete without paying obligatory tribute to this pick. Francis Ford Coppola's mafia epic remains not only one of the greatest mob films of all time, but one of the greatest films ever made. Chronicling a 10-year period, The Godfather focuses on the Corleone family, specifically the head of the family Don Vito Corleone (an incredible Marlon Brando) and his three sons, Sonny (James Cann), Fredo (John Cazale) and Michael (Al Pacino).
Brando is at the top of his game while Pacino is breathtaking as war hero Michael who returns home and unintentionally gets involved in the family business. This film set the tone for mafia films to come, winning 'Best Picture', 'Best Adapted Screenplay' and 'Best Actor' (Brando) at the 45th Academy Awards.
Fun fact: Marlon Brando refused to memorise his lines and read from key cards.
---
---
The Godfather: Part II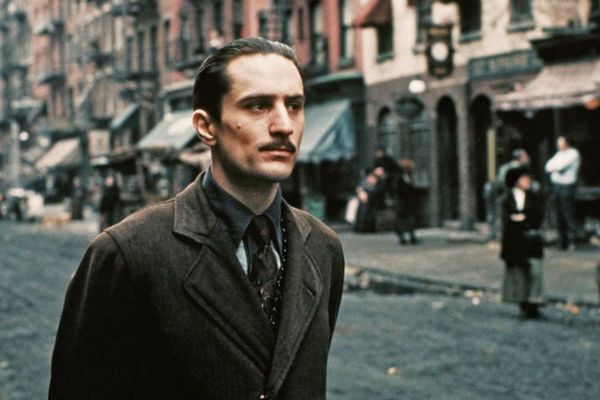 Along with Star Wars: The Empire Strikes Back, Aliens and Terminator 2: Judgement Day, The Godfather: Part II is a sequel on par with the original. In a masterstroke, the film works as both a prequel and sequel, following Don Michael Corleone (Al Pacino) after an assassination attempt on his life as he tries to solidify his business interests and go legit, while also going back to the early 1900s to witness a young Vito Corleone (Robert De Niro) start life anew in America and begin his ascent up the criminal totem pole.
Both Pacino and De Niro are outstanding with Francis Ford Coppola directing from a beautifully written script he co-wrote with author Mario Puzo. The winner of six Academy Awards, The Godfather: Part II remains a crime classic.
Fun fact: Robert De Niro only speaks eight words of English during the film's 200-minute runtime.
The Long Good Friday (1980)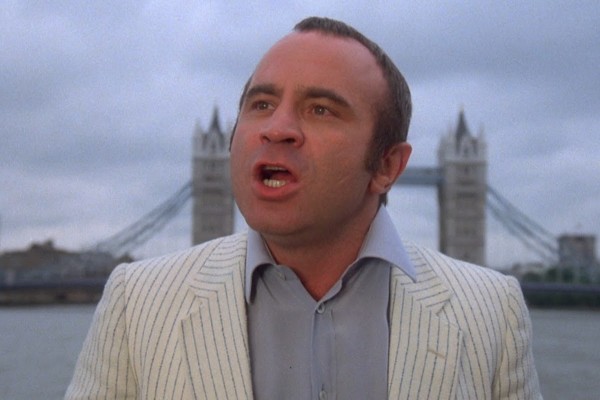 An underrated gem, The Long Good Friday stars Bob Hoskins as cockney crime boss Harold Shand. Hoping to go into partnership with the American mafia, his dreams go up in smoke during Good Friday as an unknown enemy begins taking out his men and businesses.
A classic English gangster flick with Hoskins in incredible form, this thrilling tale has the right amount of action and intrigue to keep even casual movie fans interested. Weaving political collusion with police corruption and the IRA, The Long Good Friday helped turn Hoskins into a star and showed the English could do gangster flicks just as well as the Yanks.
Fun fact: The first film credited to future James Bond, Pierce Bronson.
---
---
Scarface (1983)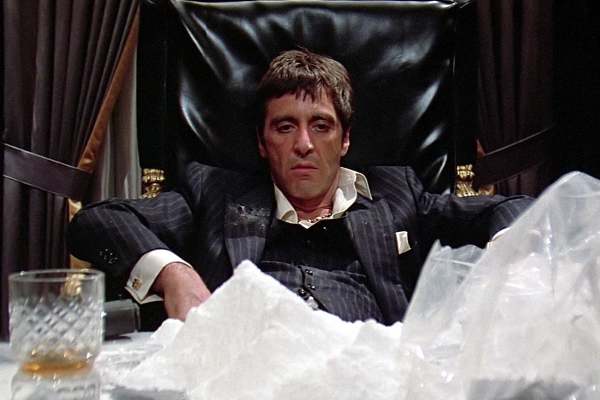 Initially savaged by critics for its liberal use of violence, drugs and profanity, Scarface is now considered a masterpiece. Al Pacino is mesmerising in the role of Tony Montana, a Cuban refugee who believes the world owes him everything. Using violence and street smarts to get in on the drug trade, Montana cheats, lies and murders his way to the top.
Scarface follows the rise and fall of Montana and his drug empire, with Pacino turning in one of his greatest performances as the paranoid, drug fulled coke kingpin. Brian De Palma's direction brings Oliver Stone's grimy script to life with electronic producer Giorgio Moroder's soundtrack embodying the excess of the '80s.
Fun fact: Tony Montana is only called Scarface once during the film, and when it happens, it's in Spanish.
The Untouchables (1987)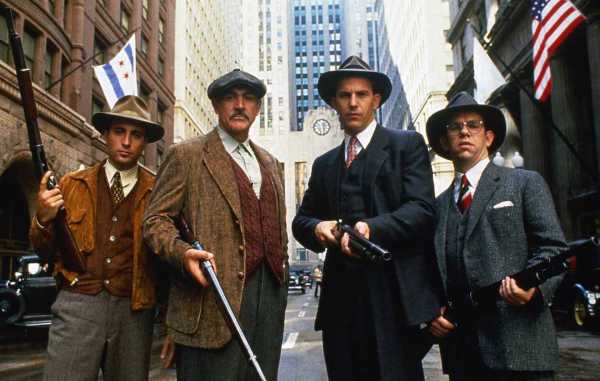 Based on the book of the same name, the Brian De Palma directed The Untouchables tells the story of how Al Capone finally got taken down by American Prohibition Agent Elliot Ness.
De Palma captures the feel of 1930's Chicago incredibly well, with a fantastic script by David Mamet fleshing out the leads and delving into the lives of those trying to take Capone down. Kevin Costner as Elliot Ness and Sean Connery as Jim Malone (who also won an Oscar for 'Best Supporting Actor') are great, but it's Robert De Niro as the posturing Capone who steals every scene he's in.
Fun Fact: Robert De Niro tracked down Al Capone's original tailors and got them to make the suits he wore during the film to add a touch of authenticity to his performance.
---
---
The King Of New York (1990)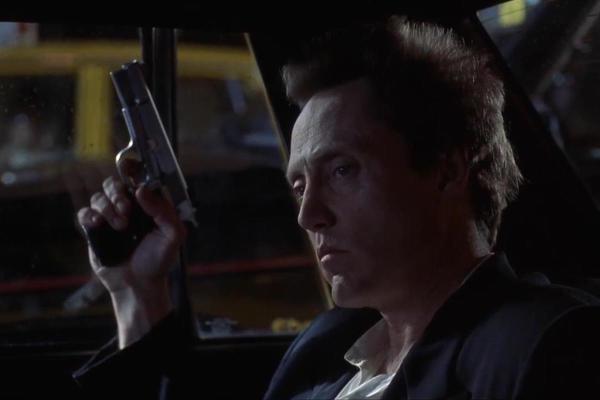 King Of New York is controversial director Abel Ferrara's take on the gangster genre, with Christopher Walken in career-best form as Frank White, a recently released drug lord looking to reassert his authority on New York.
This violent and dark film is the perfect vehicle for Walken to unleash his charisma on the big screen. He's ably supported by a colourful cast of character actors (Laurence Fishburne, David Caruso, Wesley Snipes, Giancarlo Esposito, Steve Buscemi) in a film that never apologies for the murder and mayhem that unfolds.
Fun fact: Abel Ferrara claims Wesley Snipes was living in his car during production of this film.
RELATED: History's 10 best heist films of all time

Goodfellas (1990)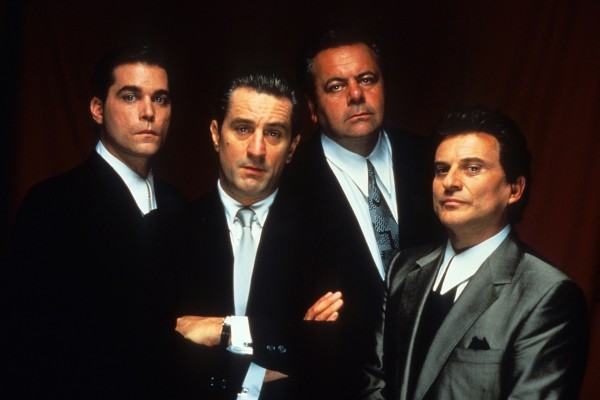 If you haven't seen Goodfellas can you really call yourself a film buff? Based on a real-life series of events, Scorsese's gangster epic follows the rise of Henry Hill (Ray Liotta in a star-making turn) through the ranks of the mob as he's guided by fellow criminals James "Jimmy the Gent" Conway (Robert De Niro) and Tommy DeVito (Joe Pesci).
Revered amongst critics and loved by cinema fans, Goodfellas is a stylish flick featuring one of the all-time great tracking shots as we follow Hill through the Copacabana nightclub. The use of music plays a huge role in the film, with Eric Clapton's "Layla" never sounding the same again and the interplay between the three leads spectacular. An all-time classic.
---
---
Fun fact: The word fuck and its derivatives are used 321 times, almost half of them by Joe Pesci.
New Jack City (1991)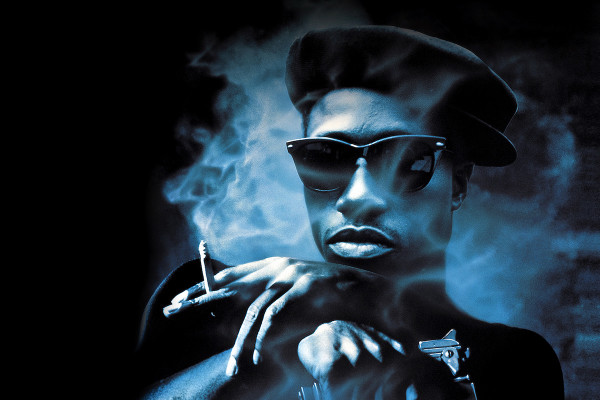 New Jack City could've been just another blaxploitation film if not for a tight script, focused directing from Mario Van Peebles (who also co-stars) and an all-star cast that helped push this film into the cultural zeitgeist.
Wesley Snipes proves he can act as Nino Brown, a rising drug lord taking advantage of New York's crack epidemic whose organisation is infiltrated by Ice-T's undercover cop. This is a violent film that never shies away from the negative impact drugs have on society while also highlighting there are no winners in the fight against drugs, no matter what side you're on.
Fun fact: The highest-grossing independent feature of 1991.
Boyz N Da Hood (1991)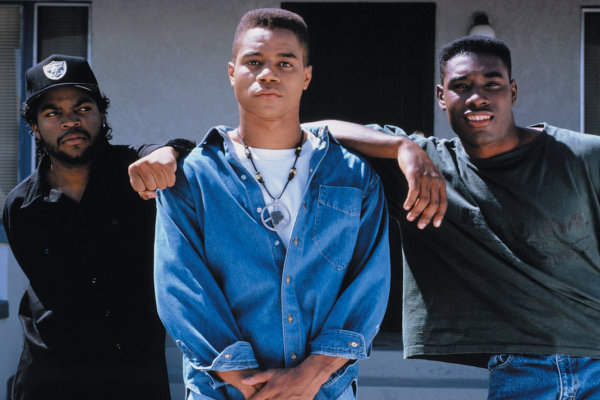 If New Jack City painted a bleak picture about American drug culture in the ghettos of New York, Boyz N Da Hood did the same for gang culture in crime-riddled Los Angeles. This coming of age drama made Cuba Gooding Jr. a star and gave Ice Cube a new career direction.
Director John Singleton brings the bleakness of street life to the masses with this realistic portrayal of three life long friends trying to escape poverty through drugs, football scholarships and college education. Tragedy ensures and forces Gooding Jr.'s Tre to decide between a path of violence or one of hope. The ultimate gang banging movie with a moving a message.
---
---
Fun fact: Ice Cube owns the gold Chevrolet Impala that his character drives in the movie.
Carlito's Way (1993)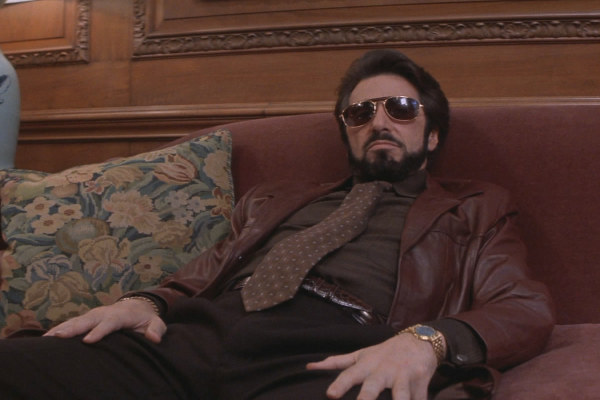 A personal favourite, Carlito's Way sees director Brian De Palma (the third film directed by him on this list) reunite with Al Pacino for a film about a crook trying to go straight. Pacino stars as the titular Carlito Brigante, recently released from prison and trying to get his life back on track by buying into a nightclub. Carlito hopes to make $75,000 and split with his stripper girlfriend but his coked-up lawyer Dave Kleinfeld (an extraordinary Sean Penn) gets him mixed up in some dodgy dealings and he soon finds himself dragged back into the underworld.
Similar to Scarface, the film was savaged on release but eventually became a cult classic, with the likes of John Leguizamo, Luis Guzman, Penelope Ann Miller and a then-unknown Viggo Mortenson filling out a fantastic ensemble cast.
Fun fact: Al Pacino played professional pool in Nevada for a month to prepare for his pool playing scene.
Pulp Fiction (1994)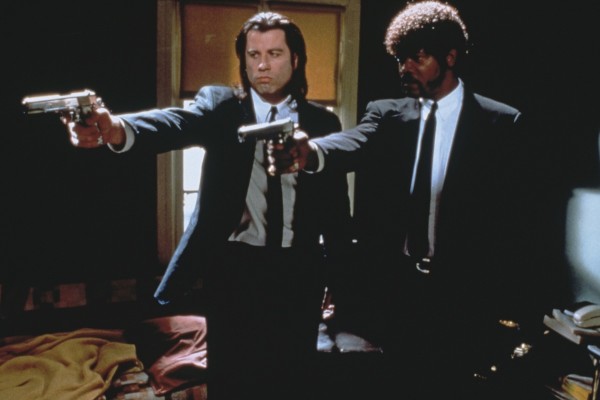 While not my favourite Quentin Tarantino flick (Reservoir Dogs for mine) it's hard to look past the impact his sophomore effort Pulp Fiction had on the wider film community. At its purest, Tarantino's script is a collection of scenes with characters discussing everyday things, something I swear Jerry Seinfeld ripped off for his show about nothing.
What the film did is introduce audiences to non-linear plots, resurrected the career of John Travolta, used classic songs to great effect and inspired countless ripoffs that failed to harness the magic of Tarantino's engaging script. Smart, funny, violent and above all entertaining, Pulp Fiction solidified Tarantino as one of the great directors of the modern generation.
Fun fact: John Travolta got plastered on tequila and sat in a hot tub to get the feeling of being on heroin.
Casino (1995)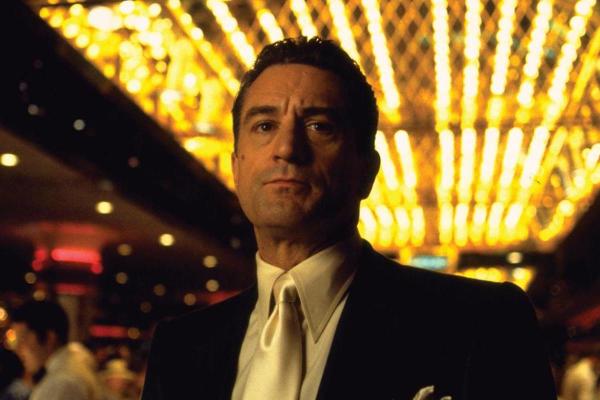 Five years after wowing audiences with Goodfellas, Martin Scorsese, Robert De Niro and Joe Pesci reunited for another gangster flick, this time set in the mob-run Las Vegas of the '70s.
Coming in at nearly three hours in length, Casino follows Sam "Ace" Rothstein (Robert De Niro) who's asked by the Chicago mob to oversee the Tangiers Casino in Las Vegas. While there, he falls for hustler Ginger McKenna (Sharon Stone) and must deal with the arrival of his violence-prone, made-man friend Nicholas "Nicky" Santoro (Joe Pesci).
Like all Scorsese films, Casino features a phenomenal script with great dialogue, gorgeous cinematography, bursts of sudden violence, a dynamic soundtrack and outstanding performances from all its leads, in particular, Pesci and Stone, with Stone winning a Golden Globe for 'Best Actress' in a motion picture. Another Scorsese masterpiece.
Fun fact: Most of the conversations between De Niro and Pesci were improvised, with Scorsese giving them a starting and ending point.
Lock, Stock And Two Smoking Barrels (1998)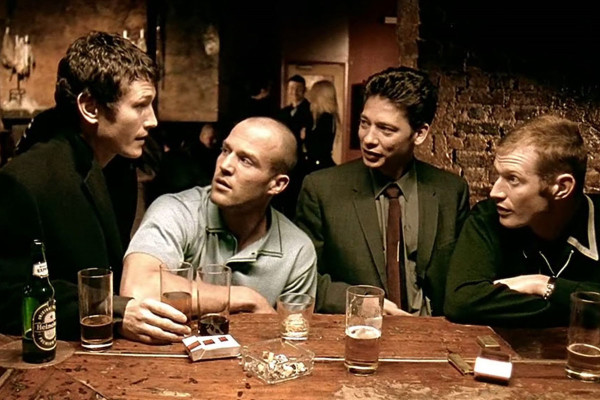 Guy Ritchie announced himself as one to watch with his directorial debut Lock, Stock And Two Smoking Barrels. Best described as a British Pulp Fiction, the film was well-received by critics and went on to win a number of awards.
Focusing on four lads who need to repay a gambling debt in one week, the film intertwines a number of subplots involving marijuana sellers, gangsters, antique shotguns and a violent criminal gang. The colourful cast of characters includes Jason Statham in his first role as Bacon and ex-football hard-nut Vinnie Jones as debt collector Big Chris.
Fun fact: Sting plays JD, Eddie's dad and owner of the bar the lads hang out in.
Snatch (2000)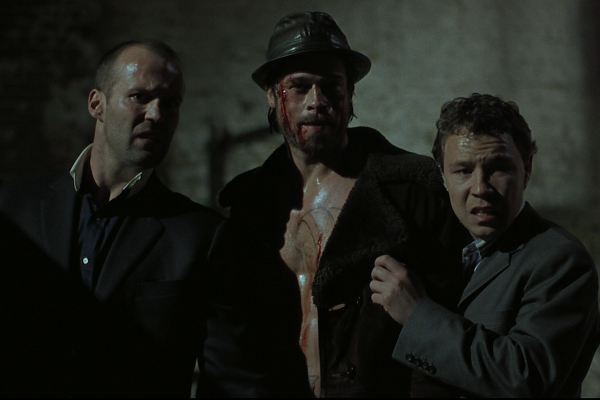 After wowing audiences with Lock, Stock And Two Smoking Barrels, Guy Ritchie went global with the release of follow-up Snatch. Another crime caper, this time centring around a stolen diamond, Snatch ups the ante with a bigger cast and budget, resulting in one of the best films of the past two decades.
Jason Statham returns, this time as boxing promoter Turkish, and is joined by Brad Pitt's bare-knuckle brawler Mickey O'Neil, Benicio Del Toro's thief Franky "Four Fingers", Vinnie Jones' bounty hunter Bullet-Tooth Tony and a whole host of interesting and diverse characters. Visually similar to his first flick and featuring a remarkable soundtrack, Snatch showcases Ritchie's artistic flair and remains his magnum opus.
Fun fact: The production apparently spent $1 million for the use of Madonna's "Lucky Star."
The Departed (2006)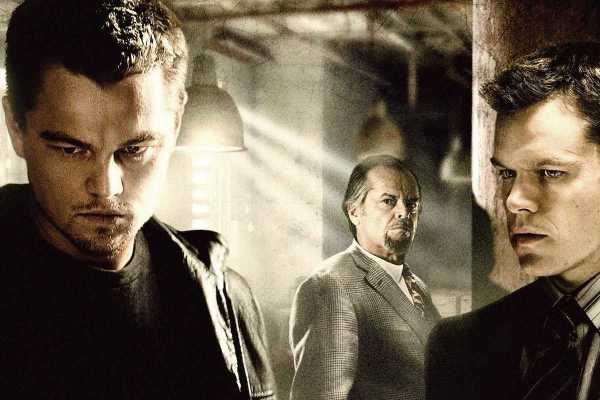 It's not often remakes are as good as the original but that's the case with Martin Scorsese's take on Hong Kong gem Infernal Affairs. Leonardo DiCaprio and Matt Damon headline an all-star cast in this thrilling crime drama about undercover cop William "Billy" Costigan (DiCaprio) infiltrating the mob and police officer Colin Sullivan (Damon) who's working for local criminal kingpin Francis "Frank" Costello (a scene-stealing Jack Nicholson). A cat and mouse chase ensues as Costigan and Sullivan try and work out the identity of each before they are found out.
Along with DiCaprio, Damon and Nicholson, the cast runs deep with Martin Sheen, Ray Winstone, Alec Baldwin, Vera Farmiga and a surprisingly good Mark Wahlberg all helping this flick go on to win four Oscars. The Departed marks another notch in Scorsese's directing belt and is rightly heralded as a modern classic.
Fun fact: Martin Scorsese was unaware the film was a remake until after he signed on to direct.