If there are two things we can't get enough of from Hollywood, it's Brad Pitt and a good old fashioned racing movie. Throw in a director like Joseph Kosinski (Tron: Legacy, Top Gun: Maverick)… a veteran producer like Jerry Bruckheimer (also both Top Gun flicks; plus way too many flicks to list)… just for good measure, let's get seven-time Formula 1 world champion Sir Lewis Hamilton involved (side note: bet you never thought he'd ever collab with Brad Pitt)… and you've got yourself a winning combination. Unsurprisingly, such a project has instigated a fight-to-the-death between every major studio and streamer.
According to The Hollywood Reporter, everyone from Paramount, Sony, Universal, MGM, Disney, to the relatively new kids on the block like Netflix, Amazon, and Apple were breaking out their war chests for this one. Currently, sources indicate Apple is in pole position for the joint, engaging in exclusive negotiations for its first "big film package" of 2022. Fun fact, Apple has also secured another package that will see Pitt star alongside Ocean's trilogy + Burn After Reading co-star and real-life mate George Clooney as rival "lone-wolf fixers assigned on the same job" – written, directed, and produced by Jon Watts (Tom Holland Spider-Man trilogy).

What's even more bewildering: despite all the hype, which is now spilling out from behind closed doors onto the internet – we still don't really know a whole lot about it. Aside from the talent listed above, of course, a rumoured budget of US$130 million to US$140 million / AU$180 million to AU$195 million; in addition to the fact screenwriter Ehren Kruger (Reindeer Games, The Ring, and – get this – also Top Gun: Maverick) has been tapped to pen the story, plus a vague story outline courtesy of Deadline:
Brad Pitt [plays] a racer who comes out of retirement to mentor a younger driver and take his final stab at glory on the track as the younger driver's teammate.
RELATED: George Clooney & Brad Pitt Are Reuniting For A New Thriller Movie
---
---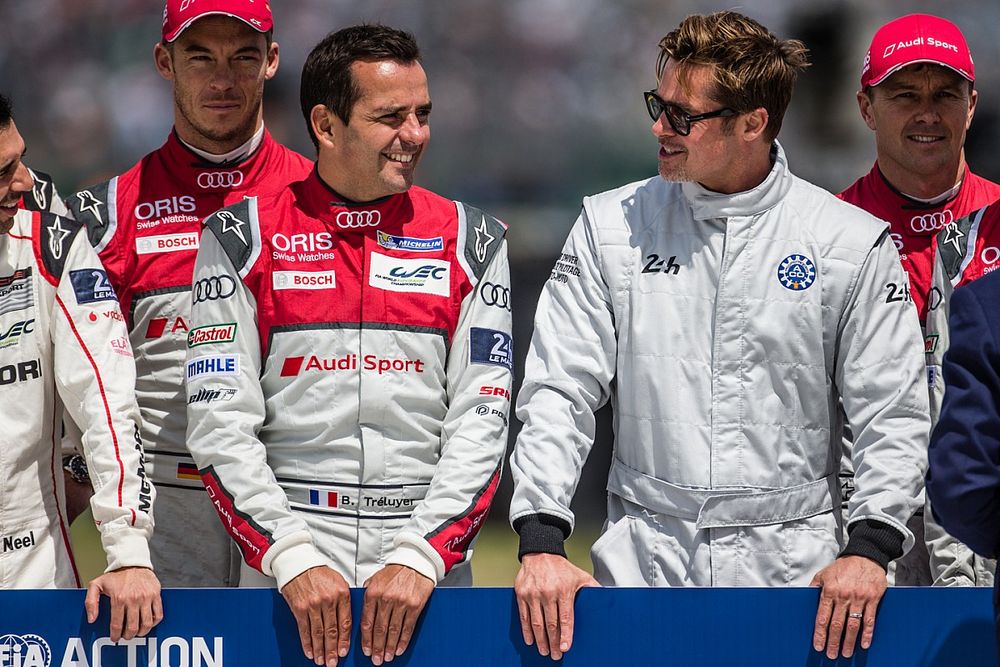 As you will have probably guessed, Brad Pitt is attached to star in said Formula 1 racing movie, although it's unclear where Lewis Hamilton fits into this whole jigsaw puzzle, i.e. as a producer or for an onscreen role. The Mercedes F1 superstar has previously produced the likes of Cars 2, Cars 3, Zoolander 2, and at one stage, was apparently offered an acting role in Kosinski's Top Gun: Maverick (which explains the connection here).
"I was trying to get in Top Gun because I'm a massive fan… I had an opportunity to do it and I couldn't do it. I didn't have time to do any filming," Lewis Hamilton previously revealed.
But apart from the odd cameo, Hamilton has never acted seriously. Though that isn't exactly deterring him from pursuing the arts, nor is his insanely busy calendar. At one stage, he was taking the entire endeavour quite seriously. Even going so far as to enlist the services of an entertainment agent and seek out an acting coach.
RELATED: Brad Pitt Did 95% Of His Own Stunts In Upcoming Action Flick 'Bullet Train'
"I auditioned for a movie a while ago and it took one day to learn the role. I had a fashion show in Paris and I probably had maybe four or five shows to go to, so in between."
"I quickly changed and saw this [acting] coach, and I saw her for twenty minutes, and we quickly went through one part. And then I went to a show and came back and went through another part."
"It's super heavy-loaded and I'm trying to take days out to give myself some time back, so I can be the best that I can be here [in the Formula 1]. So it is just trying to find a balance."
---
---
This isn't exactly the first time Brad Pitt has dealt with director Joseph Kosinski, either – nor is it their first attempt at making a racing movie (the first occasion being unrelated to Formula 1). Almost a decade ago, back in 2013, the two were working on a project titled Go Like Hell with none other than Tom Cruise. Joey K clearly likes to collaborate with the same people. Eventually, Go Like Hell would fall apart before later becoming James Mangold's Ford v Ferrari starring Matt Damon as Carroll Shelby and Christian Bale as Ken Miles.
Keep your eyes out for this bad boy. We have a feeling it'll be a proper ripsnorter.