After years of speculation – 16 years in fact – Bad Boys 3 is finally happening. Stars Will Smith and Martin Lawrence are reuniting for the long-awaited third instalment in the franchise, currently titled 'Bad Boys For Life.' The film will follow Smith's playboy detective Mike Lowrey and Lawerence's family man cop Marcus Burnett as they work an unexpected case for the Miami Police Department.
While the details are still sketchy about what to expect from the plotline, we've spent the last few hours trawling the internet to bring together everything you need to know about Bad Boys 3.
Will Smith and Martin Lawrence are back – confirmed
A Bad Boys sequel without either of these two just wouldn't be a Bad Boys sequel, so the two stars took to Instagram last November to officially declare their involvement in the project. An overly excited Smith continues to scream, "It's official, Bad Boys 3 is happening, it's official," while Lawerence laughs in the background.
---
---
Adil El Arbi & Bilall Fallah are directing
While neither of these two gentlemen are household names just yet, they must be doing something right to score a gig like this. Having previously directed the crime drama Black and having also worked on the FX series Snowfall, big things are expected from the duo. With producer Jerry Bruckheimer in their corner and a capable cast, I think the franchise is in good hands with these two, especially as they've been attached to the rumoured Beverly Hills Cop 4.
Jacob Scipio is the main villain…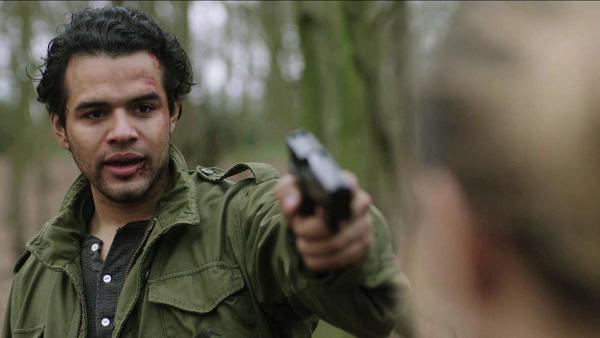 Like the two directors, Jacob Scipio isn't a high profile name but the British actor must have impressed someone, securing the role of Armando Armas, the head of a drug cartel who come up against Smith and Lawerence. Mexican actress Paola Nuñez has been cast in a major role, playing Lowrey's former girlfriend who is now head of the Miami Police Department's elite AMMO unit.
---
---
Scipio and Nuñez aren't the only new faces to appear, with Vanessa Hudgens (High School Musical), Alexander Ludwig (Vikings) and Charles Melton (Riverdale) set to play the trio of agents who make up the AMMO unit.
Joe Pantoliano returns as the always frustrated Captain Howard, adding some much need continuity to the film.
…and DJ Khaled is playing an unknown character
Yes, you read that correctly. Social media influencer and sometimes producer DJ Khaled has managed to score himself a role. Expect a lot of lines like "Bless up" and "Don't play yourself" from the prolific Snapchatter. It's also been 'confirmed' that Latin American reggaeton star Nicky Jam will feature also.
---
---
The plot involves drug dealers and assassination attempts
The official synopsis for Bad Boys For Life concerns Miami PD and its elite AMMO team, headed by Nuñez's character, attempting to take down Scipio's villain by the name of Armando Armas, who has been sent by his mother to kill Mike Lowery.
The films will focus on Smith and Lawerence's old cop dynamic who must team up with the elite AMMO team to take down cunning cartel head Armas. You should expect epic gun battles, a wisecracking Lawrence and explosive action set pieces. Fingers crossed.
Filming has started
Filming of the threequel officially began on January 14, with Smith taking to Instagram to confirm shooting was underway. Smith also revealed he and Lawrence rewatched the first two films the night before shooting to get themselves reacquainted with their characters.
---
---
Expect a 2020 release date
Despite the filming set to wrap in a couple of months and post-production to follow soon after, fans shouldn't get their hopes up for a Bad Boys 3 in their cinemas this year. The film is slated for release sometime in the first half of next year, although you can expect a trailer to drop over during the tail end of the American summer. Stay tuned, and in the meantime, enjoy one of the best scenes in cinematic history below.