This week sees the Australian opening of Steven McQueen's much-anticipated heist flick Widows. Already gaining rave reviews from American critics (Roger Ebert's site gave it 4/4), the film centres on four women who attempt a robbery to pay back a crime boss after their criminal husbands are killed during a botched heist.
The film looks brilliant and stars Viola Davis, Michelle Rodriguez, Liam Neeson, Jon Bernthal, Colin Farrell and Robert Duvall, and if you haven't seen the trailer I urge you to give it a watch here.
In the lead up to the release, we've compiled a list of the 10 best heist films (in chronological order) to watch in preparation for Widows. Do you agree with our choices?
---
---
The Killing (1956)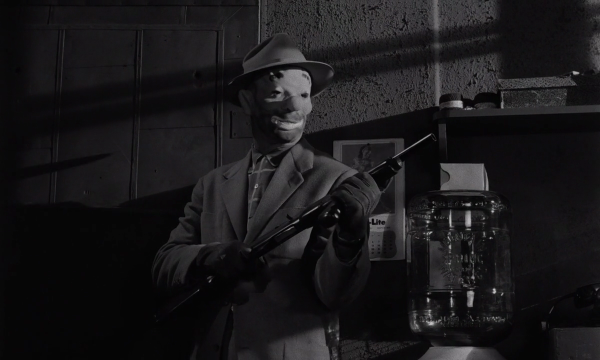 Based on Lionel White's fantastic novel Clean Break, The Killing is Stanley Kubrick's mainstream debut as a director and a masterclass of what was to come from the man. A film noir about a $2 million racetrack hold up with a non-linear structure a certain Quentin Tarantino would later rip off, The Killing fared poorly at the box office when first released but has garnered critical acclaim over the years. Thanks to its gritty dialogue, superb acting and tension-filled scenes The Killing is now considered a classic of the genre.
Fun fact: Kubrick took no fee as director.
Thief (1981)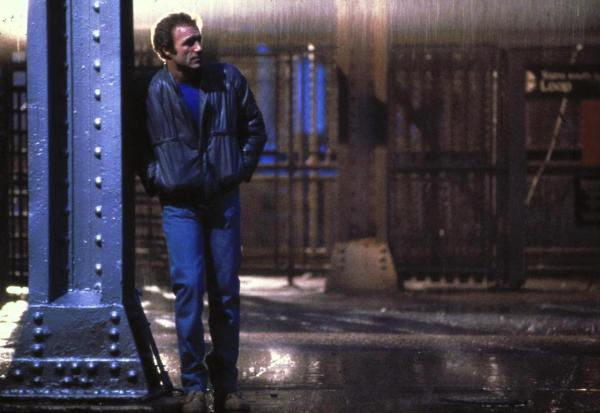 Micheal Mann loves the underworld and Thief is another excellent film from the acclaimed director. The heist film follows James Cann's safecracker Frank as he attempts one last job before retiring. As is the case with many of these "one more job" crime capers, things don't go to plan and Frank finds himself in trouble with the Chicago mob.
This is Cann's best role since The Godfather and an early look at Mann's talent as a director. The soundtrack by German electronic act Tangerine Dream is bloody amazing and suits the gritty feel felt throughout Thief.
Fun fact: The heist film debuts Jim Belushi, Dennis Farina and William Peterson.
The Italian Job (1969)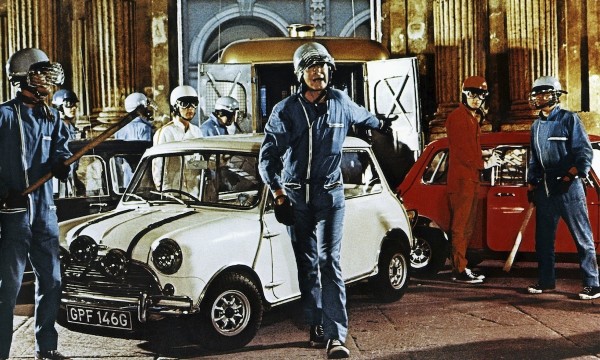 No, not the painful Marky Mark remake but the British original starring a charming Michael Caine as crim Charlie Corker. Recently released from prison, Corker assembles a crew for a job in Italy that involves stealing $4 million in gold bars.
The Italian Job is a mixture of comedy and action, with the final car chase through the streets of Turin an absolute joy to watch. Who knew Mini Cooper's could provide so much fun?
---
---
Fun fact: Michael Caine didn't know how to drive before filming.
Point Break (1991)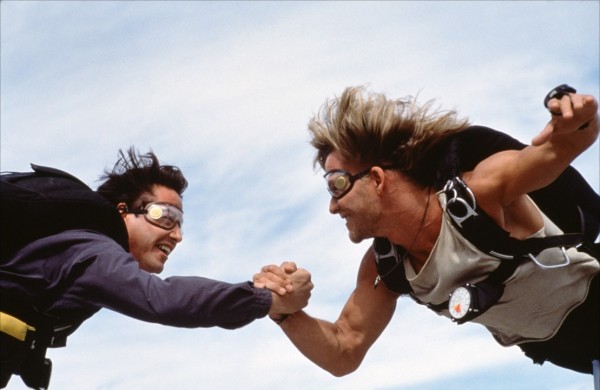 Nestled in my top 10 films of all time, Point Break is a cinematic masterpiece that laid the foundation for the Fast & Furious franchise and helped make Keanu Reeves a viable movie star. Reeves plays the hilariously named detective Johnny Utah who goes undercover as a surfer to infiltrate an extreme sports-loving gang of bank robbers known as the "Ex Presidents," led by Partick Swayze's Zen master Bodhi.
Although a little dated this heist film has it all; from Kathryn Bigelow's frenetic direction and immersive action set pieces through to star turns from both leads and an engaging Gary Busey as Reeves' hotdog-loving FBI Agent partner Angelo Pappas.
Fun fact: Red Hot Chili Peppers' Anthony Kiedis cameos as rival surfer Tone.
Reservoir Dogs (1992)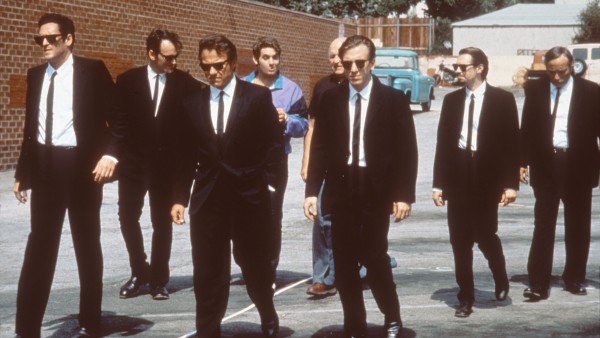 Video store clerk turned screenwriter and director Quentin Tarantino burst onto the scene with Reservoir Dogs and announced himself to the world as a sublime talent. A non-linear story following a group of criminals after a robbery, Reservoir Dogs is trademark Tarantino featuring pop culture references, a 70's soundtrack and extreme moments of violence.
The main cast (Harvey Keitel, Tim Roth, Steve Buscemi, Micheal Madsen, Chris Penn, Lawrence Tierney, Edward Bunker and an overacting Tarantino) play their roles to perfection and the final Mexican shootout is one for the ages.
Fun fact: James Woods was Tarantino's original choice to play Mr. Orange.
Heat (1995)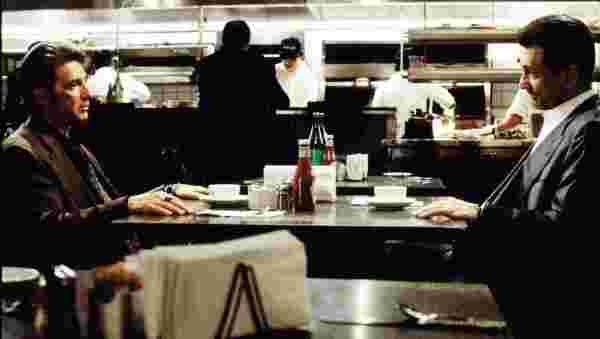 Not only is Heat a classic crime film but hands down one of the greatest movies of all-time. While people always talk about the diner scene between Robert De Niro's career criminal Neil McCauley and Al Pacino's over-the-top Lt. Vincent Hanna, it's Michael Mann's tight script and mesmerising direction that makes this film so watchable.
---
---
The final shootout is intense, the characters complex and the supporting cast (Val Kilmer, Ashley Judd, Tom Sizemore, Danny Trejo, William Fichtner and more) unbelievable, helping create a masterpiece Mann is yet to better.
Fun fact: A subplot involving Al Pacino's Vincent Hanna's cocaine addiction was cut at the last minute.
The Usual Suspects (1995)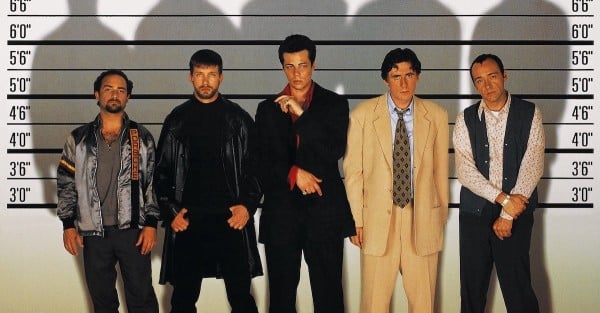 Few films end with such an amazing twist as Bryan Singer's directorial debut The Usual Suspects. A group of criminals are forced to undertake a robbery by mysterious crime boss Keyser Sose who they unintentionally ripped off during a previous heist.
The colourful cast (Gabriel Byrne, Stephen Baldwin, Benicio Del Toro and Kevin Spacey) is wonderful and the astonishing ending still watchable after all these years.
Fun fact: The word 'fuck' and its derivatives are used 98 times during the film.
Ronin (1998)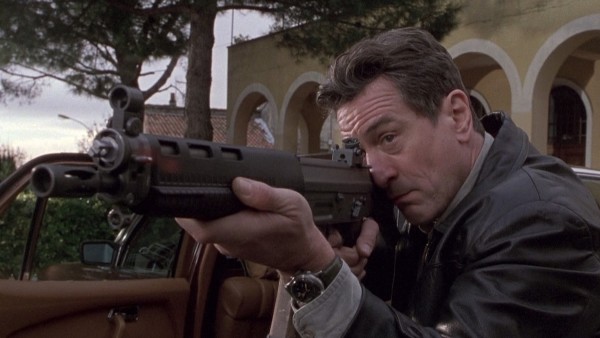 Robert De Niro's second film on this list centres on a group of former special operatives coming together to steal a mysterious briefcase. It turns out the briefcase is actually just a MacGuffin to push the film along, with Ronin focused more on character development, double crosses and some tremendous action set pieces.
The realistic car chases through the streets of Nice and Paris are at the heart of this heist film and on par with the action seen in Bullitt.
---
---
Fun fact: One of the few films where Sean Bean doesn't die.
Ocean's Eleven (2001)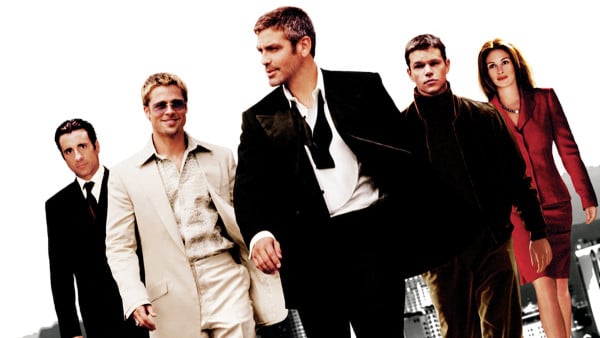 A remake of the 1960's Rat Pack starring film of the same name, Ocean's Eleven assembles a kick-ass cast who plan on robbing three Las Vegas casinos in one night. Steven Soderbergh brings a stylish direction to the film while big name actors George Clooney, Brad Pitt and Matt Damon add a touch of class to this terrific heist flick. Although Don Cheadle's English accent is laughable the rest of the supporting cast provide the goods and help make Ocean's Eleven a truly memorable watch.
Fun fact: Matt Damon replaced Mark Wahlberg after he dropped out to film Planet Of The Apes.
The Town (2010)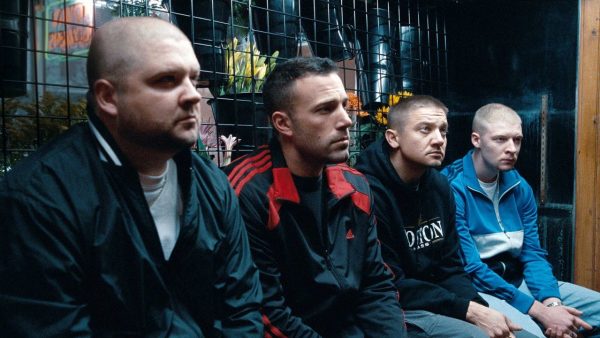 Finally showing the world that he's a credible actor, The Town is the jewel in Ben Affleck's filmography crown. Not only does he star as the leader of a gang of Boston bank robbers but he takes on directing duties, showcasing his talent and bringing Boston to life.
Forced to take one final job to save his girlfriend Claire, Affleck and his crew attempt to steal $3.5 million from Fenway Park in a brutal finale featuring a shootout on the open streets. Special mention must also be made here of the thrilling armoured truck heist resulting in a spectacular car chase and Jeremy Renner's portrayal of vicious thug James "Jem" Coughlin, who is genuinely frightening and for which he earned him an Oscar nod.
Fun fact: (Spoiler Alert) The original ending shows Affleck being mortally wounded in the shootout with gangster Fergie and dying in the arms of Claire.
RELATED: Every James Bond film ranked by both critics and you