BBC Drama Bodyguard destroyed domestic viewership numbers in the UK to a great reception. Season 1 of the acclaimed political thriller from Jed Mercurio (Line of Duty), which was quickly picked up by Netflix, follows Richard Madden as Police Sergeant David Budd, a war veteran assigned to protect a polarising Home Secretary played by Keeley Hawes. Despite its success, after months of silence from the TV show's frontrunner Mercurio, it begs the question; will there ever be a Bodyguard season 2?
Mutterings about the drama's second season have plagued the internet for months with little-to-no confirmation – until recently.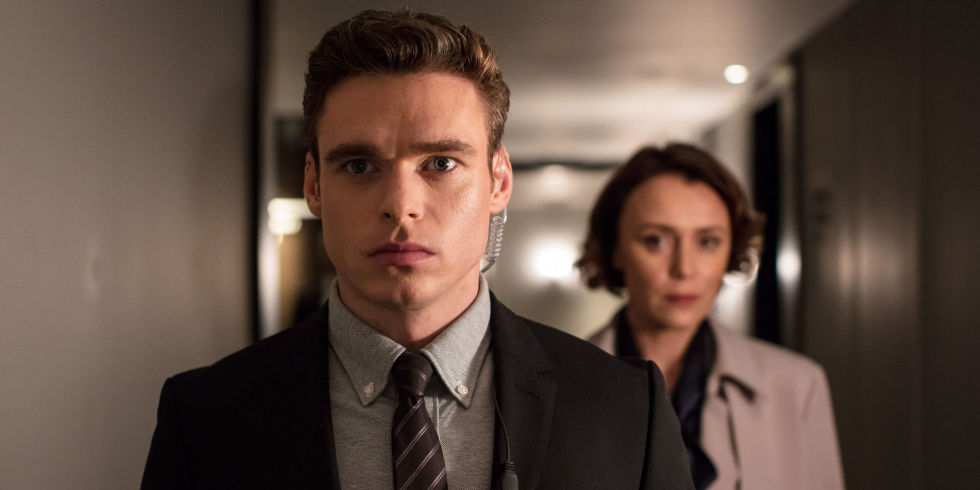 Is a second season of Bodyguard on its way?
In short – yes. There's no reason to doubt if Bodyguard season 2 is happening, but more so a matter of when. And why wouldn't there be a second season? As the most-watched UK drama of all-time, Mercurio and the BBC would be egregiously throwing money away in the case that it didn't happen.
---
---
Late last year, Mercurio confirmed on Twitter (in an albeit roundabout way) that he'd hit a roadblock in the development of the second season of Bodyguard.
What's really holding up development of #Bodyguard Series 2 is the quest for any dramatically sympathetic reason not to kill off the cabinet minister in the first five minutes https://t.co/Kl7z6eSTlQ

— Jed Mercurio (@jed_mercurio) November 6, 2019
One can safely assume, then, that Bodyguard season 2 is confirmed. As for the timings, however, that's another question entirely.
It's important to keep in mind the simultaneous production of Jed Mercurio's other incredibly successful police drama Line of Duty, which halted filming this month after becoming a casualty of COVID-19. The novelist, director, and screenwriter has previously voiced his commitment to the sixth season of this TV show before any attention to a second season of Bodyguard could be made.
RELATED: If You Liked 'Line Of Duty', You're Going To Love BBC's 'Vigil'
What will Bodyguard Season 2 be about?
*Spoilers ahead*
---
---
The tense and final scenes of Bodyguard season 1 saw Richard Madden, who snapped up a Golden Globe for his performance as the haunted police constable, agree to PSTD counselling after being forced to walk through the streets of London with a bomb strapped to his chest.
Speaking at an event in Los Angeles organised by Netflix, Madden shared what he and Mercurio discussed shortly after season one aired.
"A couple of things," said Madden, confirming a second season was in the pipeline. "You cannot jump into it. David Budd definitely needs a vacation after that."
"He's not going to go back to work, is he? And also he's the most famous man in London because of what happens at the end of episode six."
The pair have discussed fast-forwarding the timeline of Budd's recovery, setting Bodyguard's second season two years into the future.
"And me and Jed both agree that there's something much more interesting in, 'Let's catch up with him 18 months later, two years later after this has happened and say, 'Where is he now? What's happened to him?'"
Jed Mercurio has implied it could even be necessary for four seasons of Bodyguard before the storyline can be properly completed, giving fans hope that Richard Madden could take his broken character through a drawn-out, highly tense and tightly-wound saga in search of the truth behind the plot to kill Julia Montague (Keeley Hawes). Some fans are supporting the theory that the ambitious Julia Montague will return in the second series, though we can't assume it'd be anything more than a flashback.
"It's probably fair to say we would probably approach any thoughts of a second series with the idea that it would create an opportunity for a third or fourth," the show's creator quoted to The Sun.
---
---
Do we have a release date yet?
If the ripple effects of COVID-19 hadn't impacted the production of Line of Duty, one could have assumed that production on Bodyguard season 2 would have likely begun at the end of 2020, for a 2021 release date. If it wasn't all speculation already, the uncertainty of the entertainment industry at present definitely isn't expediting the second season's release.
So where can I watch Bodyguard in the meantime, you may be asking? Well, we're sure you're aware that Netflix has international streaming rights to the TV show, and the BBC has it available for domestic streaming on BBC iPlayer.
What you will be pleased to know, however, is that Jed Mercurio's other BBC Drama we've been rambling on about, Line of Duty, is available in full on Stan right now. Be warned, it's a very slow burn to start, but it comes home hard for some incredibly tense viewing.
We'll keep you updated as any official word comes in from the BBC on either Bodyguard season 2 or Line of Duty.
RELATED: 'Bodyguard' Creator Jed Mercurio's Other BBC Drama Has Been On Netflix All Along
RELATED: Will Online Streaming Save Cinema In 2020?