For a good majority of the movie-going population, Brad Pitt has remained a constant. Across his four decades as a working actor and 70-plus film roles – at least a dozen of which rank among modern cinema's most iconic – the man has practically become synonymous with Hollywood (in the best possible sense). But as he approaches the big six-oh, and reflects upon the stellar career that's been, Brad Pitt is now eyeing retirement. At least in front of the camera.
"I consider myself on my last leg," Brad Pitt told GQ for the publication's August cover profile.
"This last semester or trimester. What is this section gonna be? And how do I wanna design that?"
---
---
RELATED: George Clooney & Brad Pitt Are Reuniting For A New Thriller Movie
Some of you may have sensed the gradual shift. In more recent years, Brad Pitt has taken a step back as a leading man, occasionally popping up for the most unexpected cameos like what we saw in Deadpool 2 or The Lost City starring Sandra Bullock and Channing Tatum. Between these relatively minor stints and the forthcoming all-out action flick Bullet Train helmed by the geniuses behind John Wick, it's safe to say he's in his "let's have fun with it while we can" era.
These days, his principal focus had been diverted towards being an equally-impressive film producer. His production company Plan B Entertainment – which he established back in late 2001 alongside ex-girlfriend Jennifer Aniston and Brad Grey – has been involved in everything from Wolfgang Petersen's Troy, Martin Scorsese's The Departed, Bennett Miller's Moneyball, Steve McQueen's 12 Years A Slave, Adam McKay's The Big Short and Vice, Barry Jenkins' Moonlight, to your less revered flicks like Charlie & The Chocolate Factory and the Kick-Ass duology.
RELATED: Brad Pitt Did 95% Of His Own Stunts In Upcoming Action Flick 'Bullet Train'
In the past five years alone, there have been 16 producing credits – both regular and executive – against just seven acting credits. Two of the latter being the aforementioned throwaway cameos. In other words, even if Brad Pitt the Movie Star follows through with retirement, we'll still have Brad Pitt the Producer.
"I'm one of those creatures that speaks through art," explained Brad Pitt.
"I just want to always make. If I'm not making, I'm dying in some way."
---
---
Still, there's at least a handful of projects fronted by BP we can look forward to before he hangs up his boots. Aside from David Leitch's Bullet Train, which premieres on August 4th, we're on the edge of our seats for Apple's Formula One movie currently being helmed by Top Gun: Maverick director Joseph Kosinski and to be produced by real-life seven-time world champion Sir Lewis Hamilton as well as the legendary Jerry Bruckheimer. An affair that Kosinski himself promises will deliver the same practical "in-camera action" as his universally-acclaimed sequel starring Tom Cruise.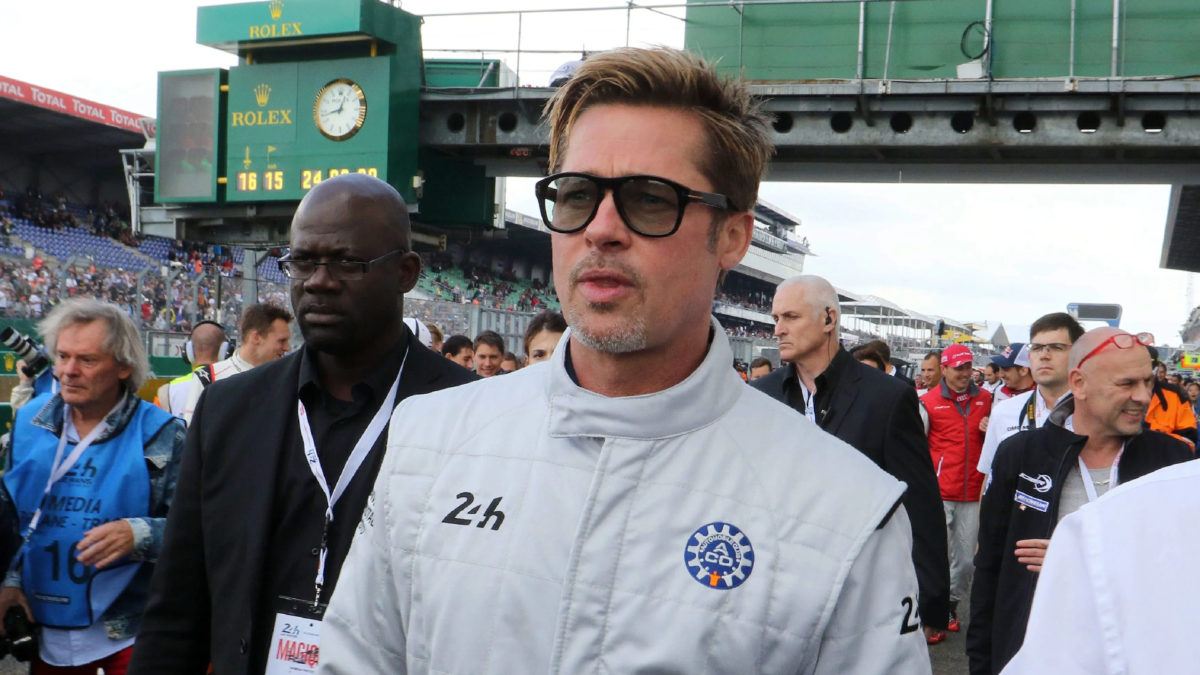 RELATED: 'Top Gun – Maverick' Director's Formula 1 Movie Will Also Use Practical Effects
In Formula One, Brad Pitt takes on the role of a veteran F1 driver who comes out of retirement to mentor a "promising rookie." Think Driven starring Sylvester Stallone, but better. Way better. Screenwriter Ehren Kruger (Reindeer Games, The Ring, Top Gun: Maverick) has been tapped to pen the story. And in light of what we now know about Kosinski's desire for that authentic grid feel, Hamilton could very well be piloting a racing rig for a sequence or two.
This isn't the first time Brad Pitt has collaborated with director Joseph Kosinski, either. Or rather, attempted to collaborate. Back in 2013, the duo were working on another racing movie titled Go Like Hell with none other than Tom Cruise. Eventually, Go Like Hell would fall apart before later becoming James Mangold's Ford v Ferrari starring Matt Damon as Carroll Shelby and Christian Bale as Ken Miles.
Suffice it to say, if Formula One were to be his swan song, Brad Pitt would certainly be retiring on a high note.