Ex Machina is the debut directorial effort from Alex Garland. Garland is best known for his novel The Beach that was turned into a film starring Leonardo DiCaprio and directed by Academy Award Winner Danny Boyle in 2000. Before turning his hand to directing Garland also had a number of credits as a screenwriter for films such as 28 Days Later… (also directed by Boyle), Sunshine, Never Let Me Go,and 2012's Dredd.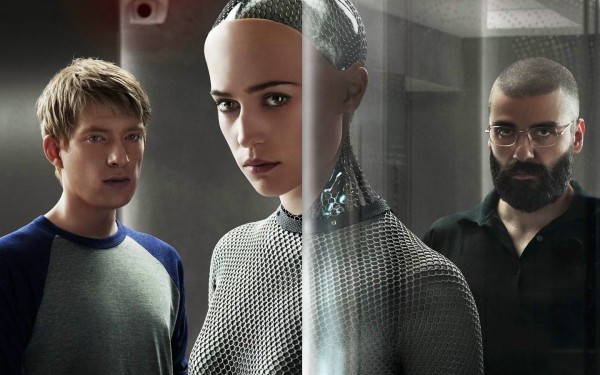 Shot on a relatively modest budget of 11 million pounds, Garland has managed to bring to life a tight, self contained, science-fiction thriller. Ex Machina is the tale of Caleb (played by Domhall Gleeson) who wins a competition to travel and meet technology and programing guru Nathan, played by the superb Oscar Isaac. Upon entering Nathan's incredible house somewhere in the wilderness, Caleb is informed he will be helping Nathan test his newly created artificial intelligence robot, Ava, played by the incredibly beautiful – even when at times bald – Alicia Vikander. Caleb is given the honour of talking to Ava and evaluating her human qualities by following the principles of the Turing Test, as Nathan observes from a video link. However a loss of power cuts Nathan's feed, and it is here Ava warns Caleb that he cannot trust Nathan.
The film is beautifully shot and incredibly focused with only four main characters, Caleb, Ava, Nathan, and Nathan's attractive, but silent, "maid" Kyoko (who is not at all against nudity). The mixture of perfect location and fine acting/writing are testaments to what can be achieved on a modest budget when compared to something like the mega-budgeted Mad Max: Fury Road. However, Ex Machina is a very different type of film, challenging the audience to think the entire way through about A.I., technology, and just how much of ourselves we are giving away to programs like Google and other internet services.
---
---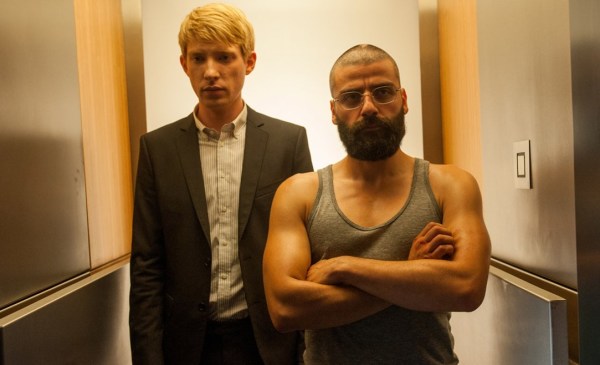 Although its premise belongs to science fiction, and it draws on Kubrick's 2001: A Space Odyssey, the film plays out much more like a psychological thriller. The incredible landscape and house set in Alaska (but filmed in Norway) help build a sense of isolation that is personified excellently by Gleeson's Caleb.
Until the release of some big films later this year, mainly Star Wars, Oscar Isaac is probably unknown to many at this stage. Here he plays Nathan as an arrogant but funny heavy drinking hipster genius, adding to a building collection of excellent but under seen performances to the mainstream. Yet, it is dark haired dark eyed Swede, Alicia Vikander, who steals the show as Ava, the artificially intelligent robot yearning for company and a right to explore who she truly is.
Garland's first effort is not perfect, the last fifteen minutes will either surprise you or leave you feeling let down, but it is still a very assured piece of work. Ex Machina is filled with atmosphere, and at times funny, and surprising – with an incredibly weird dance scene that's actually pretty cool! The camera direction is steady allowing the tension to grow and the cinematography is crystal clear. The film is on a limited release, but definitely one worth seeing, if not for any other reasons other than to see a collection of cast and crew fast becoming bonafide stars.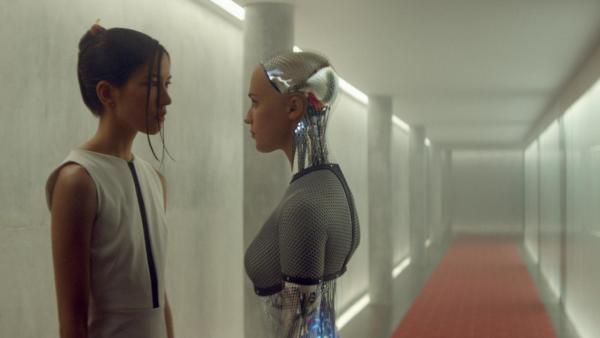 As this is our first film review we are yet to come up with a unique rating system! So instead of giving it four stars out of five, or two thumps up, or even three popcorns out of five, we thought we'd continue on with the Boss theme and give it four DiCaprio's out of five!
View the trailer below: