Since his breakout role as Officer Shane Walsh in AMC's The Walking Dead, Jon Bernthal has established himself as one of the most entertaining character actors going around. From Martin Scorsese's The Wolf of Wall Street to David Ayer's Fury, James Mangold's Ford v Ferrari, and even his initial stint with Marvel as Frank Castle/The Punisher – later spinning-off to lead an acclaimed series of his own – generally speaking, if you ever saw him strutting his stuff on screen, chances are he'd make an impression. At the very least, you wouldn't be forgetting that distinctive drawl anytime soon.
This year, Jon Bernthal reunited with the ever-talented Taylor Sheridan for Those Who Wish Me Dead; starring alongside Angelina Jolie, Nicholas Hoult, Aidan Gillen, Tyler Perry, and young Aussie thespian Finn Little. In contrast to his small-yet-pivotal roles in both Sicario (penned by Sheridan) and Wind River (Sheridan's directorial debut), he finds himself portraying a far more central character: Montana Sheriff Ethan Sawyer. A force of good diametrically opposed to the forces of evil brought to life by Hoult and Gillen, as it were.
BH recently had the privilege of speaking with the man himself – Jon Bernthal – about how Those Who Wish Me Dead shakes up the action-thriller formula, what it's like collaborating with Taylor Sheridan, authenticity as an artist and in terms of audience experience, as well as his time on the set of The Sopranos prequel film scheduled for release later this year, The Many Saints of Newark.
---
---
RELATED: INTERVIEW – Anthony Mackie Tackles Time Travel In 'Synchronic'
I haven't seen a film as fast-paced and economical with screen time in a while. The entire story takes place across two days, maybe three days, and the main component of action happens in one. Is it ever a relief to read a script and think, "OK great… there's no unnecessary exposition, we're just cutting right to the chase" – or is it more pressure to make every moment count?

Oh man, it's a good question. I think both, I mean, look… I'm enormously grateful for what I get to do. I feel deeply blessed. When you get to the point where you can start picking and choosing the projects that you get to work on – first of all, it's unbelievable; second, it's really about the people you get to work with. This was my third time with Taylor [Sheridan].
I knew this was different. This was not like his other work. But I really, really trust him. This was non-stop, this was – I think – experimental in that way. He really wanted it to be, as you said: no fat, no exposition, no deep dives in character like a lot of his other work He really wanted his characters to be revealed through the action, which is really great.
I think because Taylor was an actor himself, he understands both where those moments exist, and I think he also knows how to recognise when an actor is trying to bring out character in those moments. And he knows how to, sort of, turn that up or tamper it down depending on what he wants for the overall picture so… I think the answer is both.
RELATED: WATCH – Breaking Down The Incredibly Tense 'Sicario' Border Scene
One of the most prominent features about a Taylor Sheridan film is the masterful use of tension. Is this something mainly achieved by editing and sound or does something happen the day you shoot a scene to, I suppose, heighten that feeling?

There's so many different ways to create tension on set. Taylor takes the work enormously seriously and he brings in people that take it enormously seriously. He does it with a set that's very community based, very familial, it's the same people over and over again. You never really know what's going to happen on a Taylor Sheridan set, which is something I've found uniform with all great directors.
But I think he really challenges people. I think he wants to make people uncomfortable, he wants to make his actors uncomfortable as much as possible, which is something I'm always kind of looking for. I love that challenge, I love not knowing what's going to happen next, I love being a little lost. As far as orchestrating the tension from there, it's all done in the editing. Clearly he knows what he's doing.
---
---
Yet another prominent feature about a Taylor Sheridan film – and especially the ones you've appeared in like Sicario and Wind River – is how he likes to spotlight remote parts of America. And while it's admittedly spectacular to see onscreen… do you ever wish he'd write something for a more convenient or relaxed setting like Hawaii? Somewhere you could kick your feet up after wrapping up for the day?

[Laughs.] You know, comfort isn't something I'm really interested in with this work. We could have easily done this movie on a sound stage and greenscreen-ed all that beautiful scenery but I think when you're feeling the heat of the flames and the smell of the smoke, you're really on the side of the mountain and the footing isn't that steady… I think that adds such a palpability. And it's not just for me as an actor to feel it, make it easier to play it, I think it really translates onto the screen. I think you know. I wouldn't change it for the world. Comfort isn't on my list when I'm part of a project [Laughs.].
RELATED: 'Mission Impossible 7' Will Feature Tom Cruise's Single Most Dangerous Stunt Yet
At this stage, I'd say there'd be very few actors who look as naturalistic handling a gun or inhabiting violence as you do, from The Pacific to Punisher and everything else in between. Do you undertake any extra-curricular firearms, tactical, or combat training in between roles?

I do, I do. I've been training for a while now, it's really been such a huge part of a lot of the different characters that I play. I train with a [world champion shooter] named Taran Butler of Taran Tactical in California. I really appreciate the compliment.
If I were playing a baseball player, it'd be deeply important to me that baseball players would say, "This guy looks like a baseball player." At least as close as I could get to that point. And the same is true with the way I handle weapons. I play a tennis player in a new movie called King Richard which is coming out, I trained extensively in tennis (I never played before).
I'm consumed with fear that the people who actually know what they're doing will look at what I'm doing and say, "This guy doesn't know what he's doing." That's kind of my cross to bear. I will do whatever I possible can to not let that happen.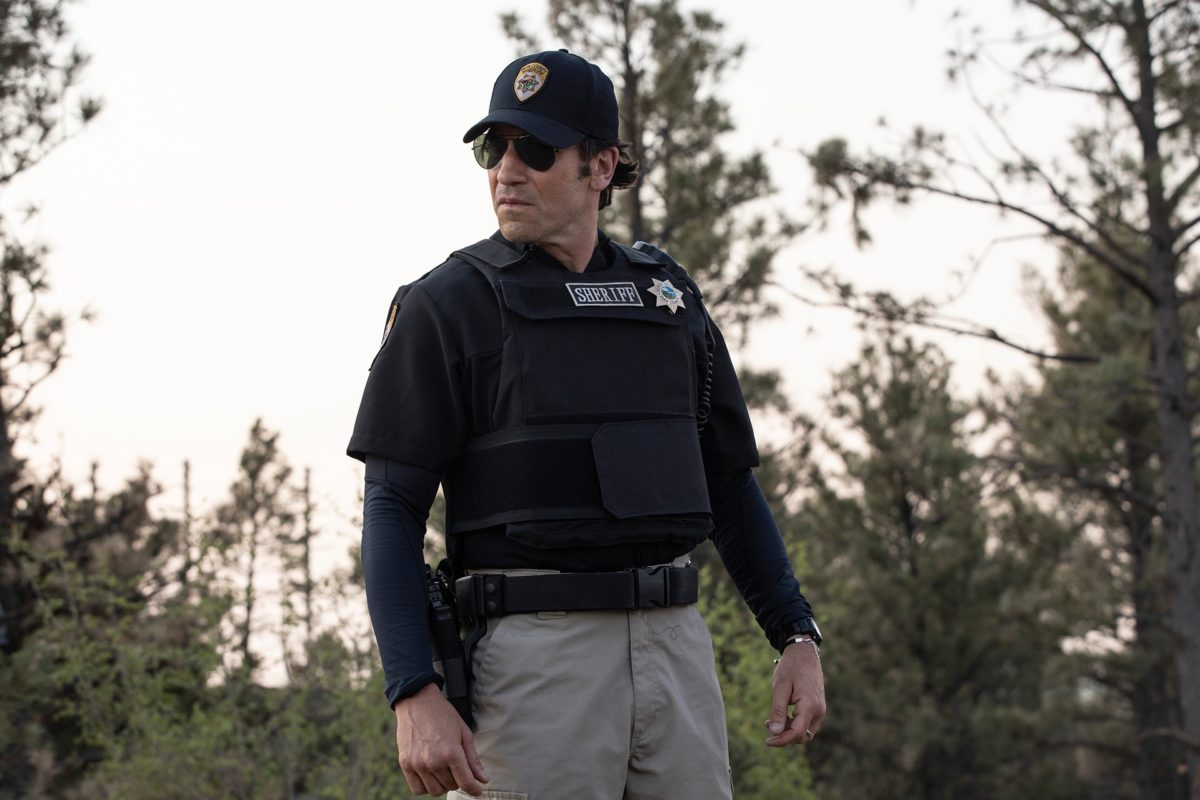 Speaking of violence, you recently completed shooting The Sopranos prequel film, The Many Saints of Newark, as Johnny Soprano. Is there anything you can tell us about what we're in for – or does Warner Bros. have snipers trained on you right now?
I don't know if they have snipers, maybe they'll put a dead horse in my bed… I haven't seen the film yet. Look, it's David Chase, you know? He's a genius. I can tell you for me, the thing that was most exciting – making the movie with Michael Gandolfini, James Gandolfini's son.
It's beautiful that they've kept it in the family to play Tony Soprano. I think Michael is an unbelievable talent. He has a beautiful heart, he went about this in such a beautiful way. Being able to play his dad and go on this journey with him – of him getting closer to his father – is something I'm proud to be a part of. I think he's going to do great.
---
---
RELATED: Michael Gandolfini Recorded 4 Hours Of Tony Soprano Dialogue To Prepare For 'The Sopranos' Prequel
Finally, if you had to remake one classic western with Taylor Sheridan, what would it be?
Oh man… Shane.
That's actually one of my top three films so I'm massively thrown off right now.
I'll be honest with out, I'll do anything with Taylor. I love Taylor. As a filmmaker, as a human being, as an artist, he's as solid as they get. I love the guy.
Is that confirmation that you're in Yellowstone season 4?
[Laughs.] Nah man, I don't have time for that. No… definitely don't have any time for a
Yellowstone season 4
.
Jon Bernthal, thank you for your time. It's been an honour.
---
---
Honour was all mine, brother.
Those Who Wish Me Dead starring Angelina Jolie & Jon Bernthal hits Aussie cinemas this week on May 13th – check out the trailer below.